I was once told about a cheese ball and since then I've become a cheese ball queen. I love my red wine and what goes together, cheese of course. So since then I've been making cheese balls left, right and center. My favorite combination to date is cream cheese, cheddar and jalapenos. Usually I serve it on a platter in a ball shape surrounded by crackers. My go too crackers are Toppables by Christie. But when the seasons change and another occasion pops up what better way then to reintroduce the cheese ball and make it look extra special.
I decided one Halloween to host a small get together. A night of treats and apps, therefore a cheese ball shaped into a pumpkin was perfect. I started with the base of cream cheese softened then to my bowl I added my shredded cheddar cheese. Now when it comes to the cheddar I prefer the distinctive taste of an old cheddar and in this case it should be orange. I also saved a handful of shredded cheese for the end or shred some more cheese later. I usually get a jar of jalapenos and cut them up myself however you can also buy the ready to go Philadelphia Jalapeno Cream Cheese Spread. Once all ingredients are in the bowl I use my hands to mix and then shape it into a ball. Add remainder shredded cheese to cover the entire surface. You will also need some Kalamata olives to decorate your pumpkin. Two olives for the eyes and then one or two more sliced length wise for the teeth. I used a bell pepper stem that was proportionate to my cheese ball and had a slight curve. I placed my cheese ball on a platter then added my stem up top. I then went ahead and added the eyes and teeth. Once done I placed some saran wrap over it and stored it in the fridge until my guest arrived. When ready to serve just add desired crackers a cheese knife and enjoy. For Thanksgiving minus the olives and you have a cute little pumpkin.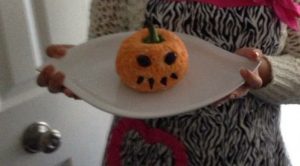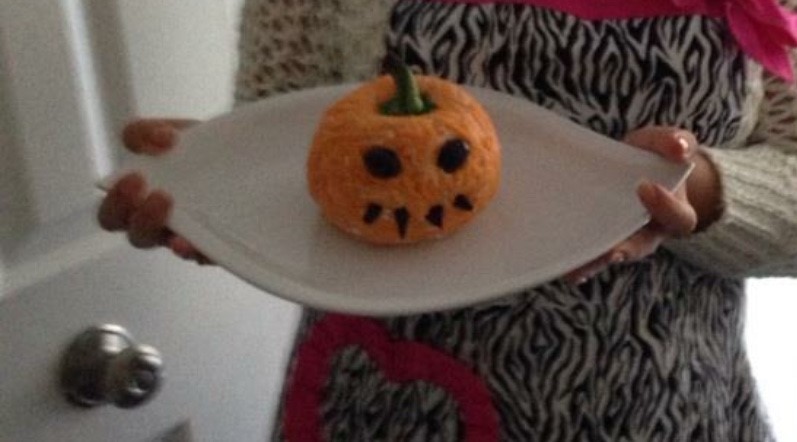 When Christmas rolled around I thought how can I make my cheese ball fit the season. I was hosting a Christmas party and was looking for ideas when I came across a snowman cheese ball. However I took that idea and made it mine starting with my base except this time I used mozzarella instead of cheddar. I also had to use more cream cheese so that I could at least have a two tier snowman. I bought some pretzels in the shape of sticks and used them to create my hat and arms. Then I served the remainder in a bowl for my guests to snack on. I had peppercorns on hand for my shaker so I used those as the eyes and buttons. From my veggie and dip platter I took a carrot and sliced it into a triangle for the nose. I was very pleased with the end result and wonder how can I eat this cuteness, nah who am I kidding it was basically gone by the end of the night. Anything leftover was gone the next day then.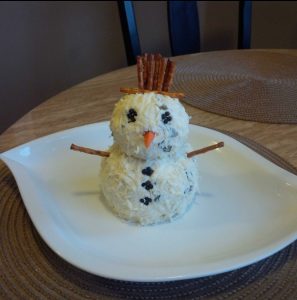 Cheese ball base ingredients:
340g-400g softened plain cream cheese or flavored cream cheese spread
2 cups shredded cheddar cheese or any other soft cheese
1 jar of jalapenos to be sliced and used according to your preference of spiciness
Note: If you're making the pumpkin cheese ball you need Kalamata olives and the stem of one bell pepper. If you're making the snowman cheese ball you will need some pretzel sticks, peppercorns and a carrot as your extra ingredients.
So if the savory cheese ball isn't enough then what about a dessert ball? A chocolate cream cheese ball to be exact. Covered with chocolate chips to your liking and served with gram crackers. Truly satisfying and easy to make just like a regular cheese ball. By now you know I like red wine and cheese but chocolate also tops my list. You basically start off with plain cream cheese then to the bowl you add your favorite chocolate spread in my case Nutella. You add as much chocolate spread you want but you also want to make sure you don't over power the cream cheese. To that you add anything you want chopped nuts, chocolate chips white, dark, milk, peanut butter etc. Mix with your hands and shape into a ball, then add more garnish around to complete it. Place the ball on a platter and serve with gram crackers.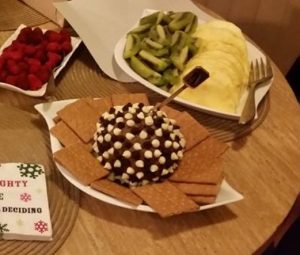 Dessert ball base ingredients:
340g-400g softened plain cream cheese
1 container of chocolate spread and use accordingly to your taste
1 cup of chocolate chips, chopped nuts etc.
This no bake cheese ball is my go to appetizer and dessert. If you're going to serve cheese and crackers at your next gathering then serve this. If you've been invited to someones house then bring this and a bottle of wine. If you're planning a picnic and want a simple but sweet dessert then pack this up in a jar. In the end you can't go wrong with anything cheese related or at least in my books.