As promised, I would like to share with you all the transformation of our gender neutral nursery into my daughter's current bedroom. Of course this all started with the preparation of my second daughter's arrival. The crib was removed along with the rocking chair first, making room for a new bed set. However I was worried about her falling off in the middle of the night. Or a five little monkey situation, so I decided to go with a child friendly one. We found one at Ikea, it was low to the ground and had guard rails. I went with a white finish to match the dresser that I mentioned in my previous blog post I wanted to keep.
We painted the new nursery and decided to leave her room the same paint colour. However since her favorite colours are pink and purple, the warm grey that was there made for a perfect backdrop. I kept the chandelier and the tree on the wall but I removed the old bumble bee decals and replaced them with pink flowers instead. For more information on that, head to the menu and search, DIY wall decor. One day at HomeSense I came across bedding with a pattern in pink, purple and grey, I just knew this would work well so I bought it. I also found a light pink side table on a separate trip to HomeSense, for her bed side. I even got her two inexpensive pink picture frames from Ikea that won't break or scratch the table. Since kids will be kids you don't want anything breakable in their reach.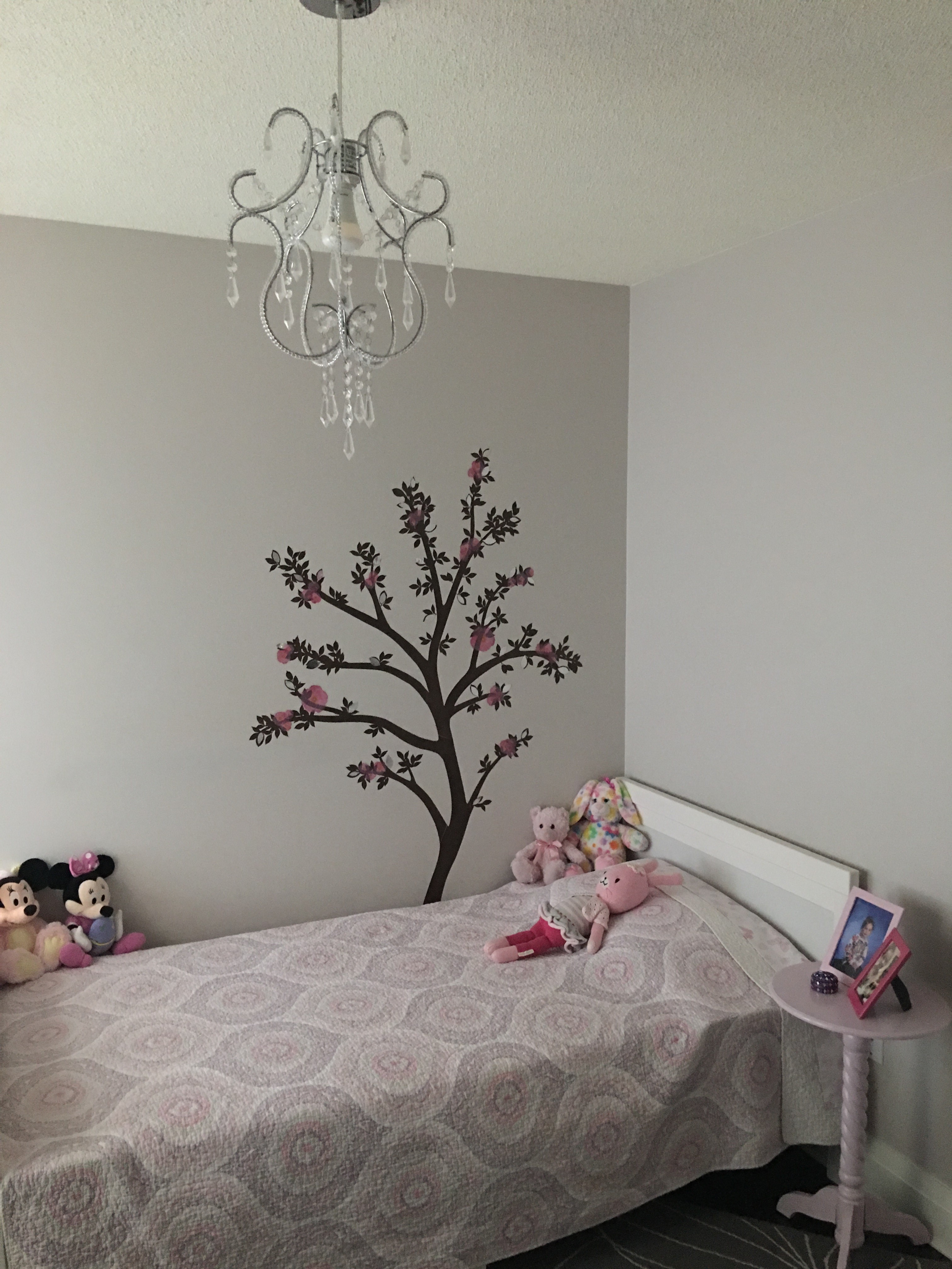 A collection of children's books have accumulated with time and I wanted them to be accessible. Since the dresser has shelves, that was the perfect spot for them. I also wanted to add a fabric bin in her new colour pallet, which I found at Walmart. I had a very special picture frame that I wanted to hang, the wall over the dresser was a perfect spot for it. For more information on that, head to the menu and search, Marilenna's baptism. In the future when she's older, I plan to hang a big framed mirror over the dresser.
I reused her rug as well, I just rotated it to compliment the new location of the furniture. I replaced the white lamp she had on the dresser with one I purchased from HomeSense. A simple brushed nickle base with a pink shade and a silver heart pattern, perfect for a little girl's bedroom. Her room has a mix of chrome and brushed nickle finishes, which I believe adds more interest versus having everything the same. I decorated her dresser top with items she had received as gifts. In the end I felt everything came together without having to spend too much on decor.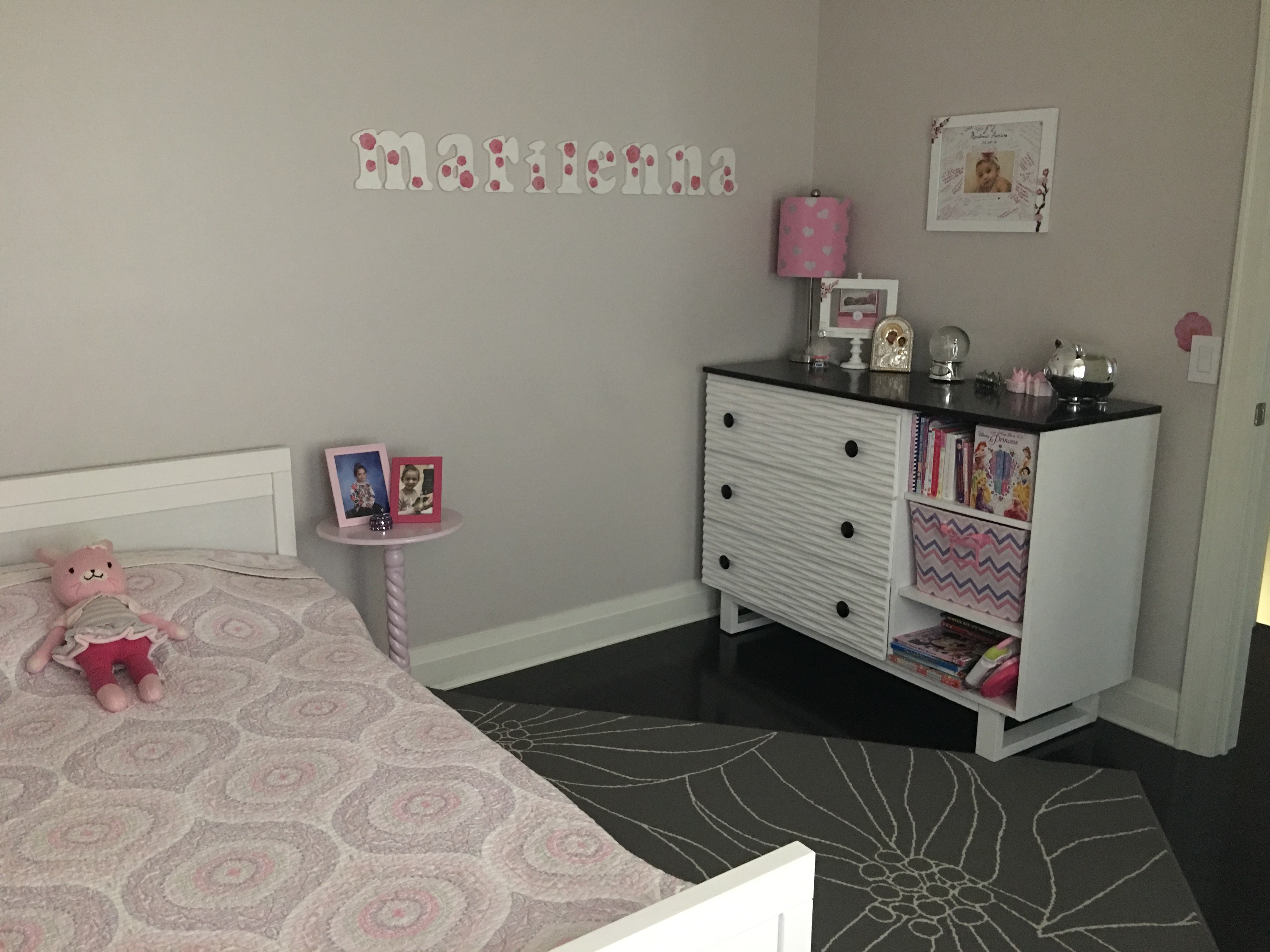 I also mentioned in my previous blog post about using a laundry holder to store all of her stuffed toys. The stuffed toys have multiplied since then and some have been moved into her little sister's room. However I still kept the laundry holder filled to the max in the same spot. I also kept the same window treatments and picture frame on the wall for now.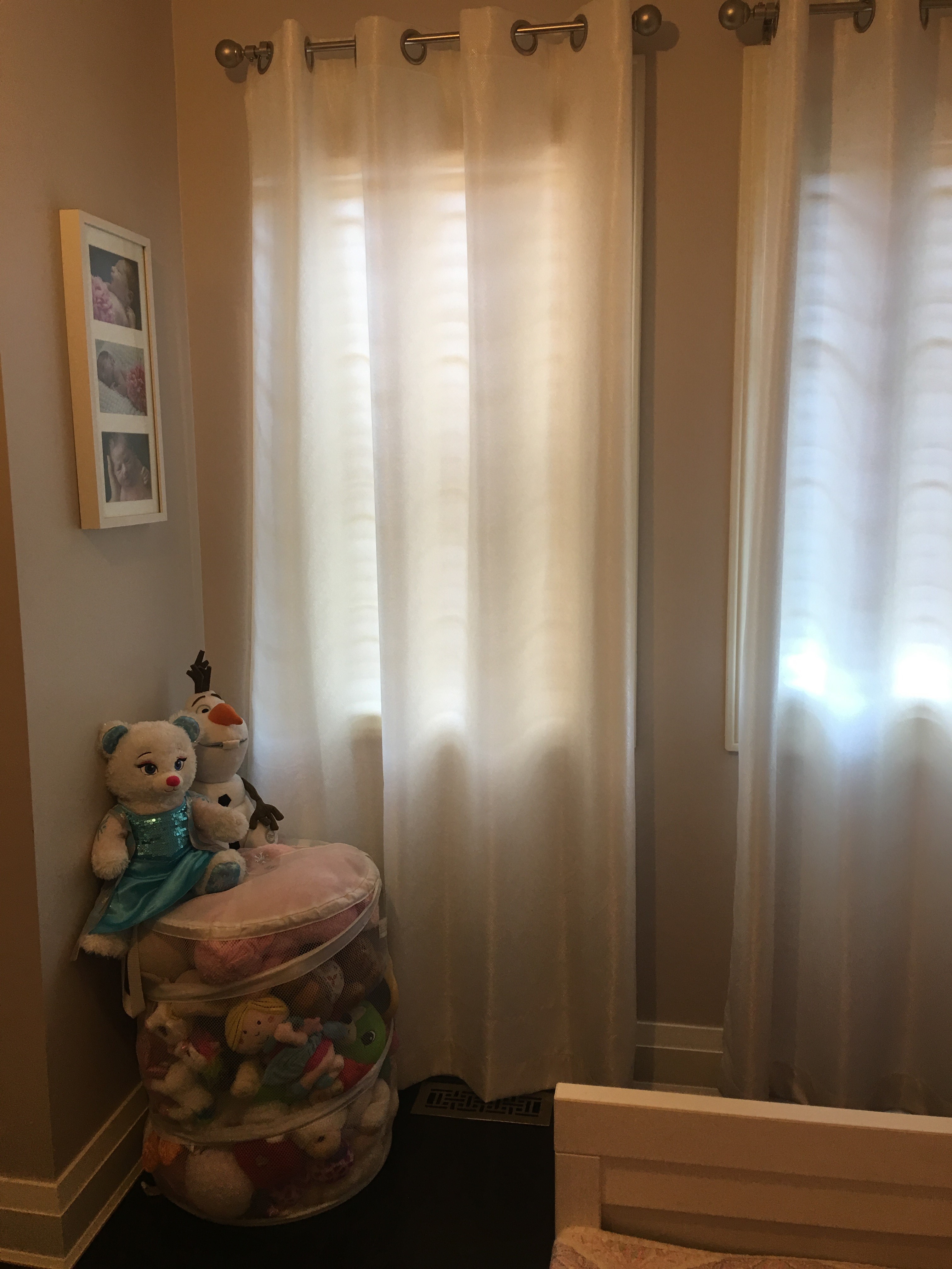 Besides the stuffed toy collection, she also has lots and lots of other more smaller toys that required a more solid storage solution. I wanted to find something that could store those but also fit the bedroom and new colour pallet. I ended up finding at Toy"R"Us a rectangular collapsible bin with a lid. Once again I wanted her toys to be accessible, so I currently have the lid stored in her closet. When we have guests over, I tend to put the lid on to hide the clutter. The bigger toys are located in the basement playroom. I was fortunate enough my husband was able to renovate for them to use currently. Perhaps my next blog post will be on our basement renovation/playroom.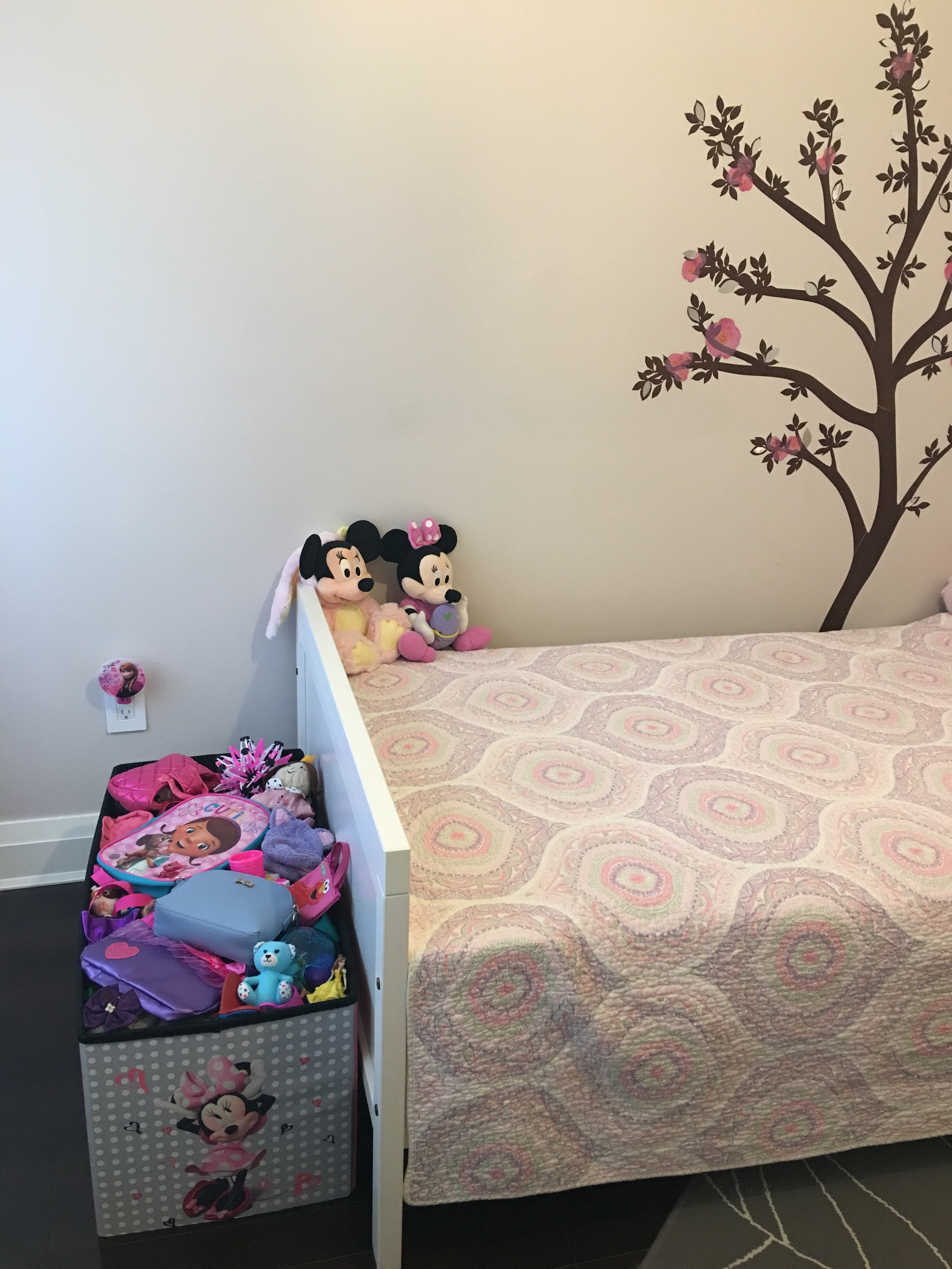 Although no major changes were made, I'm still happy with the end result. I was able to reuse items and incorporate new ones, not to mention her favorite colours. Overall she now has a space where she can play, read and sleep. Truth is changing the location of furniture, adding or removing items can give a room an entire new look. I also believe that if you invest in key pieces such as a neutral dresser, then down the road you can simply just refresh it by adding new hardware. If you want to go all out, you can re-stain or paint the dresser for an entirely new look. Bottom line whether you have the budget or not, if you can think creatively the possibilities are endless.