Two weeks ago I shared on my social media two kinds of treats I made for this year's Valentine's day. I picked these for a couple of reasons, firstly because I wanted to try out the Rice Krispkies squares in preparation for my sister's sons baptism. Secondly, because they seemed like fun and easy to make plus perfect to give out as treats for Valentine's day. I also love how customizable they are, the opportunities are truly endless. Furthermore since dessert tables are still going on strong, these treats would most defiantly fit any occasion.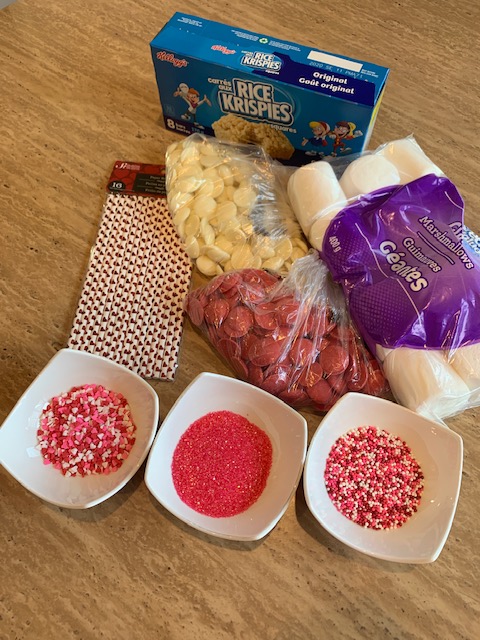 I began by purchasing and gathering everything I needed, I decided to use a box of Rice Krispies squares as a short cut. However feel free to make them from scratch, by doing so you can make them whatever size or shape you want. Also, you can adjust the recipe and add whatever else you would like. For example mix in other ingredients such as chocolate chips or candies. Or change the cereal all together even. As for the marshmallows, I decided to go with large. The plan was to stick a straw in the Rice Krispies squares and marshmallows, essentially making them into lollies. I found these cute white and red heart straws at Dollarama.
Then it was off to Bulk Barn, there I picked up my chocolate wafers in white and red. If they had pink wafers I would of just gone with that, but since white and red make pink I was good to go. I also purchased some sprinkles, I couldn't resist the Valentine themed ones. If your planning on not using a lot of one item or as frequently, then Bulk Barn is a wonderful option for that.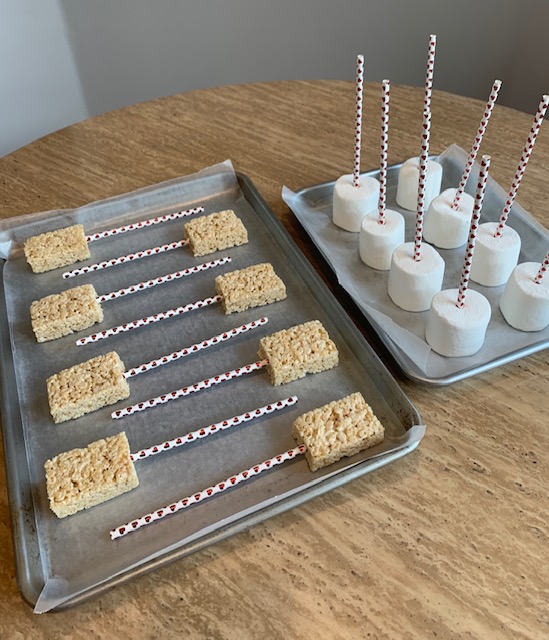 Once I had everything, I started by taking two pans and lining them with wax paper. Then I inserted the straws into the Rice Krispies squares and marshmallows and set aside.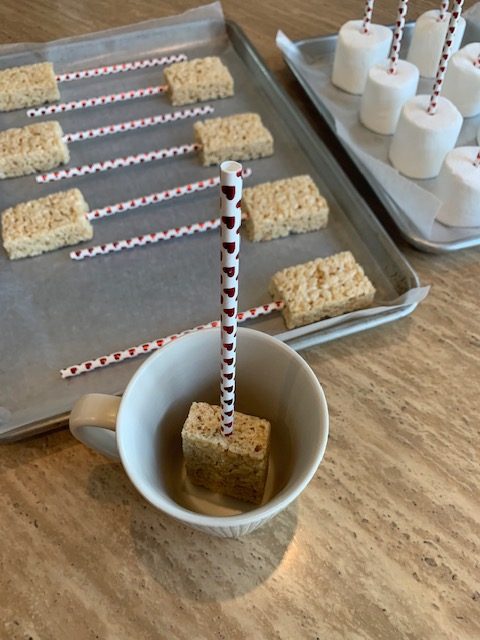 From there I picked a mug that was the perfect size for my treats. The plan was, once I had melted the chocolate I would pour it into the mug and dip my treats in. For step by step instructions on melting chocolate wafers, head to the menu and search "Cake pops, my way".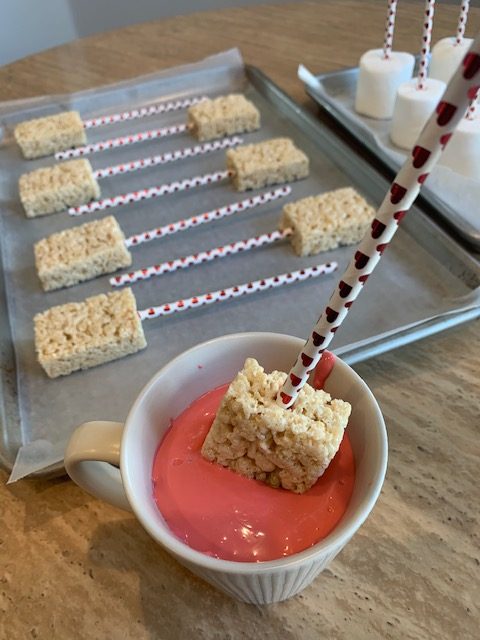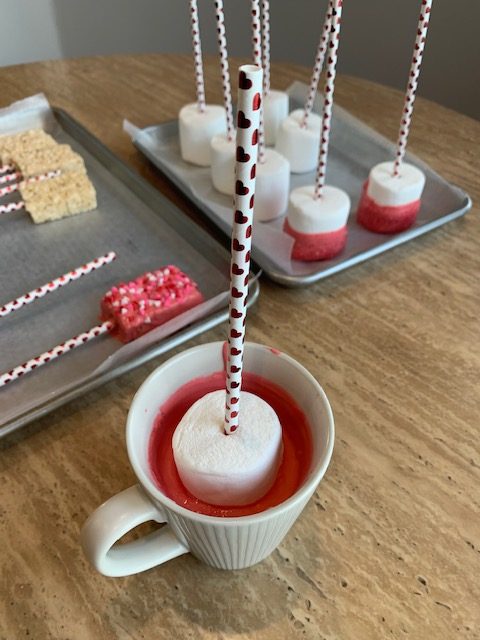 Once your done dipping a treat, add the sprinkles right away before the chocolate hardens. As you can see from the picture bellow, I tried some other decorating techniques. Feel free to experiment and have fun, these are also a great way to get the kiddos involved. I personally kept it simple and just used the pink chocolate I had made. However depending on your theme you can combine other coloured wafers when decorating for contrast.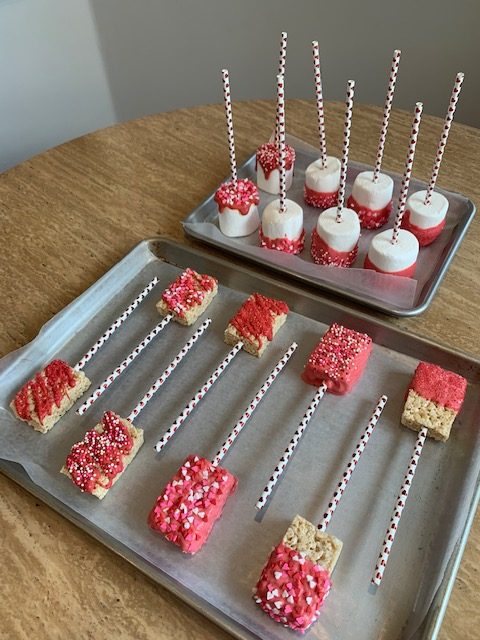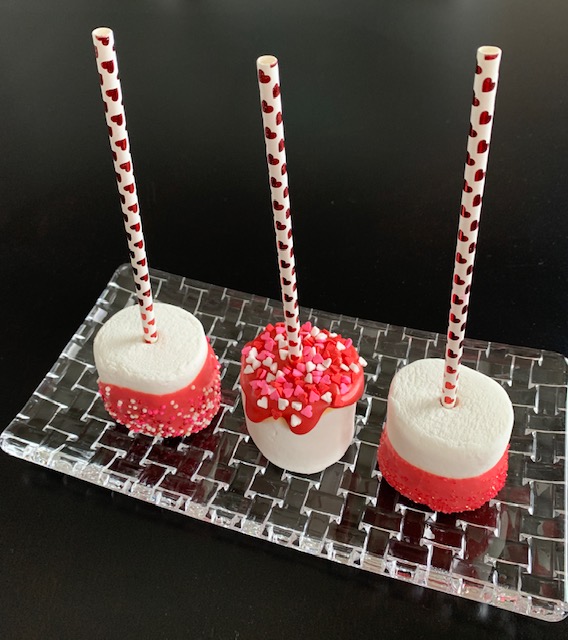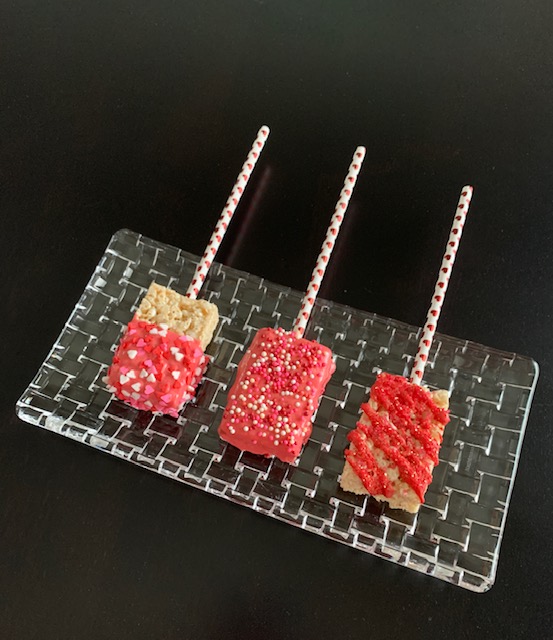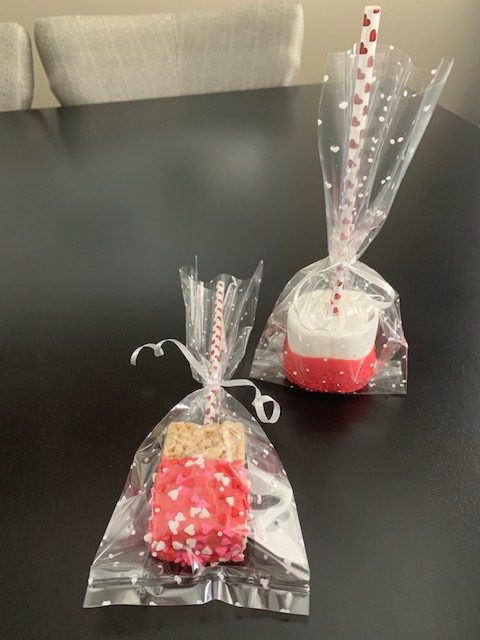 Finally once they had fully dried I packaged them individually. I had some cellophane bags on hand that were the perfect size for my treats. I also had some white ribbon to tie them up with. I used my scissors to curl the ends and just like that my Valentine treats were ready to be handed out to family and friends. You could also add a tag or card for that extra personal touch. I'm defiantly looking forward to trying these treats out again for a different theme.