My eldest daughter who was turning 6 wanted a unicorn themed party. It's practically a year later and she still loves unicorns, let me tell you. Truth is they're not going anywhere soon and to be honest I love them too. Everything and anything can be found unicorn, therefore the possibilities are endless. I was excited to organize this party for her and our guests and I knew exactly what I needed and where to go.
First stop, Party City for the invitations and some of the party supplies. I came across these invites and matching party decor. Since my daughter also loves rainbows I thought these would be perfect. I personally liked the gold accents and I knew I could continue it throughout the decor. However I did pick up from Michaels some flower stickers. I added one to each invite for that extra sparkle finish.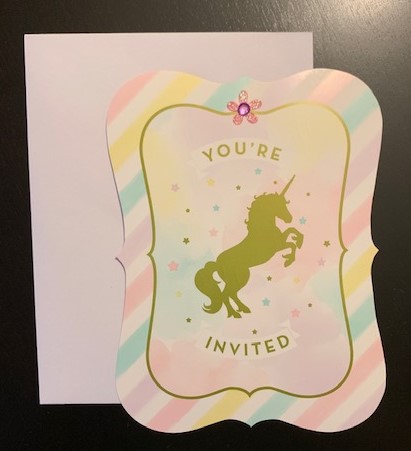 While at Party City I came across a package of unicorn wands. I knew I could add them to the flower centerpieces I had planned. I also picked up some crushed pink rocks from Dollarama, to add to the bottom of each vase for weight and colour. I went with pink and yellow carnations from Walmart and a mix of flowers from our own gardens. Lastly some gold confetti on each table for that touch of magic.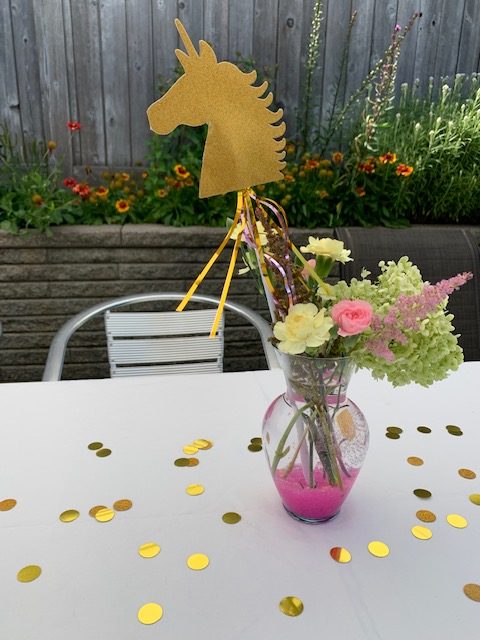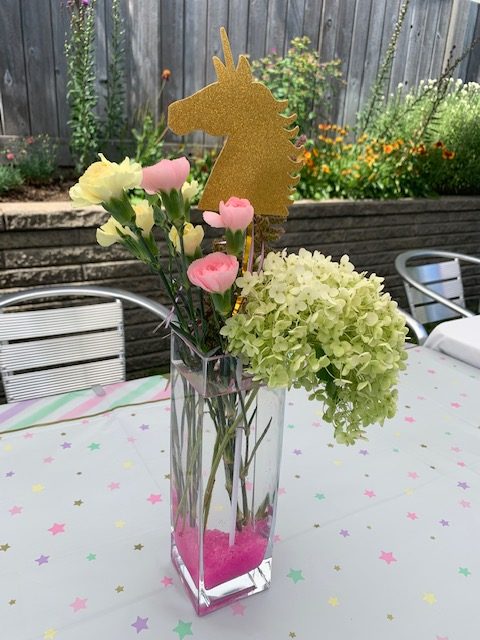 As for her cake I decided to go with a two tier ice cream from Baskin Robbins. It was absolutely beautiful and delicious. Two different flavors and most importantly it screamed unicorn to the tee.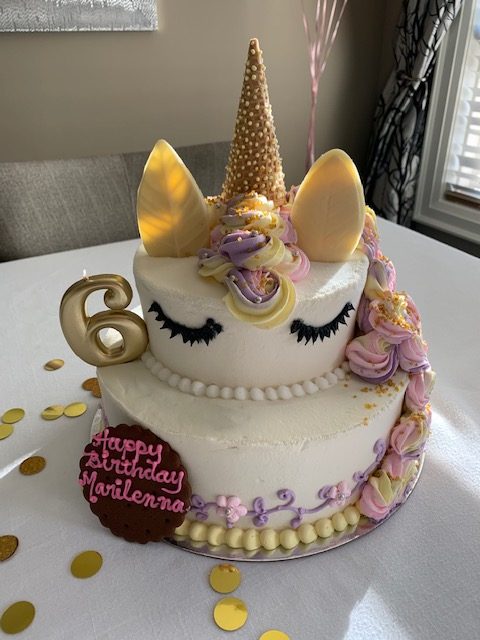 I've become a very big fan of chalkboard signs in general. Therefore I'm loving the fact that I can use ours to welcome our guests and continue the theme of the party.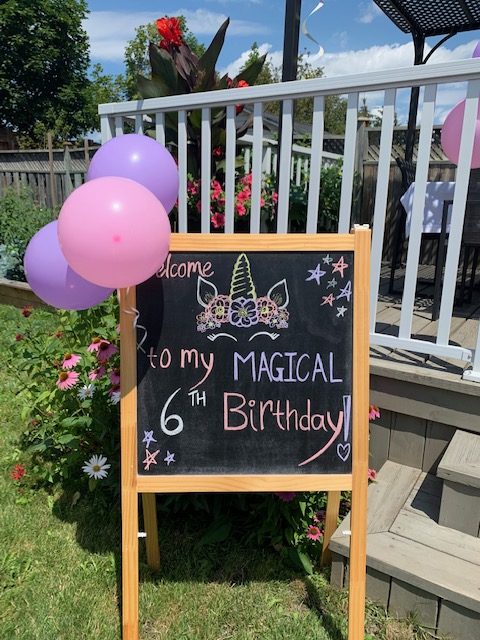 I thought a tassel banner would go well with the unicorn theme. I ended up finding paper tassel kits at Dollarama, in which you can make yourself. Lucky for me, my daughter's favorite colours are pink and purple and they had those in stock. At home I had some leftover white tissue paper with gold flecks. Together I was able to make my very own banner and I even reused it for Easter this year.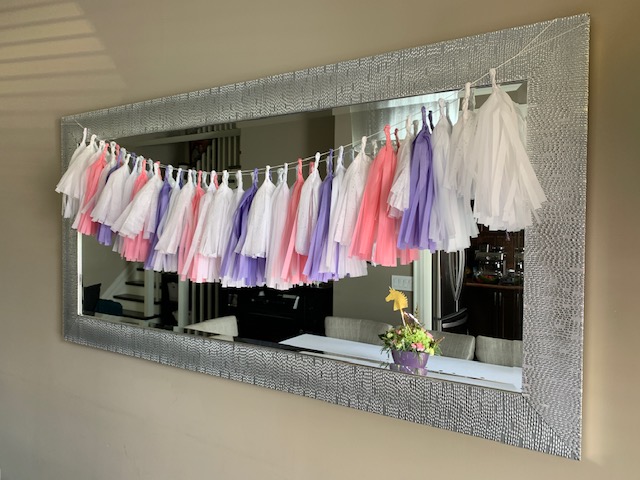 Since it's a summer birthday, I always make sure to have a cold drink option for our guests to help themselves to. I had also come across some rainbow belts that I couldn't help but purchase and place them in a bowl for the kiddos. Anything for your own theme will do, can be big or small in my opinion.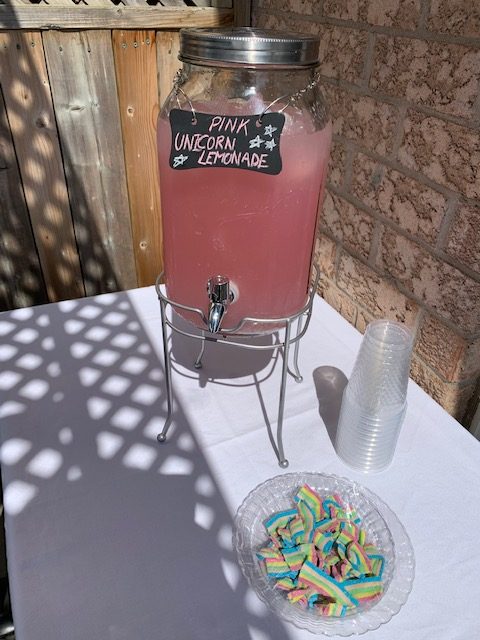 By now you also know that I like to provide another dessert option in case the birthday cake isn't enough. Cupcakes are usually my go to and these were extra special. I used marshmallows and gold sprinkles to create these beauties. Along with a multicoloured homemade cream cheese, buttercream frosting.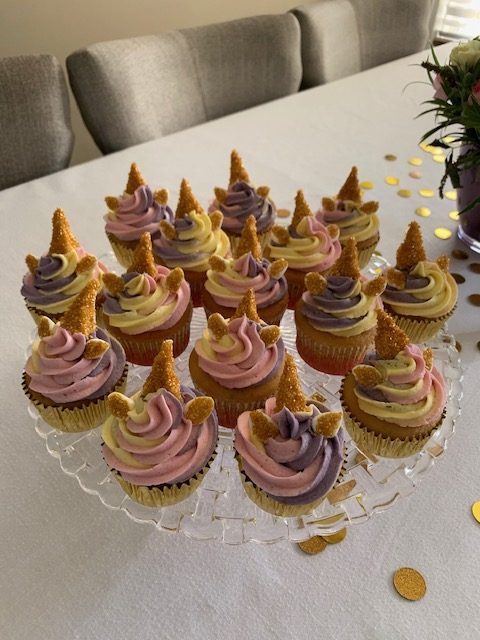 Even my every day trusty drink cart was transformed for the party and put to use. I basically stored everything my guests needed throughout the party. Each tier was organized by appetizer, dinner and dessert time.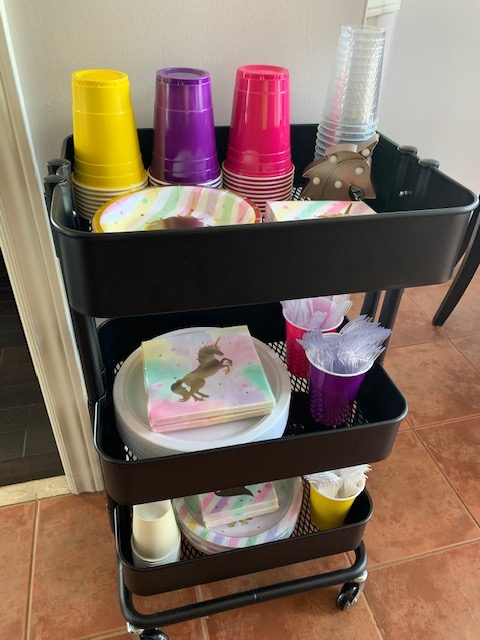 All in all this was another memorable birthday for my daughter. Looking back at photos now while putting this blog together and seeing her big smile, truly made my heart smile. Memories are very important to me, photos of past parties are always a plus in my books. I love documenting everything and anything. One day I hope my girls can look back and appreciate all that we've done and continue to try and do for them.