When my youngest daughter was about to turn 3, I thought it would be fun to throw a flamingo themed party. As soon as I mentioned it to her, she was excited. To this day she still talks about flamingos and she even wanted me to throw her another flamingo party for her 4th birthday. I really did enjoy putting this party together and the tropical theme fit perfectly. Since her birthday does fall in the beginning of July this party was almost like a kick start to summer.
First off as always, I start with the invitations. Which means I usually head to Party City to see what I can find. A flamingo invite is a bit of a stretch, but lucky for me I came across this package with do it yourself invites. I loved the pink stripes and tropical floral on it, however it came with paper pineapples that you had to attach yourself. I knew that I could probably find something else at Michaels. I bought the invite package and headed straight there to see what I could find. As I suspected I found cute, sparkly 3D flamingo stickers . I couldn't wait to get home and put them together and send them out.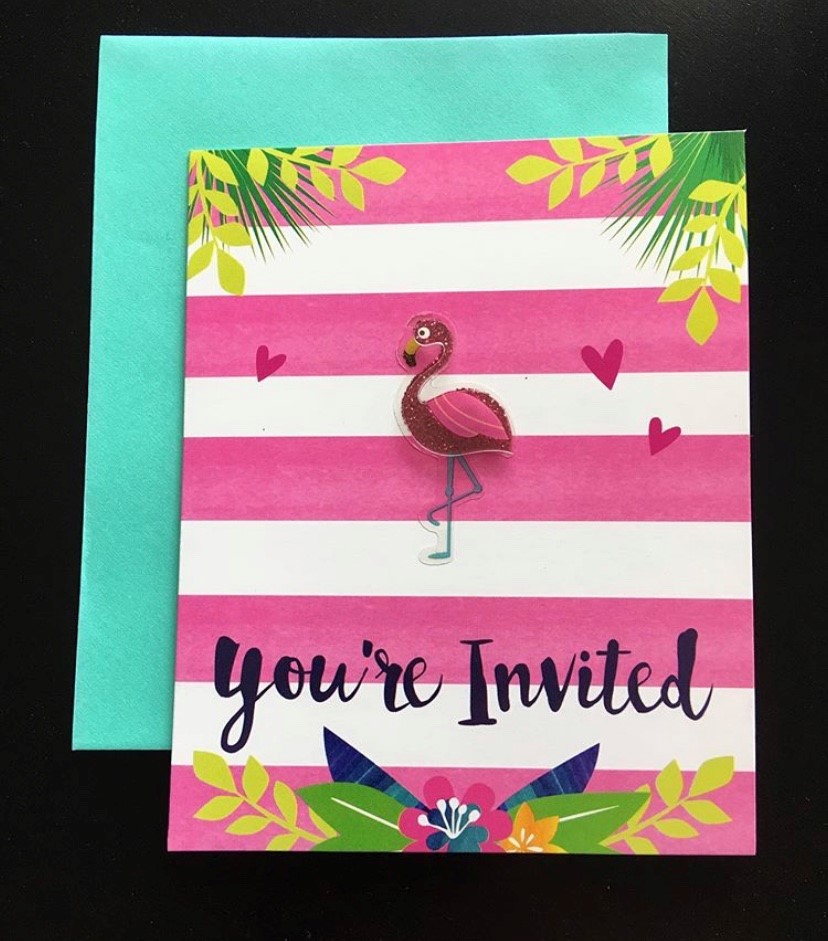 While I was at Party City I came across some large plastic drinking cups with flamingos on them. Since I tend to always use fresh cut flowers from our gardens, I instantly thought maybe I could use these cups as vases for my centerpieces. I was a tad concern of them being top heavy once the flowers were put inside. Therefore I ended up purchasing some pink crushed stone from Dollarama and filled the bottom of each cup to add weight. I only bought three cups from Party City and I used some glass vases I had on hand to cut the cost. I made it a point to use pink flowers along with white and some greenery.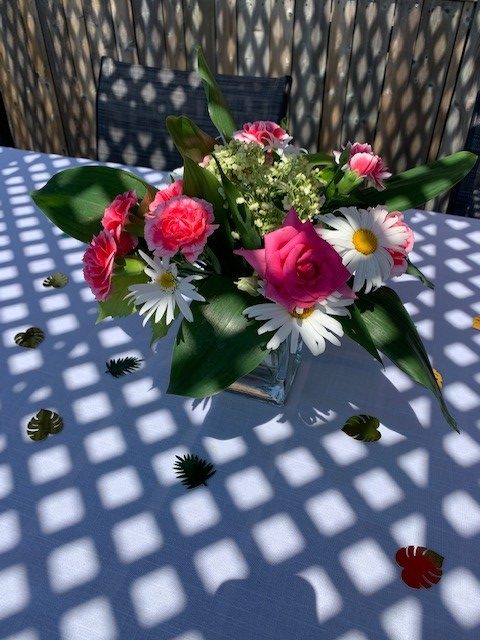 As for the cake I decided to order from one of my go to bakeries, Irene's Celebrity Cakes. I picked vanilla sponge with bacio cream filling. I had asked them if they could decorate it with pink flowers only. Since I was planning to add a flamingo candle I found at Michaels along with some paper flamingo toppers. I personally think, it all came together wonderfully in the end.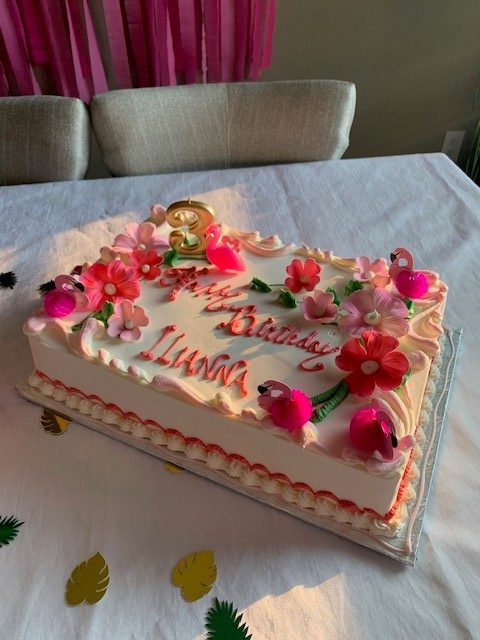 I've become a very big fan of chalkboard signs in general. Therefore I'm loving the fact that I can use ours to welcome our guests and continue the theme of the party.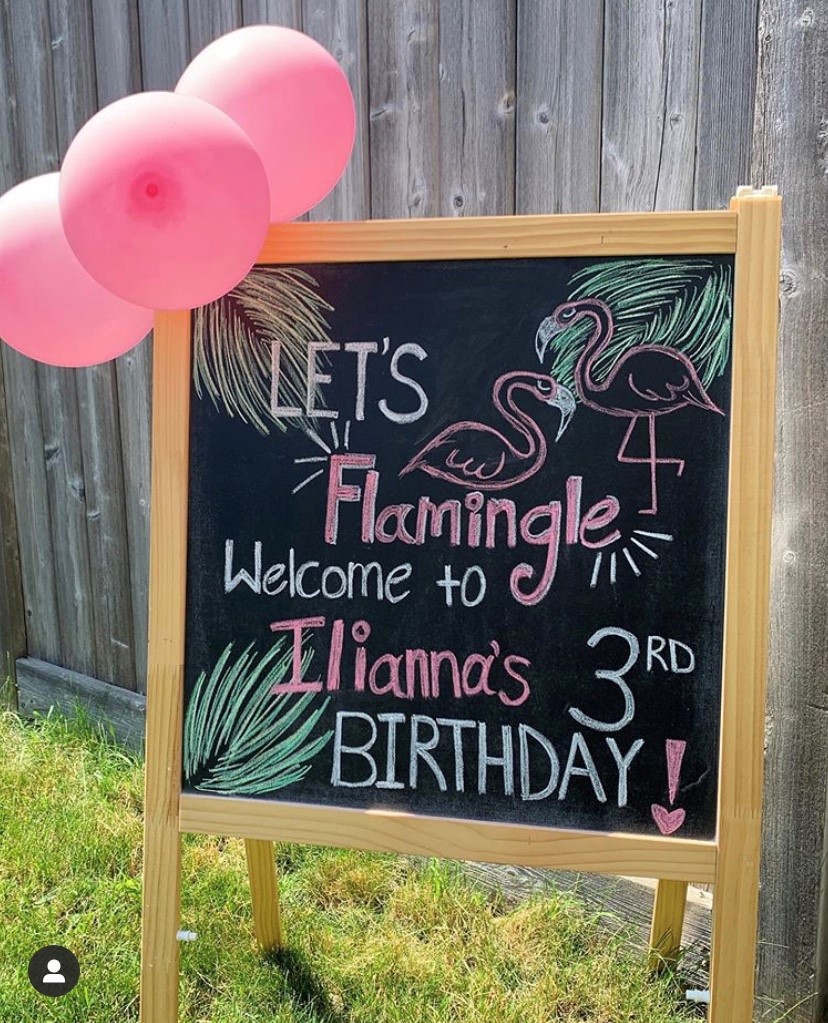 We always take the birthday cake cutting pictures at our dinning room table. Behind the table we have a horizontal mirror on the wall. I almost always add decor to the mirror and this was no exemption. This time I came up with and idea to make a backdrop using crepe paper that I purchased from Party City. This was also my attempt to create my own decor using something so simple and inexpensive such as paper streamers. I was truly impressed at how it turned out that I even have a separate blog on it. For further details on how to make your very own backdrop search, "My Crepe Paper Backdrop".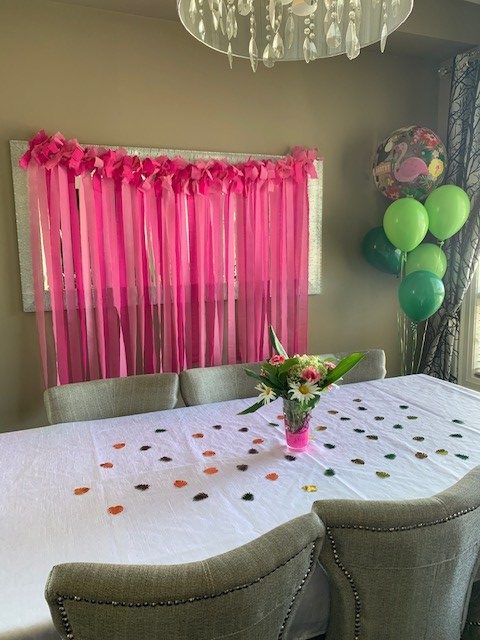 As always, I try and make a separate dessert aside from the birthday cake. This time I decided to make cake bites, basically cake pops without the stick. Since the birthday cake was vanilla, I made those chocolate with homemade cream cheese icing as the binder. I had some extra paper flamingo toppers, so added a few to them as well.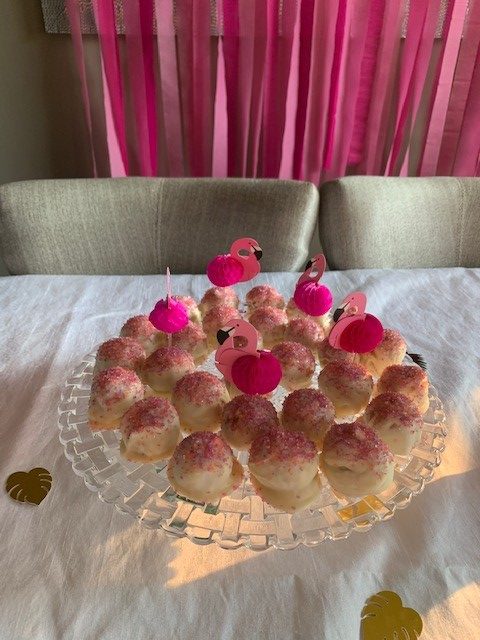 My every day trusty drink cart was as per usual transformed for the party and put to use. Everything my guests needed was easily accessible throughout the whole party. Each tier was organized by appetizer, dinner and dessert time.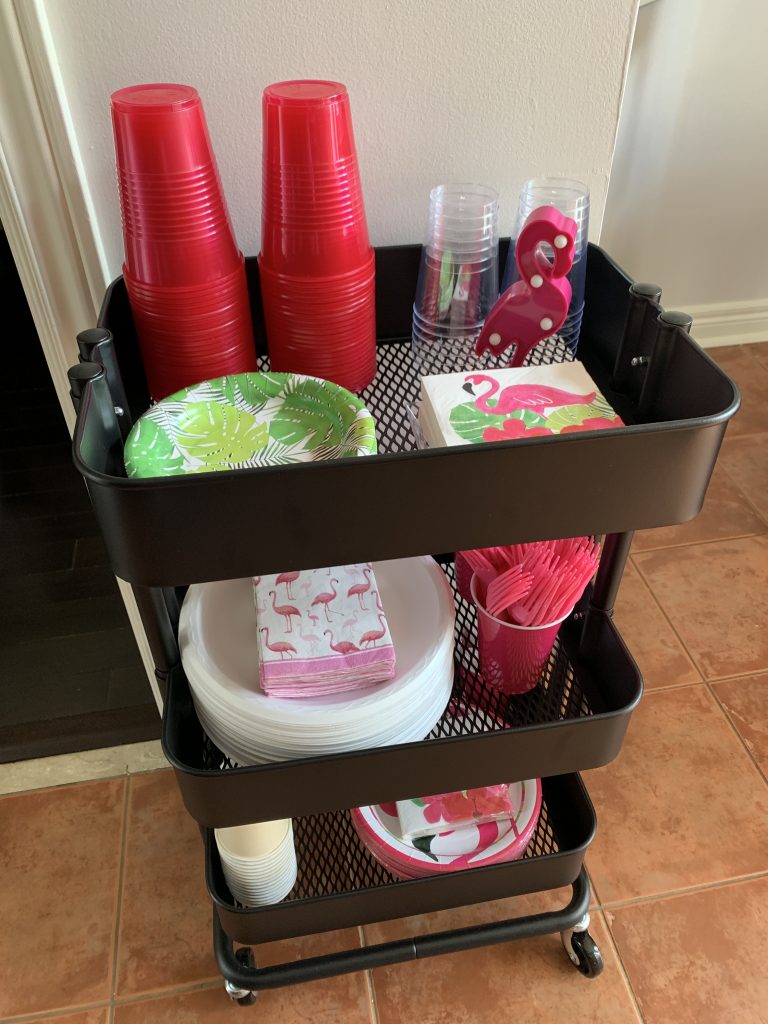 I know how expensive it can get planning a party, even if its at home. Truth is food and drinks alone can add up, not to mention you have to consider what you will be serving it on and in. Then lastly comes decor, by then you decide some balloons are enough. But what if you take those simple balloons and create a cluster that stands out. Or some crepe paper as I did bellow and make a feature wall that your guests can take photos with. These items don't cost a lot and are easy to make with some time on hand. I also suggest to start decorating the day before or even two days before your party if need be. This will leave you more time on the day of the event, instead of scrambling around to decorate last minute.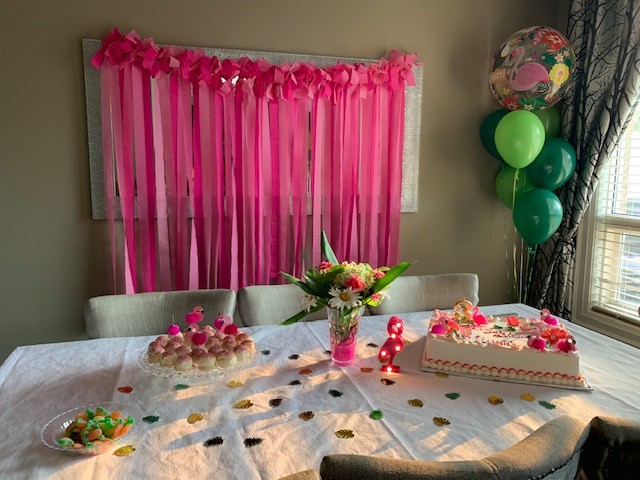 Another theme another party and I continue to enjoy organizing them from start to finish. As always I try to make each party unique and special in some way. Whether its a dessert or decor it can instantly take your party to the next level. In the end what matters the most, is that your guests enjoyed it and more importantly the one your celebrating. In my case, my daughter had a wonderful time with her family and friends. Lovely memories were made and photos to prove it.