My sister is currently planning her son's baptism, and I realized I never wrote a blog on my second daughter's special day. So here it goes, Ilianna's was held in October, therefore I decided to go with a rustic themed baptism. Lace and pearls with a dusty pink and cream colour palette. The reception was held at a banquet hall complete with a sit down dinner and dancing. I was personally excited about this theme and ready to begin. Of coarse I also had my trusty helpers and together we would yet again, create another memorable event. Moreover my sister and my brother in law were the Godparents, so lets just say I had the inside hook ups as well.
First item on the list, the invitations. Fortunately enough my cousin at the time was able to make them for me. I had seen something I really liked on Pinterest, and I knew it would be perfect for our theme. I decided the invitation details would be printed on a cream/pearl finished card stock with a boarder in dusty pink. However my favorite part of the whole invitation was the lacy looking cross made out of paper that would slip over the invitation. Each invitation was then finished off with a pearl right in the center of the cross.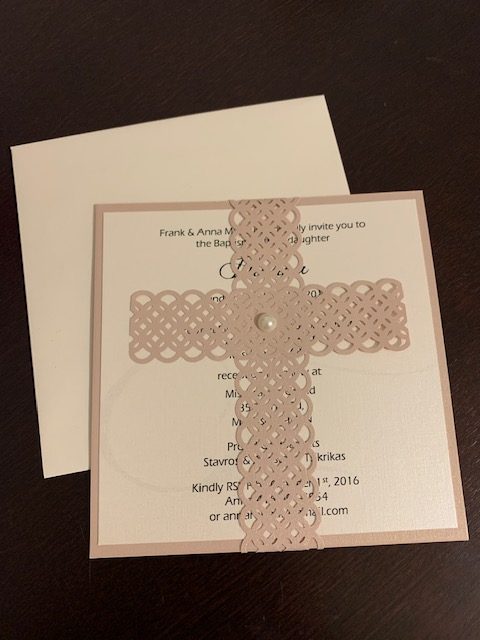 After that I decided to order the cake, once again I looked on Pinterest for inspiration. I compiled a bunch of images and then picked what I liked best from each cake. I then headed to one of my go to bakeries, Select Bakery. I wanted a two tier cake done in a dusty rose fondant complete with lace, pearls and flowers. I purchased a cross cake topper prior for them to add up top. I was truly pleased with the outcome of this cake. It was exactly what I had envisioned if not better and delicious.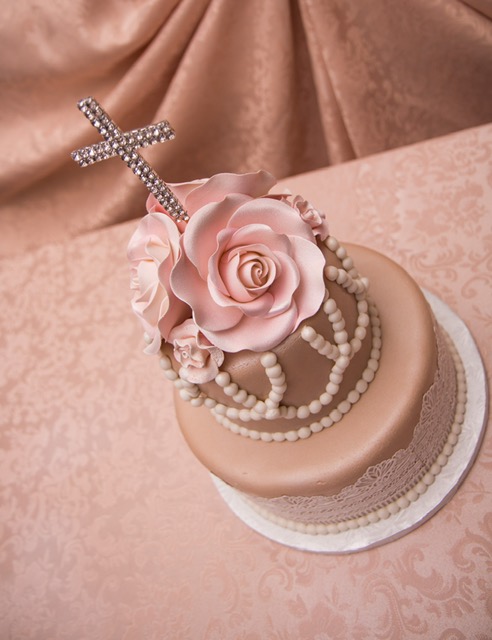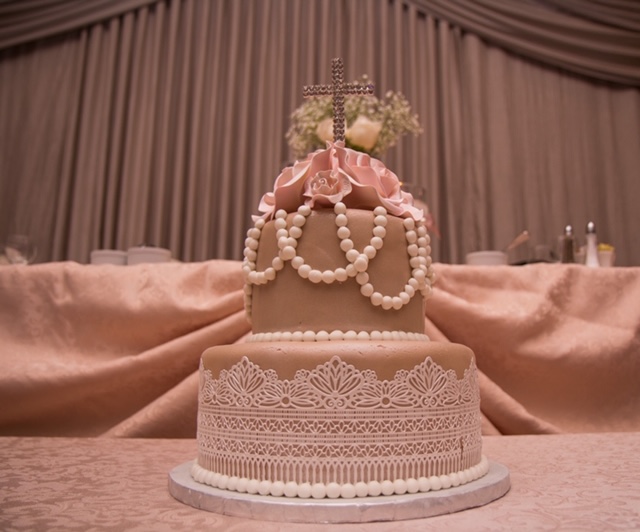 I wanted a simple token of appreciation for my guests to mark this important event. While shopping one day, we came across these squared pearl encrusted picture frames. I felt that these were perfect, not only did they fit the theme but I could place something inside. I opted for my cousin to make me custom thank you cards for each frame. We then purchased some lace and tulle at Fabricland. From there my mom cut the fabrics into perfect squares. She placed a lace square then a tulle square directly on top, then she added 5 candy almonds in the middle. Each bundle was tied in a bow with a thin, dusty pink ribbon that we had purchased from Creative Bag. We then attached them to the back of each frame.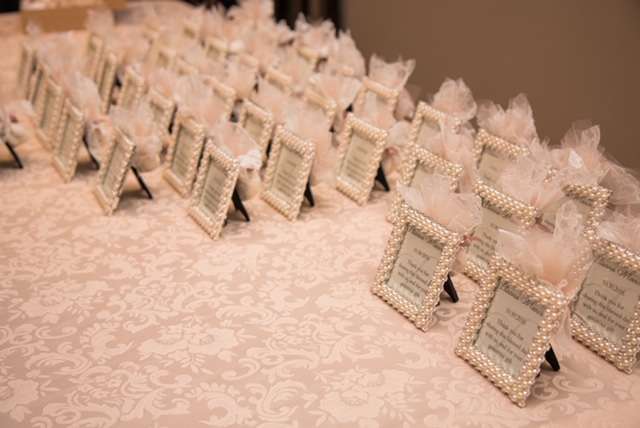 I wanted Ilianna to have a picture frame just like I had made for my other daughter's baptism. Luckily enough, Michaels had the same frame and a selection of decorative stickers. I love how these picture frames still hang on their bedroom walls. A wonderful reminder of their special day and of all our guests who came to celebrate.
We had purchased a while back a picture frame box from Umbra that we had never used. It had two clotheslines running horizontally and clothes pins to hang photos from. I knew this would be perfect as a seating chart for our guests not to mention as well as our theme. My cousin printed off my seating arrangements for me on the same card stock as the invitations. I then finished the frame off with some stickers that I had also purchased at Michaels to continue the theme. For further details on this, check out my blog "Find you seat".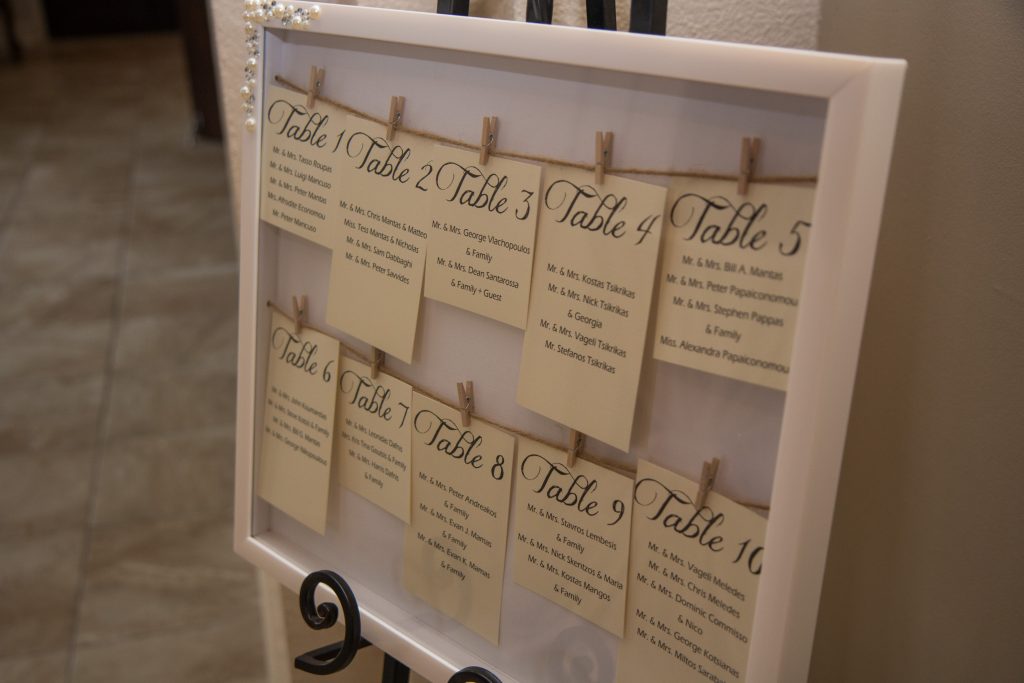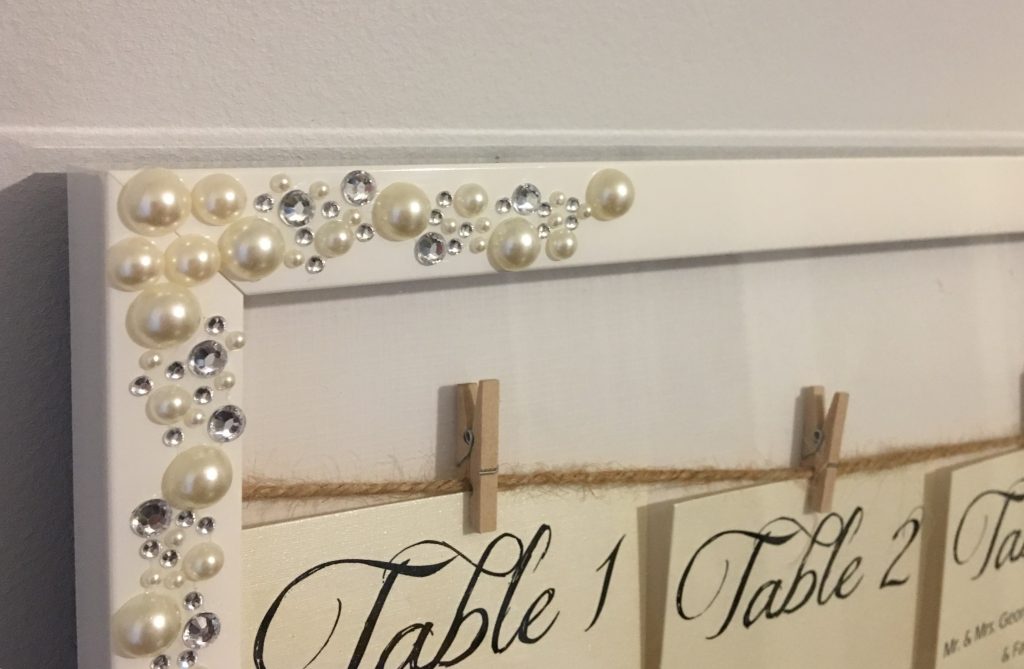 Since the baptism was held at a banquet hall, our guests would need somewhere to place their envelopes in. Instead of the traditional money box, we repurposed a decorative suitcase my mom had. We spray painted it cream and added lace along with ribbon to match our theme. Some extra embellishments here and there and it was ready to go. For further details on this, check out my blog "DIY money box idea".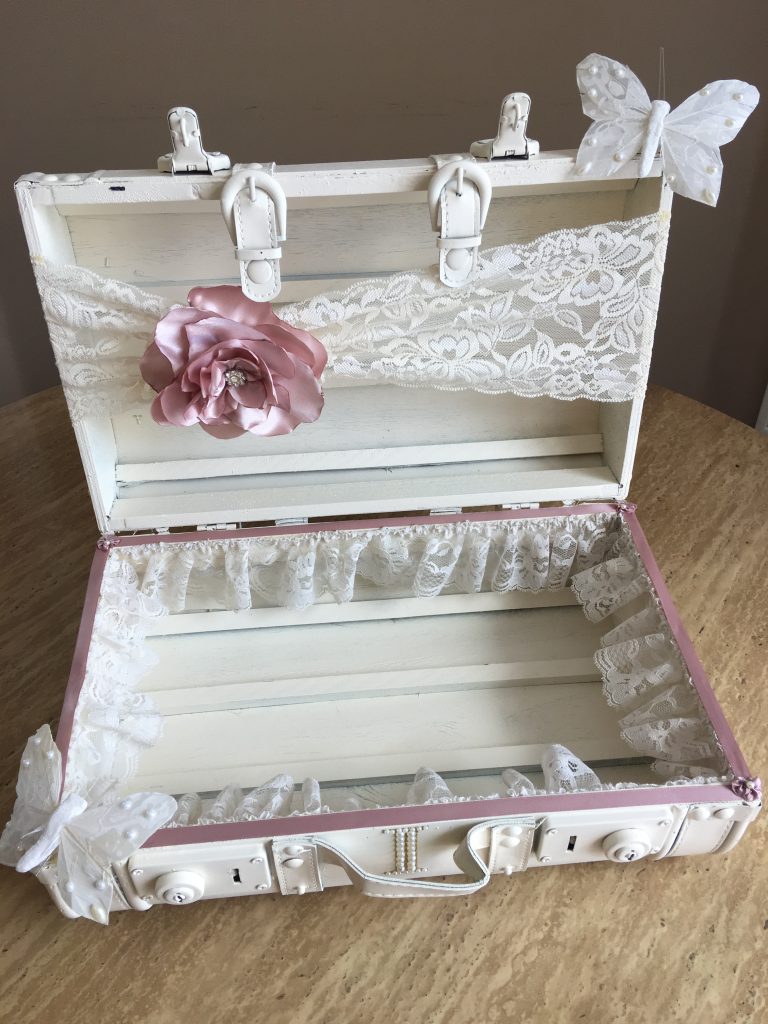 For each place setting my sister and I decided to make homemade truffles. Chocolate and coconut to be exact, something sweet for everyone to enjoy. We then packaged them up in clear boxes that we had purchased from Creative Bag. Lastly we used some matching ribbon to tie a bow.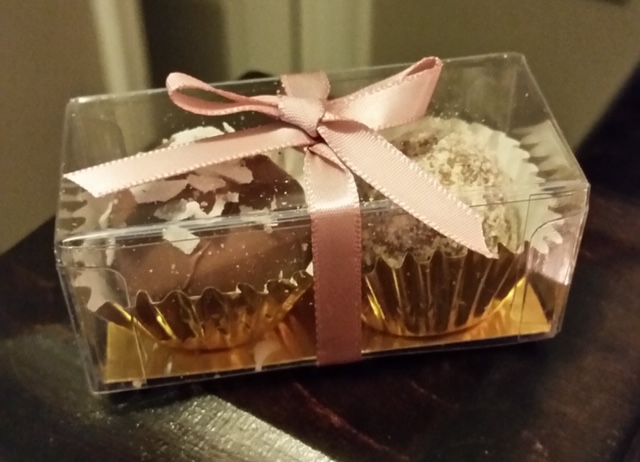 When it came to the centerpieces I knew I wanted something different then a vase with flowers. My sister had a set of clear cylinder vases at home from Ikea, I knew they would be a great alternative. I would add some candles which then would create a welcoming ambiance. So I purchased the amount I needed for each table and three extra sets for the head table. My sister persuaded me to add to one of the three vases some roses and baby's-breath. My mom thought adding lace, ribbon and pearls would further help our theme. Truth is I'm fortunate to have these women on my team, the end result was simply beautiful. For further details on this, check out my blog "Flower Centerpiece Ideas".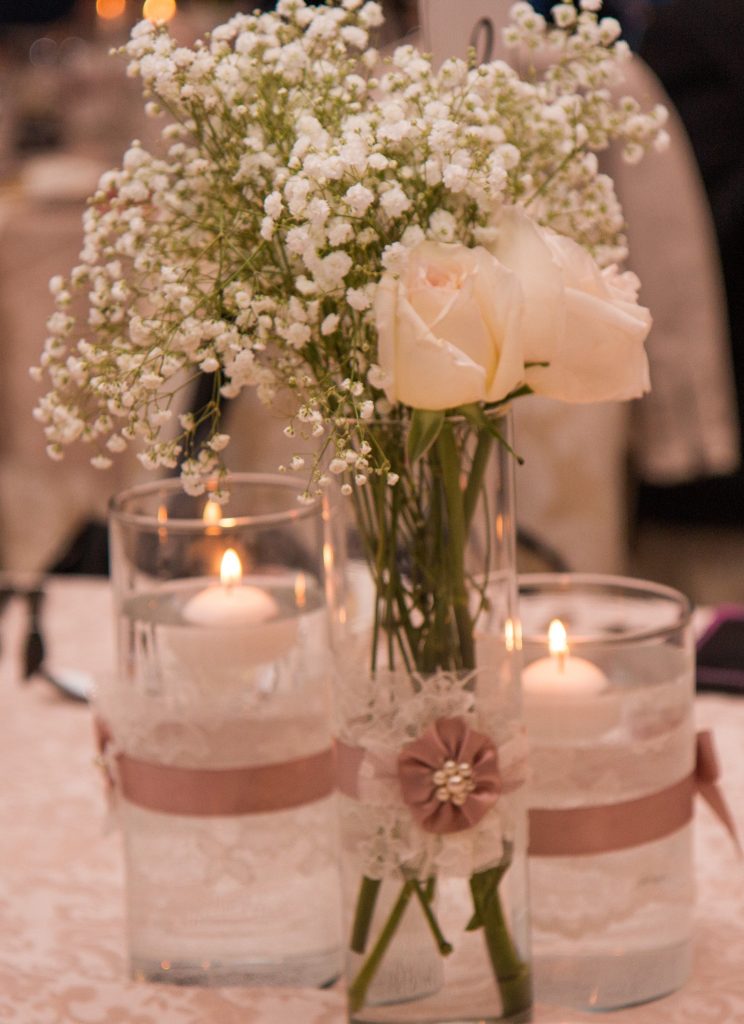 As for the dessert table, I decided to add a cookie buffet along with all the other wonderful desserts. I purchased a bunch of popular cookies as well as my sister and I made some. We then placed them into jars we all had on hand, my mom decorated the jars with matching ribbon, lace and pearls. I also purchased some clear bags, twist ties and tongs from Creative Bag. That way our guests could stock up and take home. For further details on this, check out my blog "Cookie buffet".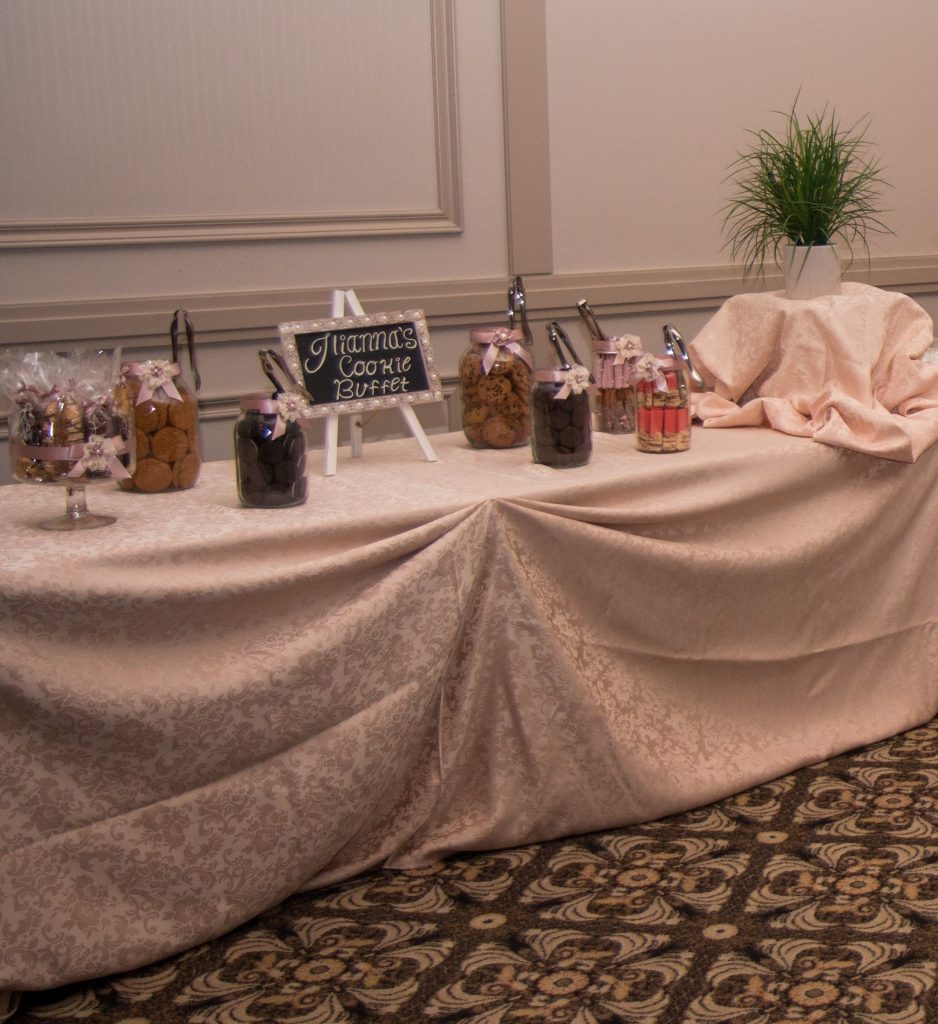 My daughter's baptism was truly a day to remember. Thankfully we had hired a photographer to capture all these memorable moments. Every detail and all our hard work truly paid off. To this day I am able to look back and smile and take comfort that some day my daughter will be able to see and read all about her special day.