When my eldest daughter Marilenna was turning 4, I decided to throw her yet again another princess party. This time however, a Disney Princesses themed party to be more specific. She was finally showing a lot of interest in the whole Disney princesses franchise. Especially Frozen the movie, but I wanted to do something different. Instead of just a Frozen themed party, I would incorporate other well known Disney princesses. Like my personal favorite, Belle from Beauty and the Beast. Furthermore since Frozen had been done over and over again I really wanted her birthday not to be a total repeat. So off I went to plan a royal backyard princess party.
As always first things first, invitations. I found these fancy invitations at Party City and added a few Frozen stickers on the back and envelope. A simple way of combining the princesses to store bought invitations. You all know by now I love sending and receiving invitations by mail. They don't have to be custom or cost an arm and a leg, a store bought invitation will do in my books. To be honest Party City is my go to, no matter the theme they have it and usually two invitation options to choose from.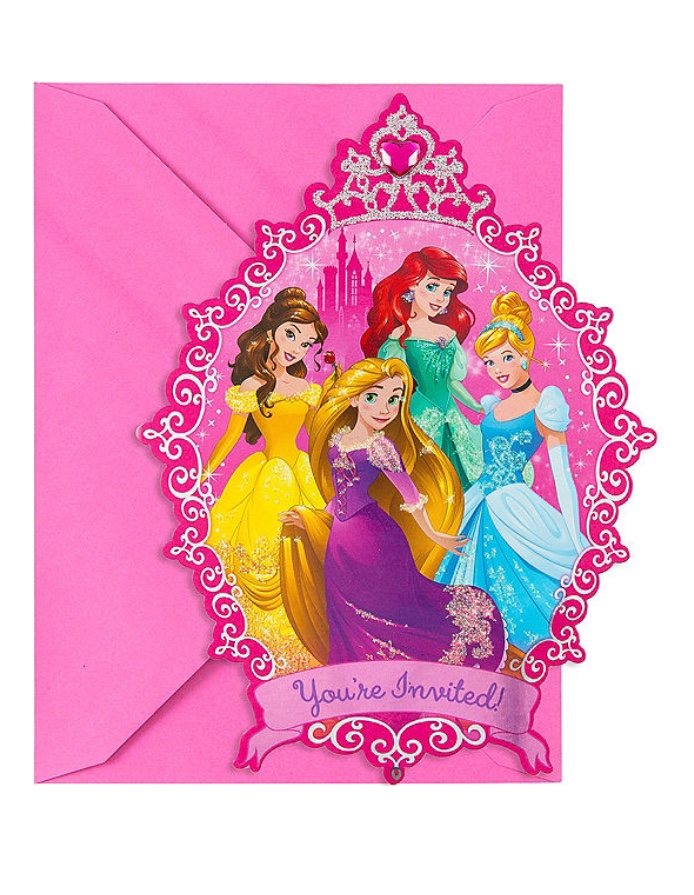 Once again I wanted to use fresh cut flowers for the centerpieces. I also wanted specific flower colours, to continue the theme. I took a look at our gardens and I picked three colours that best represented all the princesses. White and purple for Frozen and to that I added pink for the other princesses. If I had blue flowers I would of used those as well to continue the Frozen colour theme. I had plenty of clear vases on hand and I picked up a couple of rolls of ribbon. Blue, purple, white and pink to be exact, my plan was to wrap the the coloured ribbons around the neck of the vases and curl the ends. This was another quick and easy way to combine all the colours together. Talk about cost efficient too, having a garden and reusing vases saved me a lot.
H&M tends to have a lot of Disney merchandise. One day while looking for something for my little princess to wear on her big day, I found this cute Elsa dress. It was perfect, it even had pink. Another wonderful find in my books, and she was able to wear it again and again. If you don't know by now, I prefer to physically shop and find theme related birthday outfits. Not to mention the search alone is exciting to me and if I'm not totally satisfied I can always tweak them.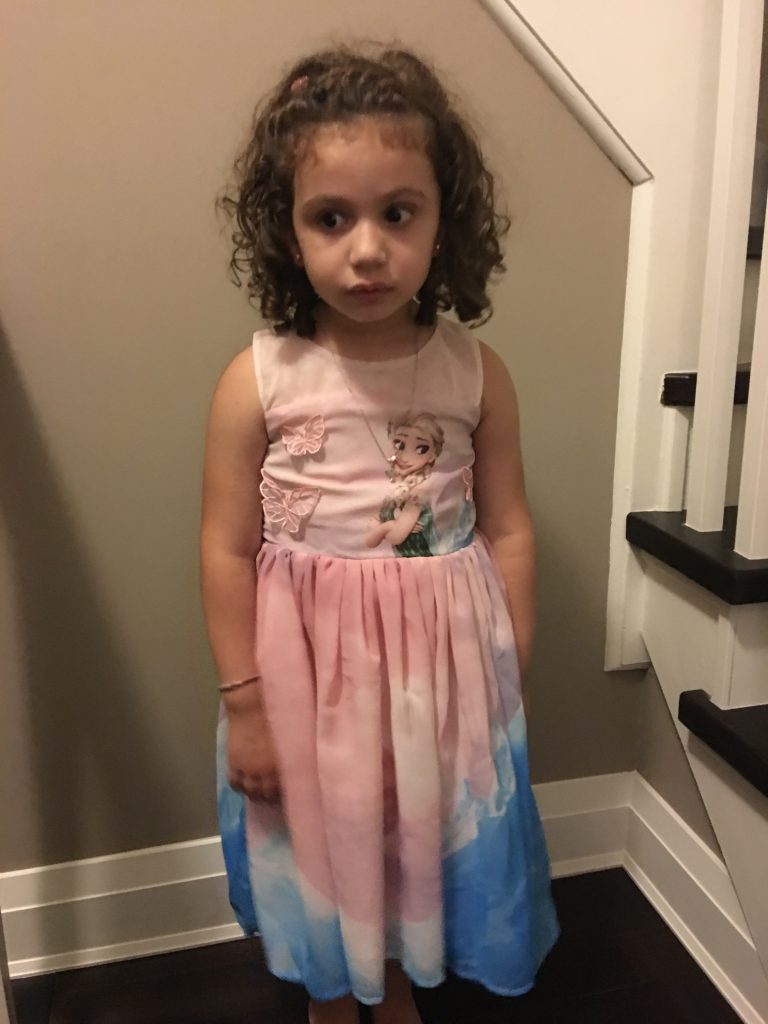 The previous month we had celebrated our youngest daughter's first birthday. In which I had ordered a cake from our favorite Italian bakery. Since their birthdays are basically a month apart I like to have a regular cake at one party and an ice cream cake at the other. Therefore for Marilenna's party I ordered a chocolate chip, ice cream cake from Baskin Robbins. Of coarse I wanted the cake to include Frozen and a few of the other Disney princesses. Baskin Robbins had cake toppers for both so I ordered them, however those made the cake more expensive. Truth is I could of saved a lot by just ordering the cake and buying some plastic figurines myself. At least next time I'll have that in mind, I also recently discovered they make two teared cakes. Bottom line you can't go wrong with Ice cream, it's definitely a yummy alternative.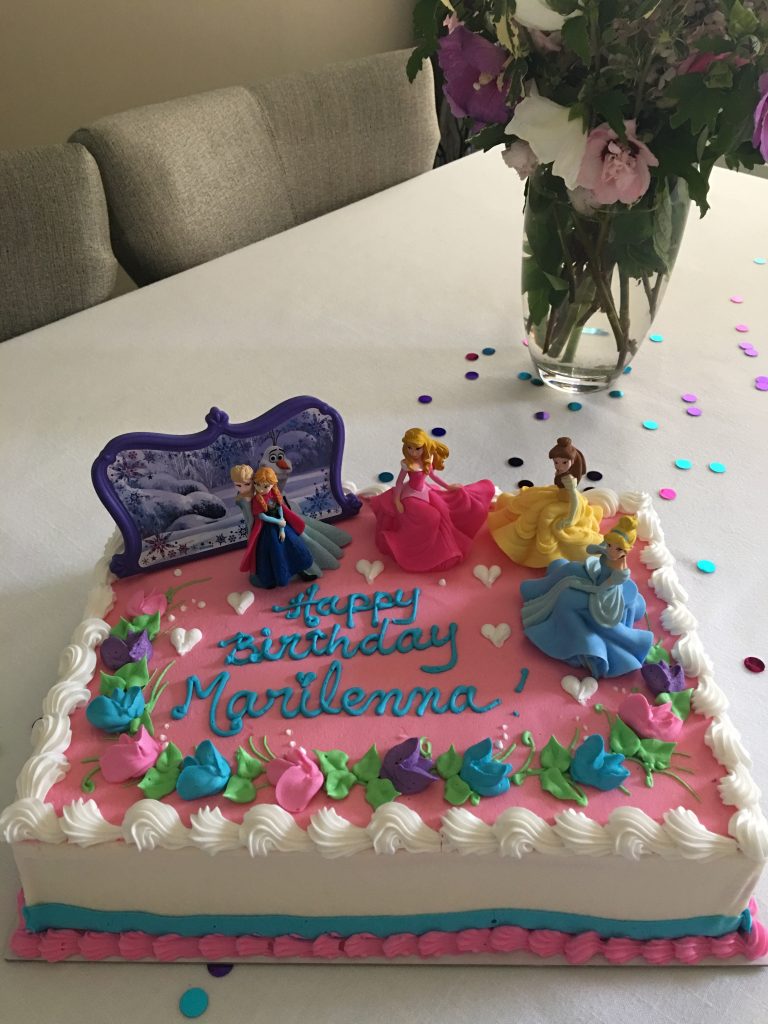 Since the birthday cake was ice cream, I made some chocolate and vanilla cupcakes on the side. As always I like to make something homemade as well offer another option for our guests to enjoy. Perhaps there's a child that doesn't like ice cream cake, in that case a cupcake will do most often. Truth is you can never satisfy everyone, but as long as your child is happy then that's all that really matters. Whatever you do extra is considerate and hopefully appreciated. I found the perfect sprinkle mix at Winners for the cupcakes, I really liked the variety of sprinkles and the colour combo was spot on.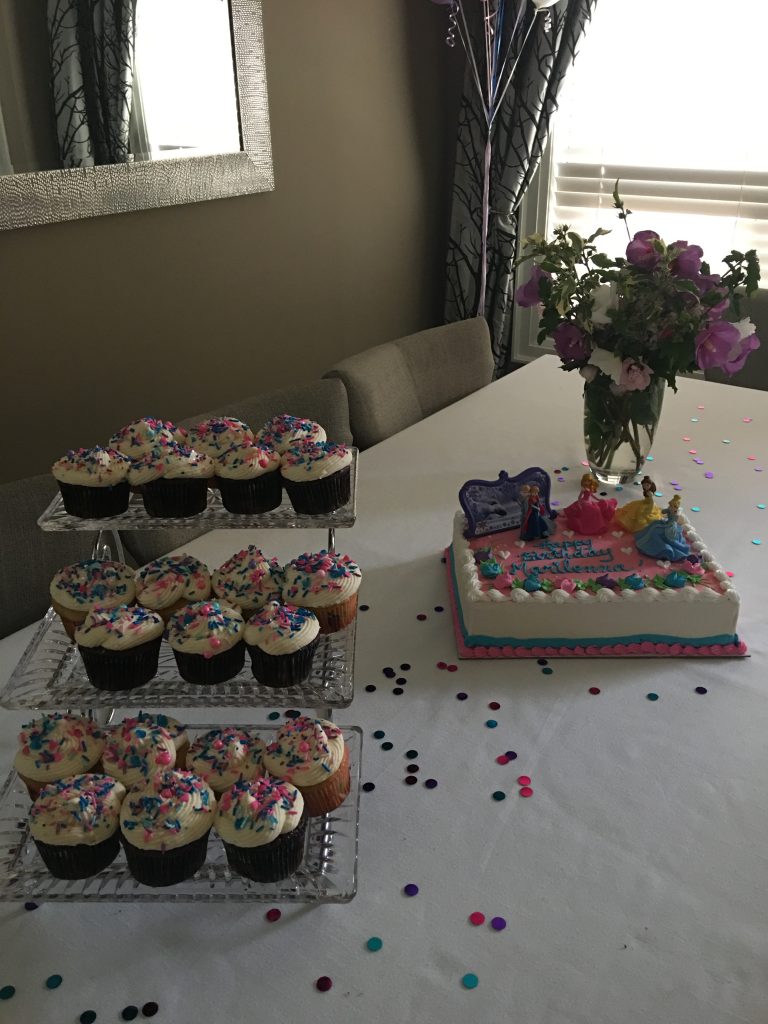 Of coarse we had plates, napkins, cups and cutlery to match the theme. I also ordered two balloon bouquets from a dollar store, one with a Frozen ball balloon up top and the other with a few more princesses. The solid balloons I kept the same for each bouquet to continue the colour theme. Some hanging snowflakes and princess related decor was added to our tent outside and a few more details here and there. In the end another birthday came and went and even though it's a memory now, at least we have precious photos to remember it by. Side note, writing this blog has been a great way of documenting everything I've done. It also allows me to reminisce a little and that's always welcomed.