If you don't know by now, I love my IKEA RASKOG, utility cart. It completes our kitchen and keeps my countertops clean. When I first got my cart it was just the beginning of summer, so I made it into a drink cart. Complete with glasses, straws and syrup pumps for my Italian soda needs. If you would like further information on that, search "My IKEA Cart" for my blog post on it. However I remember thinking then, how I can transition it into a hot beverage cart for fall and winter. If you know me well, you know I like to plan ahead and these sort of things excite me.
I was decorating my home recently for fall, so it was time for me to update my cart. I already knew what I wanted to include on the cart, the only extra things I needed were some glass jars. Therefore I began my hunt to find two to three jars the same, but different in size. I went to my go to stores, however I didn't find what I was looking for. This past weekend we went to the states and I found two jars from T.J.Maxx. The glass has a pebbled texture and the lid is stainless steel with a black splatter all over. Which fits perfectly well with my stainless steel appliances and black accents throughout my kitchen.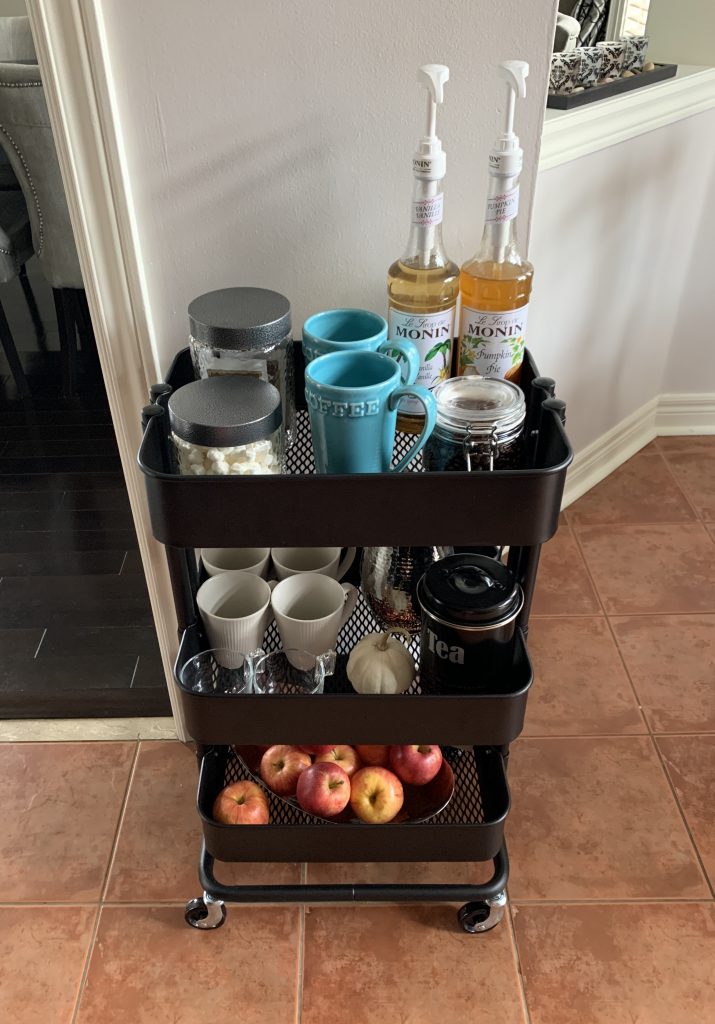 Here's the brake down of the items on my hot beverage cart:
Syrup pumps
Large mugs
Mini Marshmellows
Hot chocolate packets
Coffee beans
Tea
Water decanter
Regular mugs
Espresso glass cups
Mini pumpkin
Fruit bowl with apples
Now here's why I chose these specific items for my hot beverage cart. As I've mentioned before, my husband has become a certified barista for our household. He knows his coffee and tea thoroughly and enjoys making and drinking it too of coarse. I'm more of a caramel mocchiato kind of gal, therefore specialty drinks are my fav. One of our standard syrup pumps at all times is vanilla, but since it's fall and all he had to get a pumpkin one. I've already enjoyed a couple pumpkin spice lattes, but I look forward to cozy nights in with a mug of hot chocolate topped with marshmallows. That is why I needed some jars for my mini marshmallows and hot chocolate packets. I decided to go with the packets, because of the variety of hot chocolate flavors and for easiness as well.
I added some coffee beans to a jar I had on hand, more so for looks since my husband has an extensive variety of coffee beans in his coffee/tea cabinet. I also added two large teal mugs that match the accent colour of our home. On the next shelf I kept my water decanter and added our tea canister with an assortment of tea bags. Some regular sized mugs and two glass espresso cups. A mini pumpkin for decor to finish off the shelf. On the last shelf I kept my fruit bowl but instead of bananas I added apples.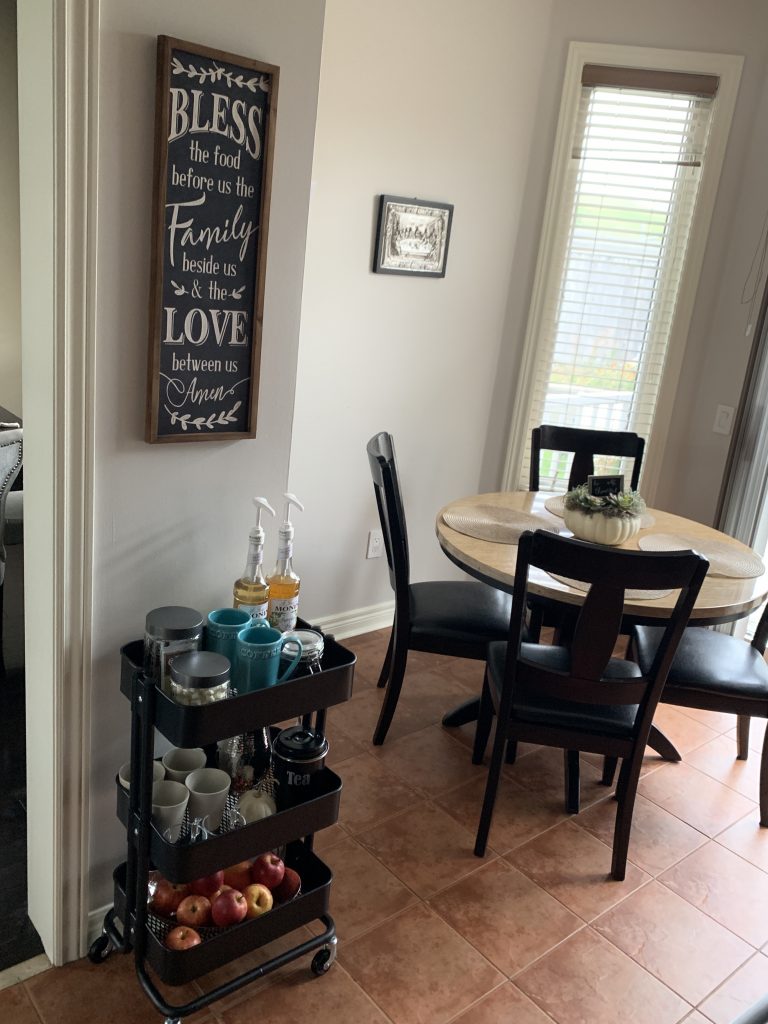 I'm very pleased how everything came together on this cart, its inviting and fitting with this cooler weather that's here to stay. I look forward to enjoying many more pumpkin spice lattes and pumpkin spice teas. As well as watching movies and sipping on hot chocolate with my girls. I also can't wait for this coming Christmas season, to entertain and transition it into a bar cart for my guests. Happy fall everyone!!!