I still can't believe that summer is over, at the same time I can't help myself but decorate my home for fall. Not to mention I can't resist anything with pumpkin spice in it, so I guess it only makes sense to embrace this colourful season. I bought some mini white pumpkins for a glass decorative bowl on my dining room table. Since then I've been thinking about some other ways I could style these cute pumpkins. I looked for inspiration on Pinterest and today I would like to share how you too can put together your very own fall centerpieces. Hopefully using items you mainly have on hand to cut the cost, such as faux pumpkins then your defiantly in luck.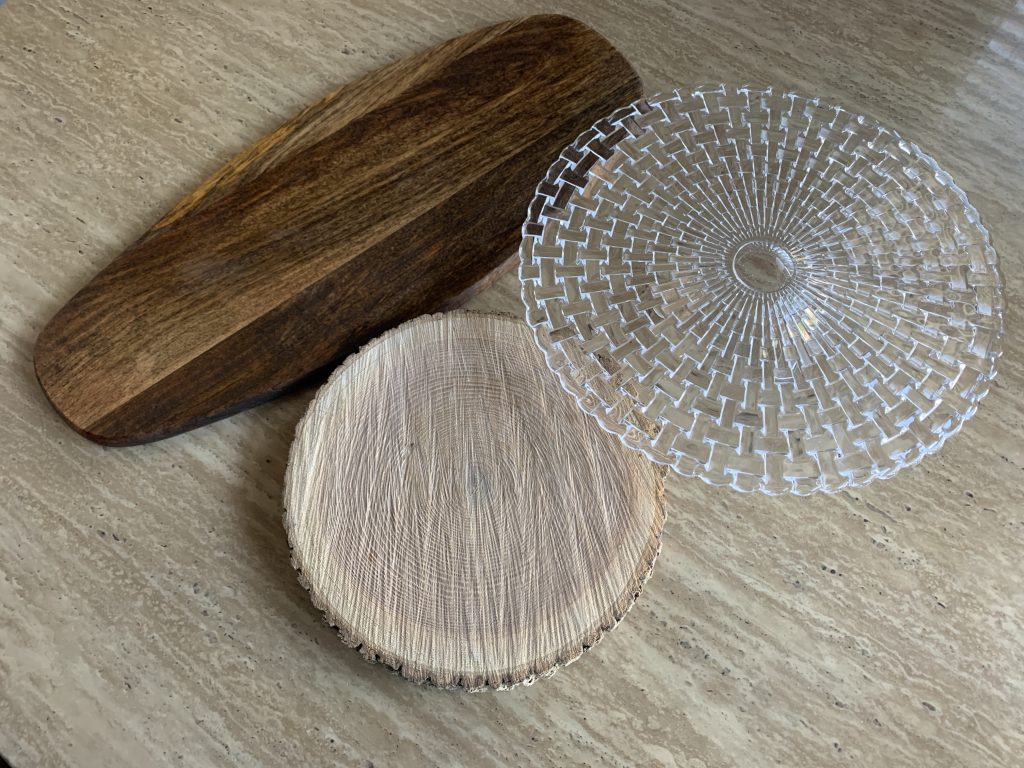 First off pick a base, something to help tie everything together. I purposely picked these three items, because I knew that they would be perfect for what I wanted to achieve. A wooden plank, a tree trunk slice and a crystal stand are all items I personally use for entertaining. I bet you might have one or two of these items on hand yourself.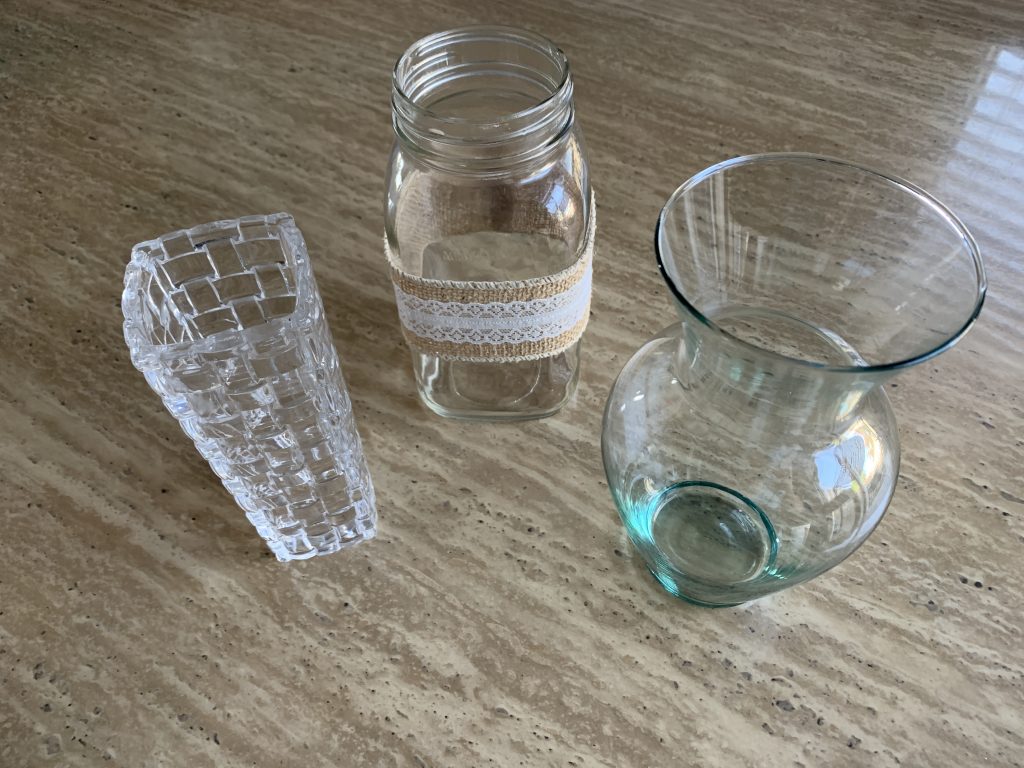 Here are some small vases I also had on hand that are perfect for these centerpieces. A small crystal vase, a Maison jar with some burlap and lace and a simple glass vase.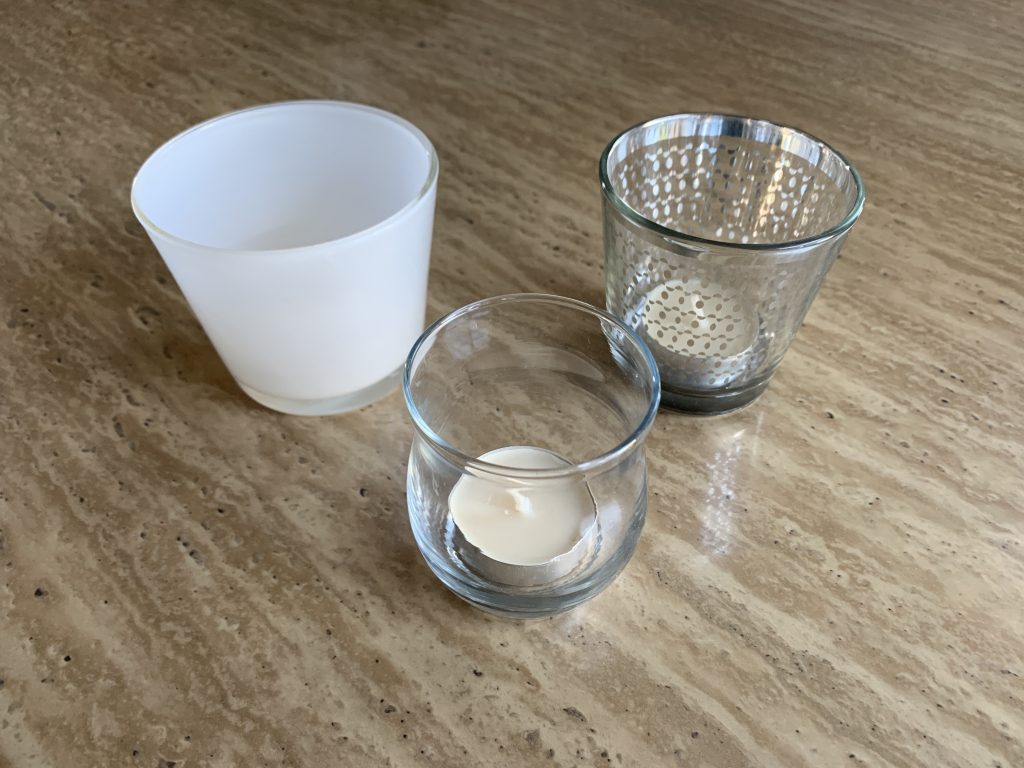 Here are some votives with tealights in which I had on hand as well. If you have small pillar candles those would work too, as long as they won't create a mess when lit for a while.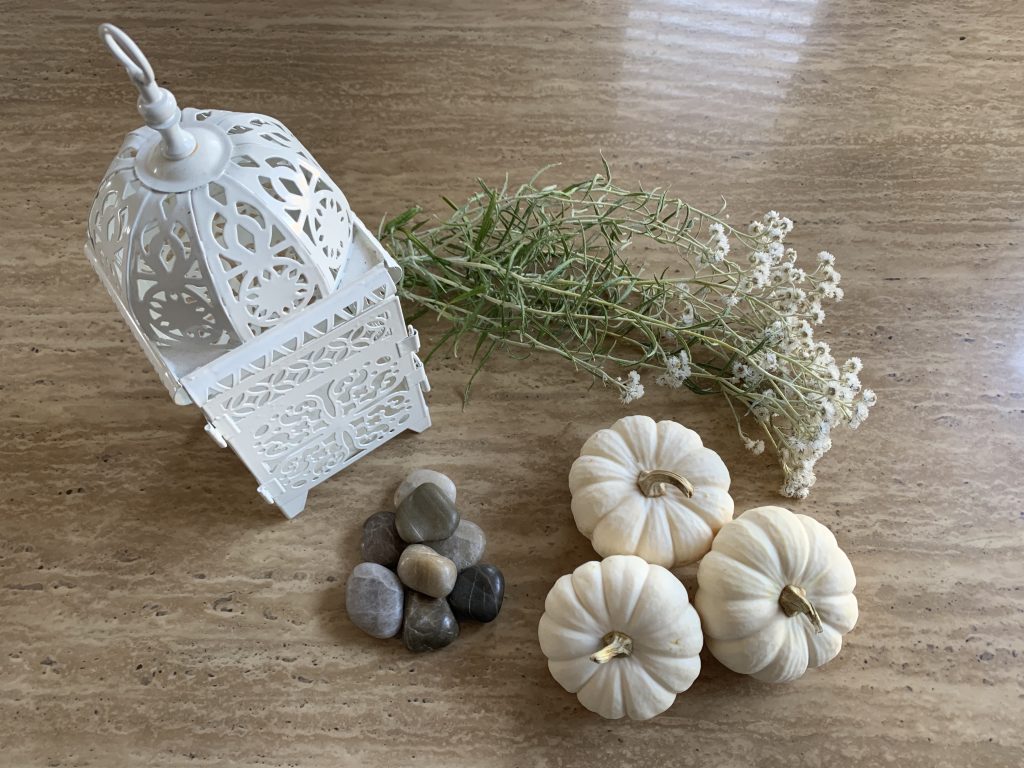 These are the decorative elements for the centerpieces, again all of which I had on hand except for the mini pumpkins. To be honest before buying these cute pumpkins I did look for faux ones but had no luck. The pearly everlasting I have tons of it growing in our backyard, however you can use baby's breath as an alternative. A white decorative lantern and some pebbles are some other items I have as decor around the house.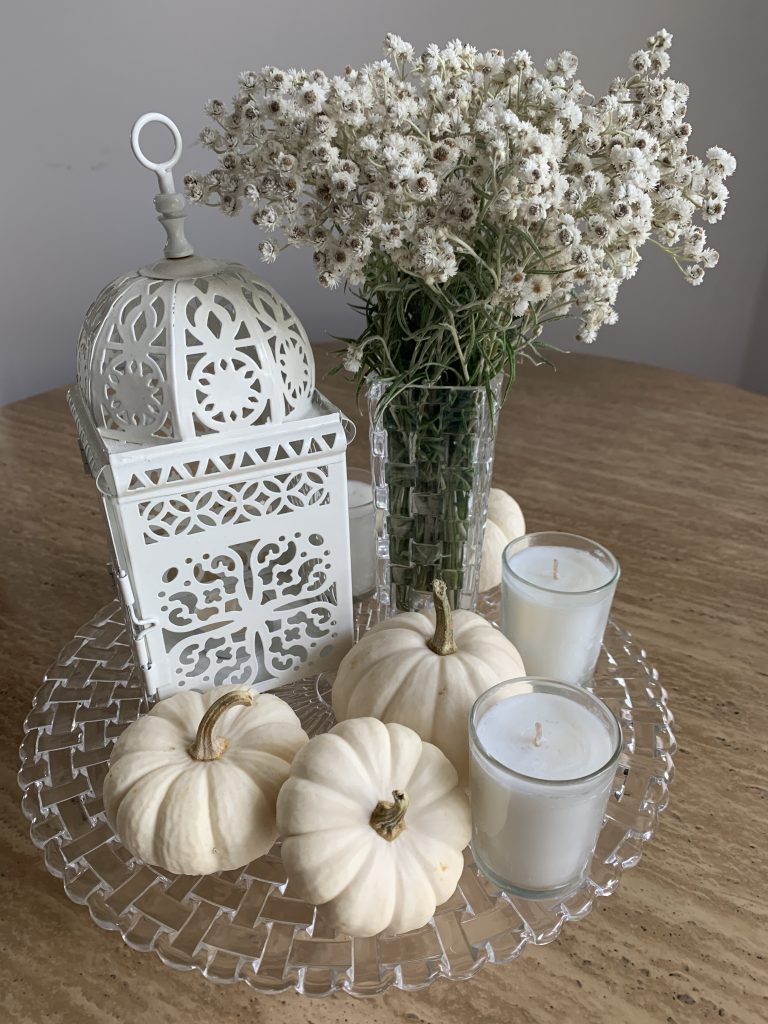 For this centerpiece I've used my crystal dessert stand as the base. I added 4 of the mini pumpkins, three candle votives, a lantern and the matching vase with flowers. I especially like how this centerpiece has some height to it.
For the tree trunk slice centerpiece I used 3 mini pumpkins, a candle votive, a Maison jar with flowers and some pebbles here and there. This is by far the more rustic centerpiece of them all that I styled.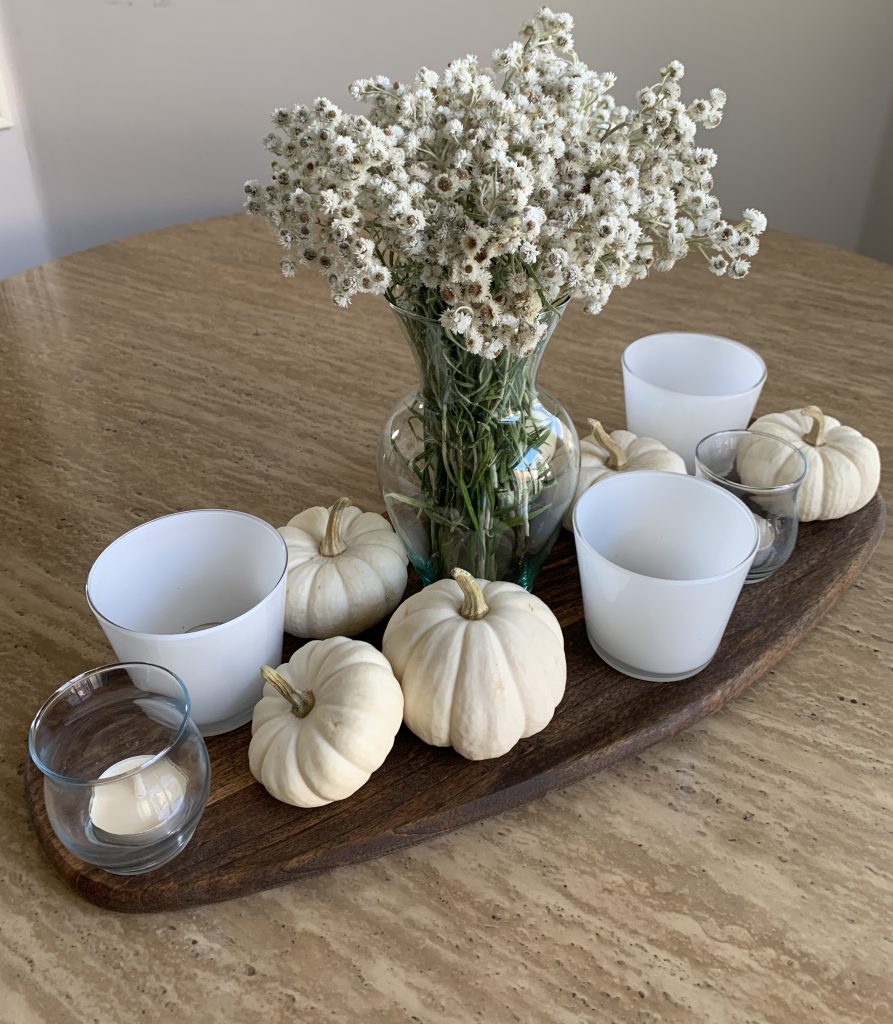 With my wooden plank centerpiece I was able to add more items, because of the larger surface area. I added 5 mini pumpkins, 2 clear glass votives with tealights, 3 white glass votives with tealights and the clear glass vase with flowers. I really like the mix of votives and the mix of whites in this centerpiece.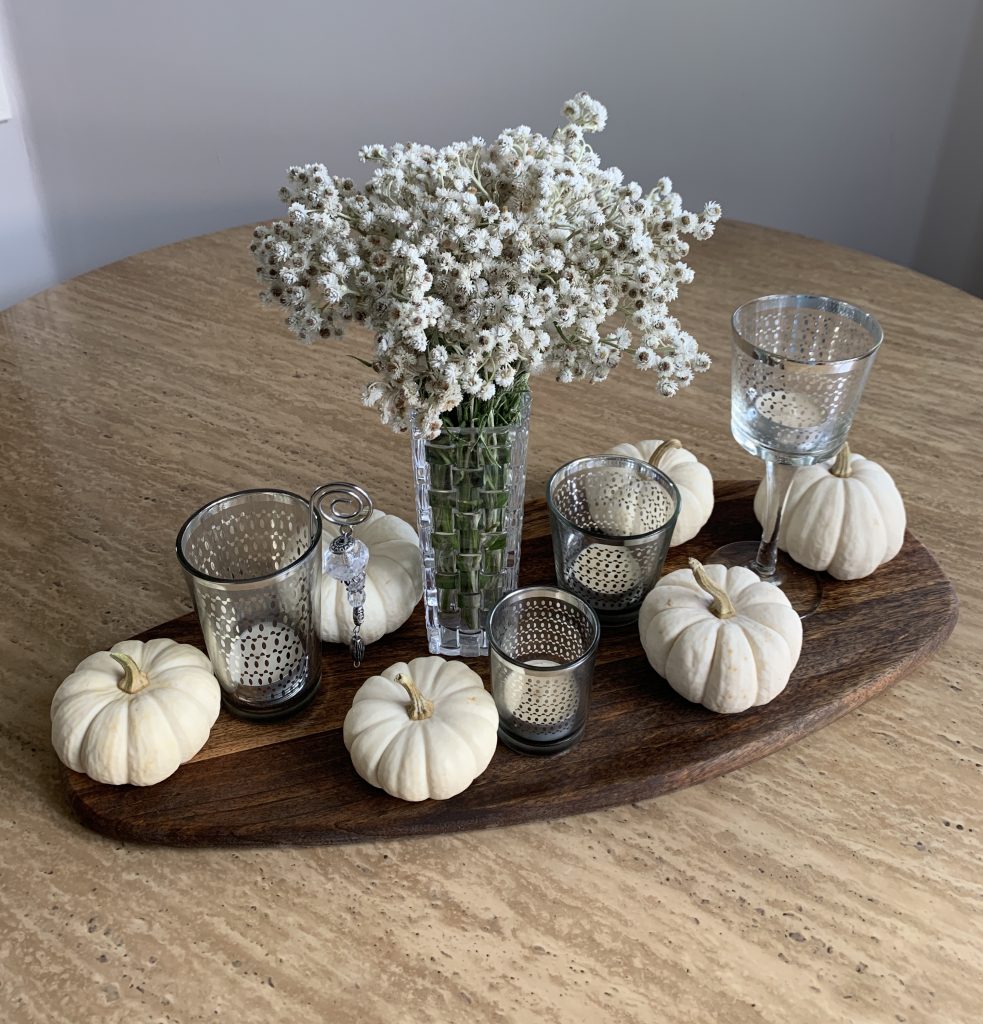 I styled the wooden plank again this time with more of an elegant feel. I've used 6 mini pumpkins a set of matching decorative glass votives with tealights, and the small crystal vase with flowers. I bet this centerpiece all lit up would look magical on a dining room table for thanksgiving dinner.
I'm hoping this blog helps inspire you to get creative and shop your own home to make your very own fall centerpieces. The possibilities are endless, you can play around with other gourds and colours for example. Whether you decide to use them as decor around your home this season. Or perhaps for a dinner party, either way they will surely add that touch of fall beauty.