I've always wanted a bar cart, partially because I love my red wine and occasionally a mixed drink. Not to mention they look so classy, if done right that is. I even have the perfect spot for it, right in this nook between my upstairs and downstairs. However, since my children are still young and my sister is about to pop with her second child. A bar cart doesn't feel right just now for us. One day though I will get that beautiful bar cart I've always wanted.
Ever since we did our kitchen facelift and finally got rid of the high chair, I felt as though the kitchen needed something else. That and the fact my husband has apparently become a certified barista. We now serve a wide variety of coffees and drinks here at home. Suddenly, I had to make room on the countertop for syrup pumps and let's just say I wasn't so thrilled about that. I mean we don't have enough counter space to begin with, even a fruit bowl was too much for me at times. Now with pumps and another bowl for lemons and limes, the countertop was getting way too crowded.
So I went on to Pinterest and looked up bar carts, I figured if I can't get a legit bar cart at this time at least I can get a drink cart. I quickly came across the RASKOG Utility cart from IKEA. Something so simple yet so versatile, then again that's IKEA for you in a nutshell. I instantly knew this would be perfect for us. It was just the right size and had just enough shelves to store what I wanted. So off to IKEA I went, while at IKEA I also came across some drinking glasses in the teal colour that I love and have as an accent throughout our home. I knew that by placing a few of these on the cart would in turn help continue my accent theme. Aside from that everything else I planned to put on the cart I had at home.
Once at home my husband put the cart together for me in no time. In the meantime, I gathered all my items I wanted to place on it. Of coarse that was my favorite part, I couldn't wait to see it all come together. I wanted the syrup pumps on the first shelf along with the drinking glasses and straws I had on hand. I also added some simple white napkins to a holder I had stored away. On the second shelf I placed my wire fruit bowl with lemons and limes. I also had a nice hammered stainless steel, water decanter that I felt would go there too. Since it's summer I thought a star fish was appropriate for decor so I added that there too. On the last shelf, I had an oval hammered stainless steel bowl that you could use for bread but I instead placed my bananas in it.
To be honest I'm not done yet, I still want to find a small ice bucket and a small print or chalkboard to go directly above the cart on the wall. I plan to convert the drink cart in the fall into a tea/coffee and hot chocolate station. I'm already picturing mugs and a variety of teas and marshmallows in a jar. Just thinking about it is exciting on some level, yet again I don't want summer to leave.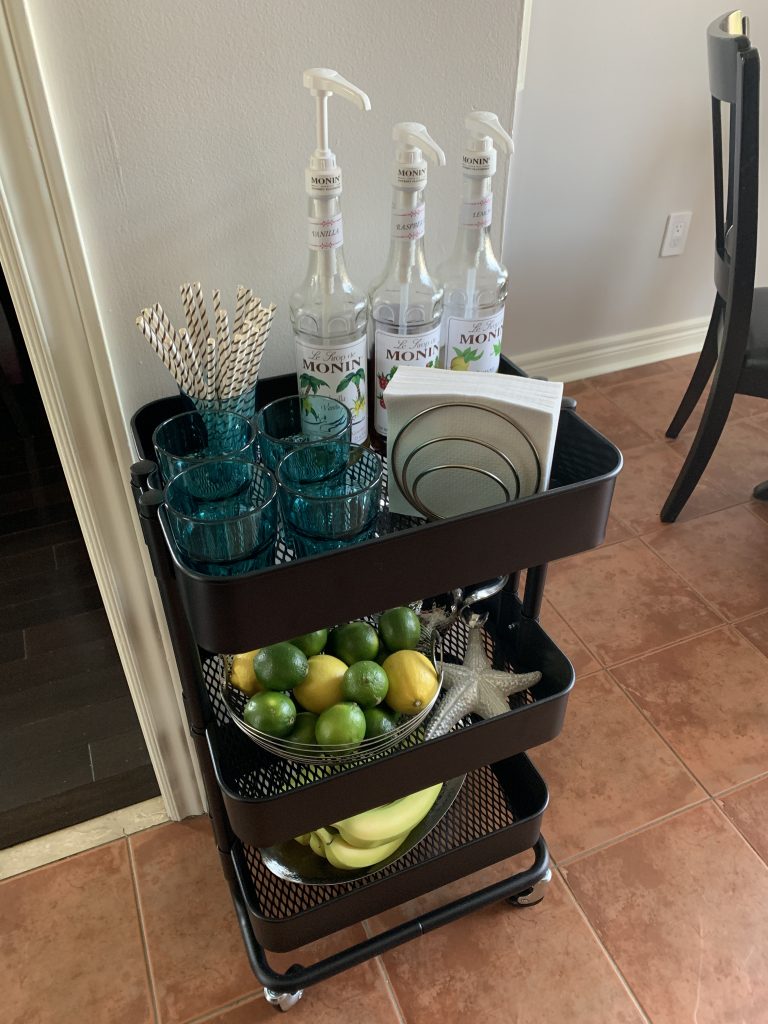 Two weeks ago we hosted my youngest daughter's flamingo themed, birthday party. Even though it's mainly a backyard event we usually have all the appetizers, dinner and dessert set up in our kitchen. Basically our guests help themselves and then proceed to sit outdoors. Prior when I was collecting all the paper plates, napkins and cutlery I quickly realized that my cart would come in handy that day.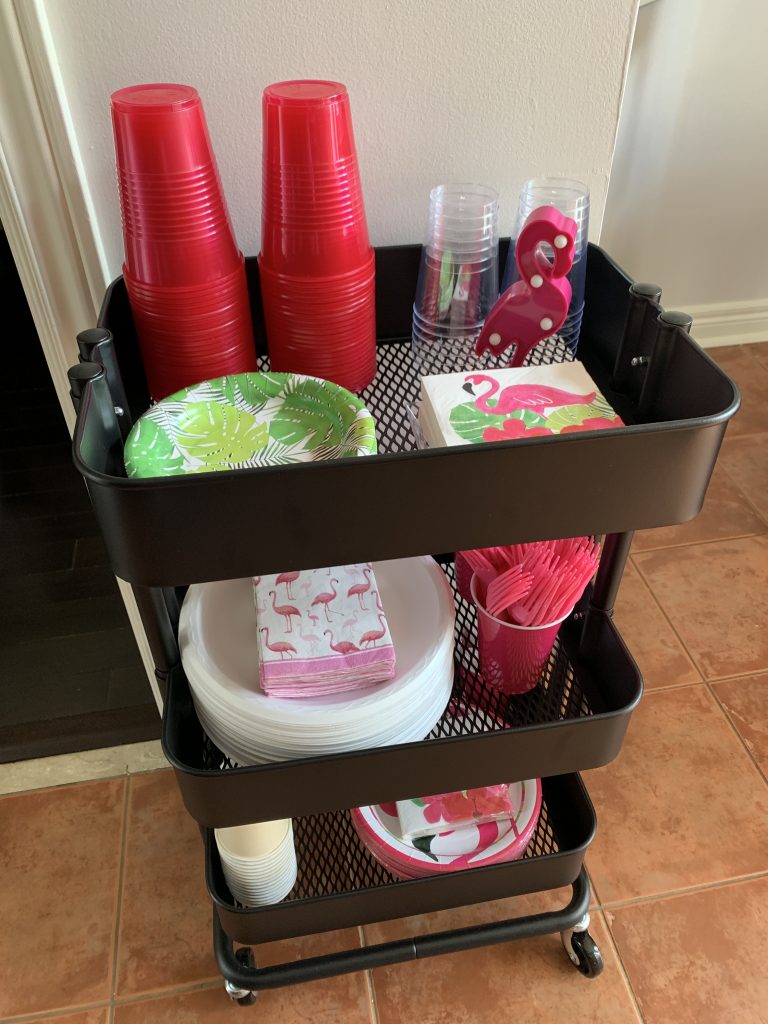 I was able to store everything I needed for my guests to help themselves. While at the same time freeing up my countertop and kitchen table for all the food. I even was able to organize everything neatly. First shelf was for appetizers and drinks, second shelf for dinner and third shelf for dessert. I loved how convenient it was for my guest and for me, not to mention it even looked pretty. I'm already looking forward to hosting many more parties with this cart. This new addition to our kitchen is perfect for our current lifestyle and I couldn't be happier.