Last year I decided to host one birthday party for both of my girls. However I generally prefer to host separate birthday parties. Even though realistically my youngest is July and my eldest is August. I just want them to have their own special day, it's also a good excuse to have family and friends over again. Since a good chunk of my family had vacation plans that summer, it only made sense to host one big birthday party prior to everyone leaving. Once that decision was made it was onto the theme. Peppa Pig was a clear choice since they both loved and still love the show. I was definitely looking forward to putting my spin on this very popular theme. Since I too was very familiar with the show I knew I could make it extra special for my girls.
I headed to Party City as I always do first to gather the essentials. I came across these very cute Peppa Pig invites. Side note, my girls had Peppa Pig stickers so I stuck some on each envelope. Then I headed to the Peppa Pig section, I love picking items from here. It's basically the base of my inspiration, I start off by picking appetizer, dinner and dessert napkins. Then I pick appetizer and dessert plates, I usually grab plain white durable plates for dinner from a separate aisle. Along with the plastic cutlery for dinner and dessert. I also pick up plastic cups for drinks and Styrofoam cups for coffee as well in the same aisle. I grabbed one plastic Peppa Pig table cloth for one of my outdoor tables and some Peppa Pig confetti. After that I picked out the candles for the cake, and placed my order for the balloon bouquets.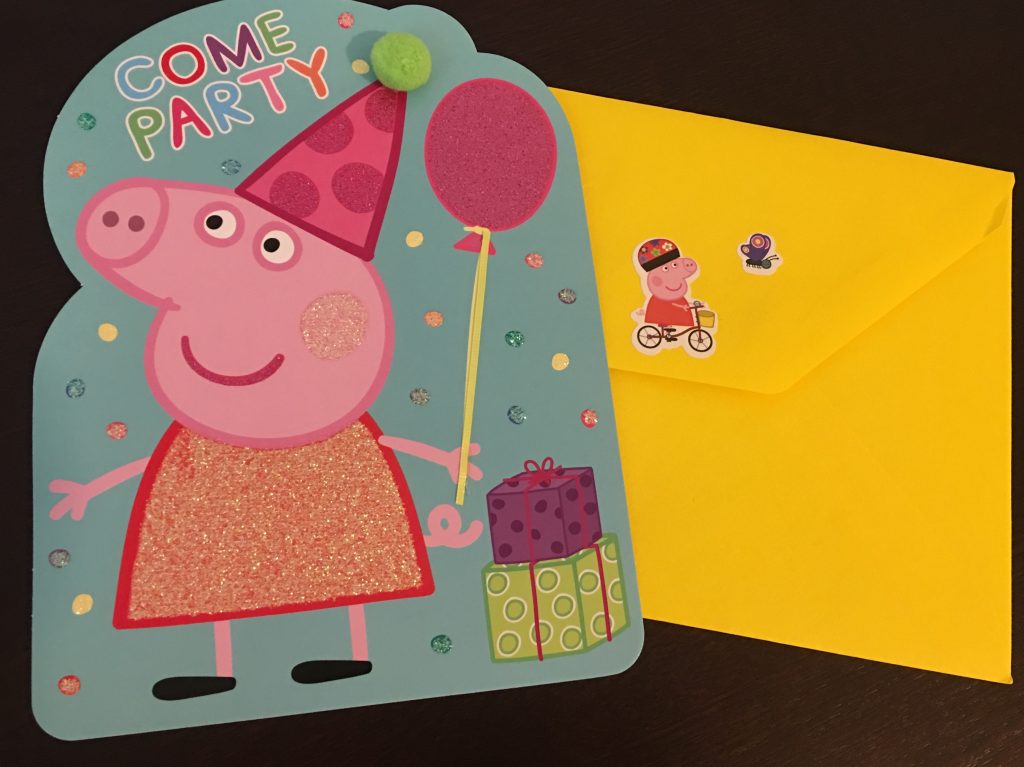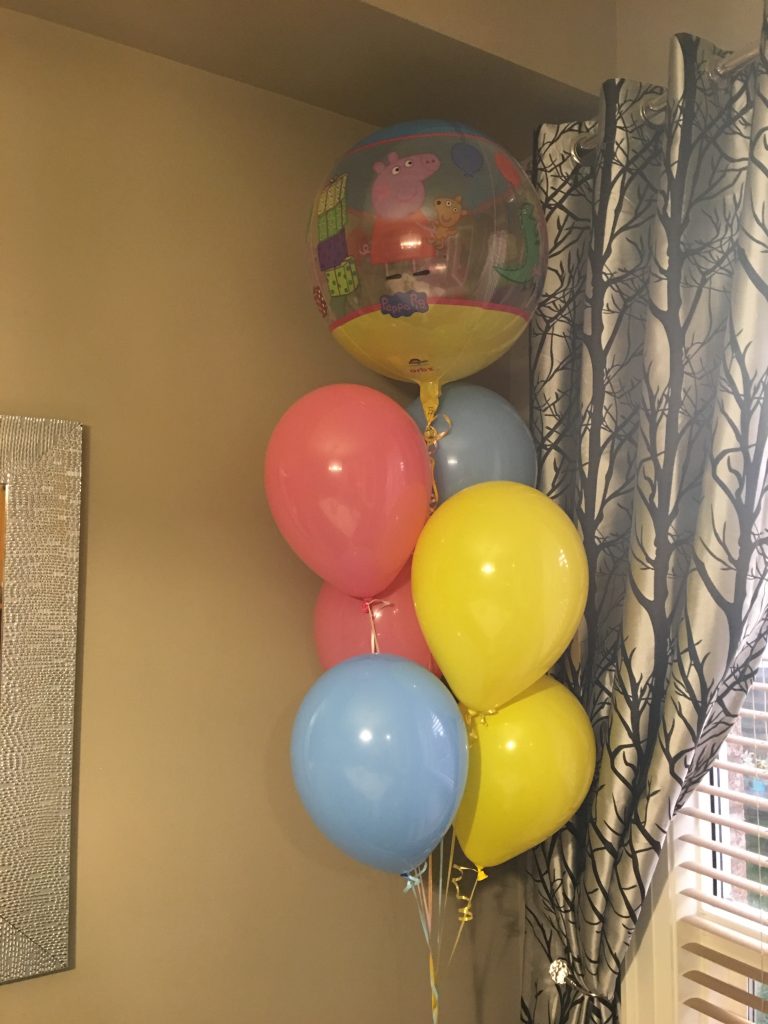 One day while browsing a Dollarama I came across tin watering cans. I was instantly inspired, I would use them as vases for my flowers. Perfect as centerpieces for my tables and since Peppa Pig and her brother George help out Grandpa pig with his garden it only made sense. They came in bright bold primary colours, so I picked up red for Peppa Pigs red dress and blue and yellow for the shows famous outdoor sky and sun combo. I filled them up with flowers I had growing outdoors and as always I dipped into my parents gardens too. The party was once again hosted right in our backyard, fortunately for us it was a beautiful summer day.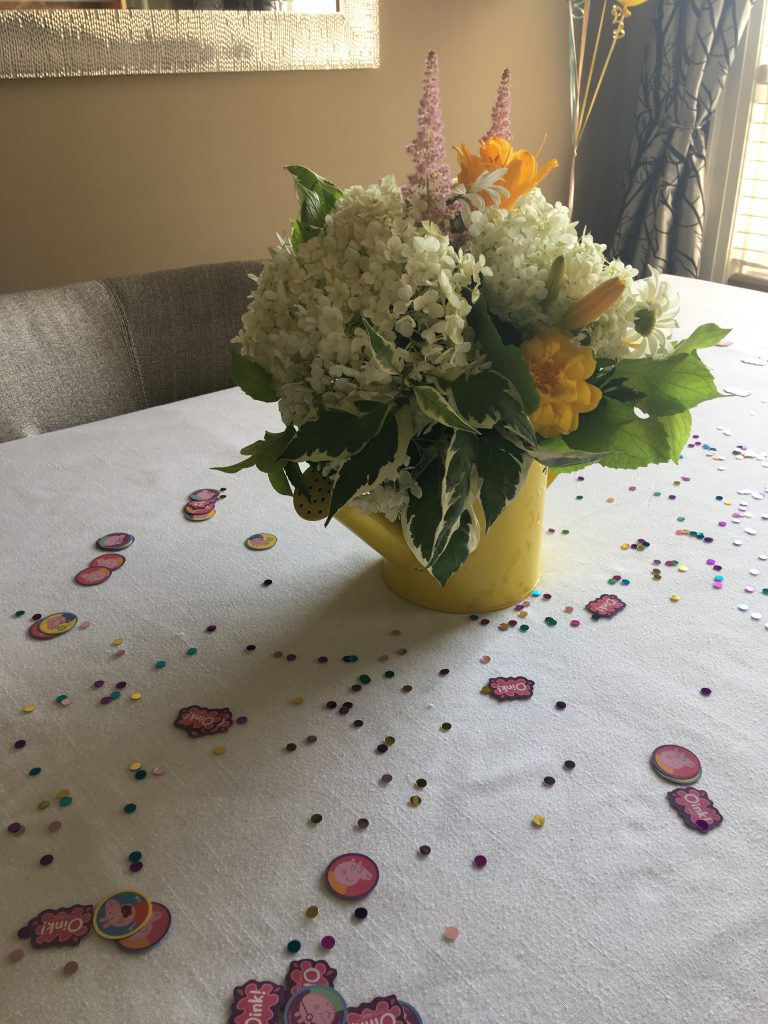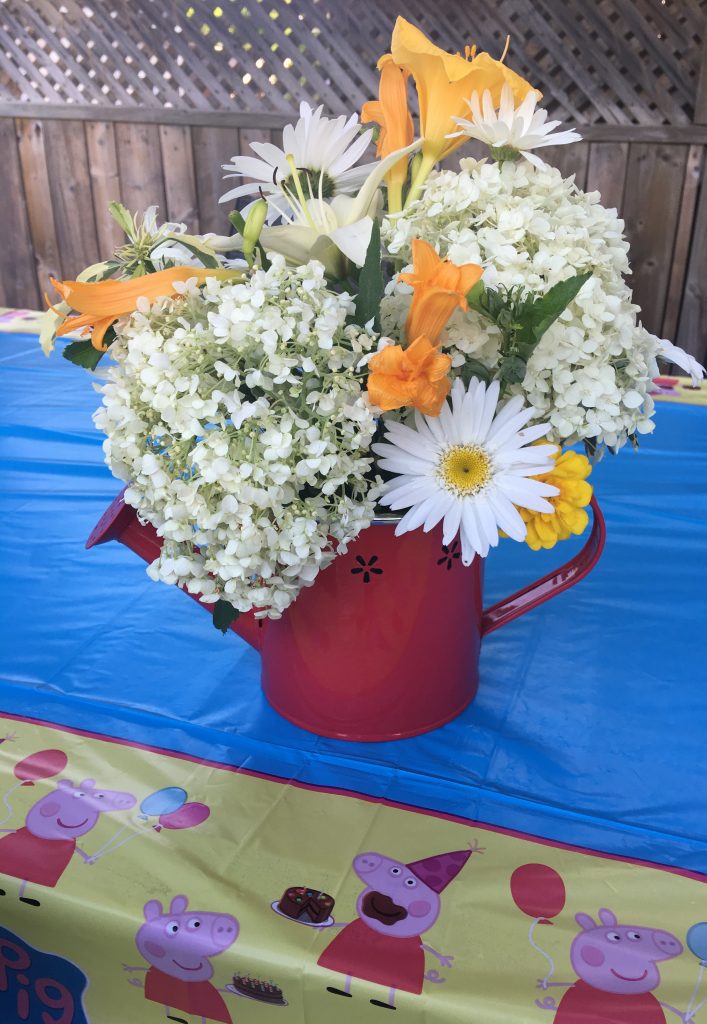 While browsing ideas on Pinterest I came across chalkboard welcoming signs. Since I had the chalkboard and chalk I thought this would be perfect to have outside of our backyard door to welcome our guests in. I purchased some balloons from a dollar store and added those to the chalkboard easel. I used the rest of the balloons to decorate our patio and tent area.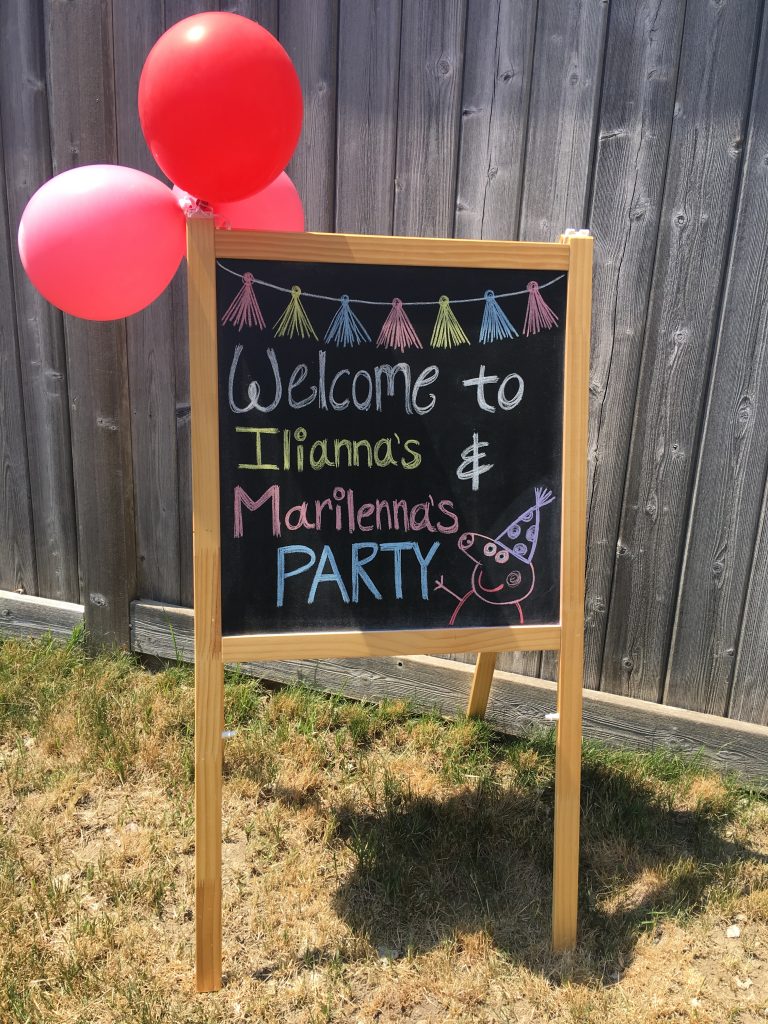 Since Peppa Pig and her brother George enjoy chocolate cake I decided to order a chocolate slab cake from one of my go to bakeries. Irene's Celebrity Cakes was my choice this time. Since Peppa Pig and her family also enjoy going on picnics, I thought this would be perfect for the cake theme. I purchased some Peppa Pig plastic toys and handed them over when I placed my order. I really liked the forest details they added for their picnic surroundings and the cake was delicious.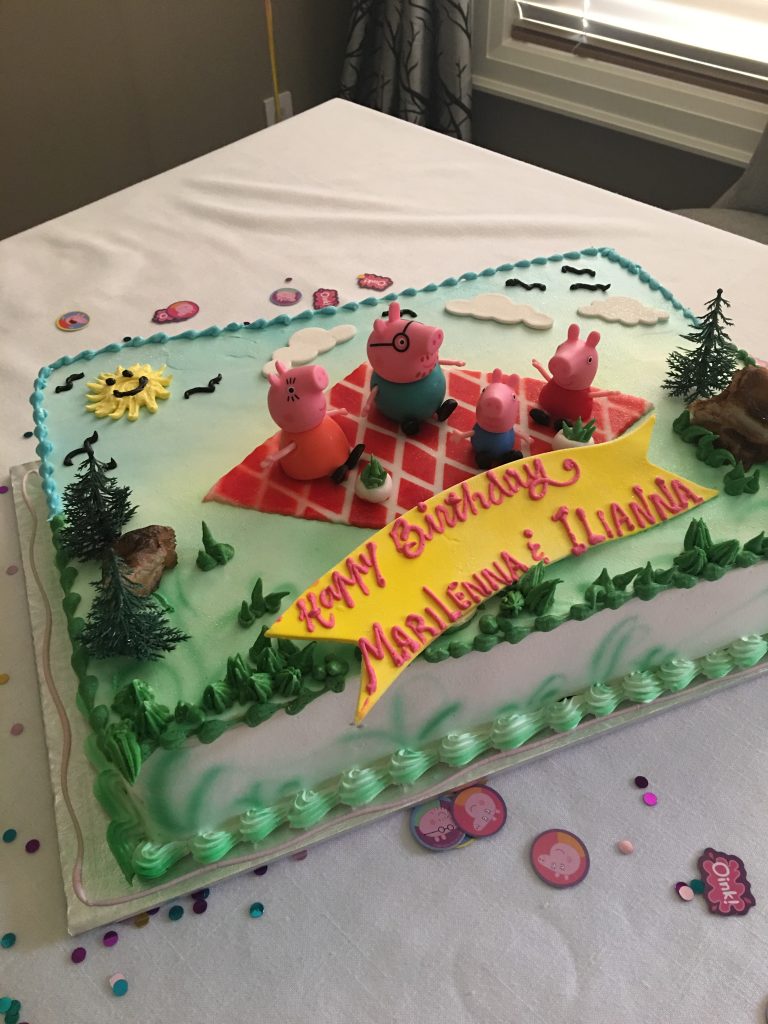 As always I also like to add a homemade dessert option for my guests that I personally have made. This time I made vanilla cupcakes with a vanilla frosting since the cake was chocolate. I purposely picked cupcakes because I knew I could decorate them to look like little piggy's. For complete details on how to make these adorable cupcakes click on the menu and search "Peppa Pig inspired cupcakes".
It was a lot of fun putting this theme together for my girls. I truly loved the centerpieces and cupcakes I made. I can easily reuse the watering cans again for lets say a garden themed party or just a simple backyard dinner. If I ever do a farmyard party then these piggy cupcakes would be perfect as well. Bottom line the party was another success and I look forward to getting creative again and putting my spin on whatever comes next.