Is it just me or does a new year call for some type of house improvement? I mean, there's always something that needs to get done it seems even if its minor. We are currently dealing with a loose banister and a loose towel bar in our powder room, which as a result will lead to a new paint colour or wallpaper. Fortunately for me I have an onsite repair/contractor who also happens to be my husband. You see in our home I'm in charge of design, decor and painting and have been ever since we moved in. My husband has always been good with his hands, but I have to admit after he finished our basement I was truly impressed. Bottom line, we make a real good team and together we created a playroom in our basement for our girls. Since its a new year I thought it was fitting for me to share this now with you all.
When we purchased our house we had the opportunity to renovate and really make the house we bought our home. We actually accomplished a whole lot however our unfinished basement at the time was not a priority. Once we had our second daughter we realized it was perhaps time. We both wanted a playroom for our girls, somewhere for them not only to play but to also store toys. Down the road when their older and prefer lounging instead of playing we can easily alter the area.
Our basement as I mentioned was unfinished, just cement and insulation. The house builder had put in a cold room, which my husband added deep shelving to so that I can store extra produce and household items. Just outside of the cold room door our washer, dryer and laundry sink sit in a row. The furnace just after that and the water tank, just before our renovation began we decided to go with a tankless water heater. We had it installed over our laundry sink, freeing up some more space for our future bathroom.
Since the laundry area was already established I decided to leave it as is and make it into one room. Therefore when you come downstairs you will face the laundry room door first . On your right I decided to leave a nook for a refrigerator, currently housing the fridge that came with the house. This was very important to me for two reasons. One being that I can continue to have extra fridge and freezer space and with a family of four you defiantly need it. The other reason was that I don't have room for a wet bar so at least I can have a fridge stocked with drinks available on hand. In the future I plan to upgrade the fridge and also add a deep cabinet over top. Perfect for storing snacks and some plastic wear for when you're feeling peckish while watching a movie.
Beside the refrigerator is another door which takes you to our storage room. This was a no brainer, it had to be a certain size since it's lower then the 8′ ceilings of the overall basement. Not complaining though since storage is always good to have, specially with growing children. Still needs tweaking though, better shelving and more clear labelled bins. Then again so does the laundry room but all in good time.
On the adjacent wall of the storage room you will find two more doors. One for our future three piece bathroom and another for a little office. Not that the powder room is far from the basement but having it on the same floor would be great. The extra shower would also be beneficial for when our little girls one day become teenagers. Between my husband and I we have a good amount of books, having some shelving in the office would be perfect. Plus a quite place for everyone to use, whether for work or for homework. The picture bellow allows you to see the hallway from the other side with the stairway at the end on the left and the laundry room on the right.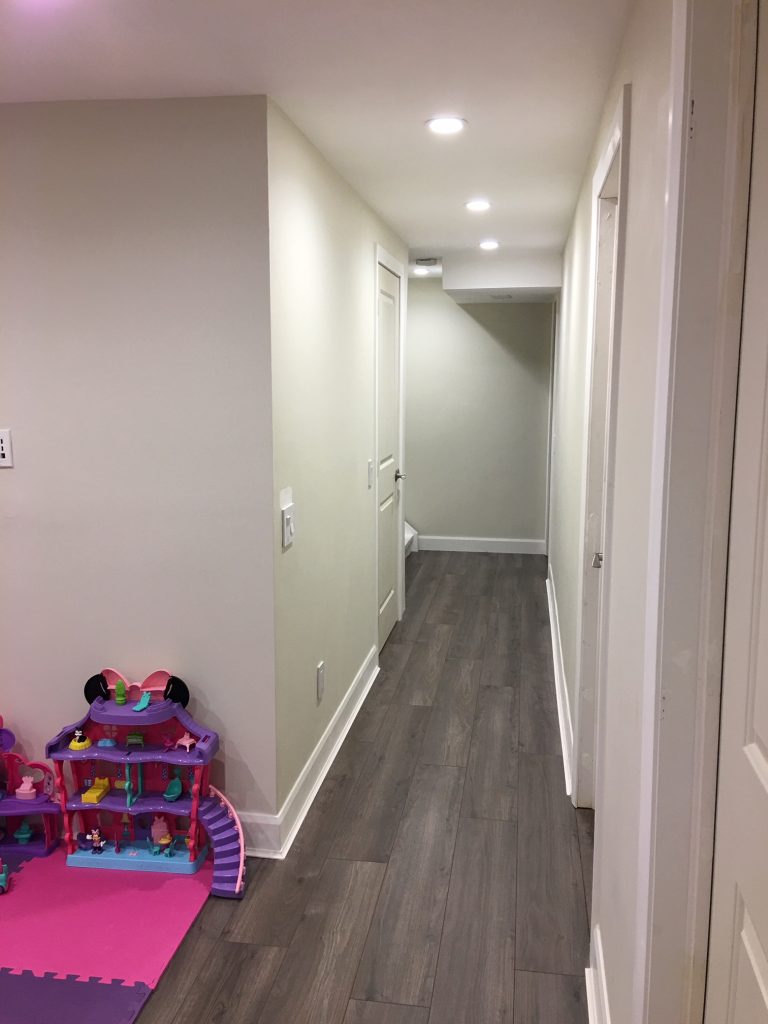 As for the main area I've currently divided it into three sections. First the play zone where the majority of the toys are. Specifically all the larger toys, with foam pads underneath that I purchased from Walmart. Since my girls spend a lot of time sitting and kneeling here I wanted to make sure the floor was comfy.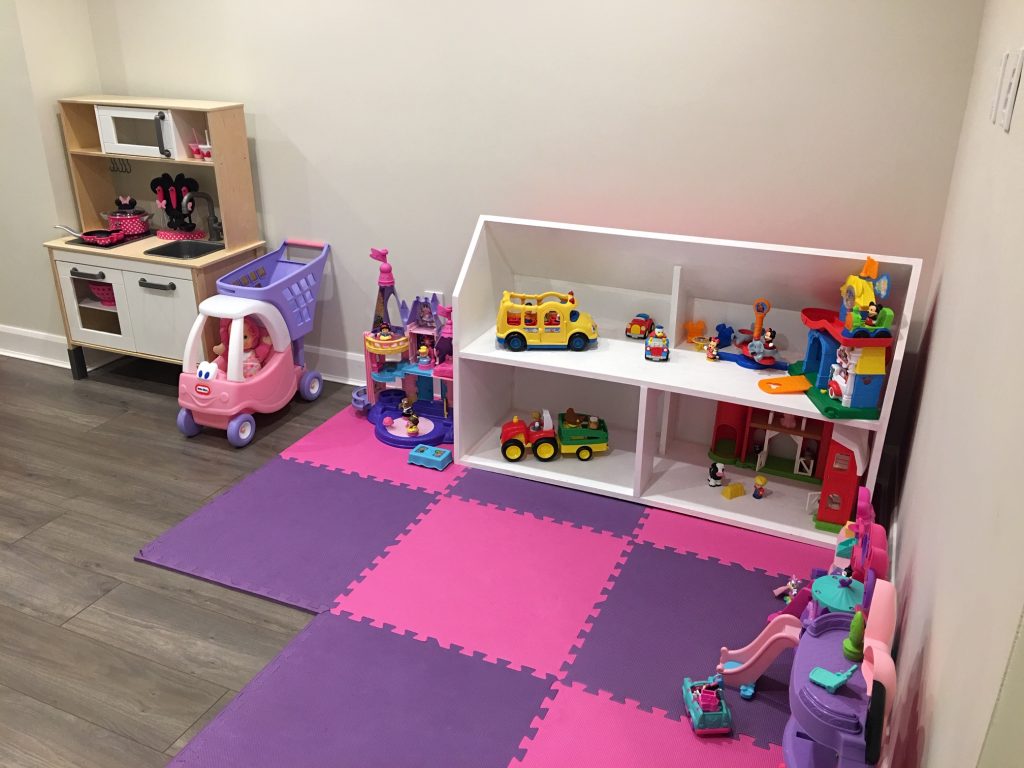 The storage area is a mix of smaller toys, games and craft supplies. We purchased some shelving from IKEA and my husband cut them to fit snug with brackets in between a wall and column. I also picked up some colourful bins from Walmart to organize everything. For example one bin has dolls another has colouring books. They also have a spot where you can add a label too. This way everything has a home and my girls can find exactly what they want when they want it.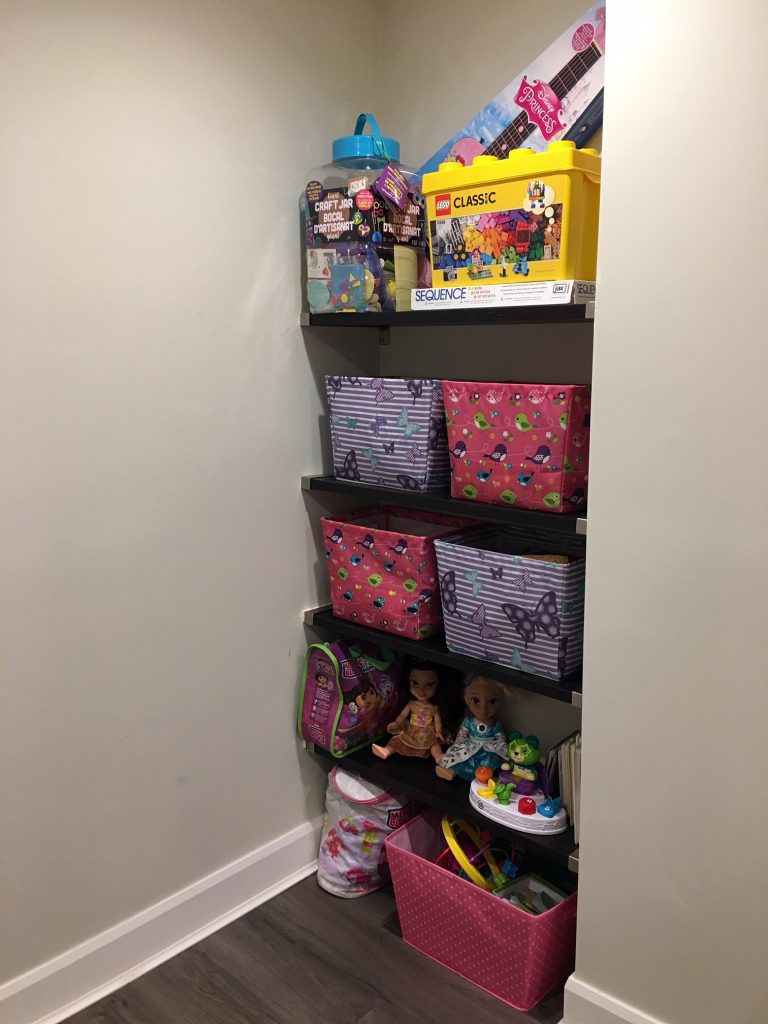 The last section is where we placed a folding table with folding chairs. Which I call the arts and crafts table that also doubles up as a learning area. The furniture is all from Costco and the table height can be adjusted. That way if you have any toddlers you can easily adjust it for a more appropriate height. Here my girls not only make crafts but can play a game or have a snack. I also made sure to purchase an easel for the girls as well, this ones from IKEA. My eldest loves to play teacher and student so the easel is perfect for that and it gives them both another surface to use.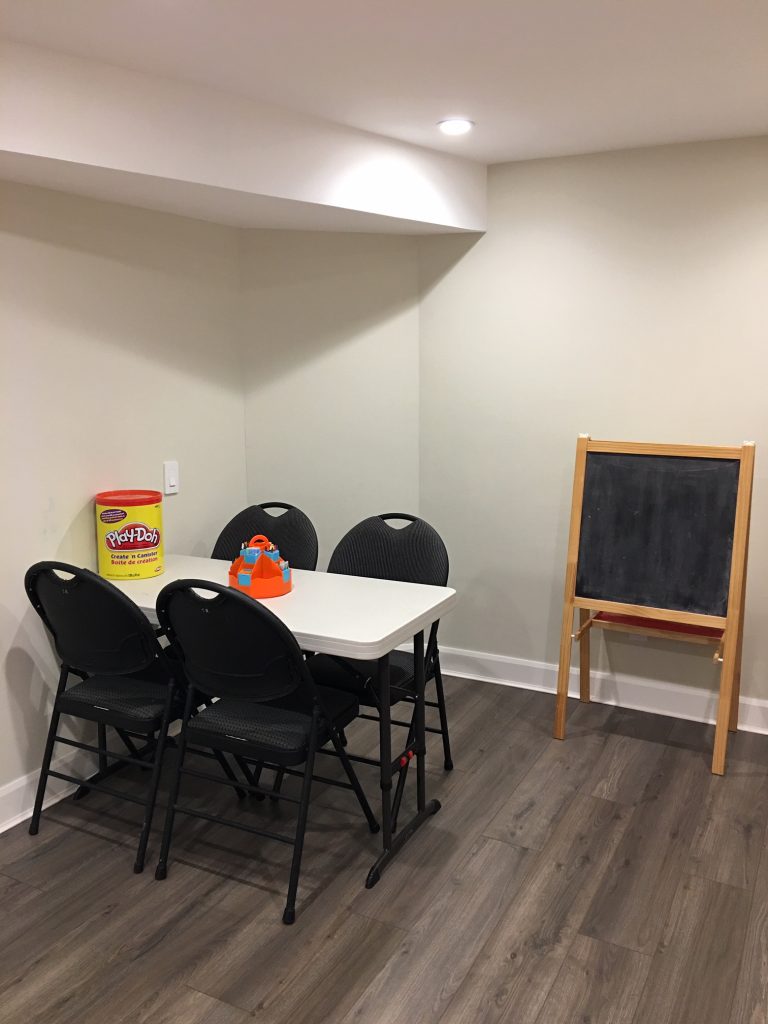 I am pleased to say that ever since the basement was completed it has been very useful. The girls play for hours on end and my husband and I are happy with the outcome so far. To be honest we're still tweaking the basement here and there and I plan to put up a big clock for the girls to help them tell time. I also want some wall art and a place to hang my girls artwork. We look forward to adding the bathroom and office in the future. However for now it's just wonderful having a new space for everyone to enjoy. Birthday parties and play dates at home are even more accommodating now with this room available. Come Christmas time we even set up a tree for the girls to decorate. I believe this basement will provide us with many more endless memories.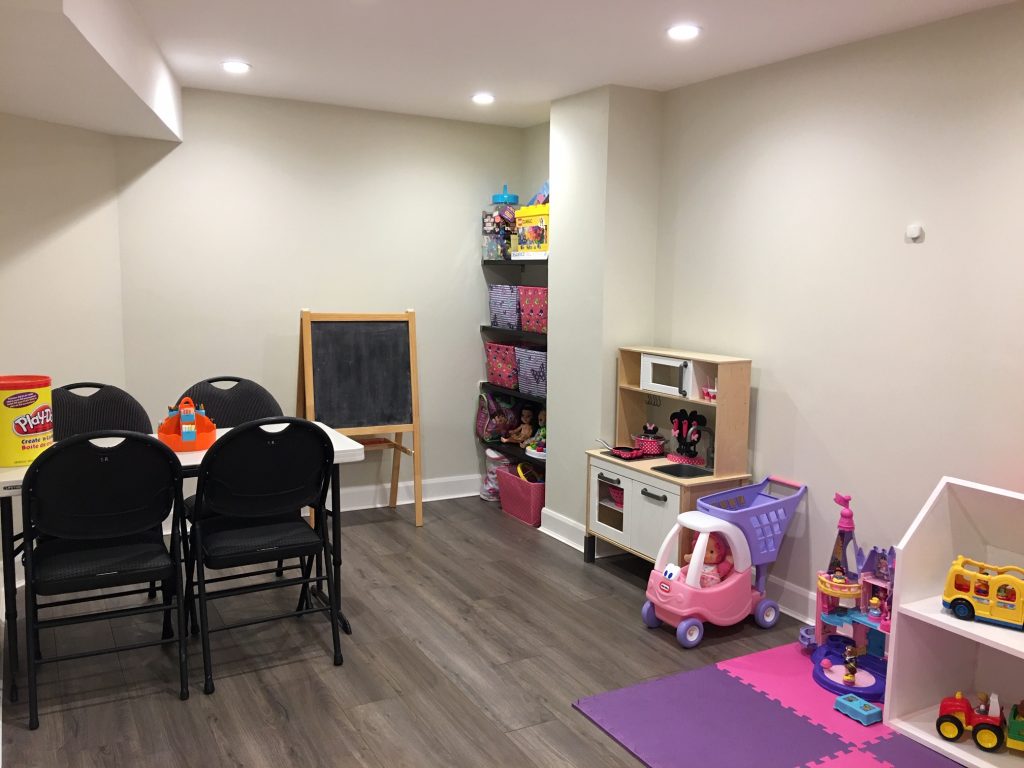 I would like to quickly go through some materials and items my husband used for the basement renovation. First on the list is the Dricore Subfloor he installed before the actual flooring. This helps keep the floors dry and comfortable which is very important for a basement. We picked out the most durable wide plank laminate in a warm grey finish. We decided to go with laminate for one main reason, it was cost efficient. Plus laminate has come a long way, the colour options and realism to actual wood is amazing.
We used MDF baseboards and trim instead of wood, again more cost efficient. Not to mention all the bumps and dings that have and will happen from all the playing that goes on there. In the future we can easily pop them off and replace them with wood ones. Pot lights was a must for the basement and also because of the ceiling height. My husband also installed three way switches so that the lights can be controlled from more then one switch location. We went with two panel doors from our local Home Depot in which he had to cut to size onsite. In terms of paint we kept everything bright and simple.
Hope this has inspired you in some way, whether you have a finished or unfinished basement at least you have another space you can utilize. Yes it is a big renovation with an expensive price tag, however if you are handy and have some time here and there to spare it can be done. My husband is proof of that, you can always complete it in stages instead of all at once too. If you already have a finished basement take pride in that and reevaluate if the space is properly being used. I personally consider the basement apart of the home, that is why it needs to look and feel like that too.