My mom and I hosted my sister's baby shower a while back. At the time, we didn't know the gender of her baby so I decided to go with a neutral theme. More specifically a baby duck theme of grey, white and yellow as the accent colour. I also wanted to include the chevron pattern and polka dots throughout the decor. I knew the theme would be easy to execute and I was definitely eager to begin.
The event was held at a local community centre due to the amount of guests on our list. My sister and her husband had also made a gift registry, therefore lots of gifts would be expected. The shower included a big lunch buffet and an even bigger dessert table as well as games and prizes. With all that in mind it was finally time to begin. First off, the invitation which I personally appreciate for two reasons. One, it's nice to receive an actual invite in the mail. Two, it introduces the theme to all your guests.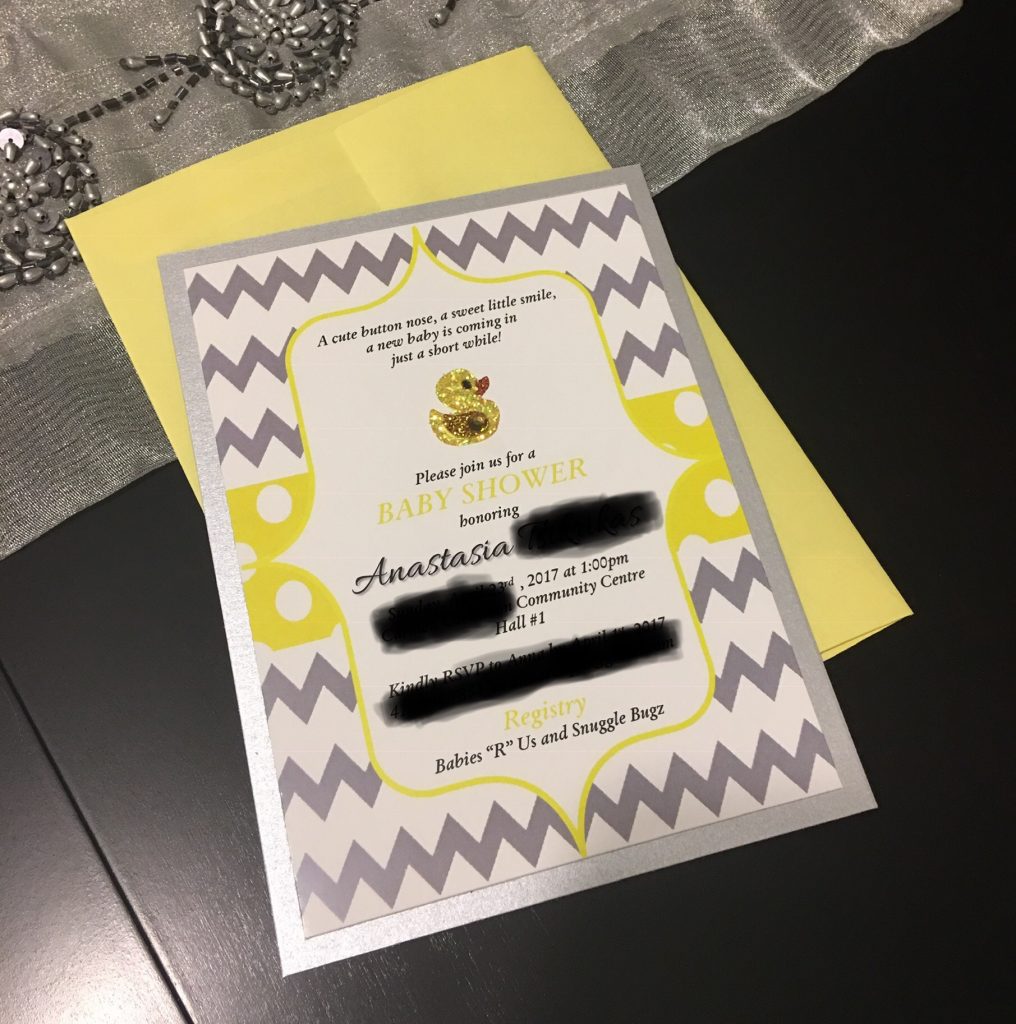 My cousin who currently owns Istilia Roche Paper Flowers, once upon a time use to also design invitations. Since I knew exactly what I wanted for the invite, I had them in my hands in no time. The only thing I added was the baby duck sticker to each invitation which I found at Michaels. Then it was just a matter of compiling addresses, printing labels, getting stamps and mailing them out.
I also asked my cousin to make some of her beautiful paper flowers for the event. I was planning on creating a focal wall with the gift tables and I knew the flowers would look fabulous on the wall above. They turned out lovely and once the event was over my sister was able to use them in the nursery.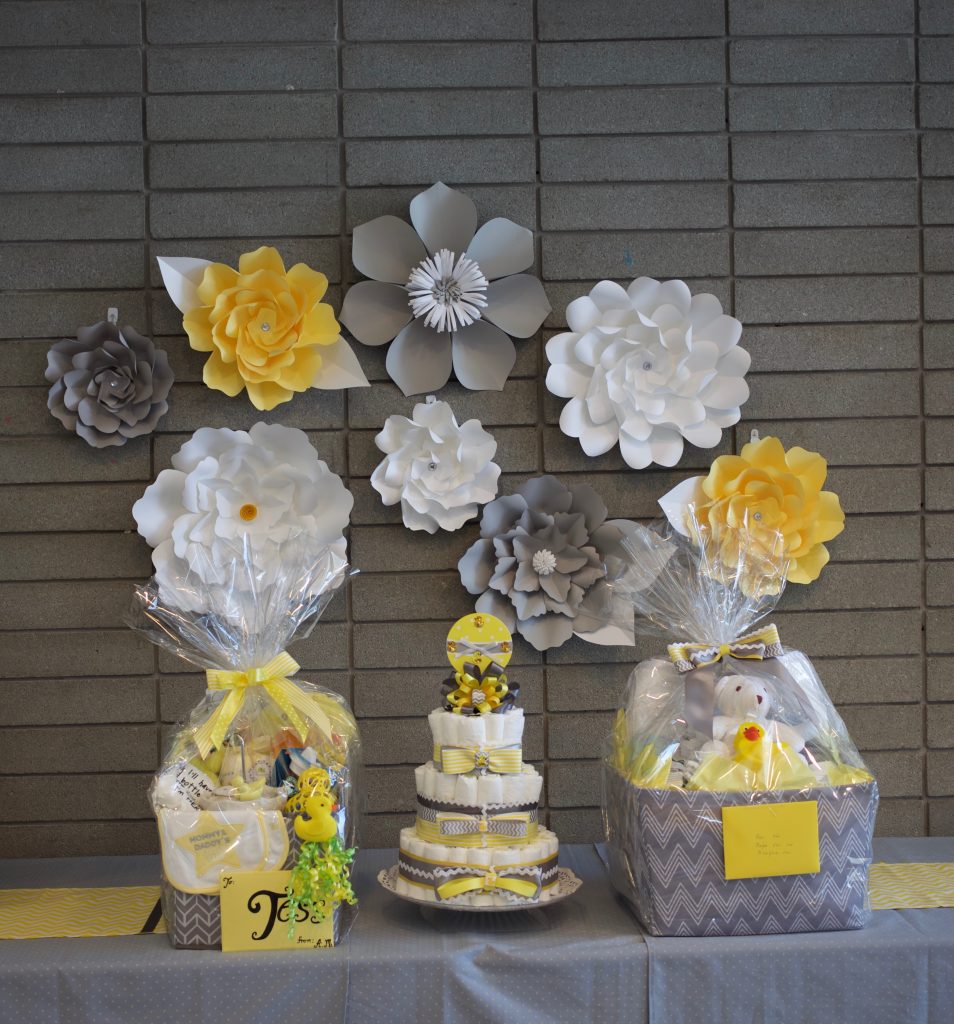 Next on my to do list was the cake. I prefer to order cakes for events ahead of time and trust me so do the bakers. Plus its one more thing checked off the list quickly and off my mind too. Fortunately for us my sister's sister in law's family own Select Bakery. So of coarse I paid them a visit, I explained the theme and colour palette. I picked vanilla for the cake with a lemon custard layer. The end result not only conveyed the theme well but it was truly delicious. On the day of the event I placed the cake on a table of it's own until dessert time.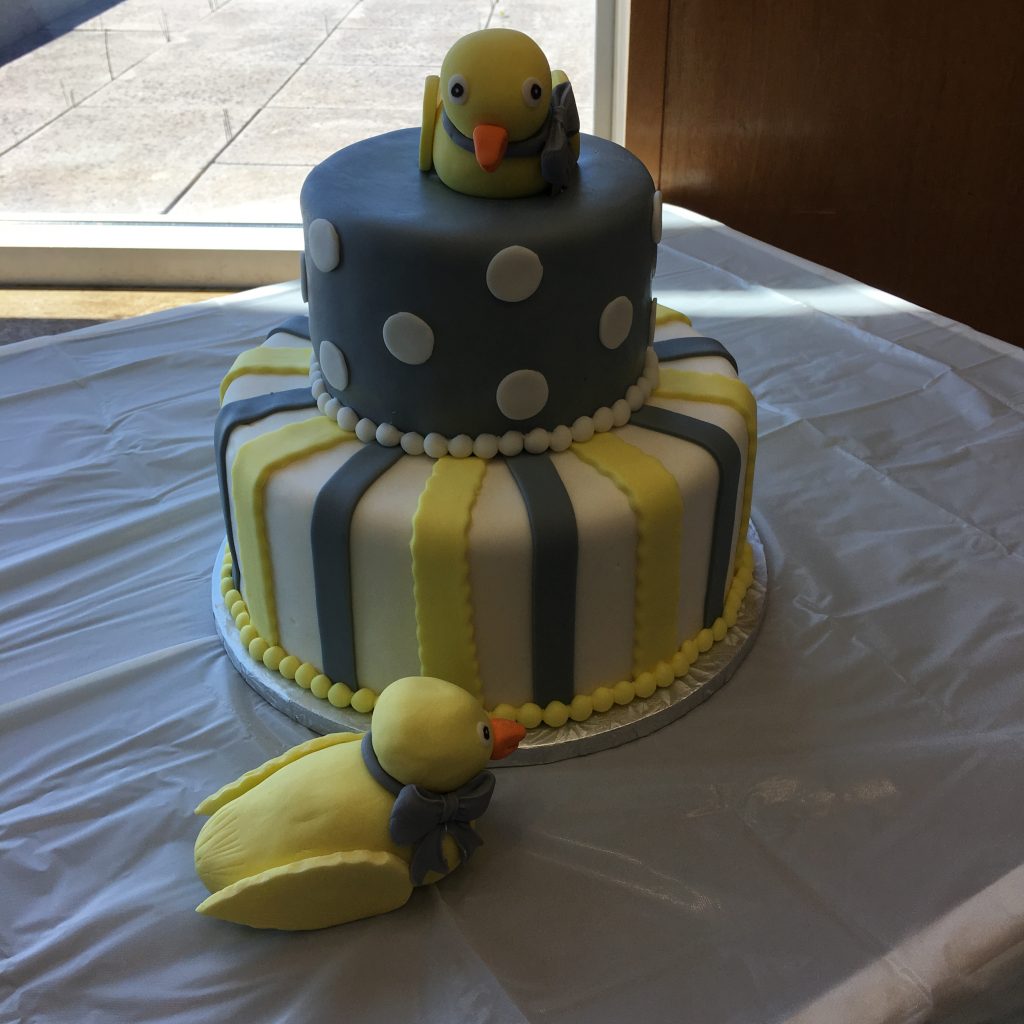 A centerpiece was an absolute must for each table. Not only is it a wonderful way to decorate a surface area but once again helps string along your theme. Flowers tend to be my go to for centerpieces and truly a beautiful way to inject once again the colour pallet. My mom and I decided to go with yellow roses and baby's breath, which we found at Costco. She also had a bunch of mason jars on hand perfect as the vase. We picked up ribbon from Walmart, one was a sparkly solid yellow and the other had white polka dots over a yellow base. My mom made bows with them and glue gunned them to each jar. I thought it would be nice to add the letter "B" for baby and a duck sticker as well. At the end of the event one lucky lady from each table was able to take the centerpiece home.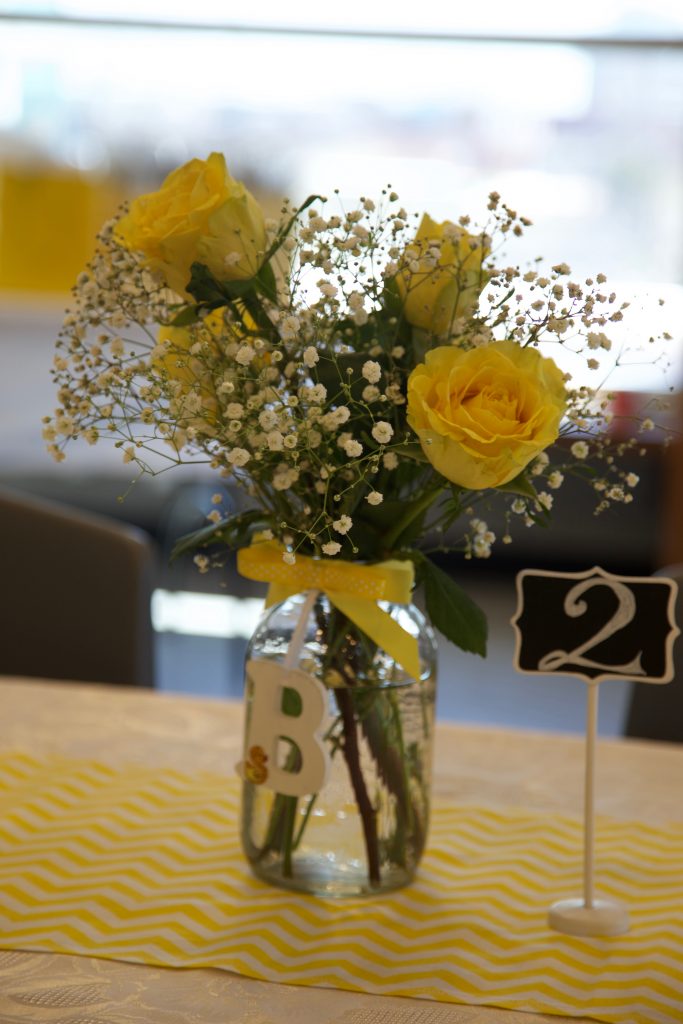 The baby shower technically wasn't just about honoring my sister but also my brother in law. So I thought to myself, what better way to do this then to make his and hers badges that they could wear on the day of the event. I was really looking forward to making these themed related and unique badges for them. First off I needed to find a small plaque of some sort so I could write on "Mommy to be" and "Daddy to be".
Therefore I went to Michaels, I really liked the shape and size of these thin wooden boards I found. When I got them home I painted them white since they came in a natural wood finish. Once dried I took a yellow and grey marker and made a dot pattern all around the edge. Then I took a black permanent thin point marker and wrote directly on it. Since I had some extra duck stickers I decided to add those too. Later I brought them to my mom and she took some of the ribbon we had purchased from Walmart and created the flowing strands seen bellow. For my sister we decided to make hers a tad more special and pronounced. We added more ribbon and a flower my mom made out of white organza fabric. On the back we glued gunned a safety pin to each.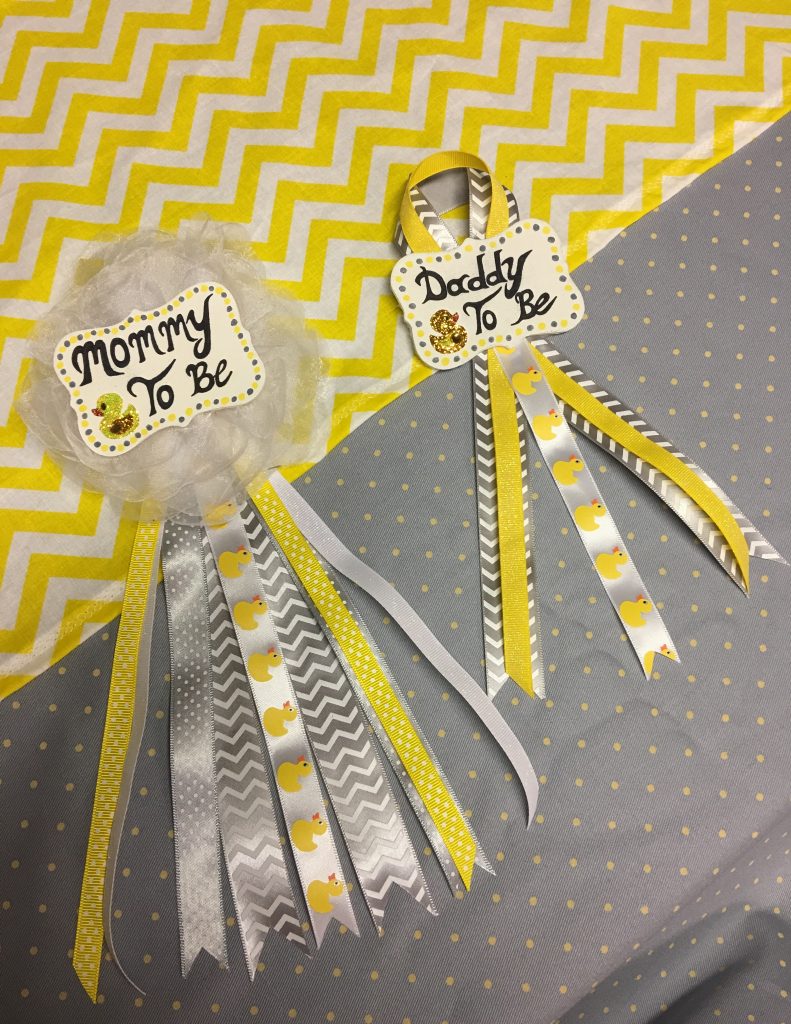 We decided on crisp white table cloths with runners for the majority of tables. Tablecloths we had but runners we didn't, specially since I wanted a specific patterned fabric. Therefore off to Fabricland we went, there we found yellow and white chevron fabric and satin grey ribbon for the detail on each end of the runner. My mom was able to make enough runners for the guest tables, gift tables and the receiving tables. However we also found at Fabricland some fabric in grey with little yellow polka dots. Just enough to make two tablecloths to cover my gift tables for my focal wall. I also ordered two balloon bouquets from Party City in the colour pallet and placed them on each side.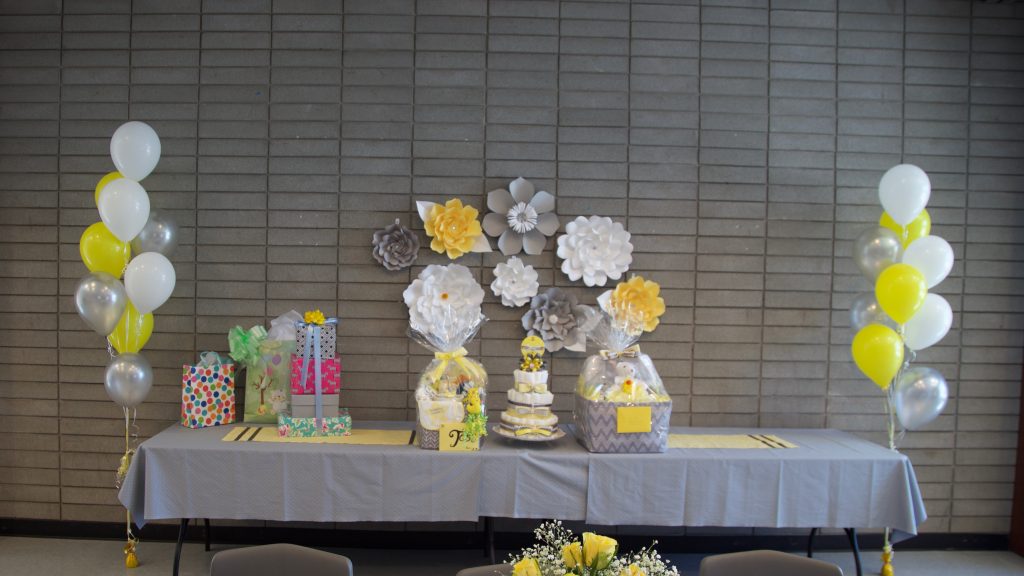 My mom made a three teared diaper cake that I placed right in the middle. We also each made a gift basket for the baby to be and I placed those beside the cake. As each guest came in with a gift we placed them neatly on the tables. The focal wall also ended up being a perfect backdrop for photos.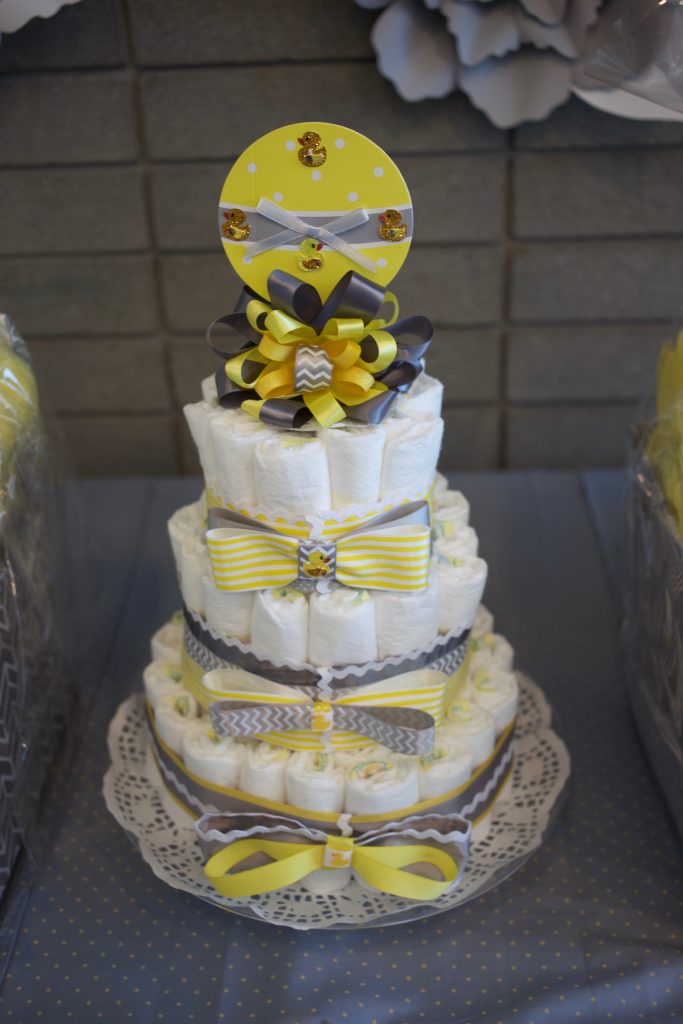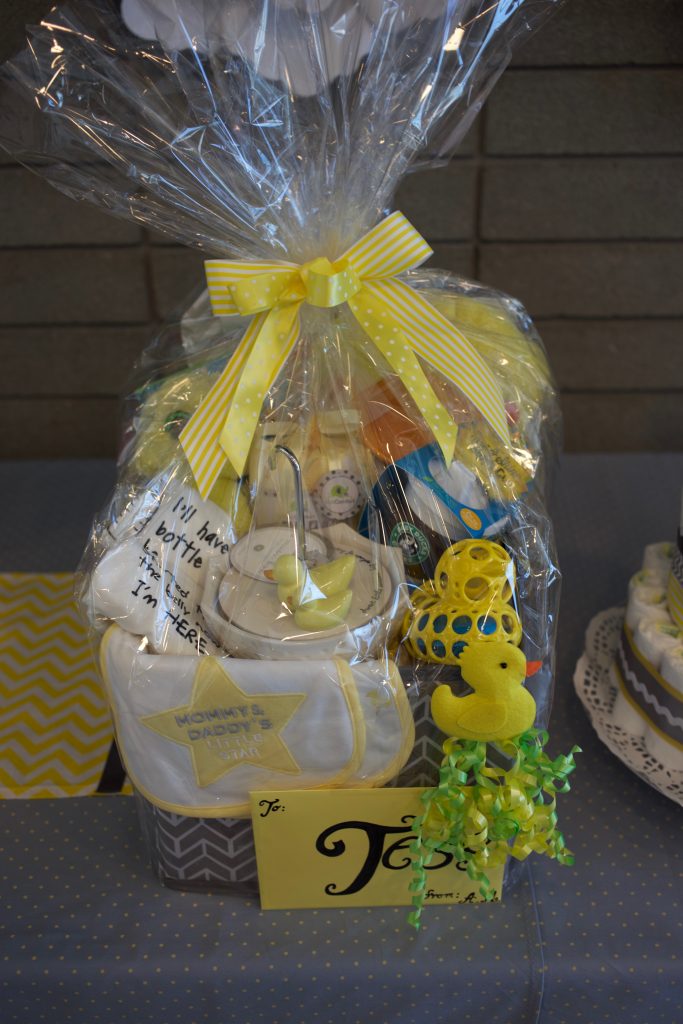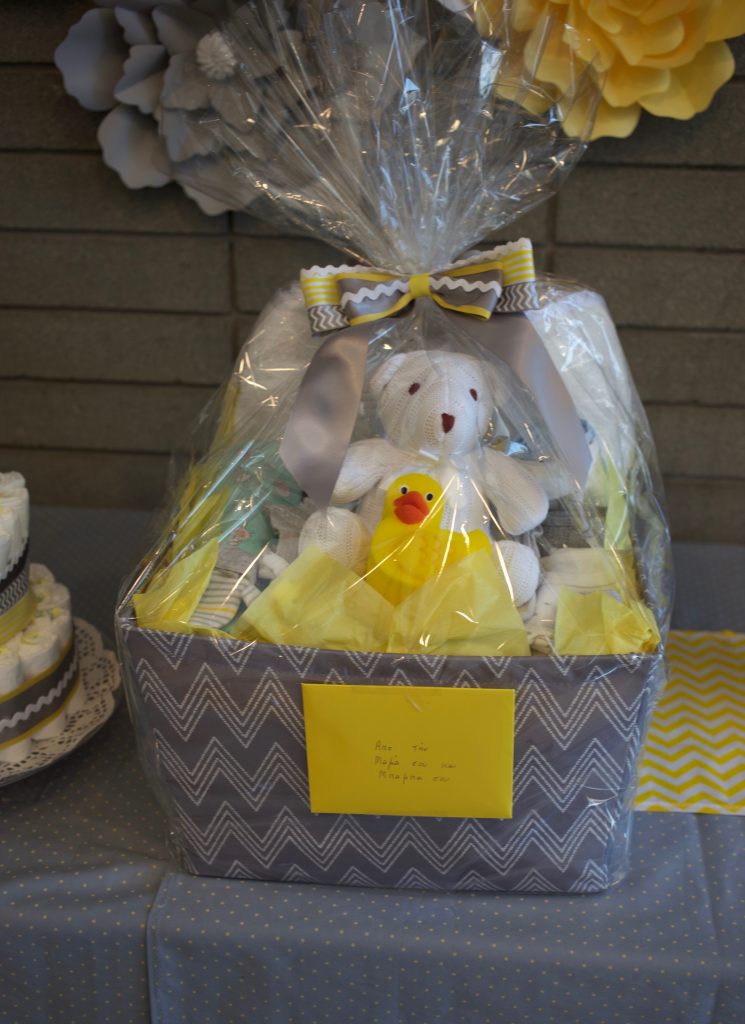 As for the receiving tables I had them set up by the door. As everyone came in my sister was able to greet them and hand them a thank you gift. We decided to keep the yellow lemon feel going, so we purchased lemon scented Bath & Body Works hand soaps. We found towelettes at Walmart in white, grey and yellow to add to the gift. Bath & Body Works gave us free gift bags so we placed a soap in the front half of the bag and then rolled the towelette and placed it right behind. We had extra yellow ribbon so my mom finished each gift off with a bow. At Party City we found little circle shaped stickers that said "thank you" and so we stuck one on each gift.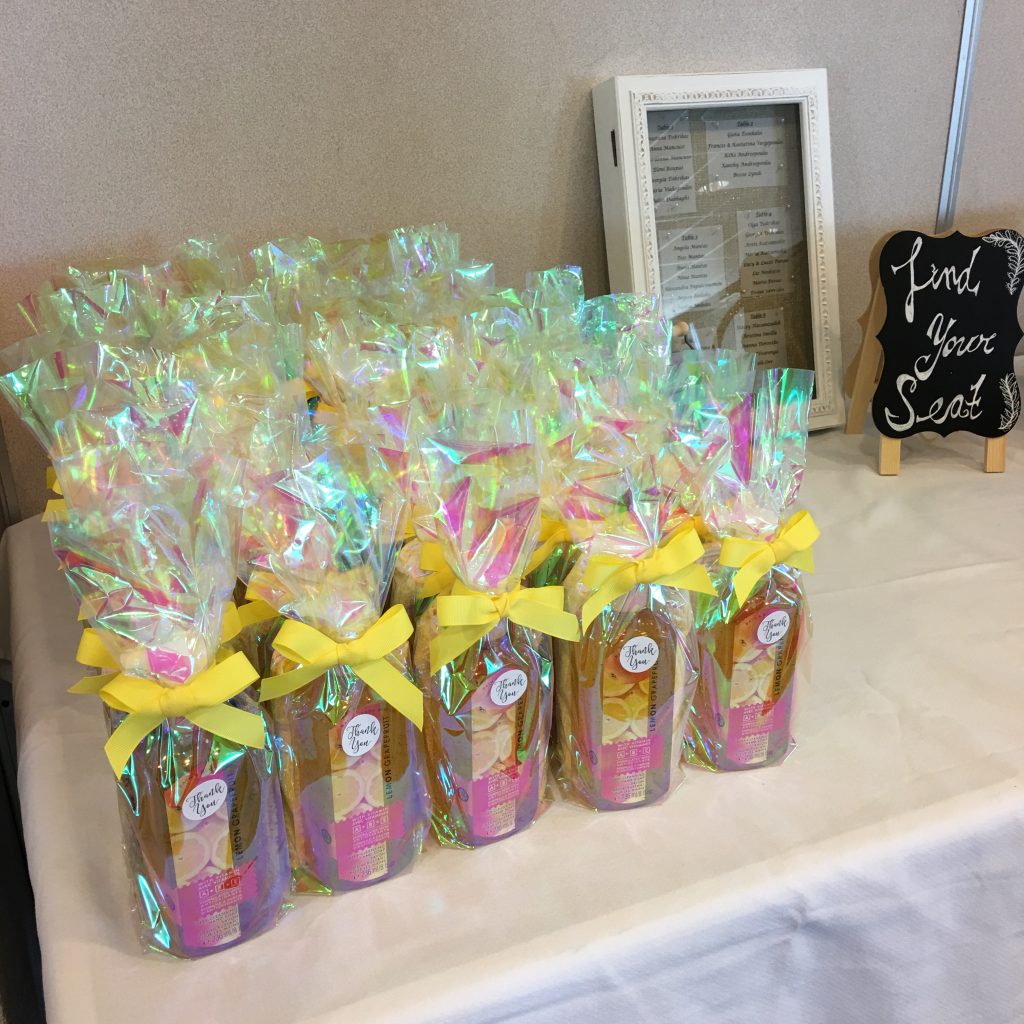 Beside the thank you gifts I placed the table seating arrangements and a sign that my sister had prepared. Since we had so many guests it made sense to organize where everyone would sit. My sister found a framed shadow box and a small chalkboard easel from Michaels. She also purchased a chalkboard pen and filled out the sign. Then she printed the table seating on rice paper and cut them out into squares and rectangles, to fit nicely in the box. The box came with little pearl pins so she simply pinned the papers down. This box now hangs on a wall in the nursery with keepsakes inside.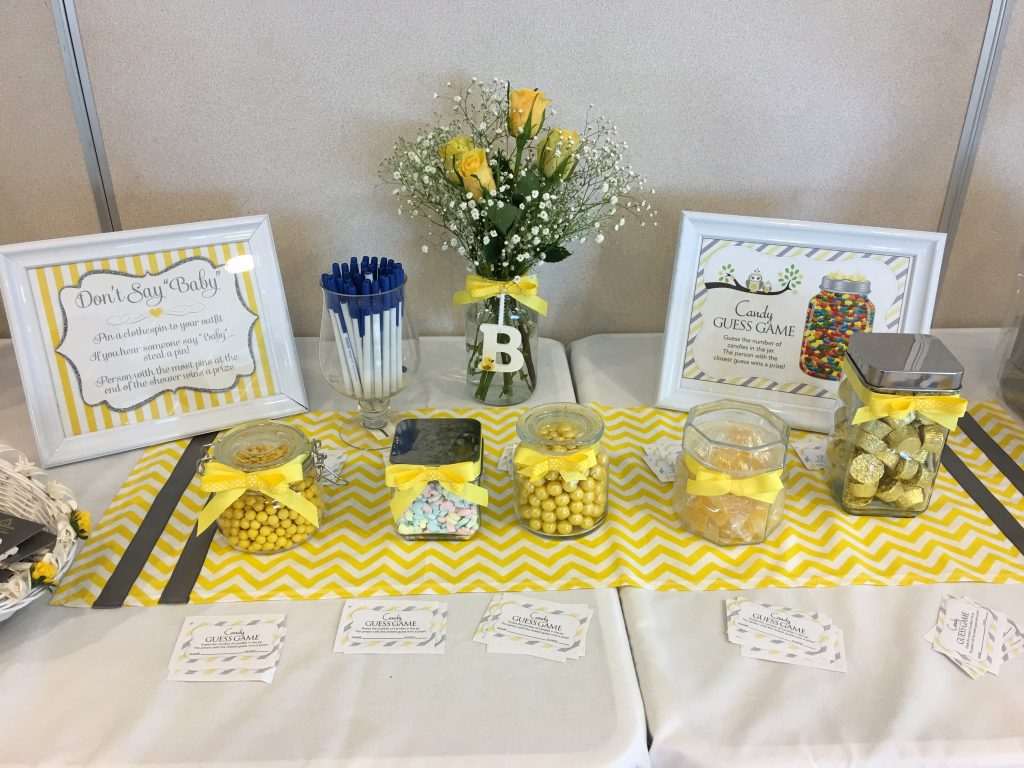 We decided to have a few games for everyone to enjoy and perhaps win a prize. One game was you couldn't say the word "baby" and if you did the person who called you out would take a clothes pin away from you. The person with the most clothes pins in the end would win. Another game was to guess how many candies in a jar. As you can see above I made it a point to use yellow treats only except for the baby soother candies. My mom and I grabbed jars we had on hand and filled them up. All the candies came from Bulk Barn, perfect for when you need a certain amount. My sister printed two themed related signs and placed them into simple white frames that she also had on hand. I had another table set up in a corner on an angle with all the prizes, ready to distribute. Again keeping the theme going by using yellow gift bags with white tissue paper.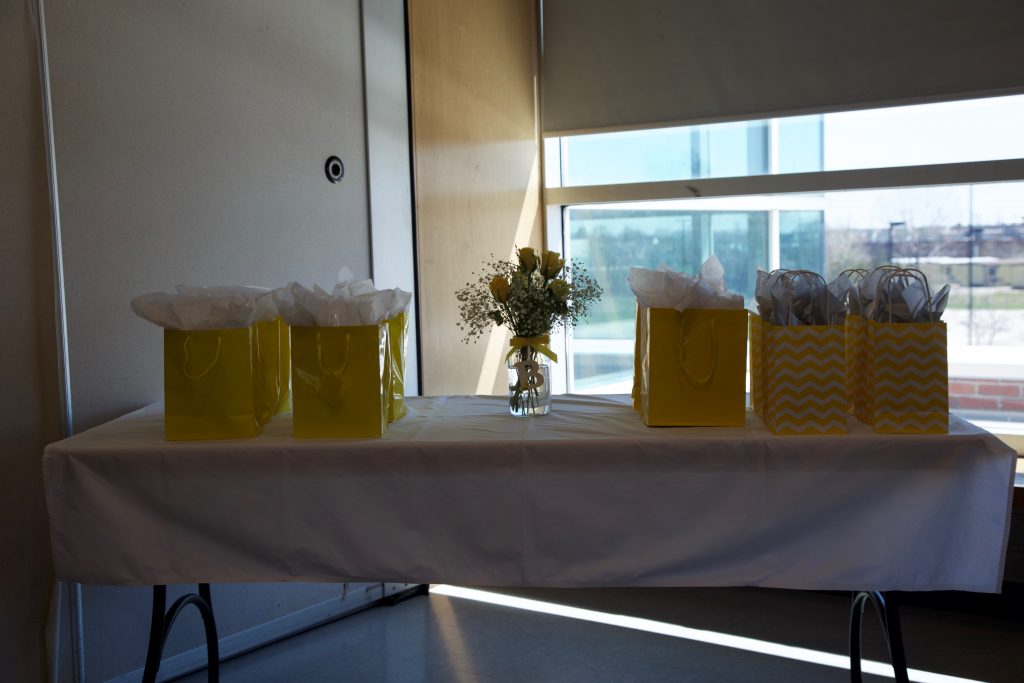 Another giveaway opportunity for the guests, was a chance to win a gift basket. Upon arrival my sister would also give out a set of raffle tickets to each guest. The guest would then have to place one or more raffle tickets in the desired mason jar, that sat in front of the basket they wanted to win. Each baskets had it's own theme for example wine, tea, baking and relaxation. In the end, we just shook the jar and my sister picked out one lucky winner.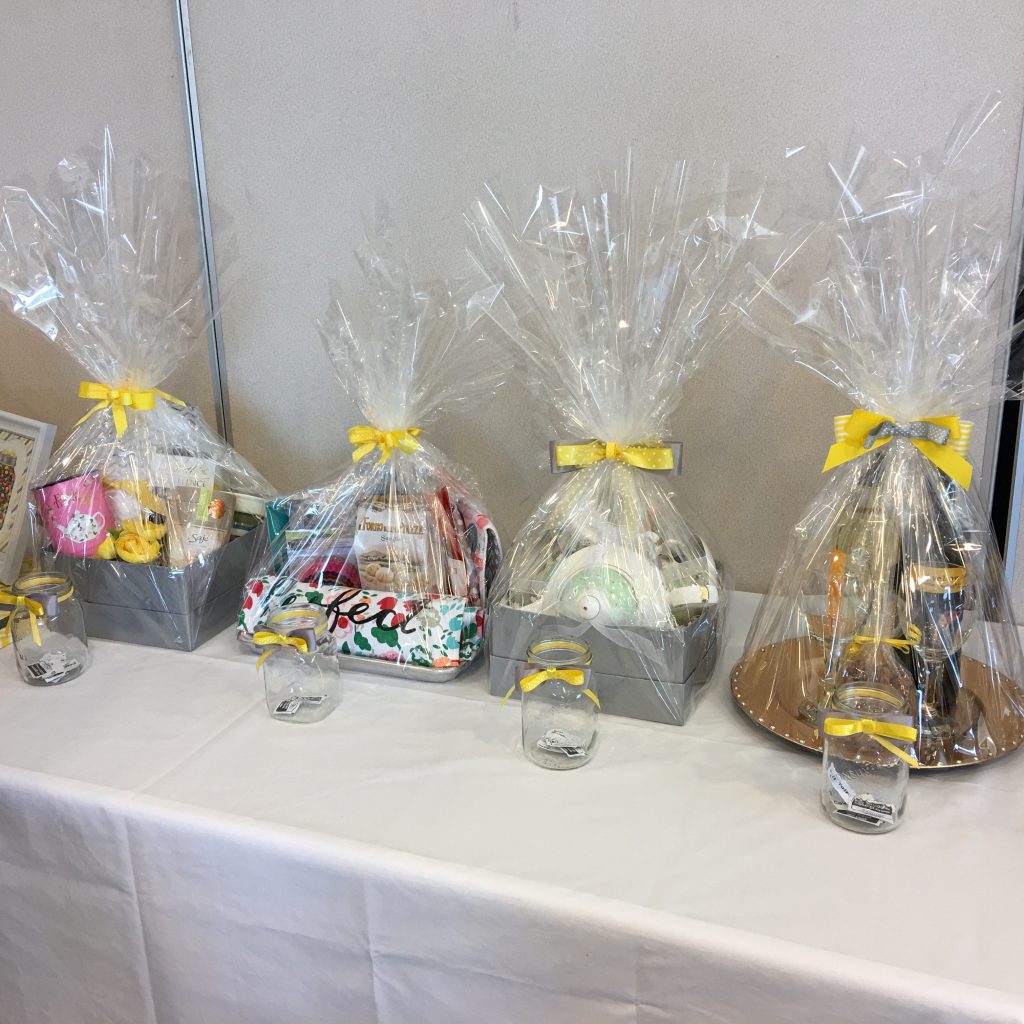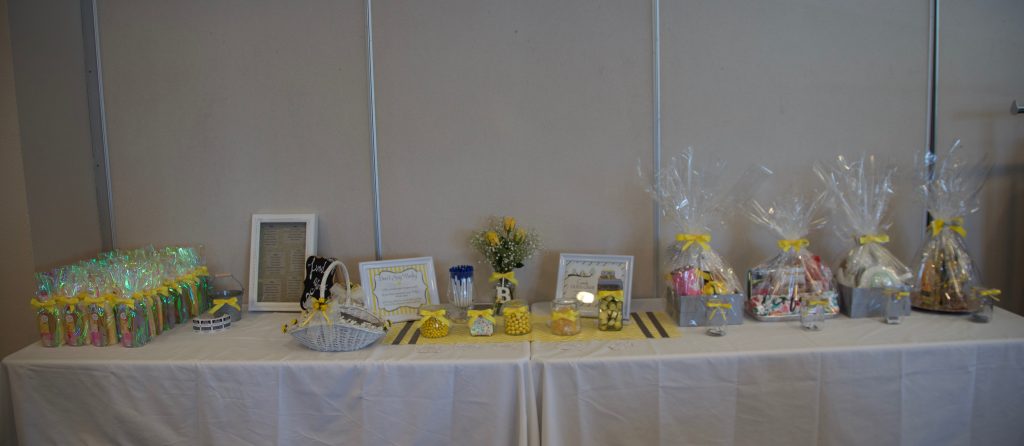 Lastly the desert table which included many wonderful treats. Since I'm currently known for cupcakes and cookies, I of coarse had to deliver. I decided to do baby duck sugar cookies but with a more modern approach. No detail, just a cookie shaped as a duck filled in with yellow icing and some granulated sugar on top. The cookies had a slight sparkle and crunch from the sugar which was exactly what I wanted. I also made baby ducked themed cream cheese lemon cupcakes. If you would like to know how I made these, head to the menu and search Duckling cupcakes.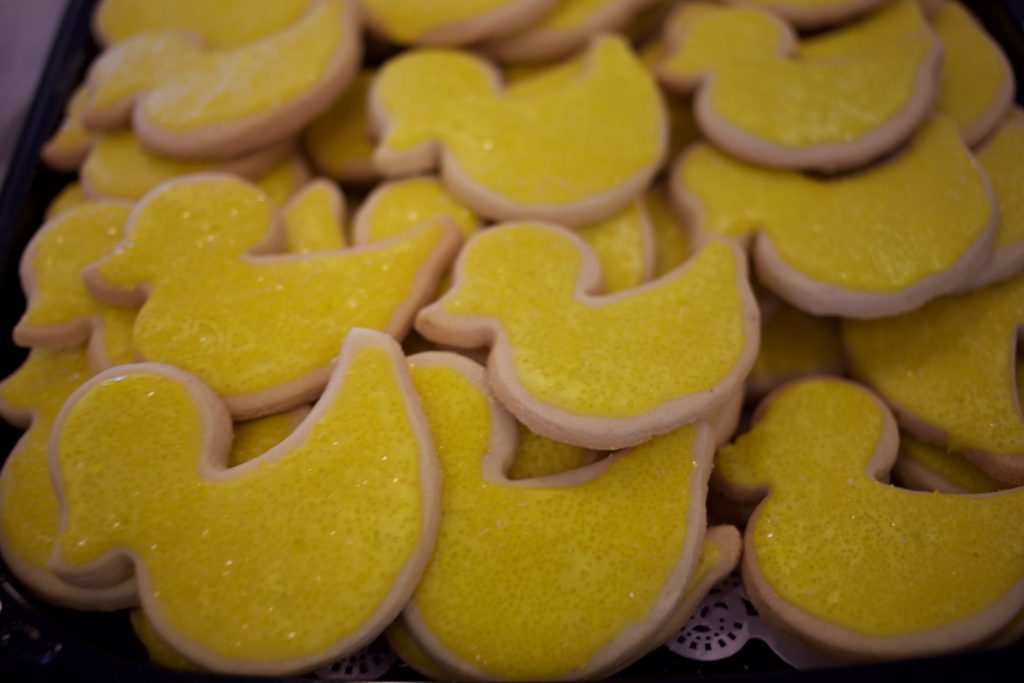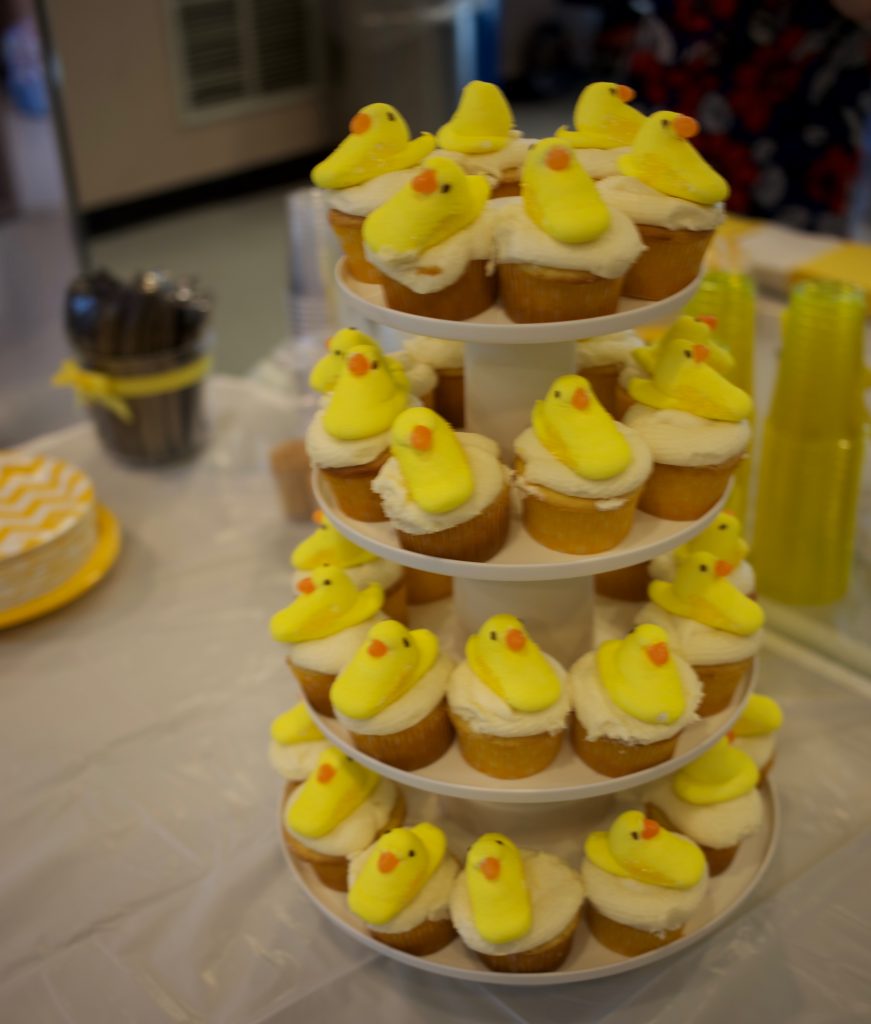 All of our tableware items such as cups, utensils, napkins and plates had been purchased from Party City. They truly do have everything you need to host a small party or big event. Not to mention everything trending such as the chevron pattern in yellow that I was able to get.
The baby shower was a success in my eyes, my mom and I enjoyed planning and adding our spin on everything. It's always exciting to see your visions come to life. I personally feed off the positive responses from the guests attending. My sister was truly blown away and appreciative of everything we accomplished for her big day. Honestly though she deserved it and a lot more. Bottom line now, I have a beautiful niece and I look forward to helping and making every big day of hers memorable.