Since Easter will be here in no time, I thought I should share with you all two easy and fun to do crafts. These are specially great for children to help out with or do on their own. In our family my girls love to do crafts almost as much as me. However sometimes I cheat and I pick up easy to make and ready to go craft sets from Dollarama or Michaels. My girls love these, they each get one or sometimes they work on one together. Whether it's Halloween themed or Easter, both stores have it all. Head to your local shops and use your imagination, just because the craft comes with instructions doesn't mean you can't get extra creative.
Lets begin with the Easter loot bag, a simple yet fun way to dress up a plain paper bag. However I remember a time when my sister and I would received these over the top Easter baskets. Some store bought and others home made, like my mom would make. She would purchase baskets, cellophane wrapping paper, shredded paper filler and bows. Then she would fill up each basket with chocolate, toys, stickers and other goodies. To this day you can still create these beautiful Easter baskets and hand them out to family and friends. However I have a simple alternative to that, the Easter loot bag. These are perfect for kids to decorate and fill with treats. Not to mention budget friendly, in which I'm all for that what with my Easter gift list growing each year.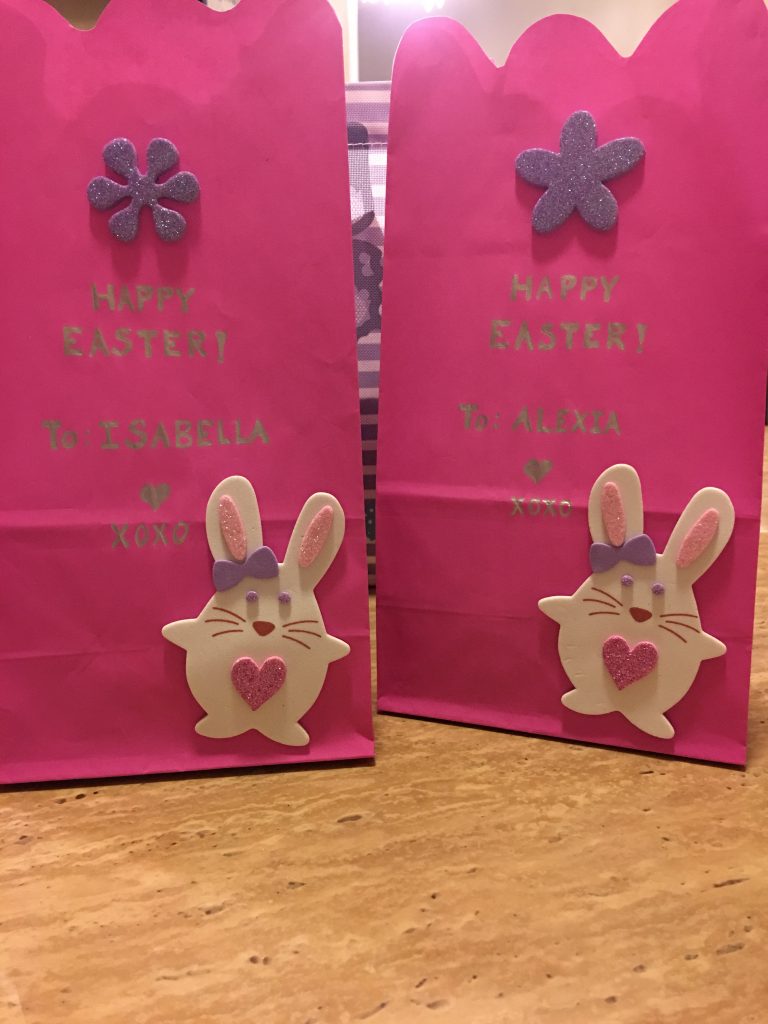 You can find paper bags anywhere, however I found these bright pink ones at Walmart. Available in different colours and sold separately but very inexpensive. Once you have your bags and your craft sets you can begin decorating. I found a craft set that had foam bunny rabbits, chicks and lambs from Dollarama. My eldest daughter helped me with these loot bags. We used some pieces from the set but then we also used some foam hearts and flowers we had on hand. I also took a silver marker and wrote directly on the bag.
The sky is the limit, you can really go to town adding details and really personalizing each bag. From there you can fill them up as little or as much as you want, but make sure to leave some space at the top. In this case, I packed too many items inside so I opted to leave the bags open. Instead I took my scissors and created a pattern to finish it off. Another option could be to fold the top together, just like how you would a lunch bag and stick a sticker to close it shut. Truth is loot bags aren't just for birthdays anymore, you can hand them out year round for any occasion.
The other craft I want to share with you all is how to make your very own Easter banner. Yes, you can buy them ready to go but how cute would it be to make one with your kiddo. Again using bits and pieces from ready to go craft sets. For this craft I purchased a set that had different coloured felt eggs that you can decorate from Dollarama. At Walmart I picked up a package of acrylic jewels that I thought would stand out. I already had on hand glue to stick the jewels down and some twine for hanging the banner later.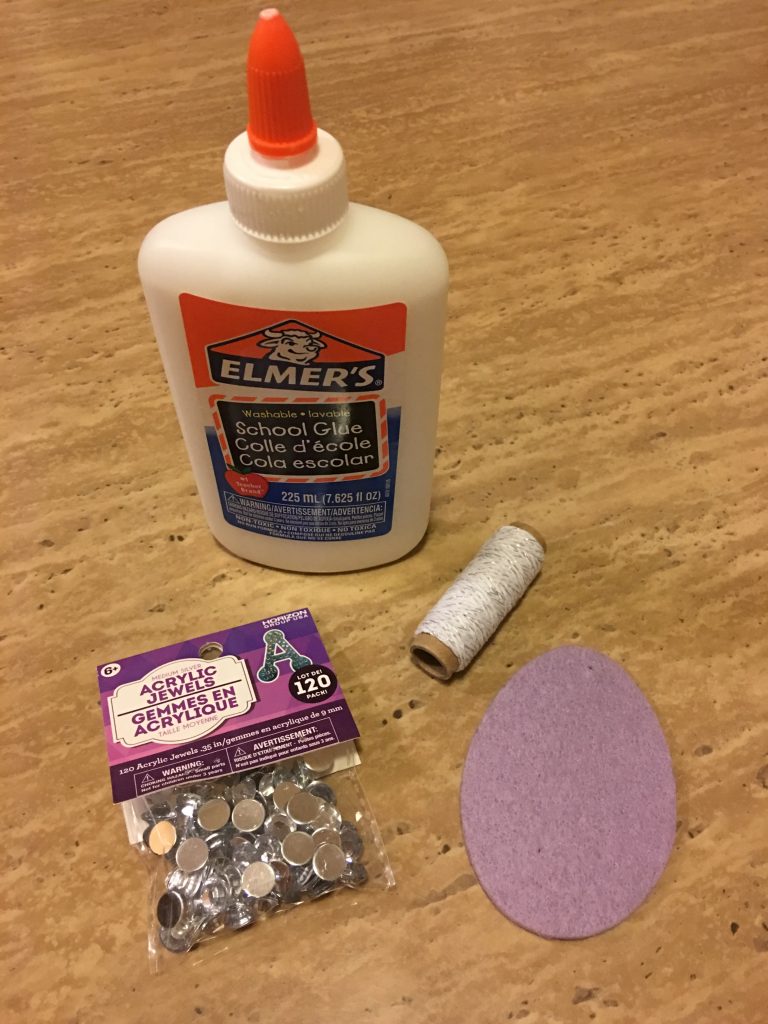 First we added some felt decor to every other egg, top and bottom which came with the set. Then I wrote on each felt egg a letter to spell out "HAPPY EASTER" from there we glued the jewels on by following the lines of each letter. Once fully dried I poked a hole with a sharp pencil at the top of each egg. Then I took the twine and fed it through with the help of the same pencil.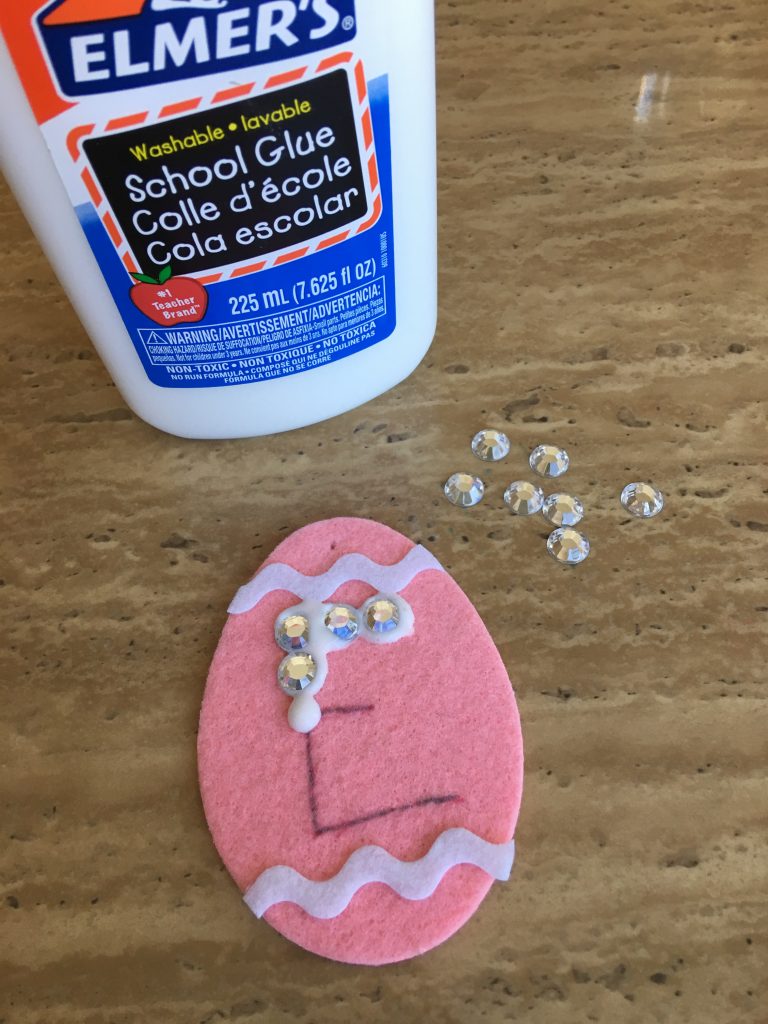 I thought the best place for our banner was to hang it over a mirror, so I left enough twine to reach from one corner to the next. Then I used tape to fasten the twine to the back of the mirror. I had some ribbon on hand so I decided to finish the banner off with two bows on each side. The end result was super cute and especially fun to make with my helper. Hope these two crafts can inspire you to come up with your own crafts or to build on what we've done here. I truly believe when you add your own personal touch to what you make, it becomes extra special and unique.