Spring is here and soon enough Easter will be too. If you're anything like me, you have already begun thinking about what to make this year. Whether it's cookies shaped as cute bunnies or a lemon cheesecake, either way the wheels are turning am I right? This year my parents are hosting, on top of that my little blue eyed niece has her birthday the day before. Long story short, it's going to be a big fat Easter/birthday celebration. Therefore I'm planning on making something Easter themed and something birthday themed. However today I would like to share my bird nest cupcakes that I made for a previous Easter.
If you're looking for something sweet that says Easter, then these would be perfect. Mini carrot cupcakes with cream cheese icing, coconut flakes and chocolate eggs on top. Truth is, I love Cadbury mini eggs and I think that's what inspired me to make these. That and the year before I made macaroons shaped into bird nests out of coconut and topped with mini eggs as well. Bottom line, you can't go wrong with carrot cake and cream cheese icing or coconut and chocolate. So it only made sense to take the macaroon idea to the next level, and that's just what I did.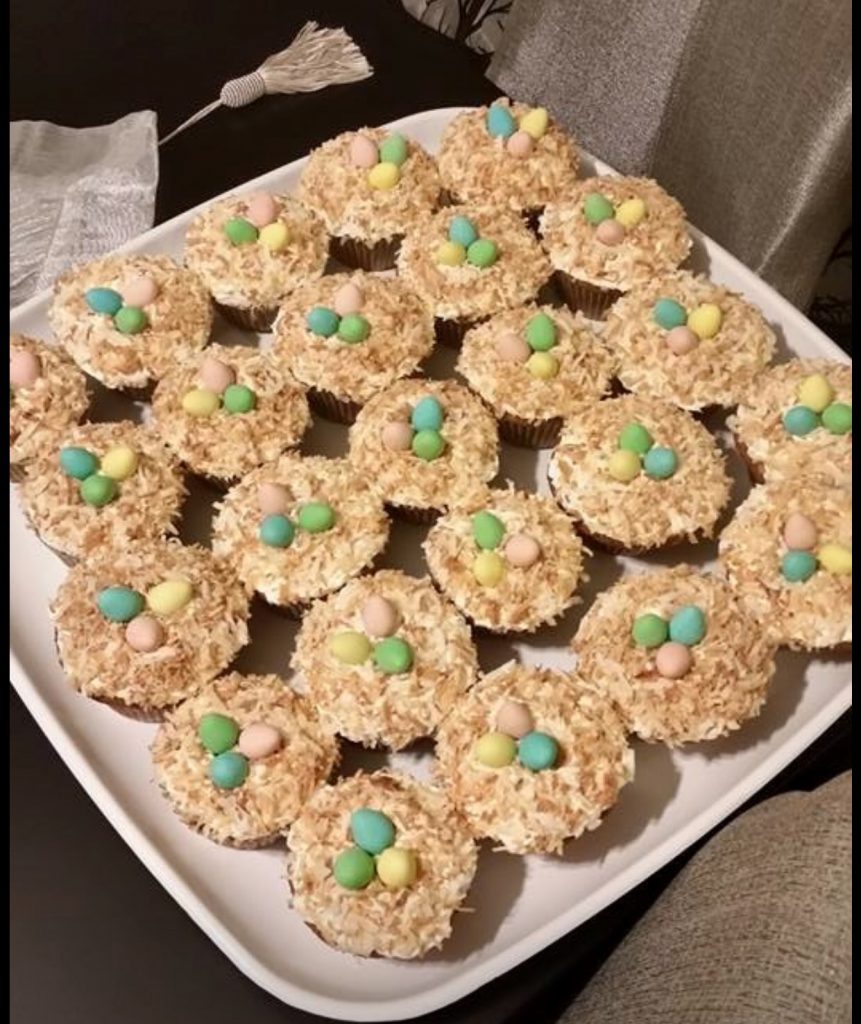 Ingredients for carrot cupcakes:
4 eggs
1/3 cup of plain Greek yogurt
1/2 cup vegetable oil
2 cups light brown sugar
2 teaspoon pure vanilla extract
2 cups all purpose flour
2 teaspoons baking powder
1 tablespoon ground cinnamon
1/2 teaspoon nutmeg
2 cups grated carrots
Ingredients for cream cheese icing:
1/2 cup or 1 stick salted butter softened
8 ounces cream cheese softened
3 to 4 cups powder sugar
2 tsp pure vanilla extract
Other ingredients:
Cadbury mini eggs
Toasted coconut flakes
Instructions for cupcake:
Preheat oven to 350 degrees
Place liners in cupcake tin
In a large bowl combine eggs, yogurt, vegetable oil, sugar and vanilla extract then stir
In a medium bowl combine flour, baking powder, nutmeg and cinnamon then whisk
Add dry ingredients slowly into wet ingredients then stir
Add grated carrots then stir a tad more
Distribute the batter evenly into cupcake liners
Bake for 20 minutes then check with a toothpick, must come out clear
Once done leave cupcakes to cool completely
Instructions for cream cheese icing:
Beat butter and cream cheese together with mixer
Add vanilla and powder sugar and mix until fully combined
How to assemble a bird nest cupcake:
Spread icing generously over entire cupcake surface
Add toasted coconut to cover icing
Add 3 to 5 Cadbury mini eggs to each nest
If Easter wasn't already on your mind, I bet it is now. These bird nest cupcakes will be a hit at any Easter celebration. Or if anything, I hope I've inspired you to come up with your own version. You can totally customize this recipe and make it yours. For example, bake lemon cupcakes and top with chocolate icing. Then use toasted slivered almonds and finish with mini eggs. The possibilities are endless, just remember be creative and have fun.