A couple of weeks ago I mentioned in my blog post about Easter gift baskets. Since then I came across a photo of a gift I had put together last year for my niece's first Easter. Not only was it her first Easter but a week after that was her first Birthday. With that being said, what do you get a toddler for Easter? Of coarse I had to deliver, and chocolate alone wasn't going to cut it. In fact, chocolate was out of the picture in this case. Don't get me wrong you know I love, love, love chocolate however I didn't think it was ideal for a one year old.
A stuffed toy on the other hand is appropriate, like a bunny rabbit. You can never go wrong with a stuffed toy, their cute, soft and lovable. Perfect for most young children and not to mention, the options are endless. Yes they accumulate, speaking from experience but even I'm drawn to the detail and cuteness. Bottom line babies, toddlers and children love them and can't seem to have enough of them.
In my mind I knew I wanted something special for my little blue eyed niece. One day while browsing Pottery Barn Kids I came across a toy bunny. Supper cute with different coloured patches that resembled that of a quilt. Since Pottery Barn is such a reputable retail store, I thought this would be something my niece could have and enjoy for years to come. Then I noticed they had plastic plates, matching cups and utensils. Peter Rabbit was all the rage last year due to the movie that had come out. Basically everything was Peter Rabbit related with many options to choose from. Even though my niece may not of used them at that moment, soon enough they would be perfect for feeding time.
Therefore I decided to go with a yellow plate, drinking cup and utensil pack. FYI, I was recently at Pottery Barn Kids and they have everything available this Easter too. Since Peter Rabbit is a staple of most childhood memories, I thought the tableware was something special she can have and use. I was happy with my finds so far but I wasn't done yet. You see in my mind I already knew that the plate wasn't just apart of the gift, I would use it as a base and place other gifts on top. So off I went to find more items to complete my Easter gift.
With chocolate out of the picture I thought the next best thing would be toddler snacks. So I picked up two different types, one snack was shaped into little ducks. Too cute and perfect for Easter, I also wanted to add a spring time PJ that I found at Carter's with a flower print. While at Walmart one day I came across plastic charger plates. I picked one up in white and decided to use that as the base then the yellow plate on top. Once home it was time to put everything together. As you all know this is my favorite part, so I placed and adjusted everything until I was happy. I even used some tape to make sure everything stayed intact.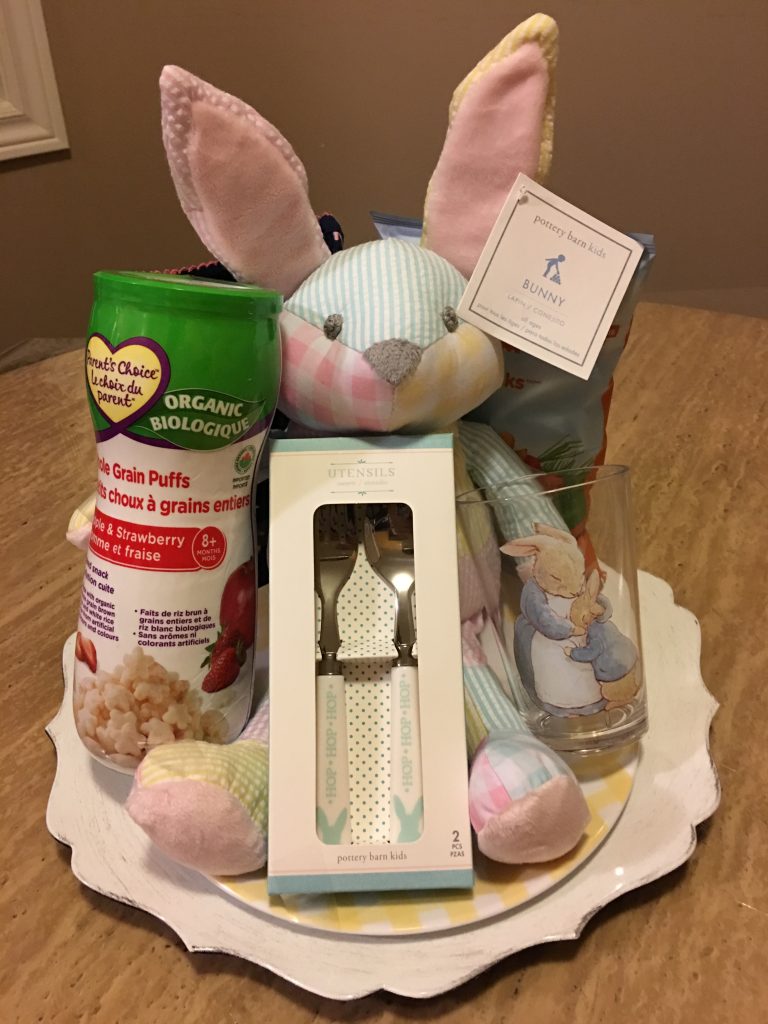 Finally it was time to wrap it all up, but I wanted it to be visible too. Therefore I decided to go with clear cellophane paper. Which I had on hand, first I cut a big peace of the cellophane. Then I placed the gift on top and brought the sides up and used tape to join the paper. Lastly I added a yellow bow leaving some extra cellophane paper on top. I was super happy with the outcome, it was truly a unique gift and tailored perfectly for a little one.