As I've mentioned before my husband and I enjoy hosting here at home for family and friends.   We also love a good bottle of red wine accompanied by some cheese, soppressata and fresh bread.   So when you put all this together what do you get? a charcuterie board for your guests.   Our last dinner we hosted just before Christmas for our children's Godparent's, started off with a charcuterie board and plenty of wine.   Since New Year's Eve is fast approaching, I would like to share the tasty items I picked for our board and how to go about it.

First off, you need to buy a board if you don't already have one. These days the options are endless. Different materials, colours and shapes are available at your go to home goods stores. I had two on hand but I wanted something new. One day while shopping at Ikea I came across one that I really liked. The shape caught my eye first, but I also liked the wooden plank feel that made up this irregular shaped board. Since this is natural wood I had to treat it properly and make sure to clean it accordingly after use.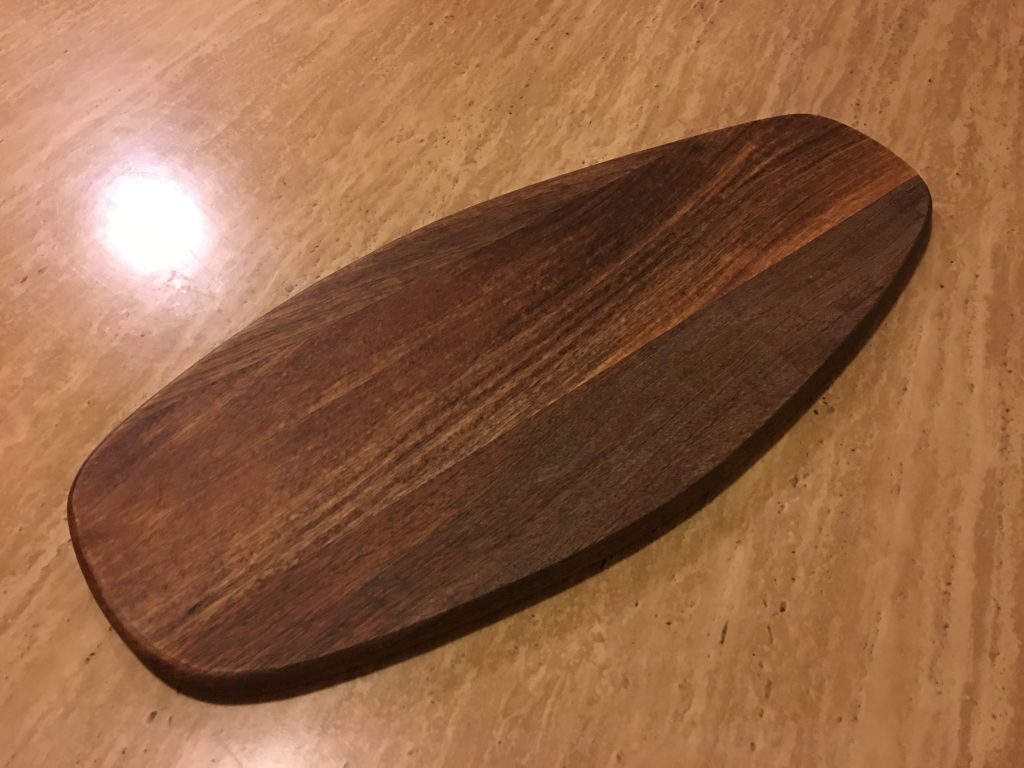 If you want some inspiration, take a look at Pinterest and Instagram.   I personally follow one in particular called A la table.   I love the charcuterie buffet tables etc. that she creates, works of art really.   Furthermore make a shopping list and pick items that your guest will enjoy grazing on as well as you.   Also make it a point to get some good quality items since they will be enjoyed bit by bit or in a combination.   Don't forget the wine, a good wine will add to the overall charcuterie board experience.  
Once you have all your items it's time to present them in a manner that is eye catching and mouth watering.   My must haves include cheeses, cured meats, olives and fruits.   I prefer to have more then one option of cheese and or cured meat.   Accompanied with some kind of cracker or bread either on the board or on the side.   Lastly all the extras such as pickled items, dried fruit and nuts.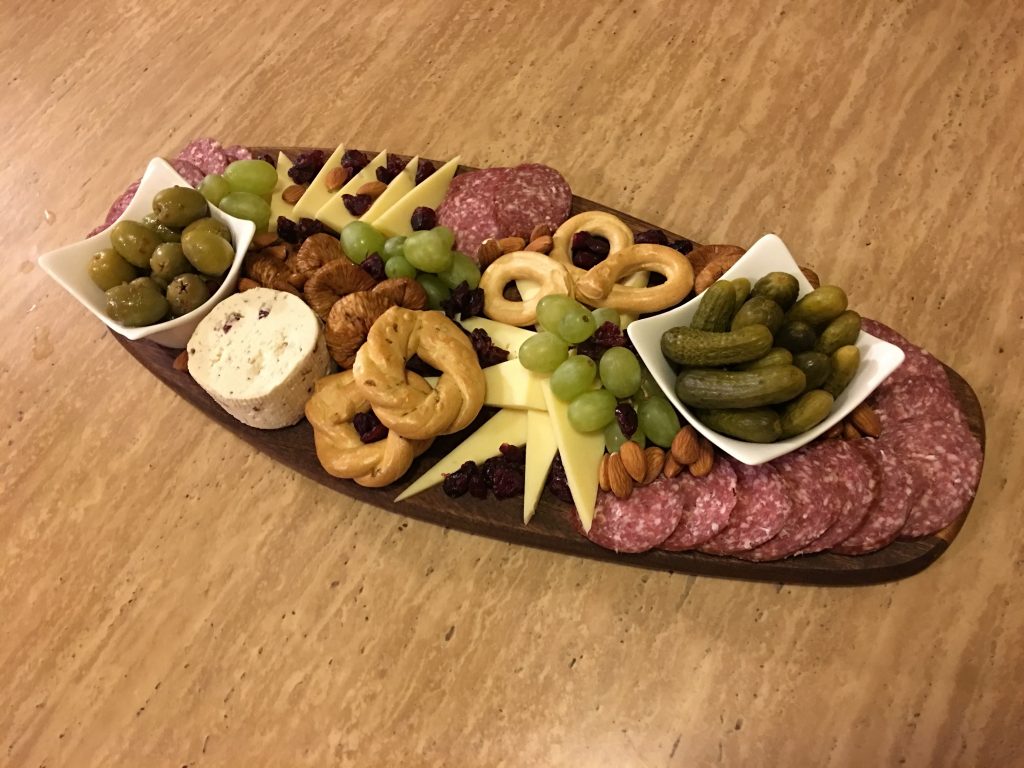 Items on my charcuterie board:

Gouda

Boursin

Italian salami
Spanish olives
Seedless grapes
Italian taralli, assorted

Garlic pickles, mini
Dried cranberries

Almonds
Dried figs
keep in mind if your adding to the board anything that was in a brine or oil, place those items in small bowls. Such as I did with my pickles and olives. I also placed those bowls first on my board, from there I added my cured meats and cheeses. Since I left the Boursin as is I decided to cut the Gouda into triangles. Remember you want to create interest, different shapes and placement of all items is key. After that I placed some Taralli on the board then the grapes and figs. Lastly but not least I added my almonds and dried cranberries. I made sure to add a lot of those all over the board since they are smaller.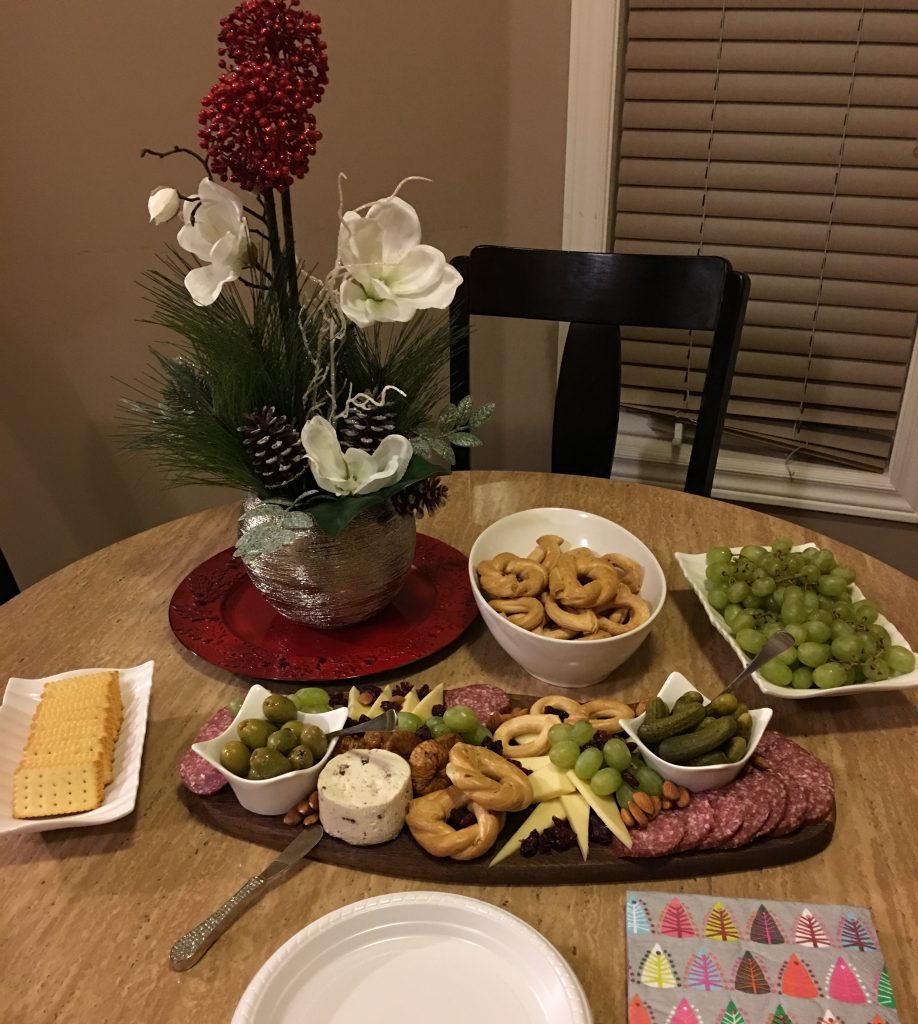 Once my board was complete I placed it on the table where everyone could help themselves.   I also made sure to add a small spoon for the olives and a small fork for the pickles and a cheese knife for the Boursin.   Since I had extra Taralli and grapes, I also placed them on the table along with my Toppables crackers which are perfect for creamer cheeses.   I mean, you can only fit so much on the board itself anyways.   Either way the charcuterie board will still be the main focus and focal point of your appetizer table.   By the end if your board is practically empty, then you know you did well..