Whether it's a formal event or a just big party, your guests need to find their seats at some point. However if your going for a more casual affair, then well that's a different story. Then again these days hosting a small dinner party at home can also include some type of place card. Seems like long gone are the days of just simple paper place cards for a big events. More and more options are available and whatever is more eye catching is always better. Today I would like to share some of my ideas that I have used myself or helped with.
For my second daughter's baptism I decided to use a simple white picture frame box from Umbra.   It had two clotheslines running horizontally with clothes pins.   Actually I had it on hand, brand new in the box and I was planning on displaying pictures in it but hadn't gotten around to it.   Some how it just came to me and I knew it would be perfect for displaying the seating arrangements.   Since the theme was rustic elegance, the clothes lines made of twine and wooden pins was fitting.   I also knew that the banquet hall we would be hosting our event, had an easel to display the frame.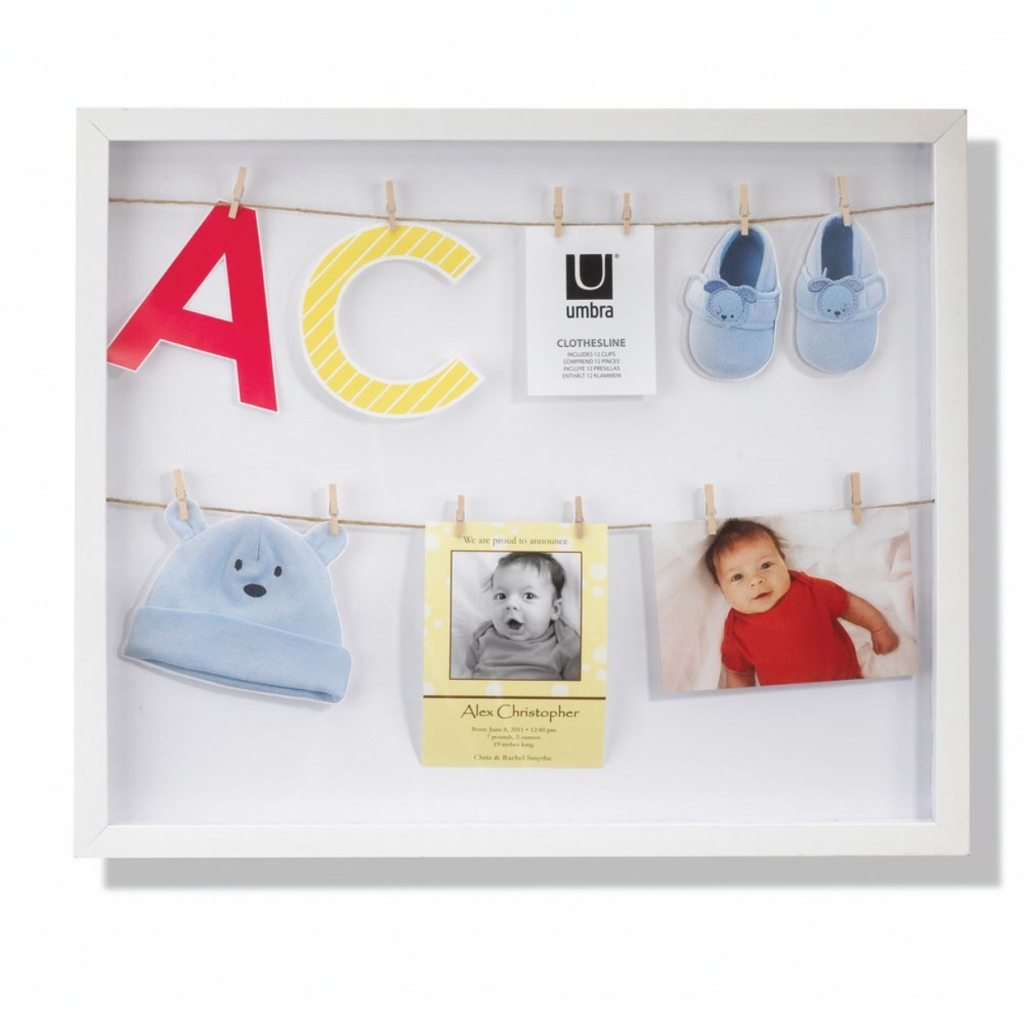 My talented cousin at the time had already made for us our beautiful invitations, so I was able to get her to also make 4″x6″ and 4″x4″ table seating cards.   Same cream pearl finish on card stock like our invitations.   Each card hung by a clothes pin, luckily for us we had enough clothes pins and room for all the cards in the frame box.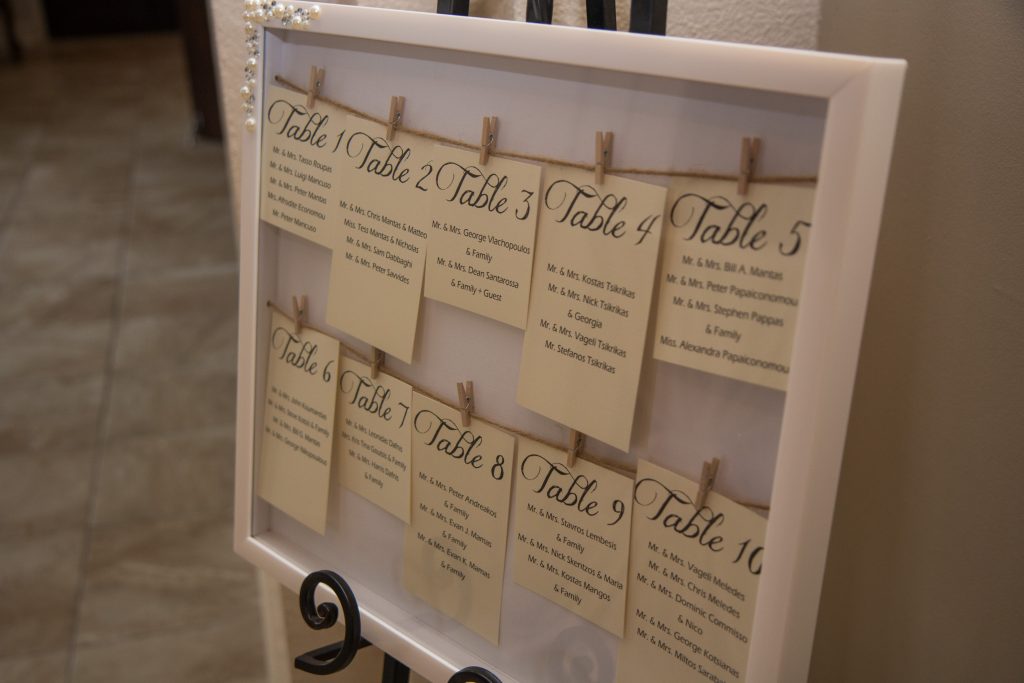 To add a touch of elegance to the frame I found at Michaels, stickers with pearls and rhinestones.   Since pearls had been used thoroughly throughout the theme, I just knew they would work.   They came horizontal, so I placed one going lengthwise starting at the corner and then placed another horizontally again from the corner.   I did the same again to the adjacent side of the frame.   It came together wonderfully, theme present yet simple and straight forward.   Today this picture frame hangs in my daughter's bedroom with pictures of memories in it.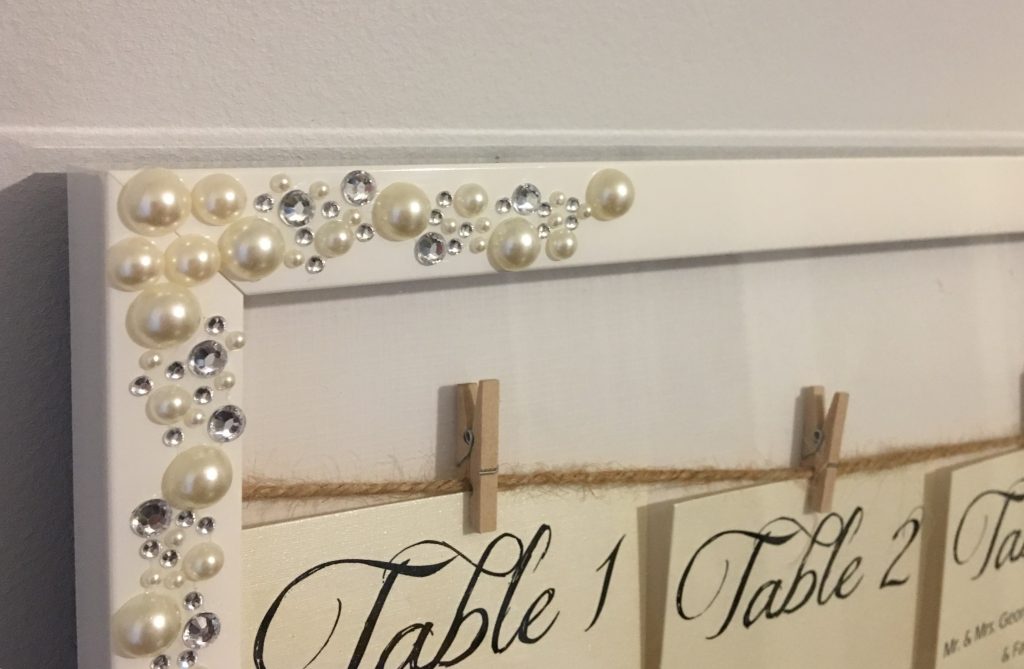 For my sisters daughter's baptism, she too wanted to do something different yet simple and sweet.   Her theme included white, purple and baby pink flowers with gold as an accent.   She went looking and found a large enough picture frame at Value Village, she also grabbed a can of gold spray paint from Home Depot.   When she brought it home she removed the picture so that just the frame was left.   My dad had some chicken wire on hand so he cut a piece for her to fit the frame and stapled it on from behind.   From there my sister spray painted the whole thing outside and left it to dry thoroughly.  
In the meantime my sister had our talented cousin once again prepare seating cards on pearly white card stock, some 4″x4″ and others 3″x3″.   From Michaels she picked up a big faux white flower, two small purple ones and some leaves.   She also grabbed some gold clothes pins and a small bottle of gold fabric paint.   Once we had everything together we got to work, I arranged and glued gunned the flowers on to one corner of the frame.   From there I took a fine paint brush and dipped it into some of the paint.   I added an outline of gold to each flower to tie in the gold from the frame and everything else.   Lastly my sister hung all the cards and it was ready to go, the banquet hall had an easel to display the frame as well.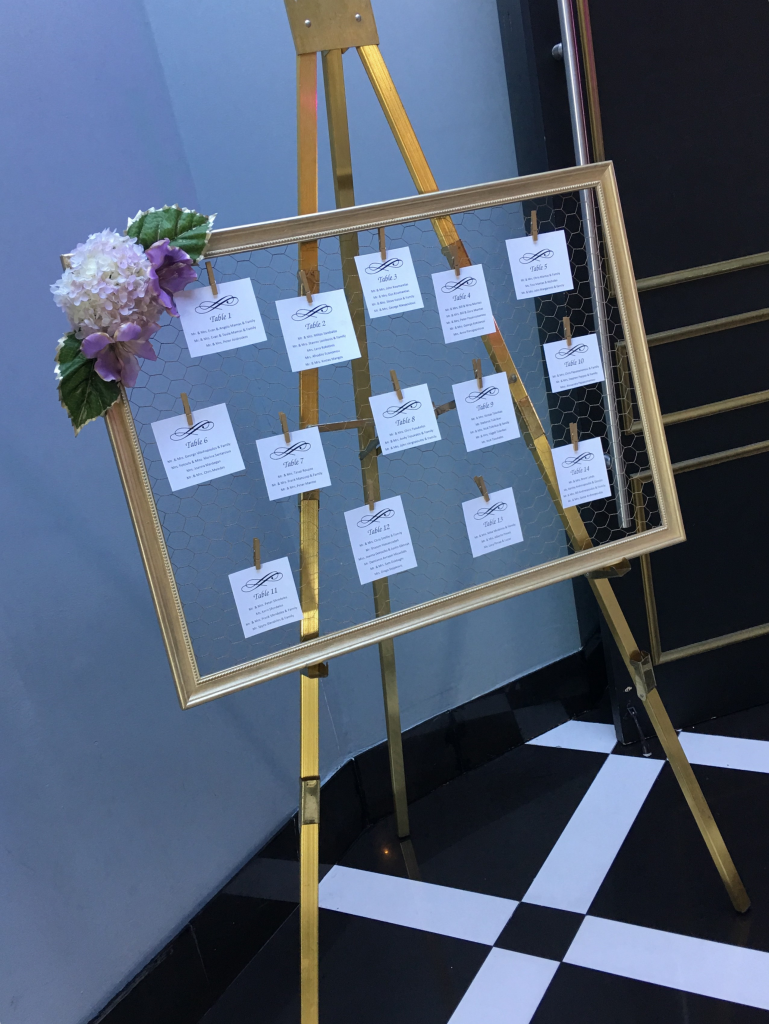 The end result was beautiful, again simple and straightforward yet unique.   My sister plans to use the frame now as a place to hang photos.   By removing the flowers and touching it up, it would look great in her main area.   Or she could even use it as an inspiration board, the possibilities are endless.   Another fine example of utilizing items for more then just one purpose and as you know, I'm all about that these days.
I would also like to leave with you today a picture of a sign I did for that same cousin, for one of her clients.   She supplied the board, stained in dark brown and a white fine tip paint marker.   I simply added those famous three words.