These days Christmas decorating doesn't stop in your home, instead your seeing more and more outdoor decor. Sure your Christmas lights are up, as I'm certain that's the first thing to get done outside but what about everywhere else? One way to inject your personal style and a theme is decorating your very own arrangement, whether its a hanging basket or it sits on the ground. Today I would like to share with you two planter arrangement options. Both of them I personally put together for my front porch for two separate Christmases. One using faux branches and one using real clippings from a tree. I was fortunate enough one year for a family friend to let me take some clippings from their trees. I ended up collecting from two kinds, one I believe was a Blue spruce which had gray-blue needles. The other I believe was a Balsam fir with more rich green needles. Utilizing two types of tree branches instead of one gave the arrangement more depth and interest. Now if you don't have a hook up like I did perhaps visiting your local garden centre or a forest will do as well. During the summer months I have the same planter filled with flowers, but come fall I remove the flowers and just leave the dirt. Before it gets too cold outside I make sure to complete my arrangement for easy installation.
Option 1: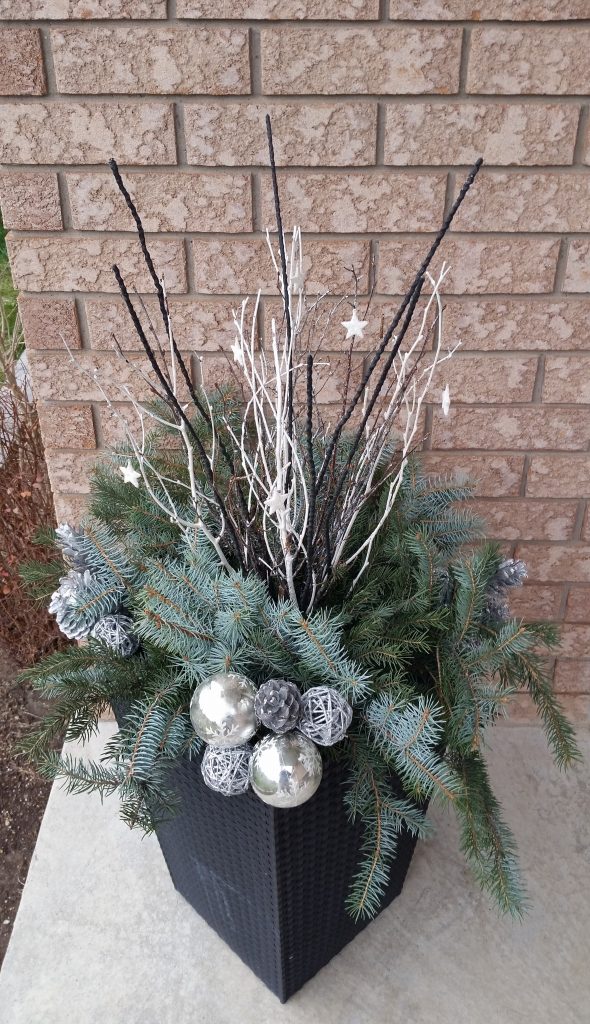 I started off by arranging the tree clippings the way I want, some upright and some spilling over the planter. Heads up you might want to wear some gardening gloves while handling the clippings. I then proceeded and added some decorative branches right in the center that I had purchased from Walmart. I decided to use a variety of them to add more interest. A few white, some sparkly ones and then faux black sticks as well. I also made sure to place them low and high to add more height to the arrangement. From Dollarama I picked up a package of small sparkly white stars and hung a couple directly on the branches. Once again at Walmart I bought some acorns and decorative balls spray painted in silver along with some ornaments. These are specifically made for arrangements and perfect for outdoors. I grouped them together in sets of five and placed them in each corner of the planter where visible. My front door Christmas wreath has lots of sparkly silver details, so the planter arrangement complimented it beautifully.
My second planter arrangement I would like to share with you is a faux option. My parents retired their old faux Christmas tree so I got my hands on some of the branches. I arranged those first once again and also made sure to place some low and some high. From Michaels I purchased faux greenery and I added one bunch to each side of the planter so that they hang over. I then reused the decorative branches from the previous year except for my black sticks, I placed them again in the center to brake up all the dark green. I also reused all the other decorative ornaments and grouped them once again. I was at Home Depot browsing the Christmas decor and found solar light options. I thought the Santa Clause was cute and I knew it would look great against the dark green of the branches so I picked one up. I decided to stick it right in the middle as a focal point, however making sure the solar panel was visible to soak up the light but also not obvious upon first glance.
Option 2: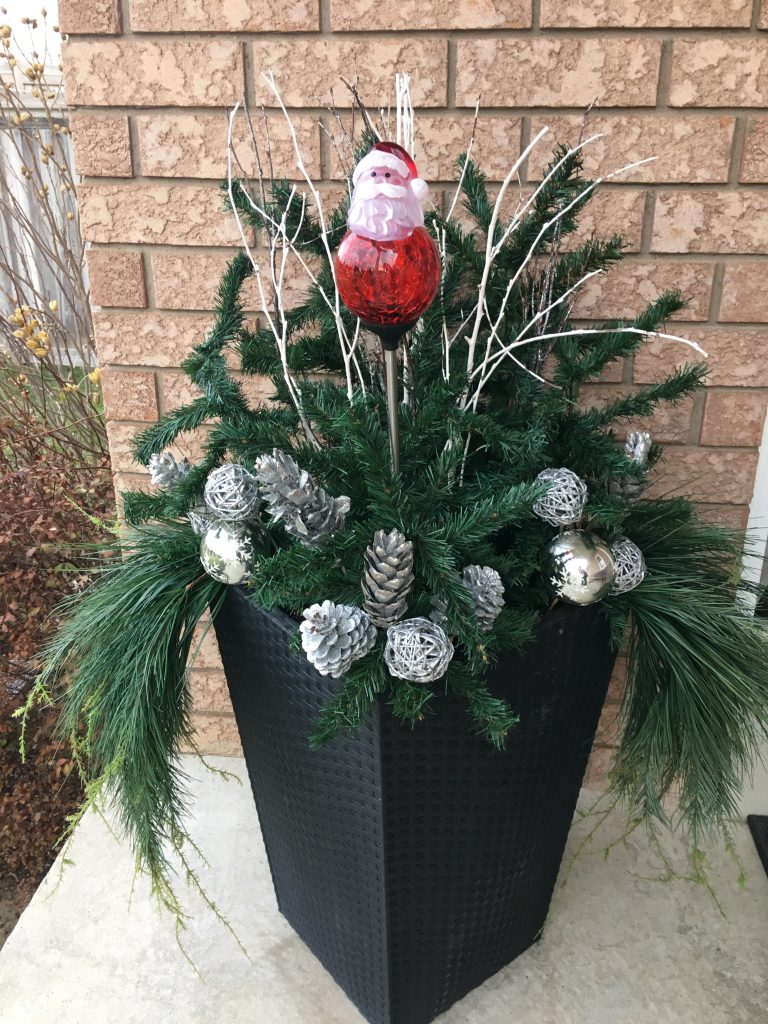 If I had to pick my favorite planter arrangement I believe it would be option one. Something about the real tree clippings and the two tone needles stand out more for me. However on the other hand having faux branches available and not having to seek out real ones every year is also convenient. Not to mention once Christmas is over, everything gets stored in a plastic bin labelled outdoor Christmas decor. From there it goes up on a shelf in the garage for next year. Every Christmas continue to collect more items to add to your box and retire the ones that are sad looking. Regardless if you prefer real to faux greenery start with that as your base and work from there. I believe a planter arrangement consists of three components. One, some type of greenery or a seasonal plant. Then something tall that can add height and drama. Lastly something decorative such ornaments and or ribbon. Once you've covered all three areas I am certain the outcome will be Christmas ready. Furthermore if you want to go the extra mile, tie in your indoor theme with your outdoor for a continuous flow.