These days weddings, showers and even birthday parties don't stop at the cake. Instead we're seeing more and more dessert stations or specific buffet options. Growing up I remember a variety of desserts displayed on a table also know as the dessert table which was a must at any major event we went to. To this day and still very common in most cultures is for guests to bring a dessert to certain functions so that in the end, everyone can enjoy something sweet with their coffee. Whether store bought or homemade the table or tables are always overflowing with a selection of delicious goodies and even take away containers are offered. However if you want something extra that's unique and themed related then your best bet is to pick something more specific and go all out. If you have a sweet tooth perhaps a candy station is perfect for you and your guests. Or maybe you prefer cookies with your coffee or tea, then a cookie buffet makes sense. You simply love donuts and or cupcakes, with the options endless you can't go wrong. These tables or carts etc. along with the presentation provide a wonderful spot for photos as well. Just this past weekend I attended a baptism and they had a candy/cookie and even popcorn table for their guests. 8 years ago when I got married we had a waffle station on top of a dessert table and lamb at midnight. I've recently heard of a nut station being offered at a banquet hall, bottom line just have fun while further enhancing your guests experience.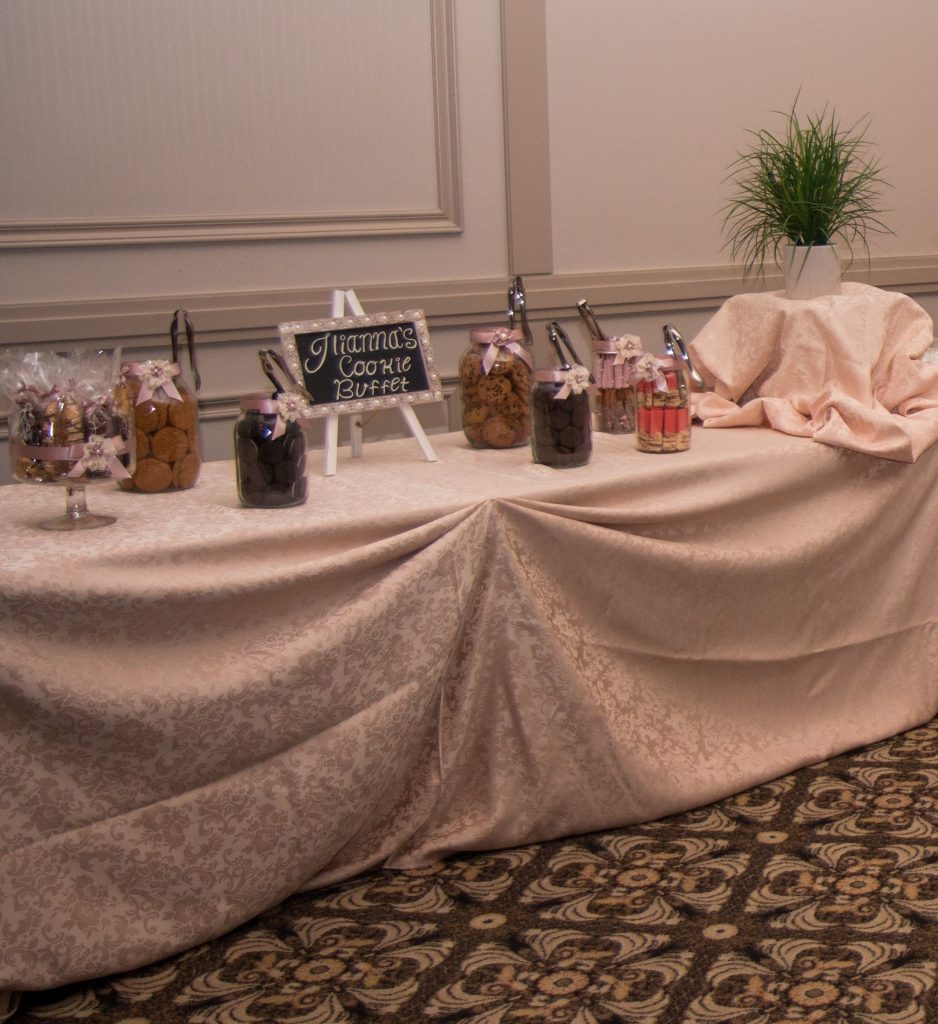 For my second daughters baptism we decided to do a cookie buffet, which was displayed in the hall during the reception portion of the day. I had already done a candy buffet for my first daughters baptism so I wanted to do something different. This table was open at all time with bags and twist ties to help yourself. Later the cake and a variety of other desserts were also available with coffee and tea. To begin I first gathered an assortment of jars in different sizes that could hold a good amount of cookies. However the sky is the limit so you can use anything as long as the cookies can be contained. From there we had extra ribbon, lace and pearls from our centerpieces so my mom was able to decorate each jar to continue the theme. We even decorated the containers that held the bags and twist ties to match. I had purchased tongs and small clear cellophane bags with white dots. The iridescent twist ties came with the bags and everything was a one stop shop at Creative Bag.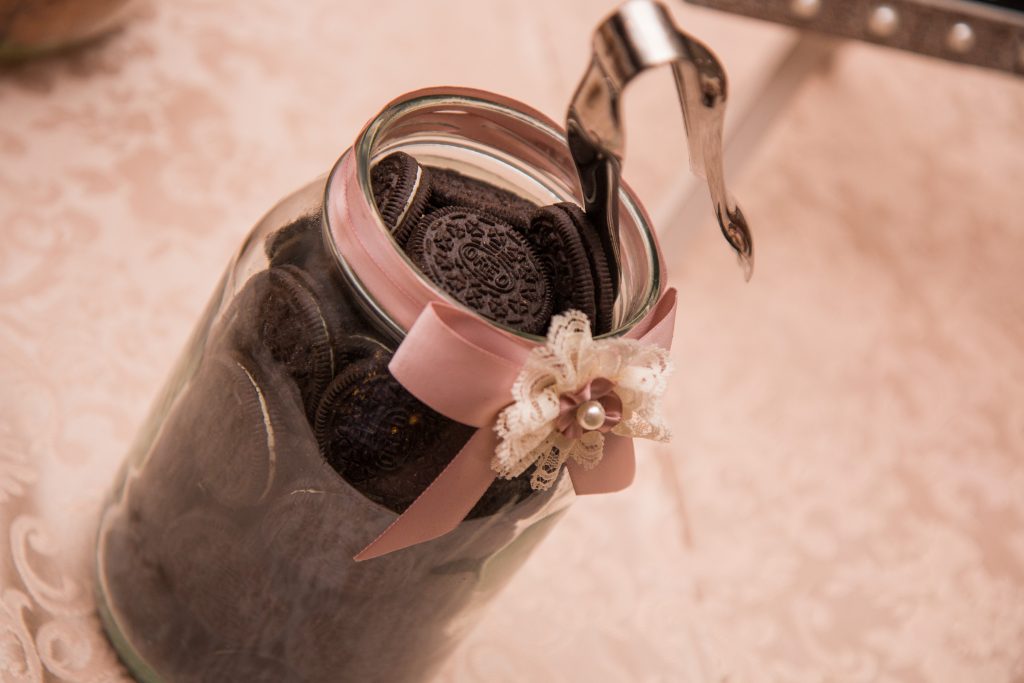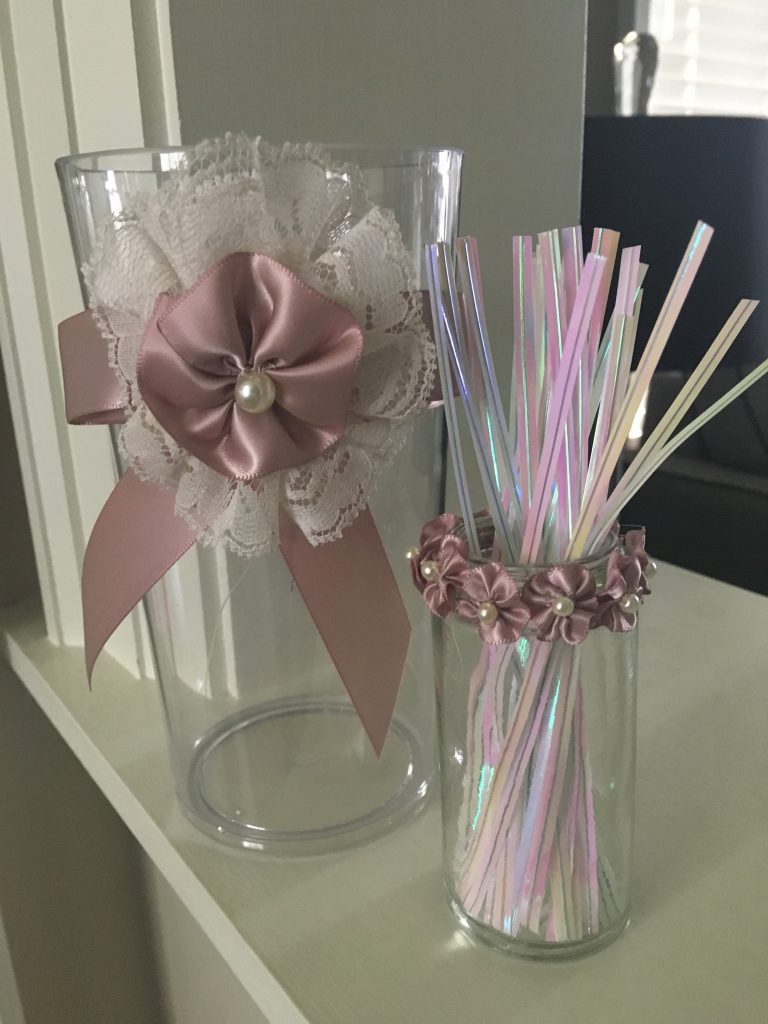 I knew I was going to purchase the classics for my cookie buffet like Oreo's and chocolate chip cookies but I also wanted to add some homemade ones. My sister made for me biscotti dipped partially into chocolate then once dried we packaged them individually in clear cellophane bags with a twist tie. After that we placed them in a clear glass trifle bowl in an upright manner which was pleasing to the eye. On a side note keep in mind that you don't just want to toss cookies in a jar and call it a day, you want the display to be inviting. Therefore placement of your featured goodies should also be taken into consideration. I even took ready to go treats and made them extra special to add to the theme. For those who like salty and sweet like myself I purchased pretzels from Bulk Barn and dipped those as well into milk and white chocolate. Since pink was apart of the colour pallet of the baptism along with pearls I made sure to decorate them with pink coloured chocolate and pearl sprinkles. I also purchased pink wafer cookies and dipped those into white chocolate then I drizzled some milk chocolate on top. That being said you can always upscale store bought items just by thinking creatively or using social media to get inspired.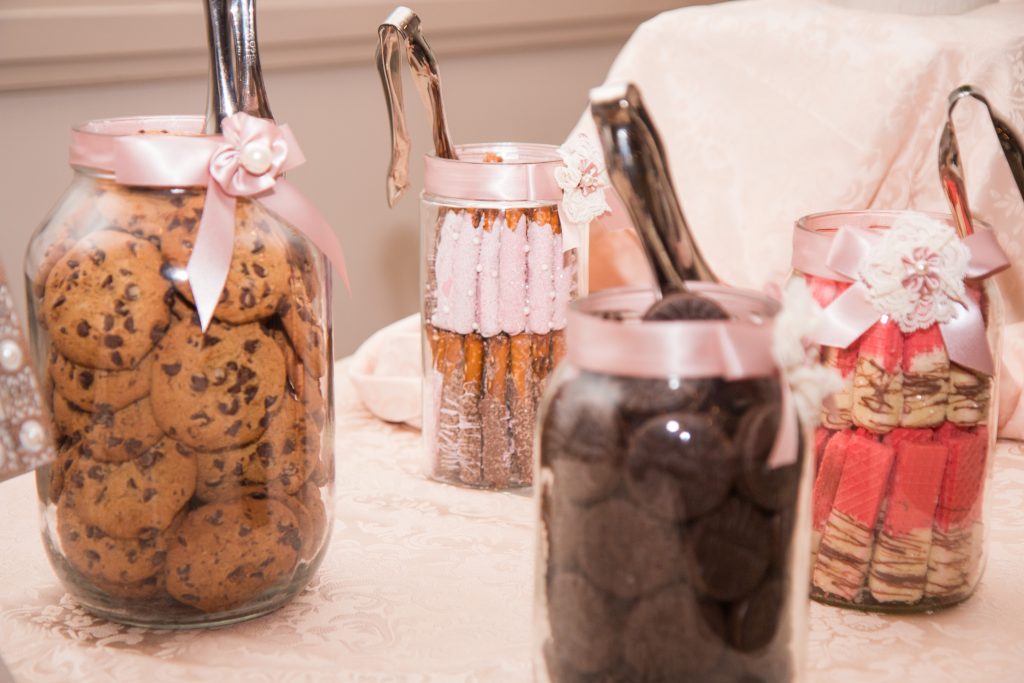 Signage has become also really big these days whether it's for letting your guests know where to go or just emphasizing a key word like love for a wedding. People crave information and more so a story line therefore adding signs of all sorts and sizes will help string along your theme for your guests. I came across this chalkboard sign at Michaels and thought it was perfect for the cookie table. I wanted to personalize the cookie buffet and this sign helped me achieve that. I also took it one step further and added pearl adhesives that I found at Michaels as well. I believe the lace like trim on the frame and the addition of the pearls was a perfect match for the overall theme. I was very pleased once again with the outcome of the cookie buffet, simple but sweet.