I'm sure you all know by now that I love flowers, however to be honest I don't really have a green thumb. I enjoy them in our garden and receiving them as a bouquet but most of all I love them as centerpieces. Not only are they pleasing to the eye, but they have the ability to come together and create a much bigger statement. Whether its just one rose in a small slender vase or a big assortment of flowers, either way both can add beauty to any space. I believe my first real exposure to a formal flower centerpiece would be when I was planning my wedding. Like most brides to be flowers come immediately to mind when deciding on a centerpiece. So of coarse that was my first thought but I also wanted something unique. I wanted something simple yet elegant as well as tall and eye catching.
During the months of wedding planning my husband to be and I visited wedding shows for inspiration. I came across a booth which if I remember correctly was not at all a flower vendor. Instead something else entirely but they had a vase with a couple of calla lilies as decor for their table. I knew instantly that this was it and I took a photo immediately. After that I decided to find my own vases in which the calla lilies could stand tall in and fit the theme. Champagne was the overall colour of our wedding and so I was on a hunt to find a vase that looked like a flute. I ended up finding the perfect champagne flute vase for the calla lilies at a vendor only store. From there I found a flower boutique called Anthi. The florist was able to use my glass vases to create my dream centerpieces for my wedding.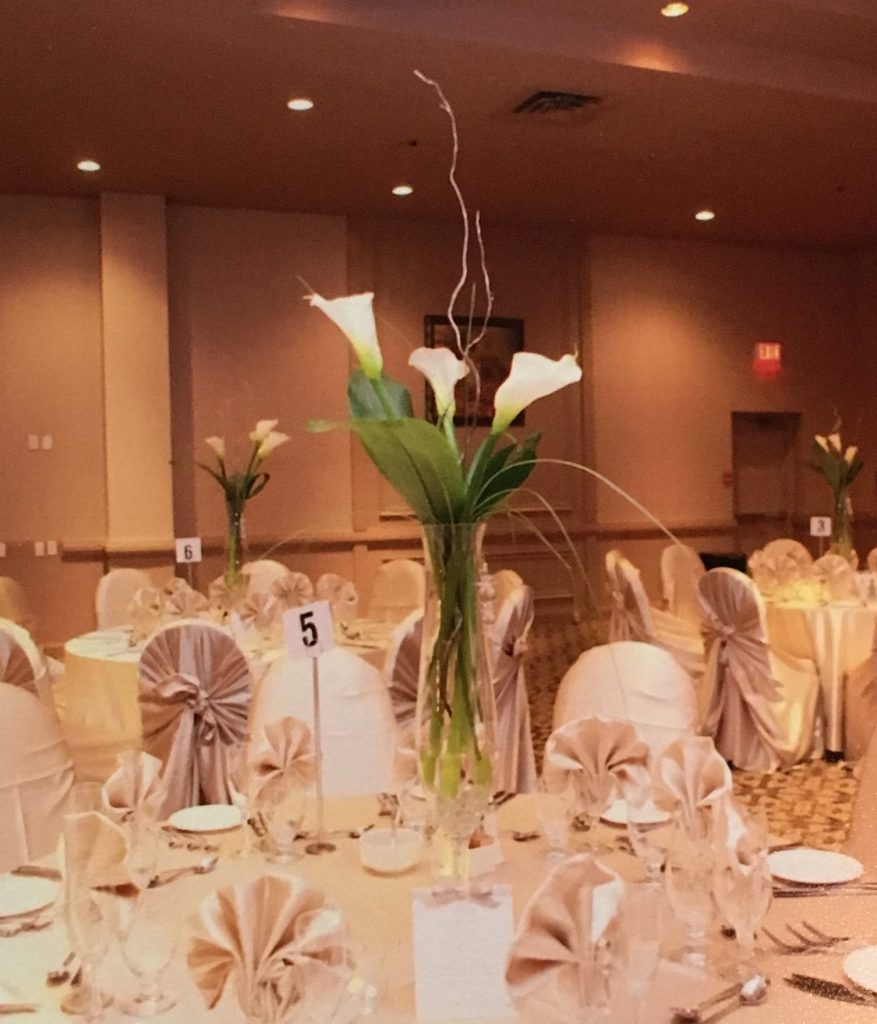 Each centerpiece was made up of 3 calla lilies, 3 banana leaves one folded, 2 decorative twig branches spray painted in silver and some ornamental grass. The florist at the time also recommended that we could hang off each vase a decorative ornament to add some sparkle. I found the perfect one that looked like a crystal icicle from another vendor only store. I handed everything over to the florist and from there this beauty above was put together for us.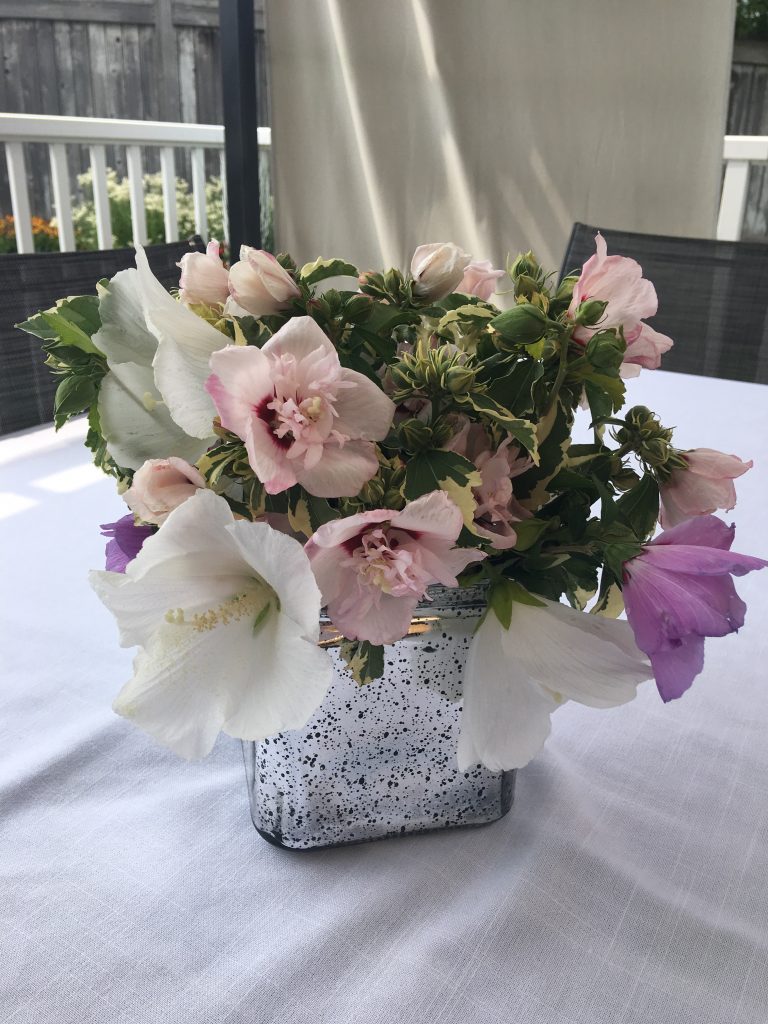 Another interest of mine is that I enjoy entertaining at home, everything from food to charger plates to centerpieces. I tend to use candles and flowers fresh from the garden if available, as seen in the photo above. I've collected many vases in all sorts of sizes and shapes so why not put them to use. We do have a variety of flowers to pick from but sometimes I even dip into my parents garden. Specially when we host our backyard birthday parties in the summer, I get my mom involved too. Other times I grab flowers from our local Costco to complete our centerpieces. I find the price is right and they even have baby's breath which I use often. The centerpiece in the photo bellow was from my second daughter's 1st birthday party. Pink roses from Costco and white snow balls from my parent's garden. Since the theme was a rustic, backyard, cupcake affair I decided to use mason jars wrapped with lace and ribbon. To that I added a hand painted laser cut cupcake in pink and purple along with a pearl to finish it off. Keep in mind adding extra details to a flower centerpiece will customize it more and help continue your theme.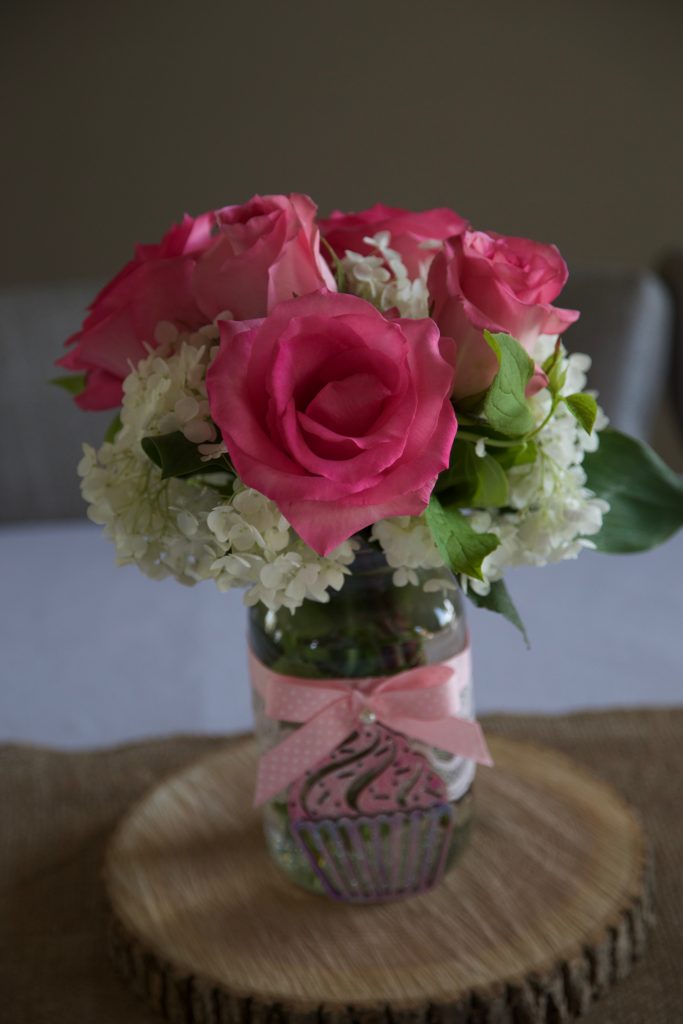 My first daughter's 2nd birthday was a ladybug themed party. The invitation was a large ladybug with colourful jewels and flowers instead of dots. So I gathered up all my coloured vases and some flowers from the garden. I even came across glittery ladybugs at Michaels in which I was able to clip right on. I also added some rocks at the bottom of the vase for looks and safety.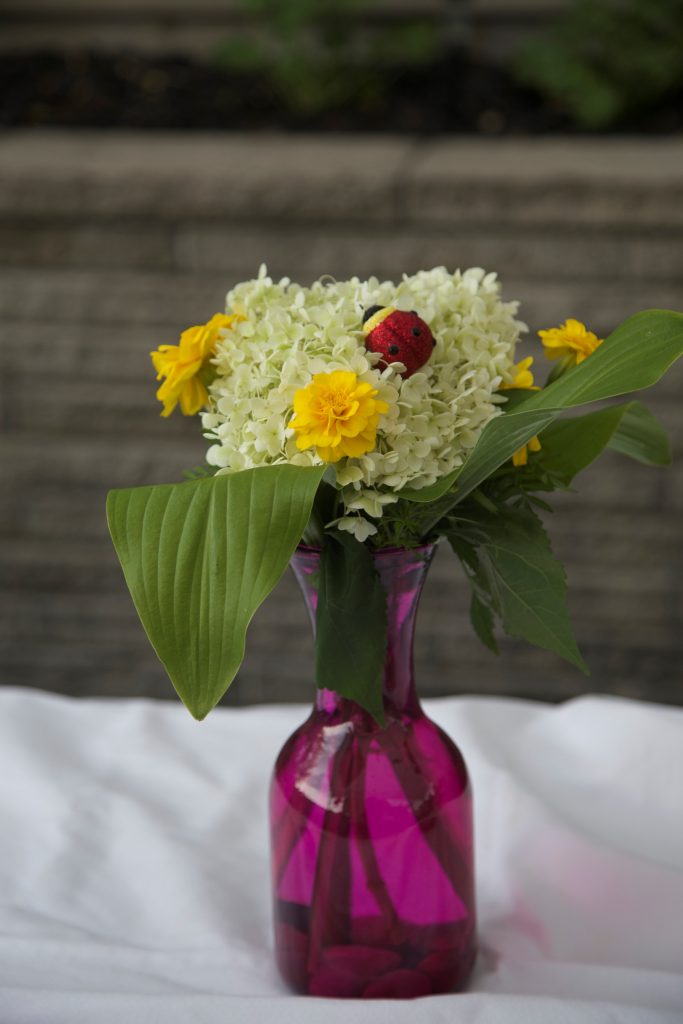 When my mother and I hosted my sister's baby shower I went with a gender neutral theme. A colour pallet of yellow, white, grey and cute little ducks. I picked out yellow roses and baby's breath from Costco. We used mason jars as the vase and my mom added a bow made of ribbon and the letter B for baby that I found at Michaels. I had some leftover sparkly duck stickers from the invitations, so I added one to each centerpiece as well.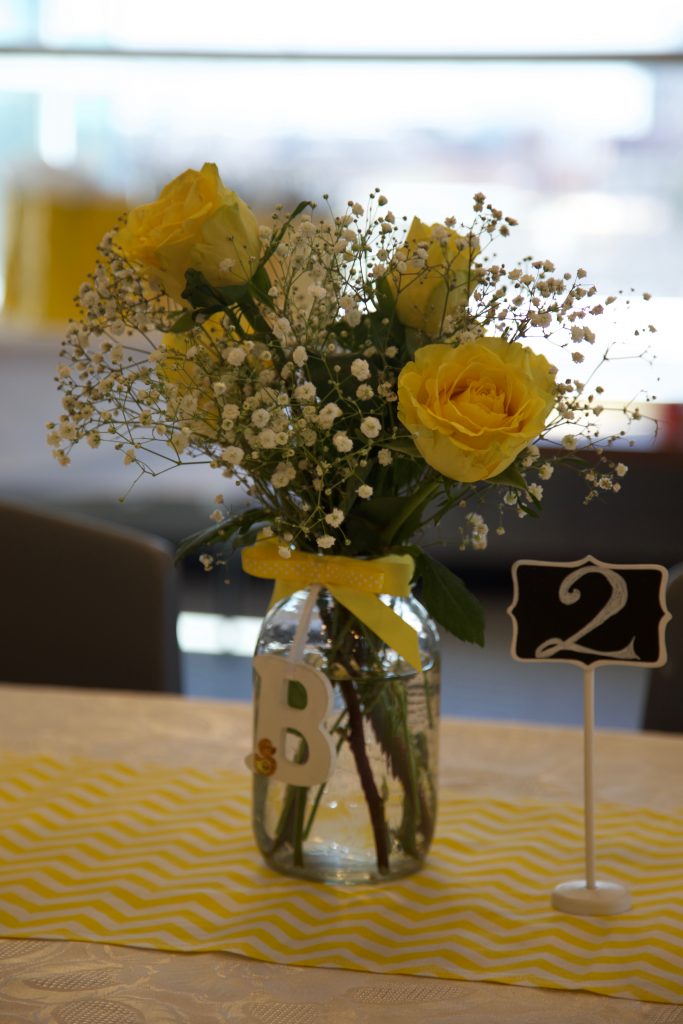 The centerpiece bellow is from my second daughter's baptism. My sister had a set of glass vases at her house from Ikea. I thought they would be perfect for the baptism so I went to Ikea and picked up the amount I needed. At first I was just going to keep it simple and place candles in them. However my sister persuaded me to add some flowers to one of the vases. In the end the soft pink roses, baby's breath, lace and ribbon along with the candels helped unify the theme of the event further.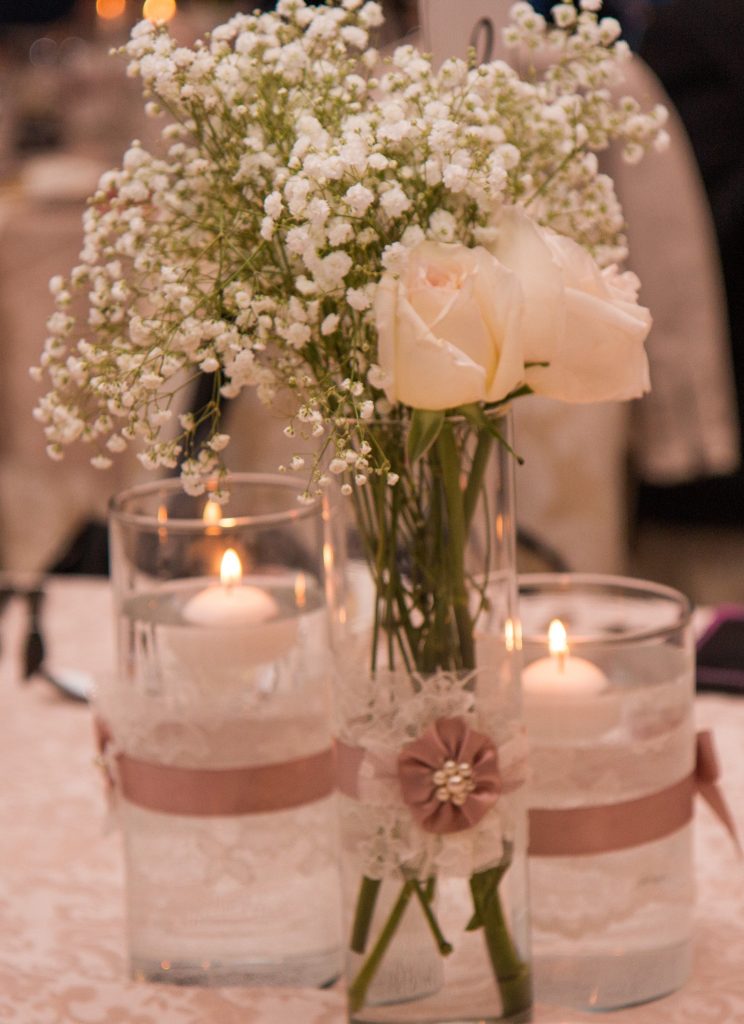 These are just a few examples of centerpieces that I've put together with the help of my mom and sister. The flowers shown above are simple and straight forward yet they still make for beautiful centerpieces. I am truly pleased with the outcomes of each and every centerpiece. I look forward to creating more memorable flower arrangements in the future, whether for family and friends or just for pleasure.