With spring in the air, I thought I would share how to make a hot air balloon centerpiece. Perfect for many occasions and just in time for all those who are planning an upcoming event. This centerpiece is completely customizable to fit any colour pallet or style, the sky is truly the limit. Before I go into any detail, I should explain why the hot air balloon. Well, when the time came for my little blue eyed niece's baptism, my sister picked a hot air balloon theme. Therefore I had the opportunity to be apart of such a whimsical centerpiece.
As you all know I love fresh flowers and I tend to use them a lot. Like I've said before you can never go wrong with flowers as a centerpiece. However, incorporating flowers and your theme together is truly special. Yes flowers alone can highlight the colours of your themed pallet but usually it stops there. When my sister shared with me that she wanted use flowers as the base and a paper lantern as the balloon, I just knew it was going to be breathtaking.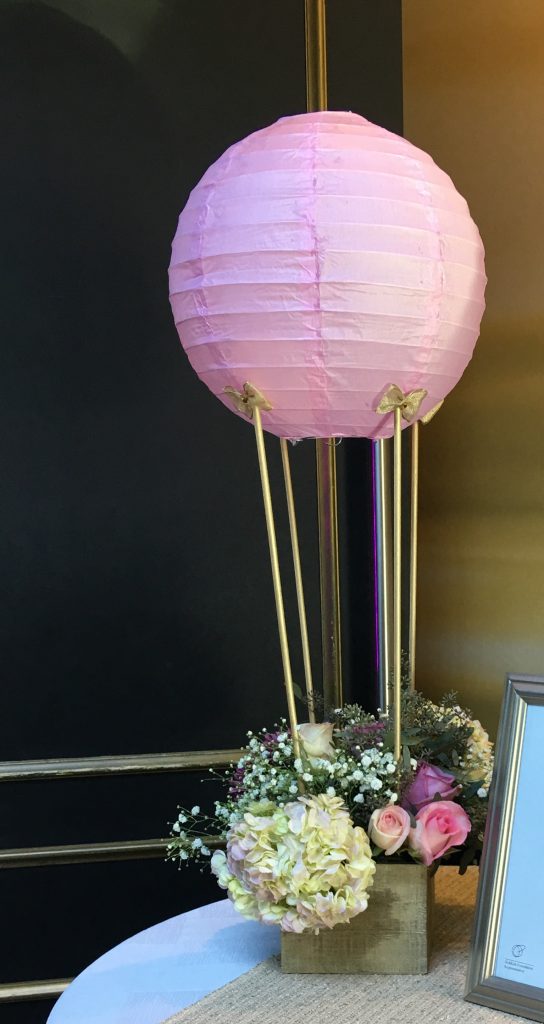 Items required for centerpiece:
Paper lantern
4 bows
4 wooden dowels
Wooden planter box
Plastic liner
Floral foam
Flowers
Water
Spray paint
Glue gun
Scissors
How to construct the centerpiece:
Spray paint dowels and set aside to dry completely
Place plastic liner into planter box
Place floral foam into plastic liner
Pour water all over foam until thoroughly soaked, wait 30 minutes
Put together the lantern and set aside
Stick dowels into floral foam one in each corner on a slight slant
Place lantern on top and adjust dowels, if need be
Glue gun the ends of each dowel to the lantern
Glue gun bows where dowels meet with the lantern
Cut flowers with scissors and arrange them to fit nicely into planter box
As I mentioned above you can customize the hot air balloon centerpiece to fit your theme entirely. For example, paper lanterns have come a long way. So many sizes, colours and prints. You can even upgrade the lantern with a fabric one and add a light for ambiance. Instead of bows you can use flowers or jewels, as long as it covers the glue. The wooden dowels can be spray painted any colour under the sun, or just leave them natural for a more rustic feel. The wooden planter box doesn't even have to be squared, it can be circle. For a more authentic look use a woven basket, and you can spray paint it if you want too. Besides flowers you can fill up your vessel with candy or chocolate for your guests to enjoy throughout the night.
My sister decided to use pink, purple, white and gold as the accent for the colour pallet to the hot air balloon theme. Therefore she bought pink and purple lanterns, in which you can find anywhere these days. Such as, a craft or party store would have many options to select from. The wooden dowels she purchased from a home improvement store, in which they can cut to the exact size you want. The gold bows my mom handmade but you can buy ready to go ones again from a craft store. The planter box, liners and foam she purchased from a vendor only store, however you can find these items at most stores. Bottom line, I'm certain you can find everything listed above at your local craft store. The flowers she picked up at a florist but if you want an alternative, check out Costco.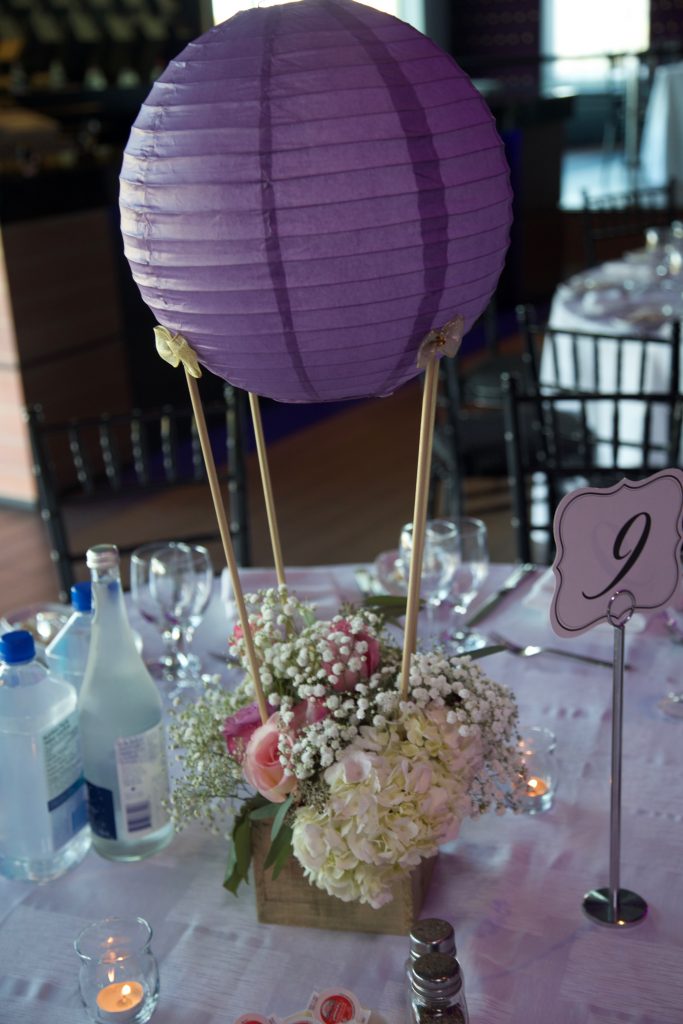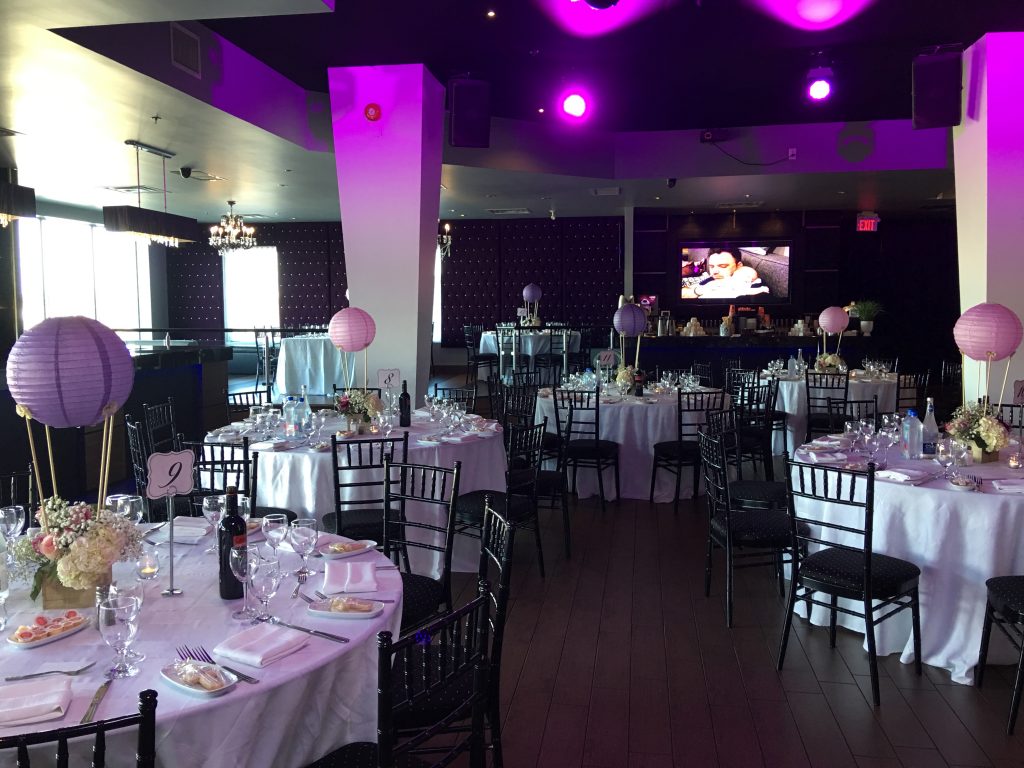 The end result was simply beautiful, as you can all see from the photo above. Each hot air balloon centerpiece helped bring the theme to life. Also, one lucky guest was able to bring this unique handmade arrangement home. It's amazing how you don't really require all the bells and whistles in terms of decor. If you have a centerpiece that makes a statement, that can truly be enough.