I follow garden centres on my Instagram for inspiration and ideas and I came across a photo of real pumpkins with succulents. Perfect for fall and specially since Thanksgiving is around the corner this would make for a wonderful centerpiece. However I decided to do the faux version and add my personal spin on it. That way once done I don't have to ever worry about it and when the season is over I simply store it away and bring it out next year. I knew just the place that would have everything I needed so I headed off to Michaels on the first day of fall. I wanted a white pumpkin which I found immediately made out of Styrofoam. That way I was certain that I could use an X-Acto knife to cut into so that I could add my succulents.
Also please view YouTube video at the end of this post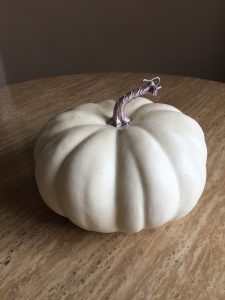 From there I picked an odd number of faux succulents that went well together. I also grabbed a bag of moss and I found a small framed chalkboard that I could add a message. Since Thanksgiving is approaching I thought "be thankful" was appropriate. However after Thanksgiving has come and gone you can change the message for example to "Happy Halloween". Using chalk I completed the sign and set it aside before I continued on with the rest of the project.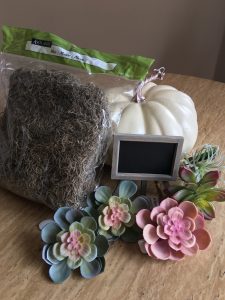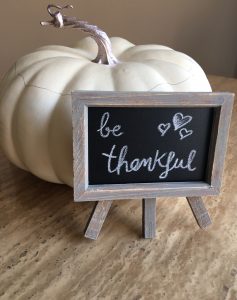 Once I gathered all my other materials such as a glue gun, pencil and scissors I was ready to sit down and start. Since you will be using a glue gun and moss for this project make sure to cover and protect your surface for easy clean up in the end. I first drew a line around the top of the pumpkin where I would start my cut, just like how you would do with a regular pumpkin. I then took my X-Acto knife and made sure the blade was projecting out enough to carve into the pumpkin. Once I finished that I made incisions from the stem to the circle all away around. From there I made another smaller circle cut around the stem and again all the way around. I pulled off the stem with my hand and continued to remove the other pieces. Since it was Styrofoam it was easy to do by digging my fingers into the material and pulling it away until I created a small dip.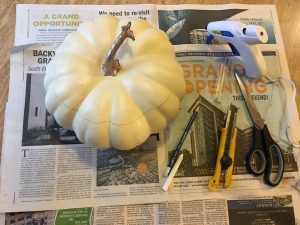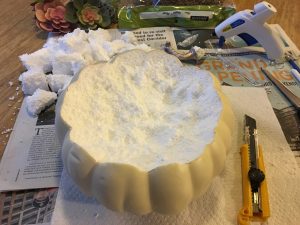 Next I took some moss and placed it on top, pulling, spreading and adding more moss to cover the entire surface. You may need to use scissors to separate the moss if you can't pull it apart by hand. The moss will take shape so that you're able to remove it place it aside and add the hot glue directly onto the Styrofoam then place the moss back down. I also made sure that some moss was hanging over as if spilling off the sides of the pumpkin on purpose.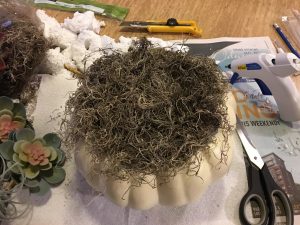 Now for the succulents, each one had a stem on it so in order to place them I left about an inch or so and the rest I cut off using my scissors. Exposing the wire inside which in turn made it easy for me to then pierce the Styrofoam and secure the succulent in place. This method is great allowing you to be able to move them around until you are happy with the location. Also if down the road you want to remove or add you can easily do so since you haven't glued them down. But if you want to you can add hot glue to the bottom of each once you are satisfied with your arrangement.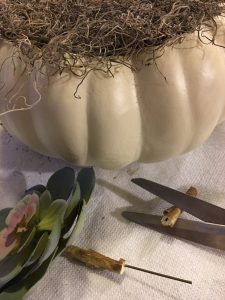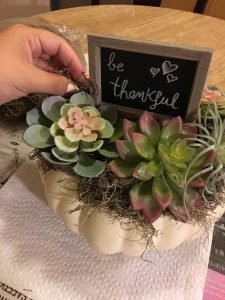 Now my favorite part, arranging everything and one step closer to the outcome of my project. The key to this is just placing and viewing and tweaking until you feel like each component fits just right and looks its best. Also you may need to add some more moss to fill up empty spaces or holes. I was able to stick the chalkboard sign in the middle and surround it with the succulents. I did not hot glue the sign down which allows me in the future to be able to pull it out and change the message and then stick it back in. Once done step away and look at the pumpkin from different angles. keep in mind that it is a centerpiece which means it will be viewed from many directions so it must look good from wherever you see it.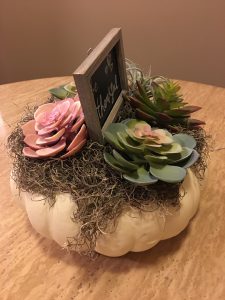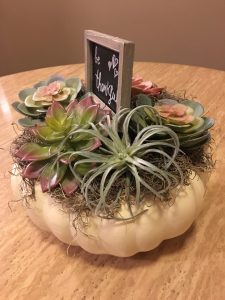 You will need the following to complete this project:
Styrofoam pumpkin
5 Faux succulents
Bag of moss
Framed chalkboard
Glue gun
Pencil
Chalk
Scissors
X-Acto knife