When I was pregnant with my first child my husband and I had decided not to find out the gender and instead let it be a surprise. But honestly ask anyone I really thought I was going to have a boy even though way down deep inside I really wanted a girl. Aside from that my mom and sister hosted a baby shower for us so prior to that we visited Babies "R" Us. We created a gift registry of items we needed and also picked out a crib and dresser that I felt went well with our house interior. I personally wanted the room to be ready to go for when baby arrived even though she mainly slept in a bassinet for how long. At least in my mind that was done and I could focus on my new bundle of joy. Therefore on the registry I decided to also add a gender neutral bed set, with a bumble bee print in grey, yellow and green. I even added the matching mobile and a package of wall decals that was apart of the theme. From there we started to prep the room, I decided to go with a warm grey paint. I love love love grey and specially since it's a natural it will never get old and always goes well with other colours. The bedding basically was the source of my inspiration for this room. You can never go wrong by picking one item that you love and then pulling colours and textures from it.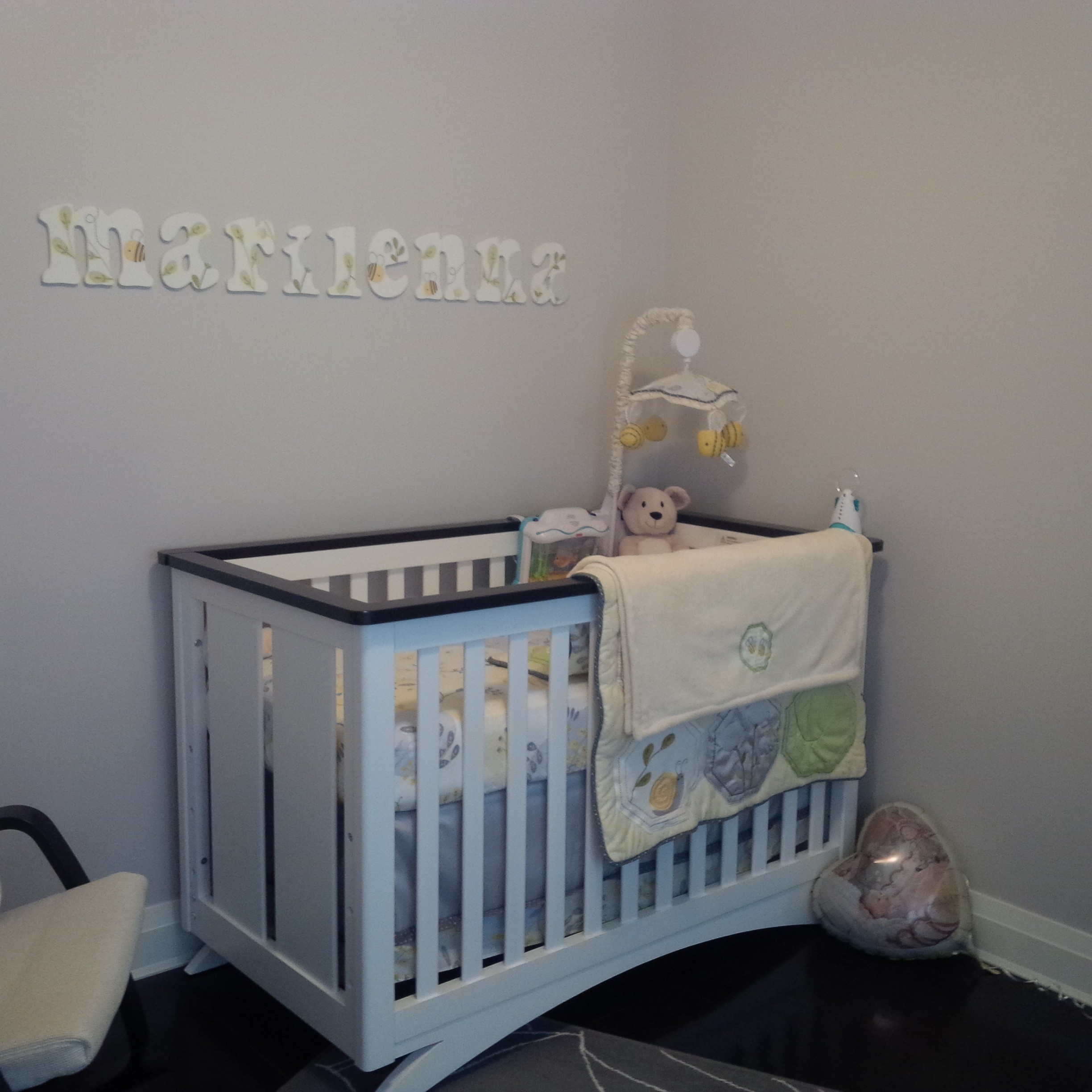 The only little project I had to complete after my little one arrived was her name up on the wall. Since I didn't know my wish for a girl was going to come true I was unable to have the name ready. So a few days from which she was born my husband and I took a trip to Michaels. I found this style lettering that I thought was fitting which also had a lot of surface area for me to add my decals too. Once home and my little one was asleep I took the decals the scissors and went to work. More information on this in my Wall art post under Home Decor & Crafts. I just loved how it turned out in the end and how it tied in theme further.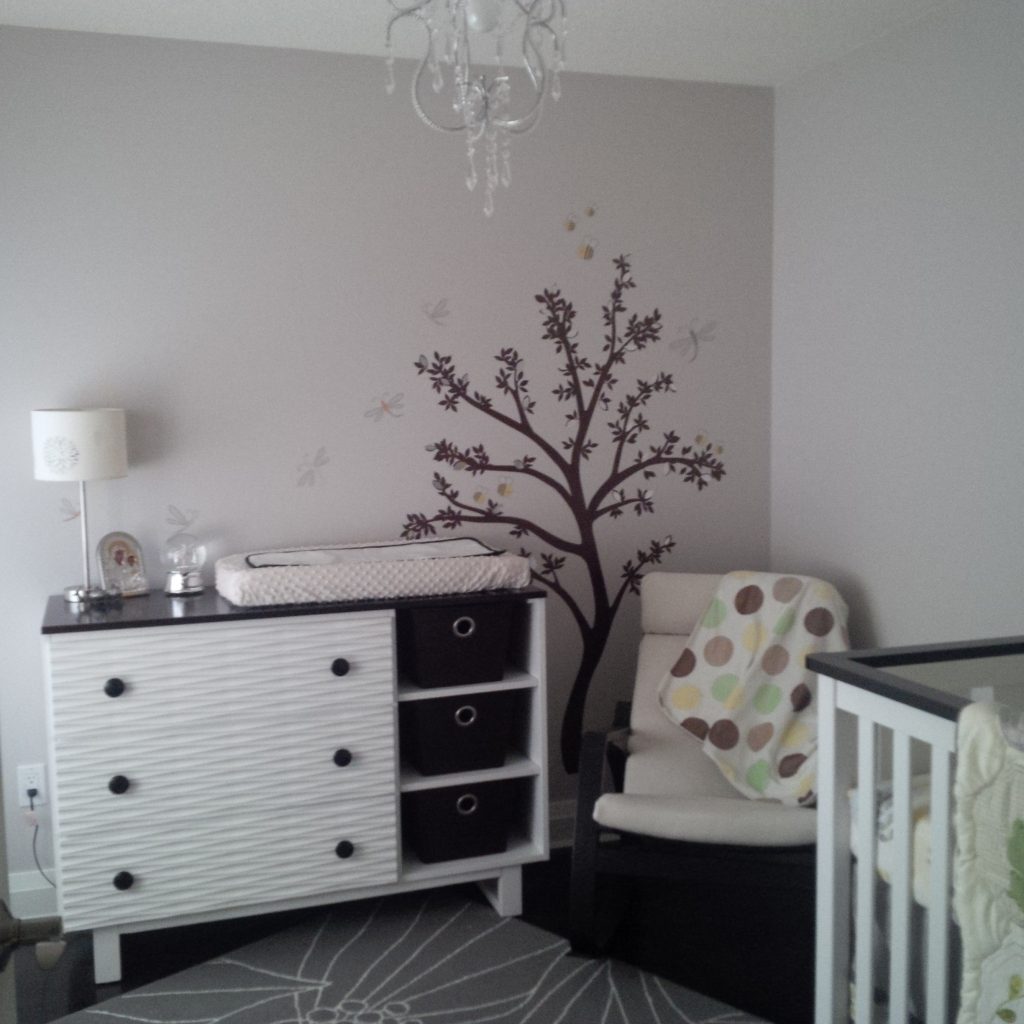 The focal wall of this room was the first wall you would see once entering. That's where most of the furniture and wall decor was placed. The rug as well as the rocking chair I purchased from Ikea, both cost efficient. The rug was mainly grey with two detailed white flowers. Since my floor is a dark brown hardwood I thought grey being a neutral colour would be perfect. I decided to go with a very simple rocking chair in cream and a dark brown frame. I also believe that this style of rocking chair as appose to a solid arm chair allowed for this 10×10 room to feel bigger then it was. Always keep in mind to many solid pieces of furniture in a small room will make it feel congested. Instead add pieces that air can flow through for example the crib and rocking chair. The dresser came with the shelves but I wanted to find fabric bins that I could store diapers and other baby items. I searched everywhere to find just the right size and finally I came across these three brown ones at Canadian Tire from the Debbie Travis collection. The dark brown tree decal I came across one day at Pier 1 and I just knew it would fit well with my other dark brown finishes. I had some extra decals from my wall art craft so I added them to the tree and just above the dresser. I already had the lamp from a previous space and since it was simple enough it went well in the room. The chandelier was also purchased after our baby girl arrived from Bouclair. I was also fortunate enough three years later when I gave birth to another girl to find the same chandelier for her nursery. I honestly loved it so much that I couldn't help myself even though the options are endless now a day's.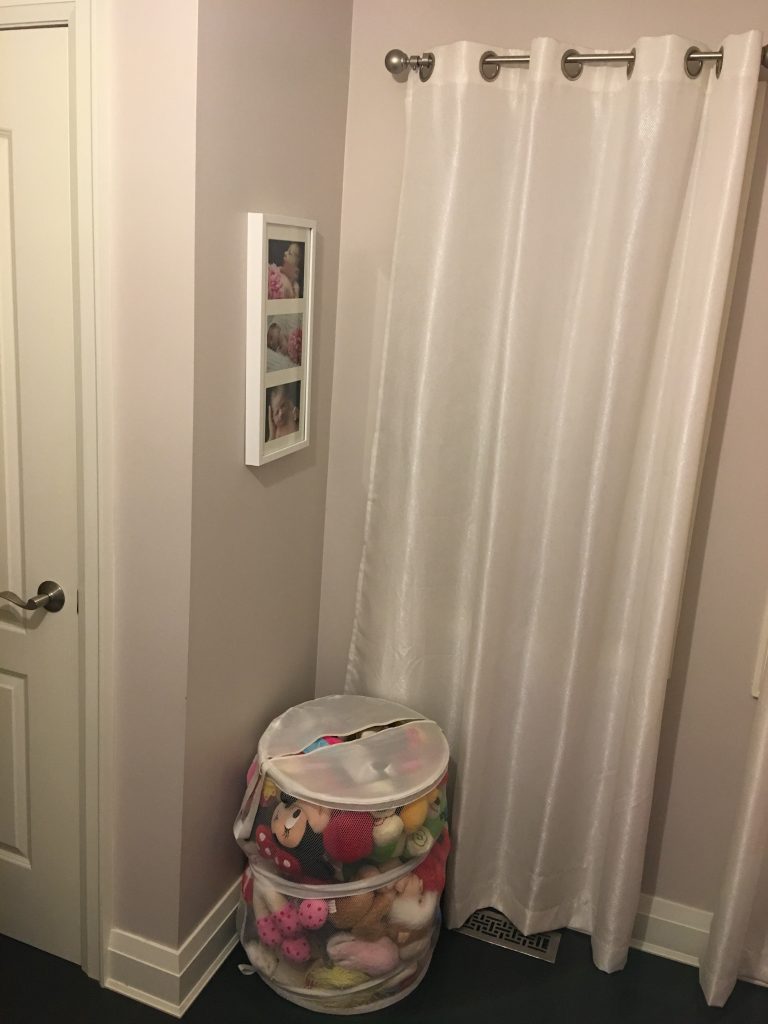 On the other side of the room is a closet door and two windows with horizontal blinds from the previous owner. Since we decided to keep the blinds for now I thought at least I can use drapery to dress them up. I found brushed nickel rod sets and two white drapery panels from Bouclair. The drapery has almost a two tone sheen to them along with a texture. I'm hoping the window treatments, chandelier, rug and dresser last even though everything else will change with time. Furthermore I had many newborn pictures that I wanted to display so I looked for a vertical frame that would suit the small wall. Ikea had many options so I ended up picking a three 5×7 picture frame in white. In the future the pictures can be updated or kept the same as a remembrance of once was. As soon as my little one was born a collection of stuffed toys began. I had to figure out somewhere to put them all that wouldn't take too much floor space. I came across a white laundry holder from Walmart and thought how perfect this would be to store all her soft toys. Easy to get to and visible but mostly perfect for this small corner in her room. I was very pleased in the end with the outcome of the nursery. Therefore when I was pregnant with my second child and once again didn't know the gender we basically followed the same theme. Which was convenient and also allowed for us to focus on our first daughter's new room makeover. Please keep a look out for my next post about her updated decor and room layout.