My first daughter's second birthday party was ladybug themed. To be honest I can't remember how I picked it, I'm pretty sure it started with some type of inspiration. With her first birthday party under my belt, I was ready to make this party even more themed related. Truth is, once I got a taste of themed parties I was hooked and ever since, I've been trying to make each of my girl's birthday parties special and unique in some way. This ladybug theme was perfect for her summer birthday and I was ready to get started.
As always I begin by doing some research for each theme. I compile a bunch of images and information and place them in an album on my phone. Anything from decor ideas to cake ideas, whatever inspires me is saved and used as reference. Lucky for me, my eldest is easy going so she's always happy with my suggestions. Either way whatever the theme, I'm ready to give it my all and up for the challenge if need be. My goal as always is to create memorable birthdays for both of my daughters.
First on the list are the invitations, I came across these cute ones at Party City. Big ladybugs with flowers instead of spots. I liked the different coloured flowers, which in turn inspired me to use coloured vases for my flower centerpieces. Fortunate enough I had some on hand. One day at Michaels I found a package of clip on glittery ladybugs, that I could add to my centerpieces. I used fresh cut flowers from the gardens, and some pebbles at the bottom for each vase. In a way the invitation is what set the tone for this backyard birthday party.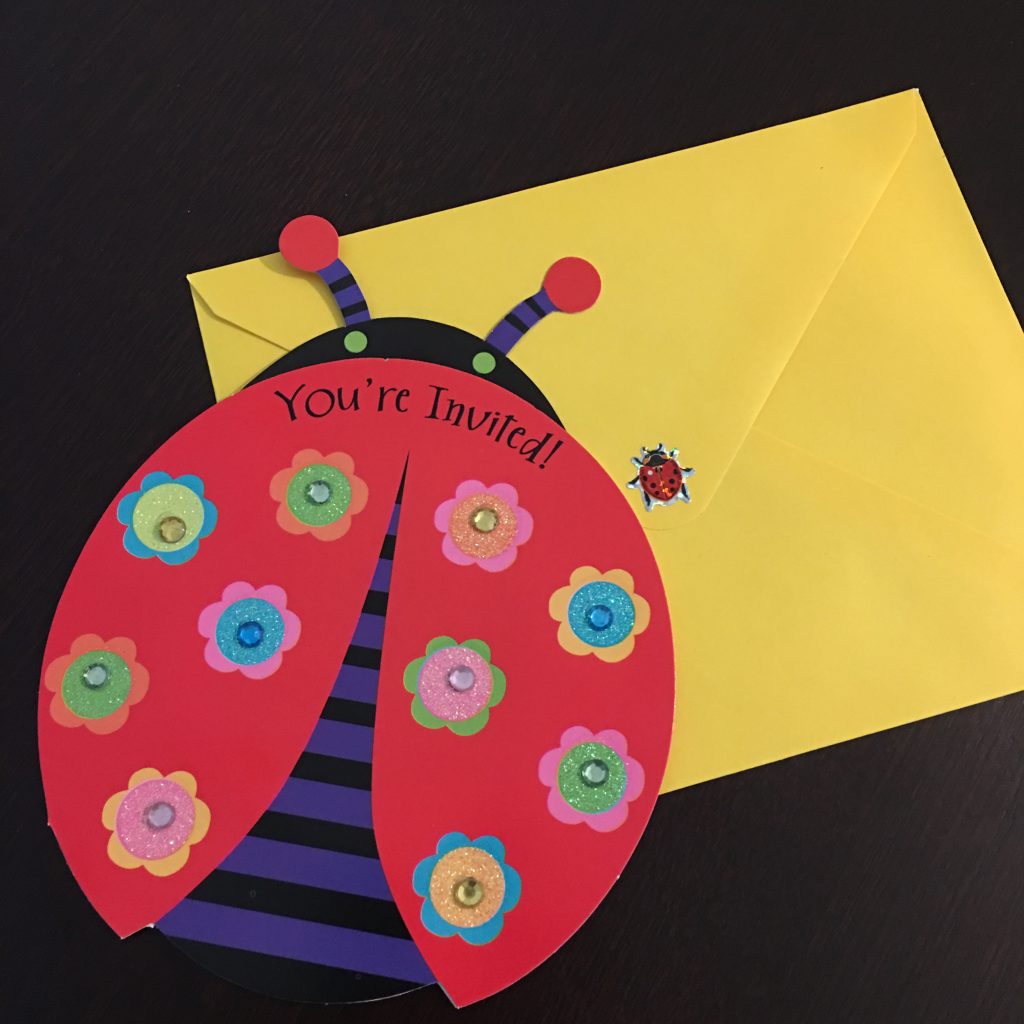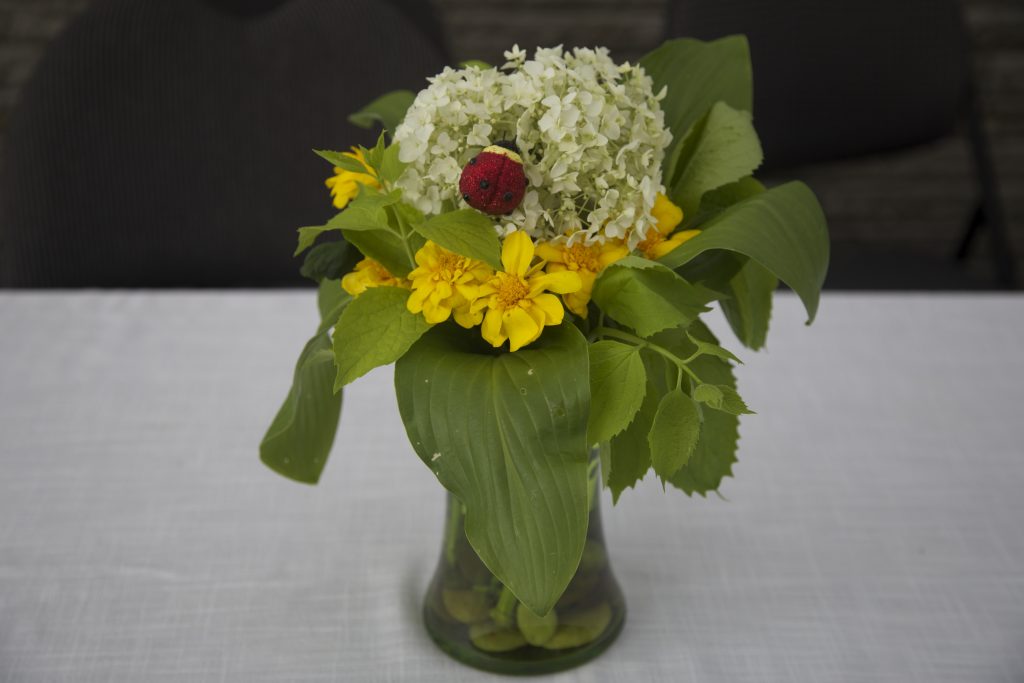 I was super fortunate to find one day while shopping at Winners a cute summer dress with a ladybug on it. This dress was simply perfect and I couldn't believe my find, even my youngest daughter was able to rock it when time came. I just love, love, love this dress on my once upon a time little ladybug.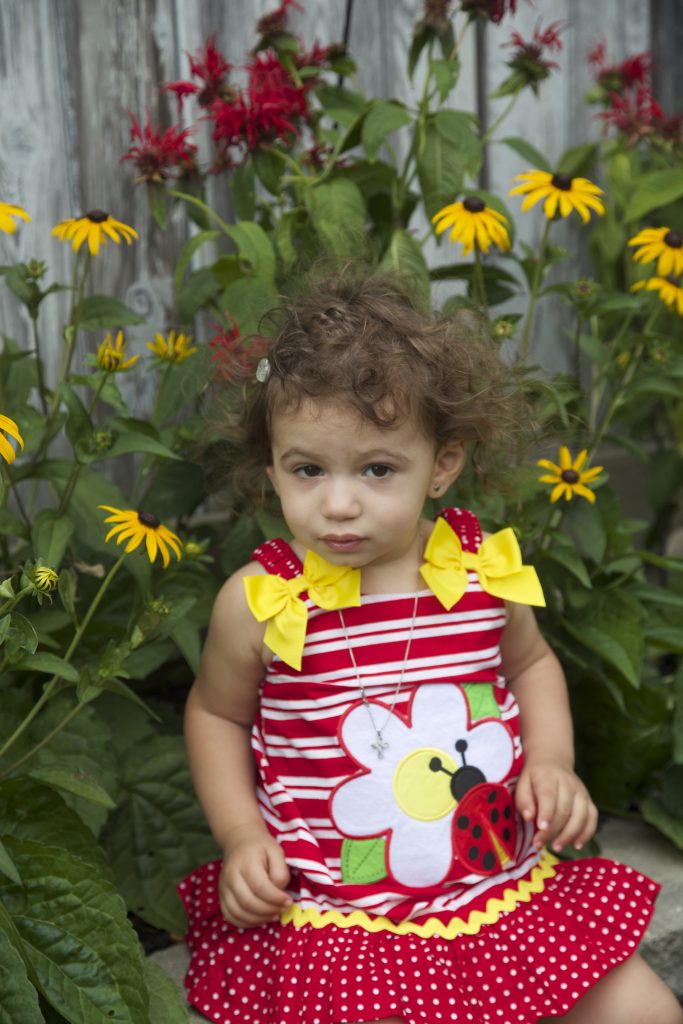 As for the cake I defiantly wanted it to be ladybug related, so I went to one of my favorite bakeries here in Mississauga. I explained what I wanted but not knowing exactly what I was going to get. However when I went to pick the cake up and saw it for the first time, I was more then pleased with the outcome. Cute little ladybugs, flowers and lots of glitter it was beautiful.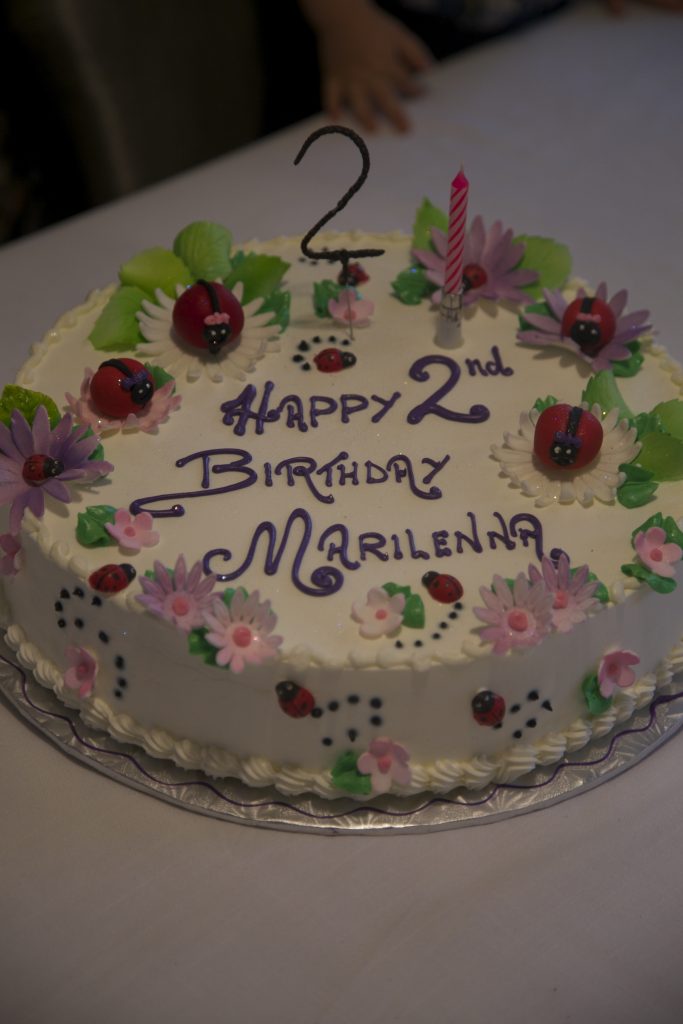 As for decor we did a little of everything, ladybug balloons, homemade tissues balls in red and black and I found a ladybug pinata. I was in Toronto one day, on the Danforth to be exact and I came across a party store there. It had a lot of unique items that you wouldn't find at your local big box party store. That's where I found red balloons with black spots and the pinata. I actually used the pinata as decor and hung it in the middle of the tent over the tables. My mom made the tissue balls for me, I just supplied the tissue paper that I purchased at a dollar store. My mom came across birthday balloons with ladybugs, at a dollar store and went ahead and ordered two balloon bouquets for me.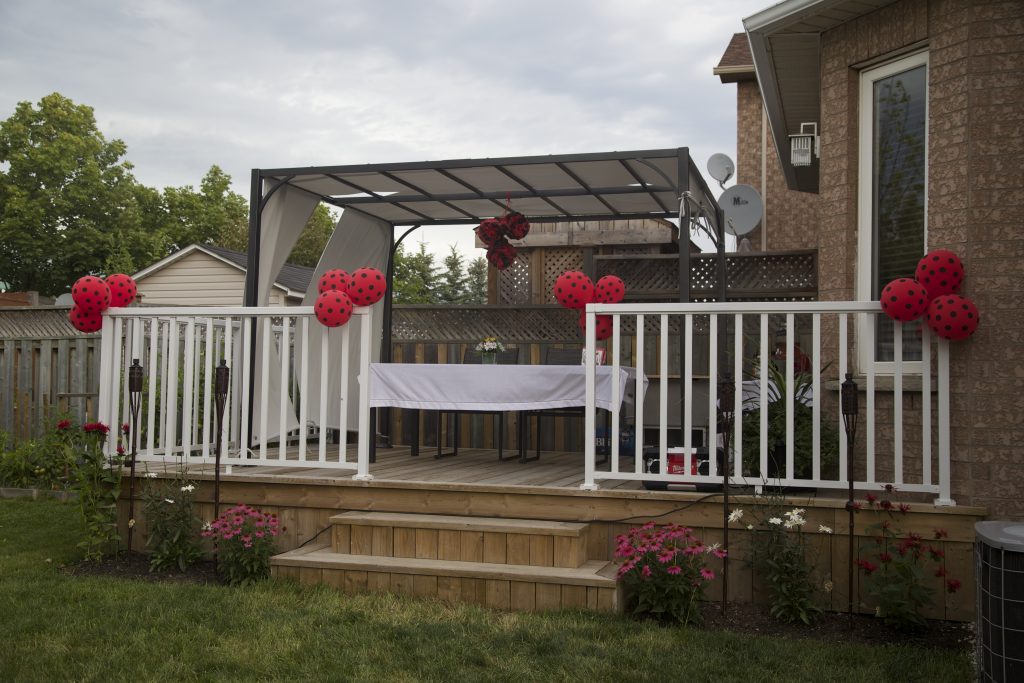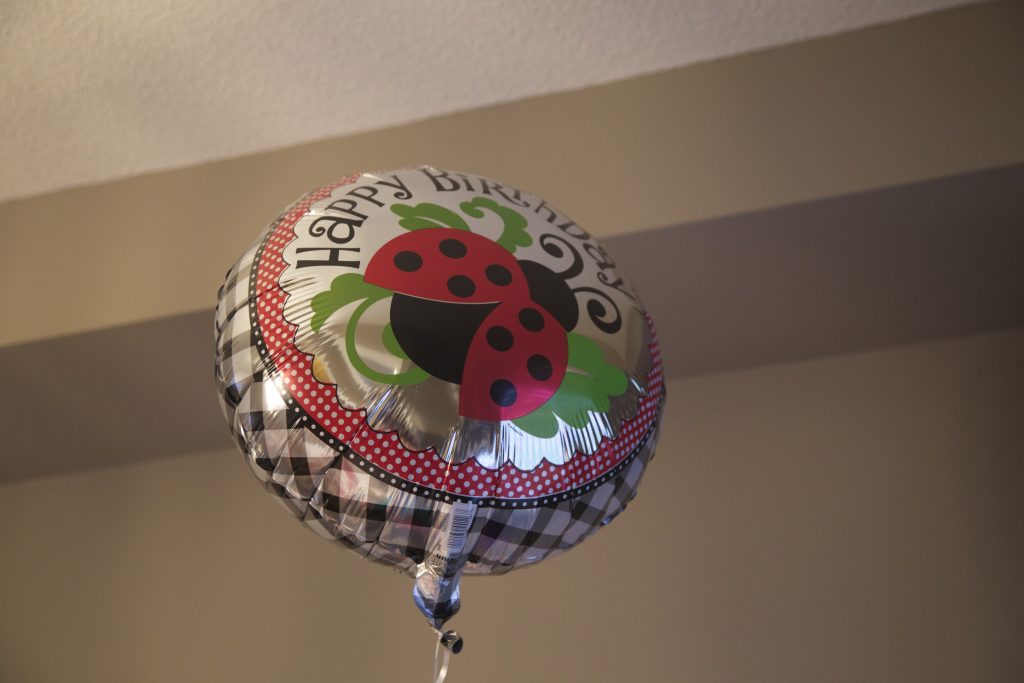 As always I have a small table set up with my drink dispenser on it, this way our guest can help themselves to a refreshing drink. Usually I fill my dispenser with a juice of some sort, for example this time it was a red fruit punch. It's almost like every birthday party has some what of a signature drink. My drink dispenser came with a little chalkboard, so you can name your drink or simply let your guest know what your serving.
As per usual I make it a point to have another dessert option besides the cake. Something that I've personally made for the party. Cupcakes are usually my go to, since you can't impress everyone with the birthday cake flavor. When I purchased my invitations at Party City, I came across a ladybug cupcake set. I just had to get it and I knew they would turn out super cute in which I believe they did. Since the birthday cake was vanilla I decided to make chocolate cupcakes with a chocolate cream cheese icing.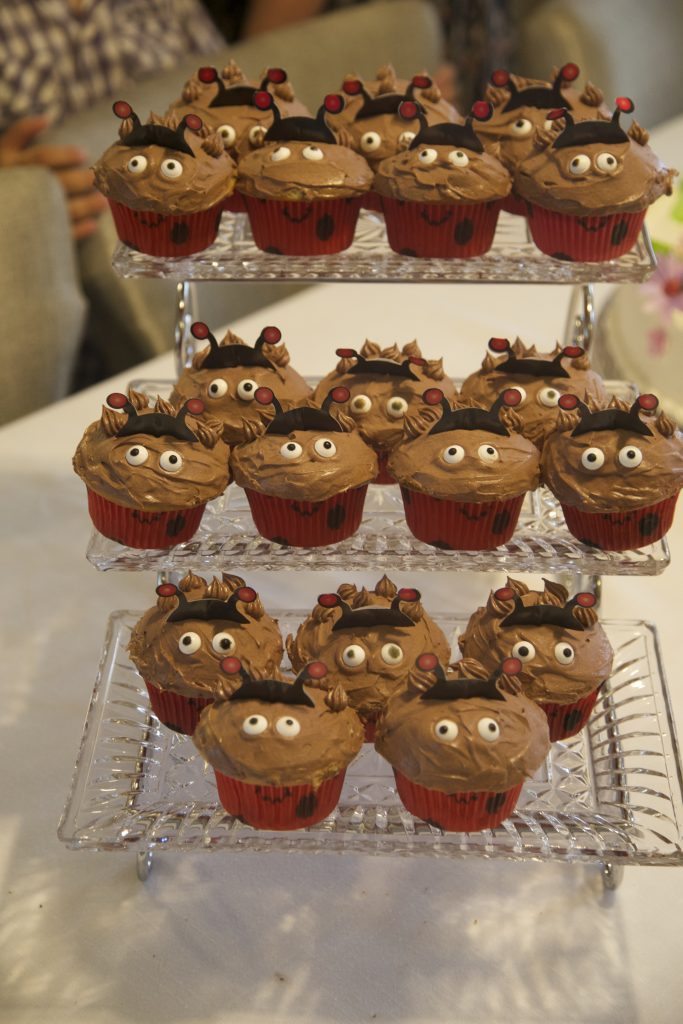 I honestly enjoy throwing parties, I love the planning, shopping and most of all when I see it all come together. I also love going to parties just as much as hosting them. Realistically it's an opportunity to get family and friends together and what better way to do that then by having a party. Furthermore I love that both of my daughter's birthdays are in the summer, giving us the option of having their parties in our backyard. Bottom line this ladybug themed party was a success in my books.