We decided to host Marilenna's reception portion at a banquet hall. Which meant it was time for my sister, mom and I to get together and get to work. Truth is when it's all three of us, we go above and beyond. From all our hand made personal touches to every last detail required for each and every event or party. The baptism was held in May so I decided to do a garden theme with a colour pallet of various pinks and cream.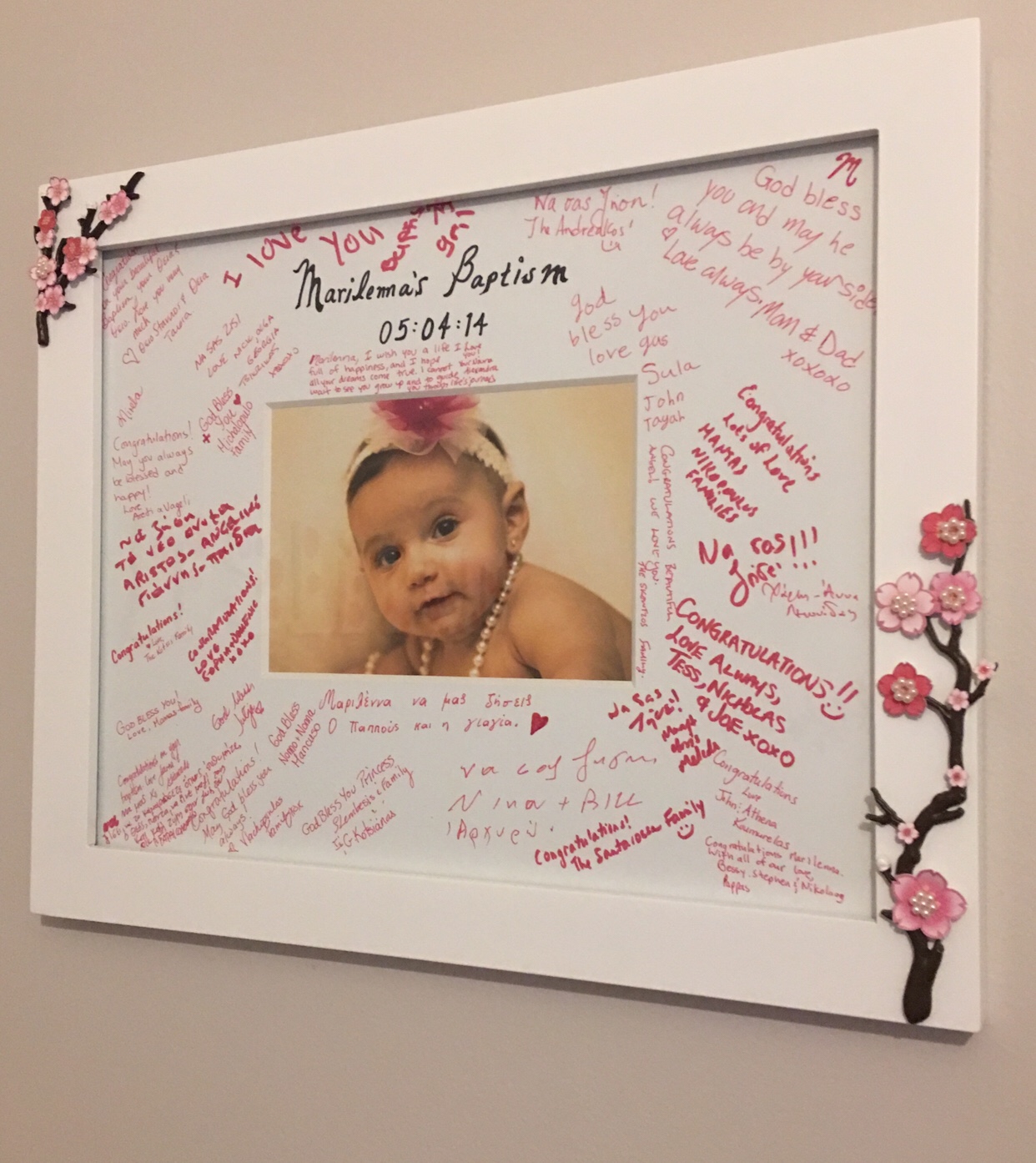 Instead of the traditional guest book I found a simple white frame with enough surface area for writing on. I then added 3D flower stickers that went well with the theme. I opted for a double point marker in pink to match the flowers. Side note, all the items had been purchased at Michaels. Truth is, we all know once everything is said and done we put our guest books away and completely forget about them. However in this case, the picture frame is currently hanging up in my daughter's bedroom. A wonderful reminder of that special day and all of our guests.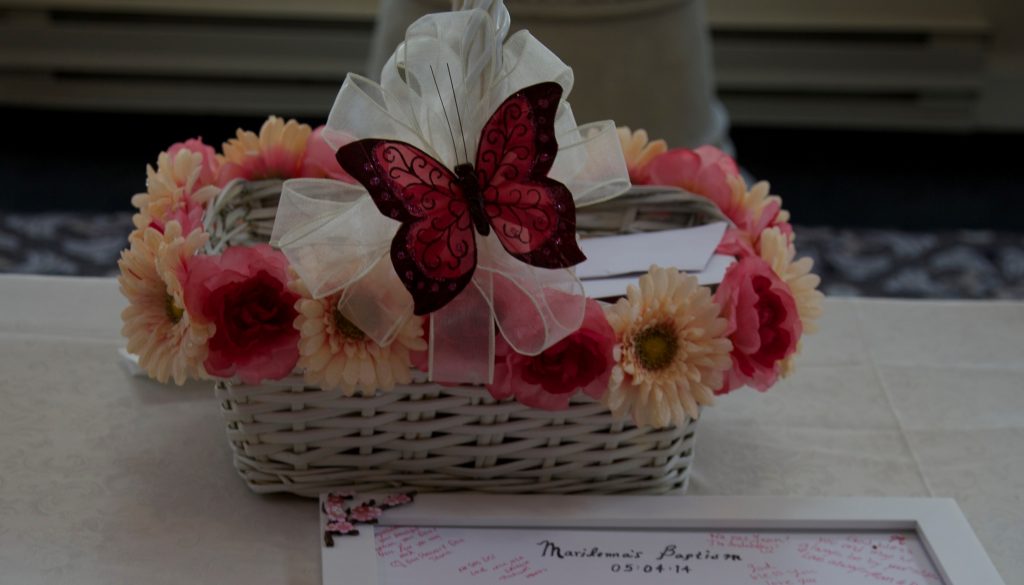 Instead of a traditional money box, I thought a basket would fit perfectly with our garden theme. My mom had a basket on hand but the colour wasn't what I wanted, so I bought a can of cream spray paint. Once dried, I added faux flowers along with a butterfly that I had purchased from Michaels. Technically I started by going around alternating the coloured flowers using a glue gun. My mom then made for me a wonderful big bow out of sheer cream ribbon. I glued that to the basket as well and then lastly the butterfly on top.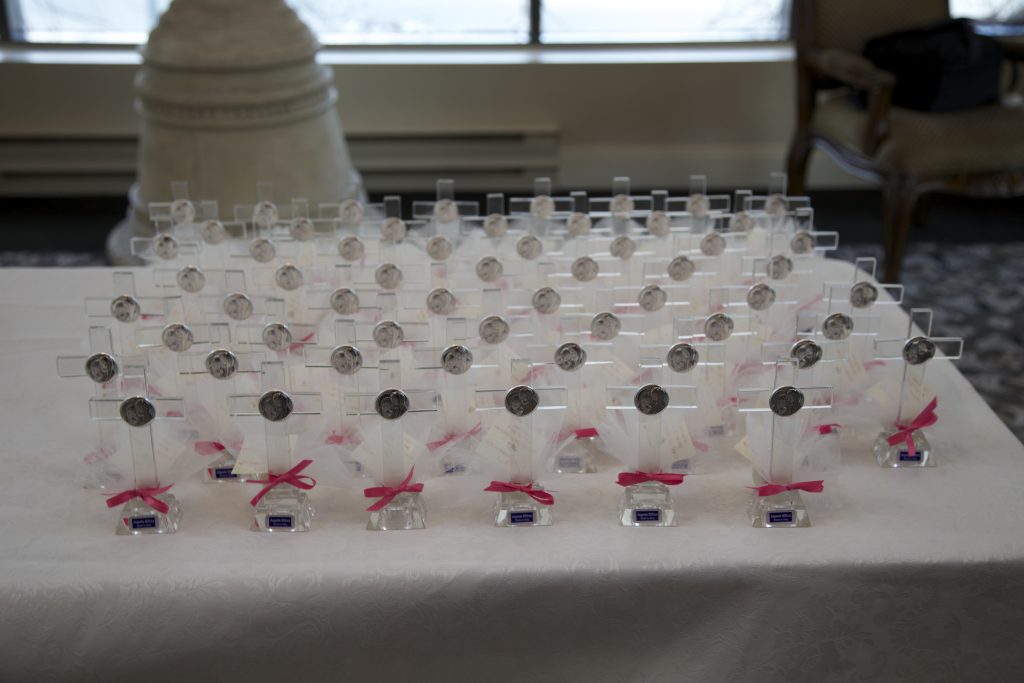 I wanted everyone to take away something special to mark this very important religious event. I found these crystal crosses with a silver embellishment of the holy family at a traditional Italian store. I purchased some thin ribbon to match the theme colour, cream tulle and candy covered almonds from a store called Creative Bags. Earlier when I had ordered my invitations and RSVP's, I also made sure to get thank you tags for my bombonieres. Once we assembled all of them we placed them in a sturdy cardboard box with a lid on top and set aside. On the day of the event it was easy to transport with the handles on the box and quick to set up.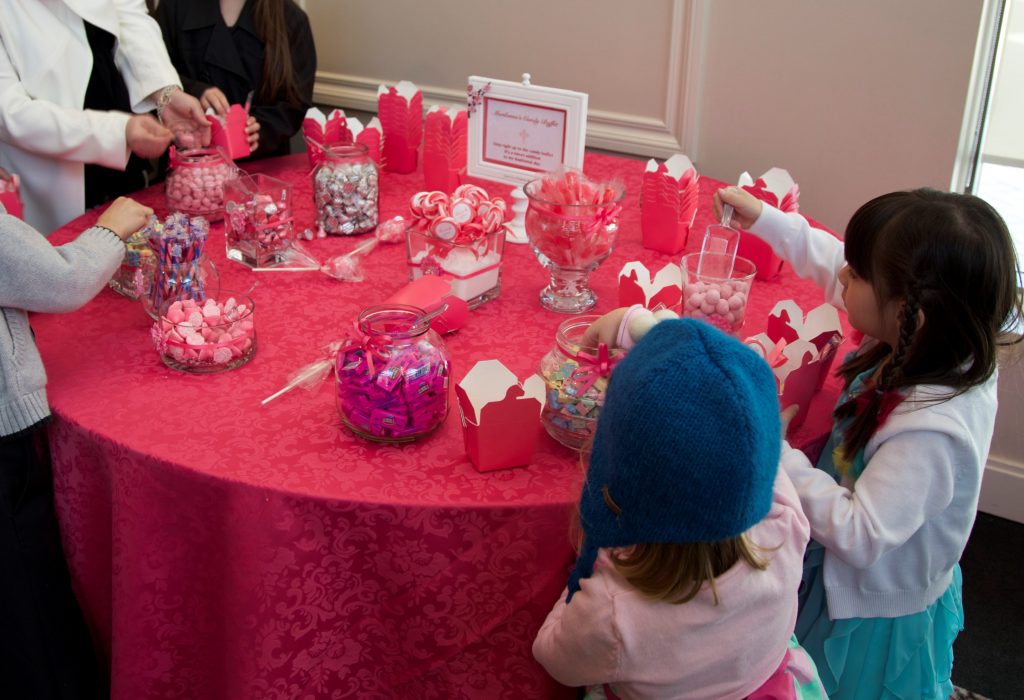 To make the receiving line extra sweet, I added a candy buffet that not only children would enjoy but adults as well. First I purchased a bunch of different candies, gumballs and some chocolate from Bulk Barn. I tried to keep the treats in the pink family to continue the theme. I found cute take out boxes that matched and scoops from Creative Bags. Between my mom and I we collected various shapes and sizes of jars and vases. For the lollypops to stay up straight and tidy we added granulated sugar to the base. My mom added some more bows with the leftover ribbon from the bombonieres. I also had picked up from Michaels more flower stickers and so I added too.
I found a two sided picture frame at the Hallmark store, I thought it was perfect as a sign for the candy buffet table. It had a distressed look to it and I wanted a more solid cream, so I got out my paint set and tweaked it a bit. I had some leftover stickers from the guest frame so I stuck those on too. I printed off a message from my computer onto thin glossy paper and placed it inside. To this day the frame sits on a dresser in my daughter's room with her birth date announcement in it. Another example of making a find last.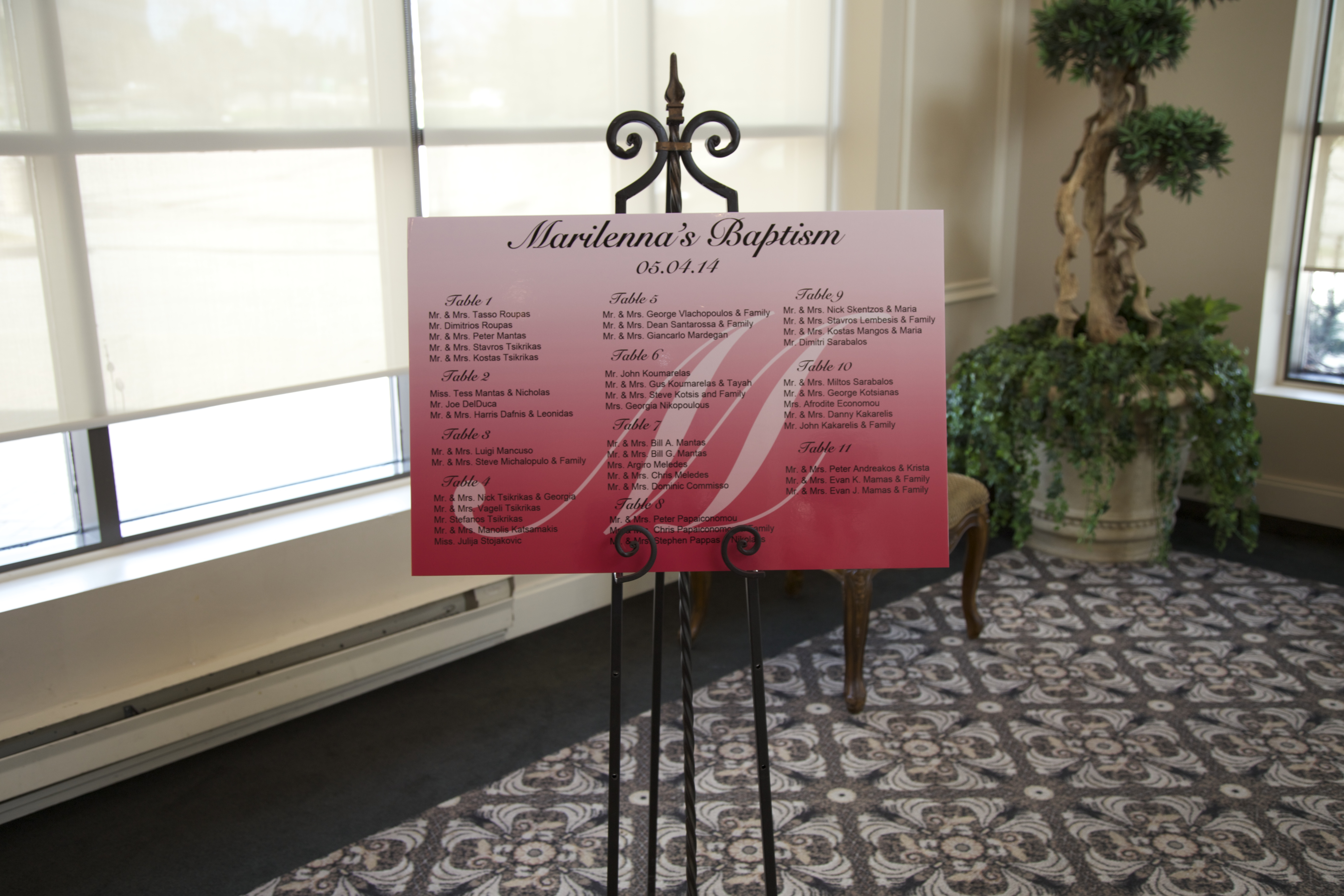 I decided to make my seating chart using PowerPoint. I used legible yet formal fonts and found a background to match our colour theme. Once done I took my USB to Staples and got them to print it off on foam core. The banquet hall had an easel I could use the day of the event.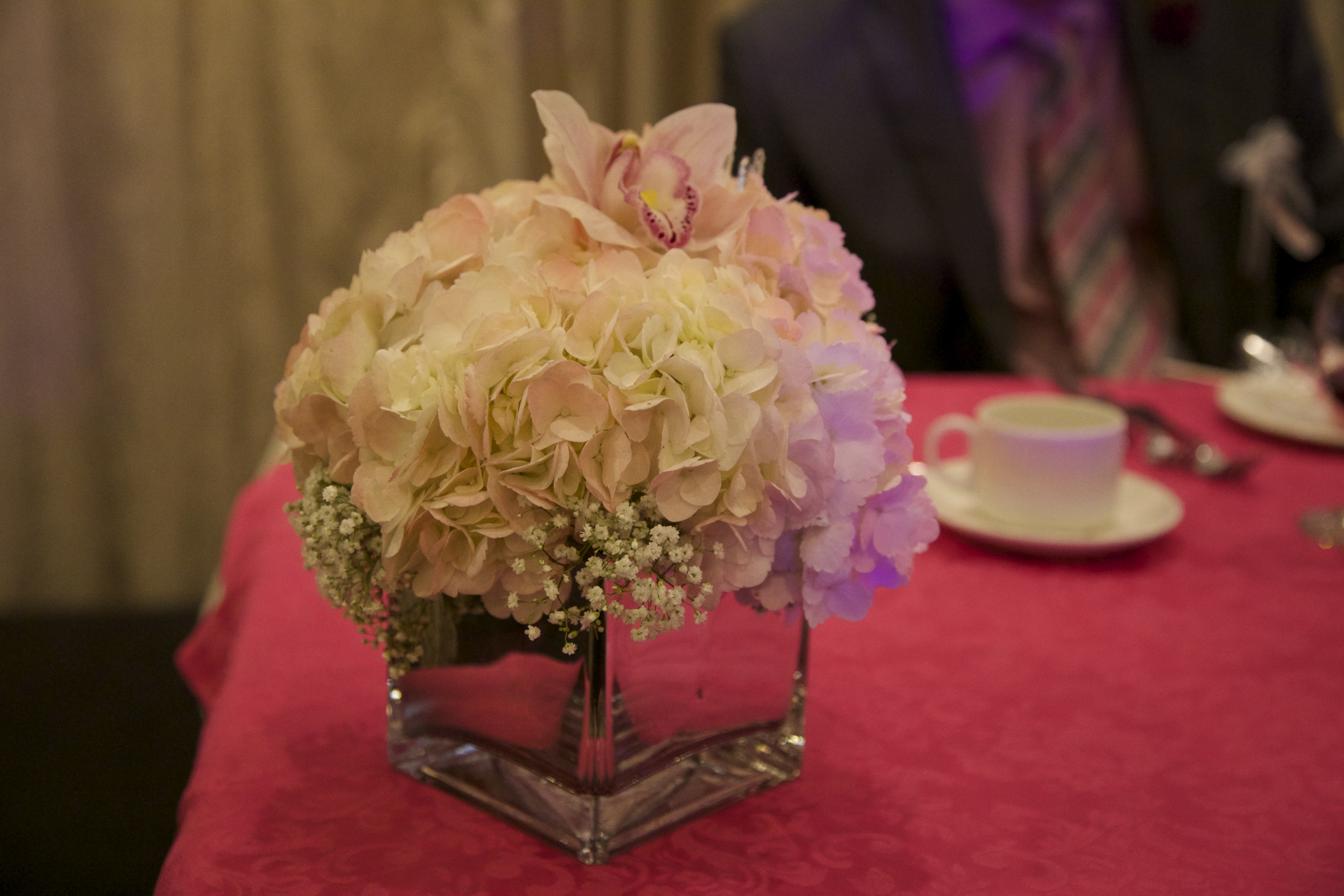 I found squared mirrored vases in which I liked the reflection they gave and took them to a florist. I'm a big fan of hydrangeas, orchids and baby's breath for filler to name a few. I wanted the flowers to stand out from the tablecloth so I kept them neutral. I did tell the florist to spray paint the hydrangeas, just to give them a touch of pink. The florist delivered them to the hall the day of the event and I placed them on the tables.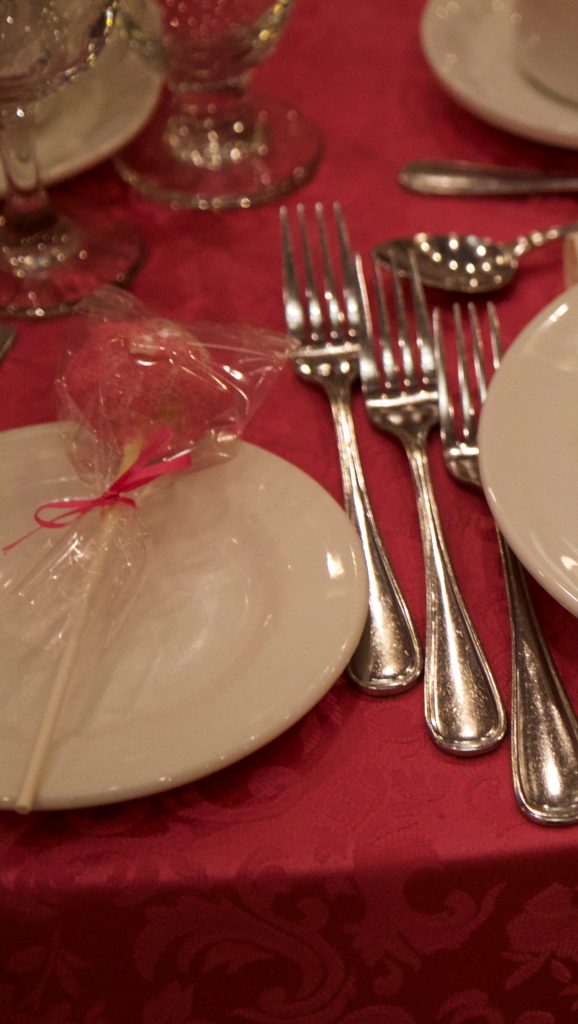 I wanted every plate setting to have an individual treat, I thought a cake pop was fitting. My mom actually made these for me from scratch. A vanilla almond base with white chocolate and pink sprinkles. Once done and dried we packaged them in cellophane bags from Creative Bags and tied a bow with the leftover ribbon.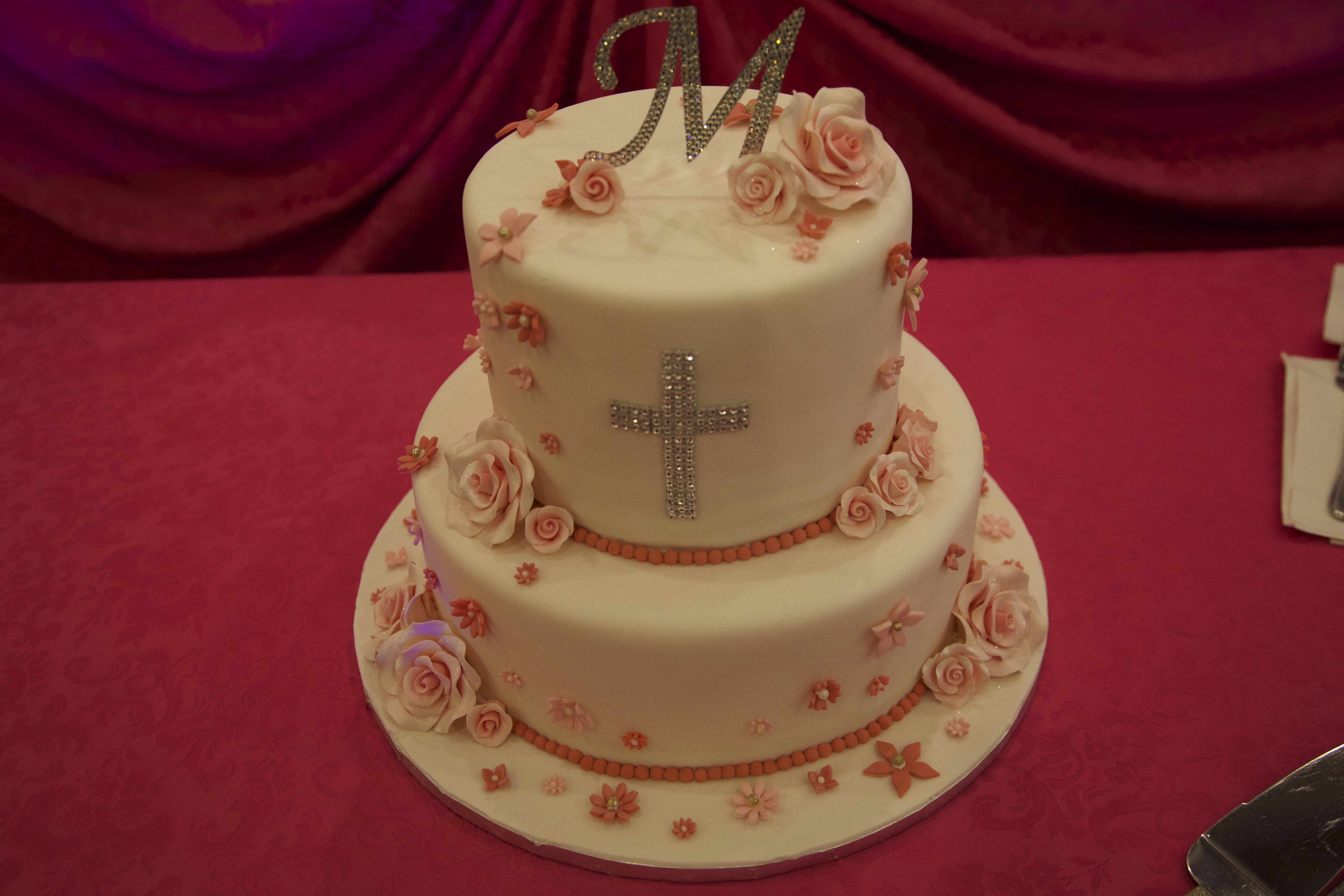 We are fortunate enough to know the owners of Select Bakery. Since the cake alone is a crucial element of any given occasion, it is extra special when it turns out the way you want it. During my shopping trips I picked up the letter "M" in rhinestones. I asked the bakery if they could add a cross to the cake to match. The end result was beautiful and delicious.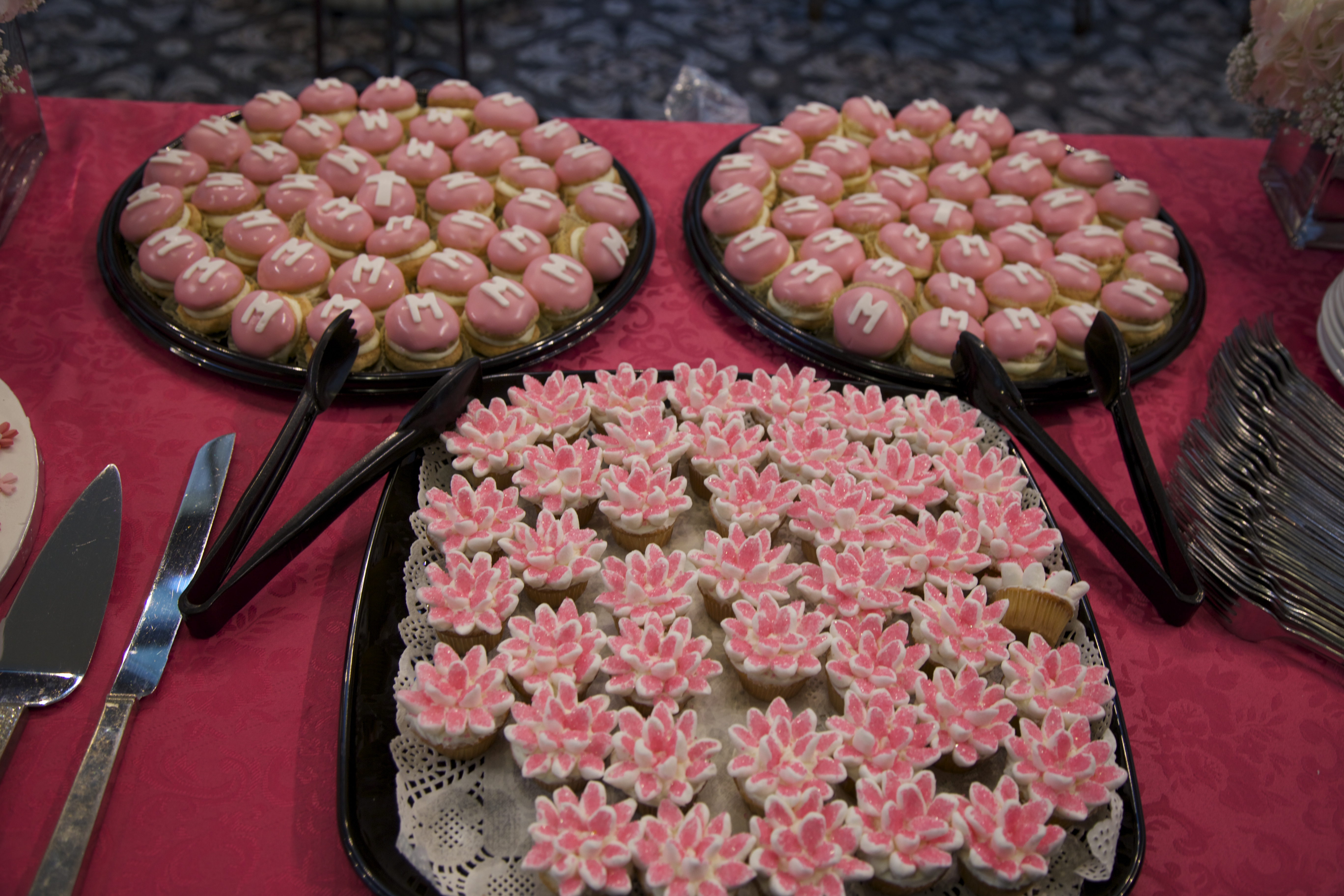 My parents ordered from the same bakery the cream puffs called "kokakia" in pink with the letter "M" on them. I made little bite sized vanilla cupcakes with marshmallow flowers and sprinkles to continue the theme.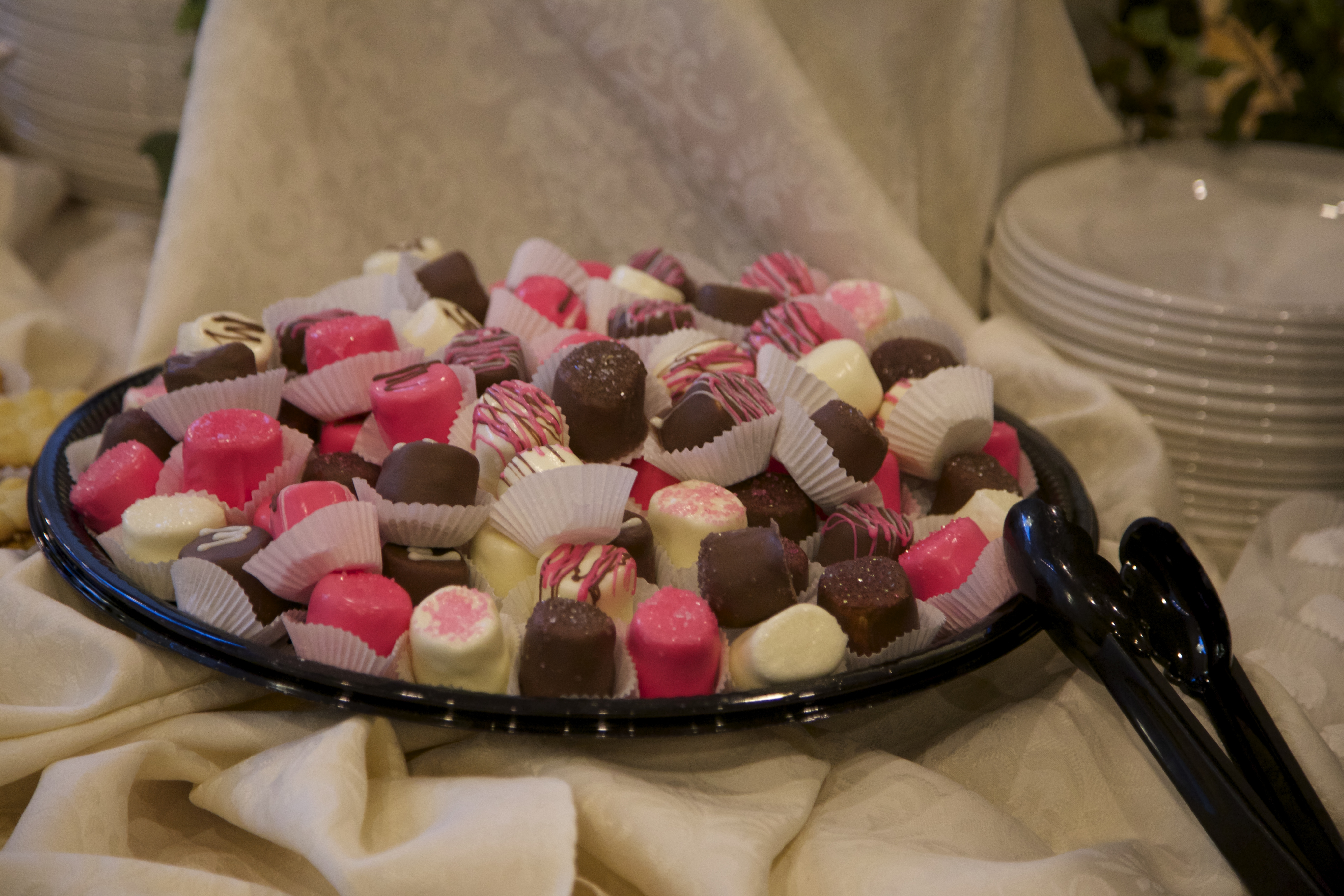 I also took large marshmallows and dipped into Belgium chocolate. Then I simply decorated them, fun and easy to do. The dessert table was endless, everyone invited pretty much contributed something. In the end I was very happy with the outcome of the event. More importantly I believe everyone enjoyed themselves. Truth is my daughter's baptism will always be memorable, specially to me.