Although this is a way back, 8 years ago roughly I still think we did a great job. Now when I say we I mean my mom, sister and yours truly. This of coarse was a big deal as it is for any bride to be. The venue was the same banquet hall that we would have our reception at a few months later and about 70 women and children on the guest list. My inspiration which then would lead to my theme was a mix of Sex and the city and Girls just want to have fun. To me this was a perfect description of what a bridal shower should be, women socializing over lunch and drinks while having a good time. So where to begin with this theme I had, well it all started with pink flowers. I wanted dark and light pink flowers for each table that would be bundle up using a pink mesh fabric, then placed in a clear vase. I ordered the flowers and then picked them up the day before the event, once home we all went to work arranging them. The mesh I had purchased from a vendor only store in which we had to cut accordingly to also create a folding effect. The vase was purchased from the same store as the mesh, I wanted something simple since the flowers would take the spot light. We then placed two arrangements per cardboard box with handles for easy transportation.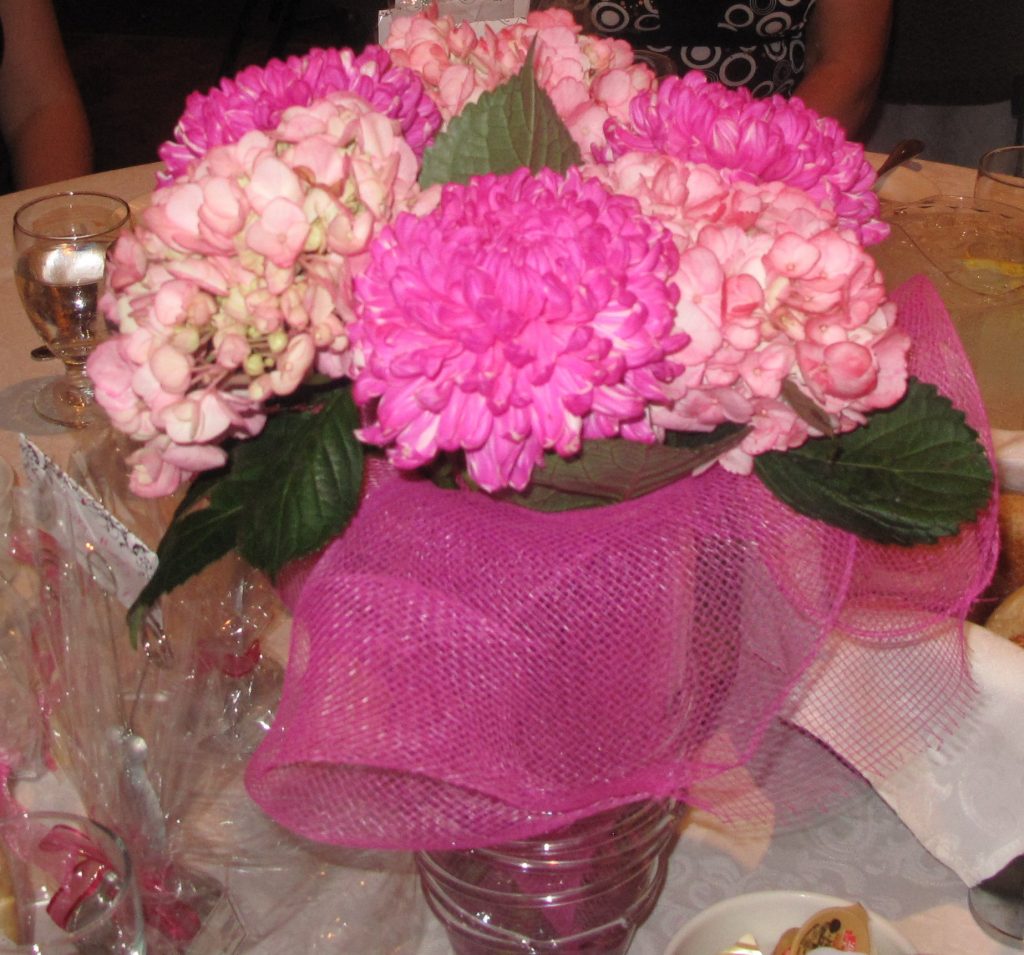 I also wanted to have something extra sweet for each place setting, and so I thought cookies shaped as shoes and purses would be perfect. Once I purchased the cookie cutters my sister and I went to work. We baked the cookies then once cooled we iced them using white and pink for details, each cookie in the end had its own unique design. Then my mom placed each cookie in a cellophane bag and wrapped it up with a pink ribbon. Once again we placed them all in a box, which made it easy to distribute the day of the event.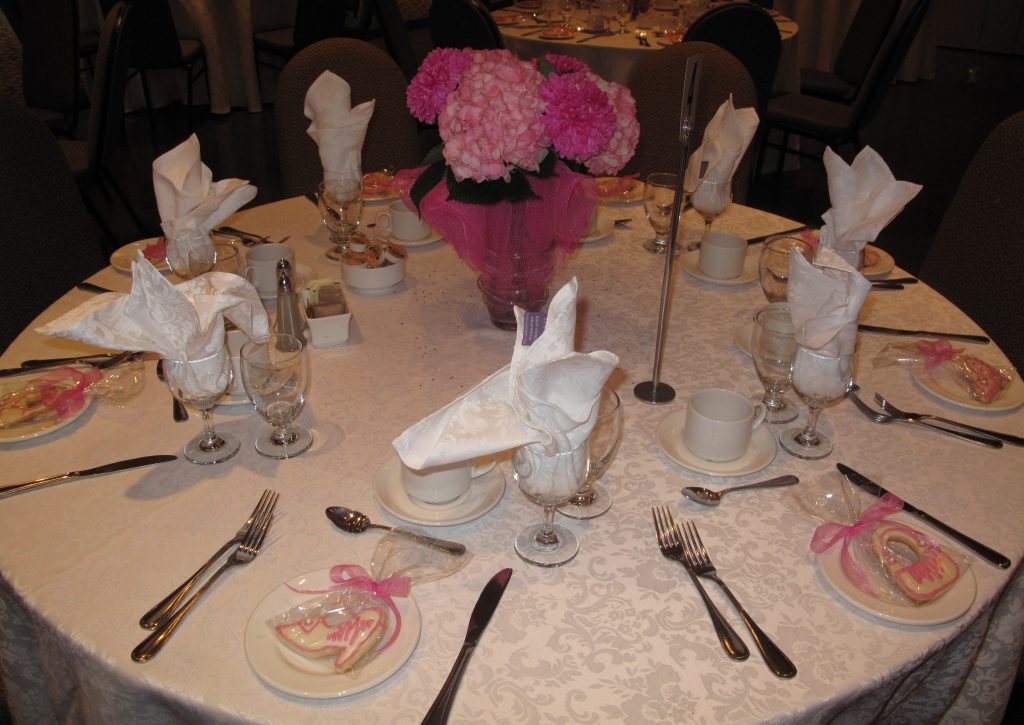 To add some extra decor to the room and highlight the cocktail station I decided to go with two balloon bouquets, again a mix of light and dark pink. You can never go wrong with balloons they seem to never get old and always add a special touch and height to any room.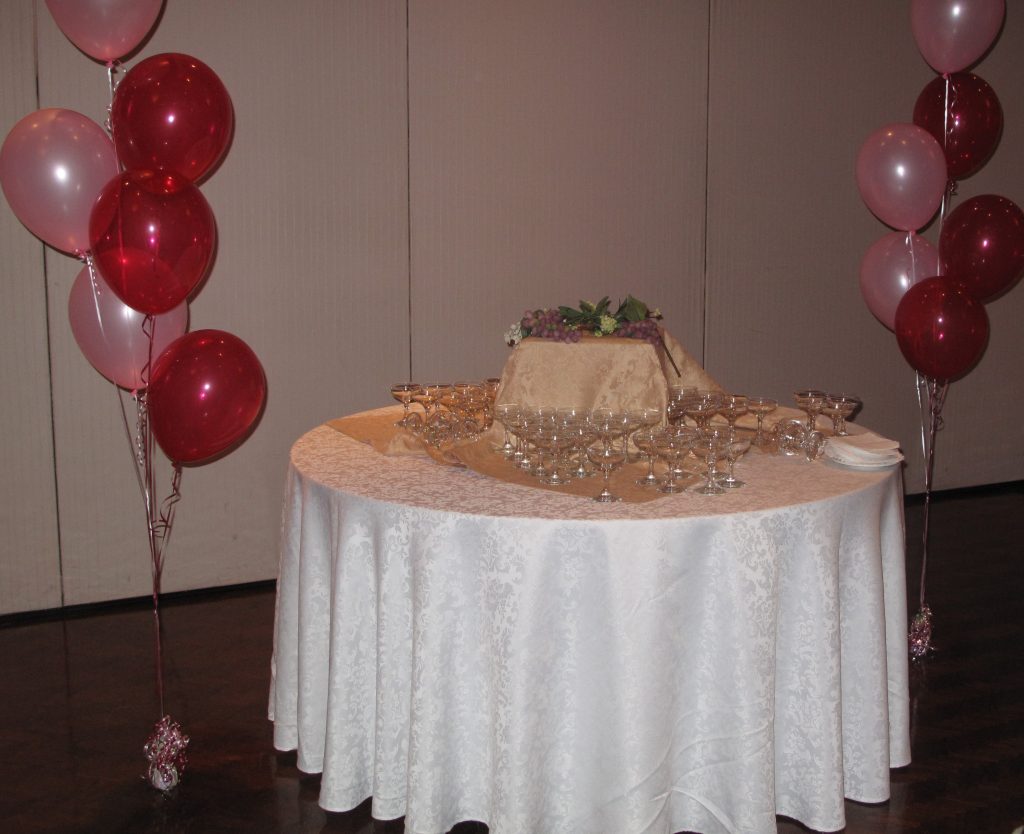 I had decided to have a monetary shower since at the time my husband and I would move into a temporary place after our wedding. That being said we had to have a box of some sort to store the envelopes from our guests. We came up with an idea of a box shaped like a purse, along with a slit on the top so the envelopes could easily go in. My mom got to work and created a purse out of a cardboard box with a flap that would come up and over that would be held in place by Velcro. That way instead of destroying the box later you can just undo the flap and get the envelopes out. Once the shape was done we went to Fabricland, I instantly saw the leopard print in grey and black and knew it would fit my theme. We also purchased some black lace to add some detail and some shiny rhinestone buttons as well in clear and pink. My mom had at home some wooden beads that we spray painted silver and would use as the handle for the purse. The glue gun was basically our friend in this project and we all worked on it together. To this day I still have this purse stored away with all the cards I received that day.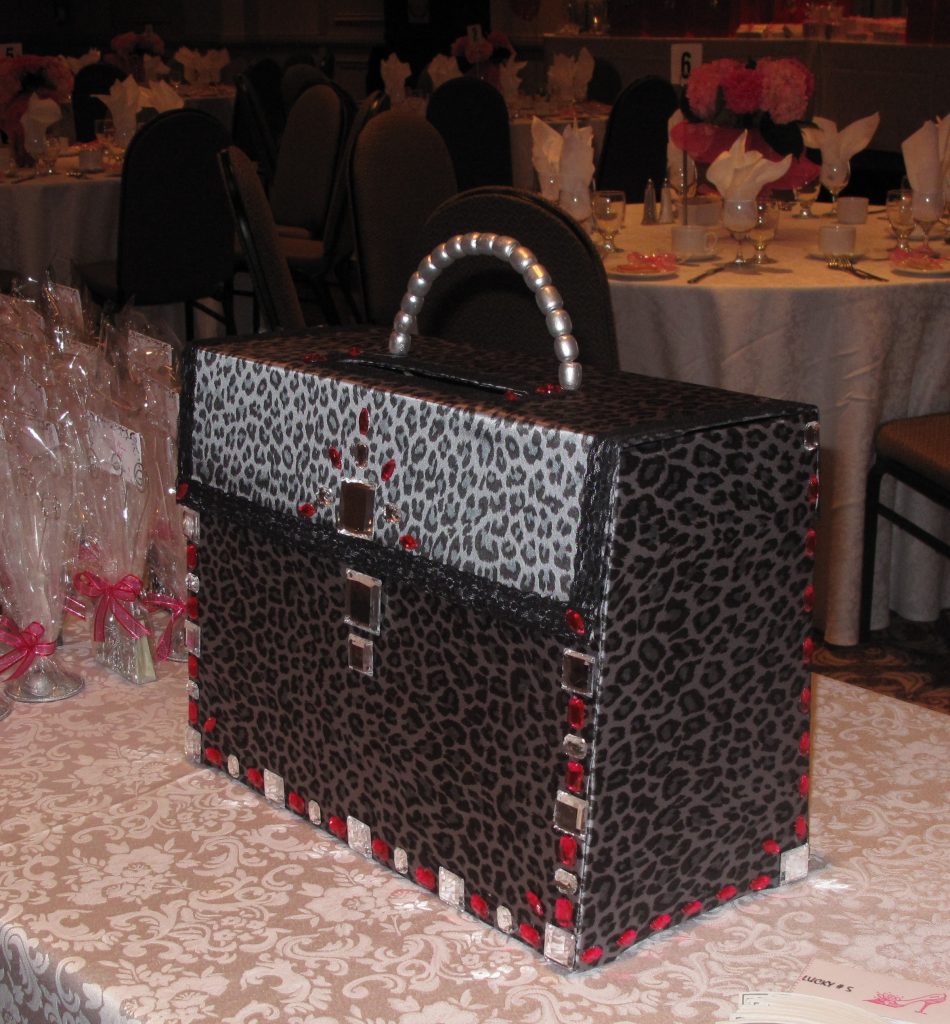 We gave our guests a thank you gift also known as a bomboniere. I came across these beauties at Home Sense, little purses and shoes that can hold up pictures or notes. Once again I knew they would be be perfect and I basically had to hunt them down going from one store to the next to get the amount I needed. I also was able to place seating cards on them so that everyone not only had a gift but knew where to go. We decided to wrap them up in clear cellophane and a pink bow.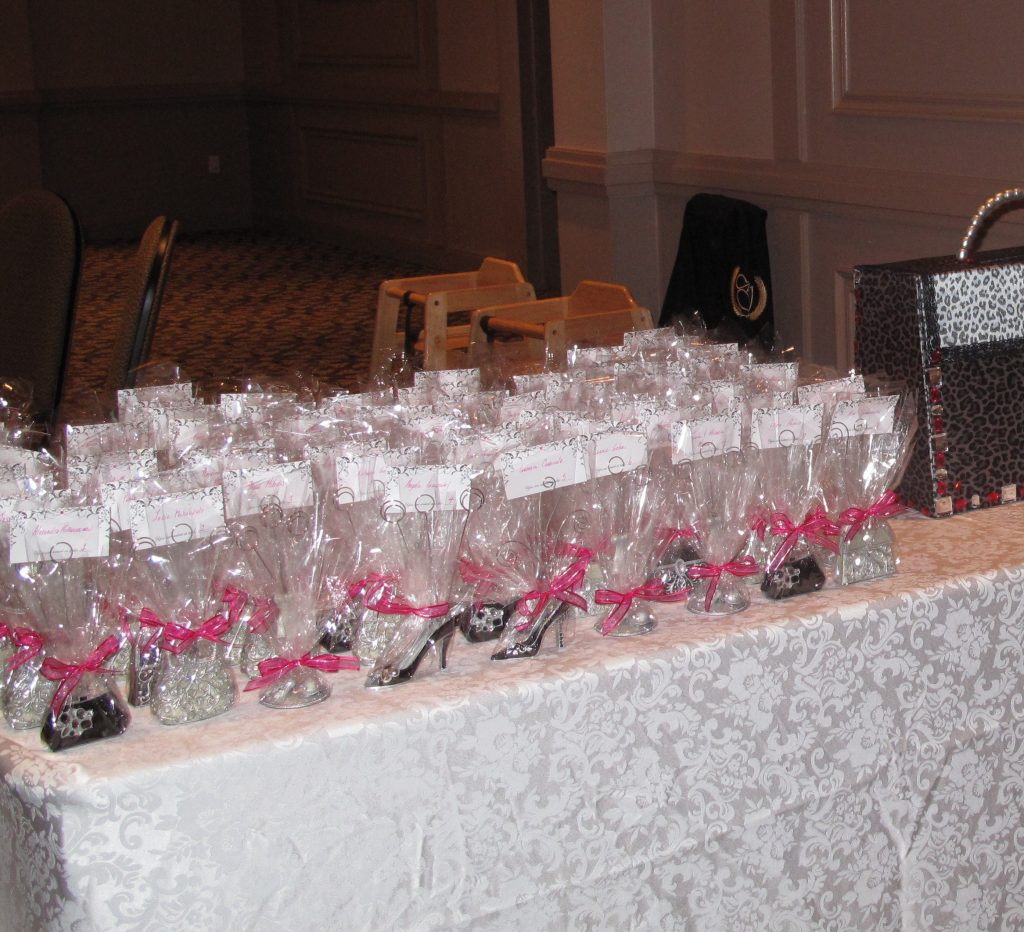 Another must at any shower are games and prizes to keep your guests entertained. We also made sure that everyone had an opportunity to win a prize by keeping the games simple, short and sweet. One of my favorites that doesn't require much is bidding on a prize. As you entered the room we had two tables one was the guest table and the other was this prize table. We gave each of our guests 6 tickets and before they would go and be seated they would view the four gift baskets and place their tickets in the purse in front of the gift they would like to win. Prior to that my mom, sister and I went shopping and purchased items that went with my theme. For example martini glasses, cocktail napkins a shaker and a tray then wrapped up in cellophane with a big pink bow and hanging purse ornament. Oh the things you can find if you have the time and patience, like the little purse banks made for change but in this case I used them to store the tickets.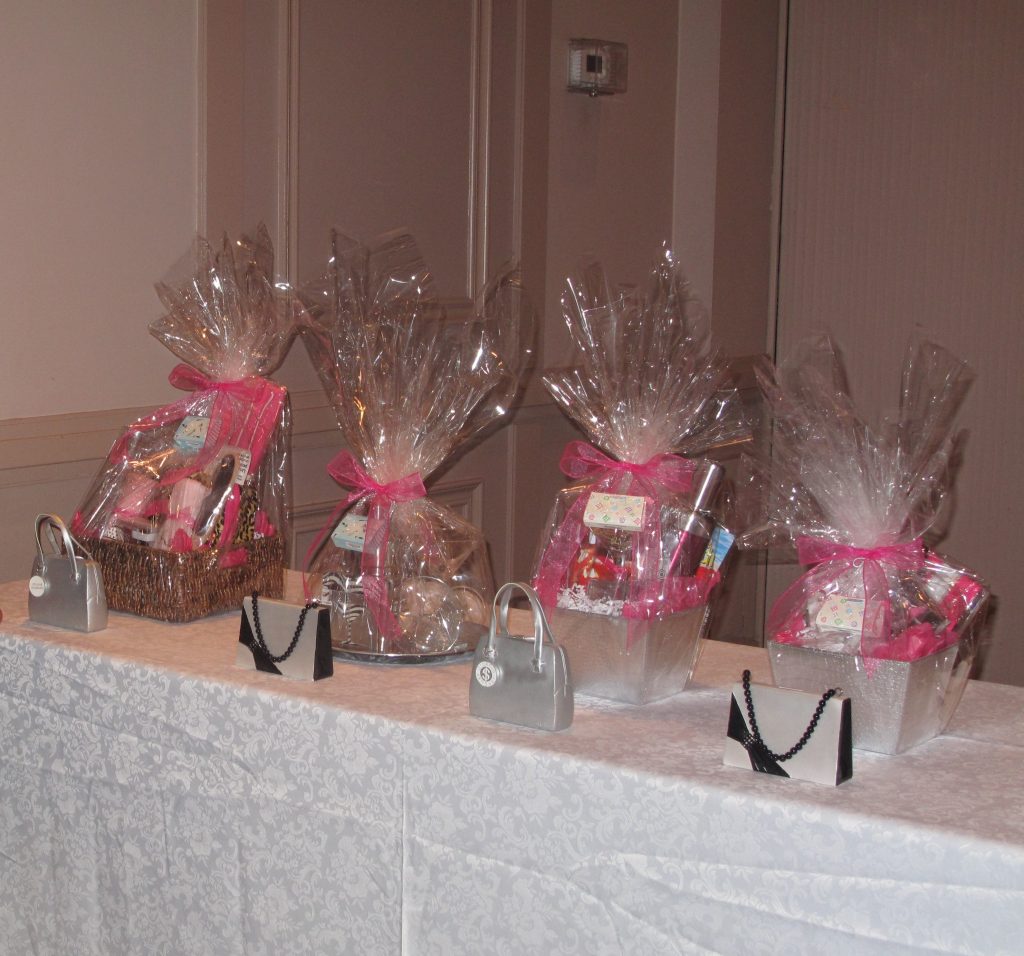 I also wanted to give the children and teens attending my shower something more tailored to their age. I came across these cardboard purse boxes at Creative Bags and had to have them. I individually labeled them and packed them up with crayons, stickers, lip glosses and nail polish to name a few. We placed them at the guest table along with the thank you gifts and money box and handed them out accordingly.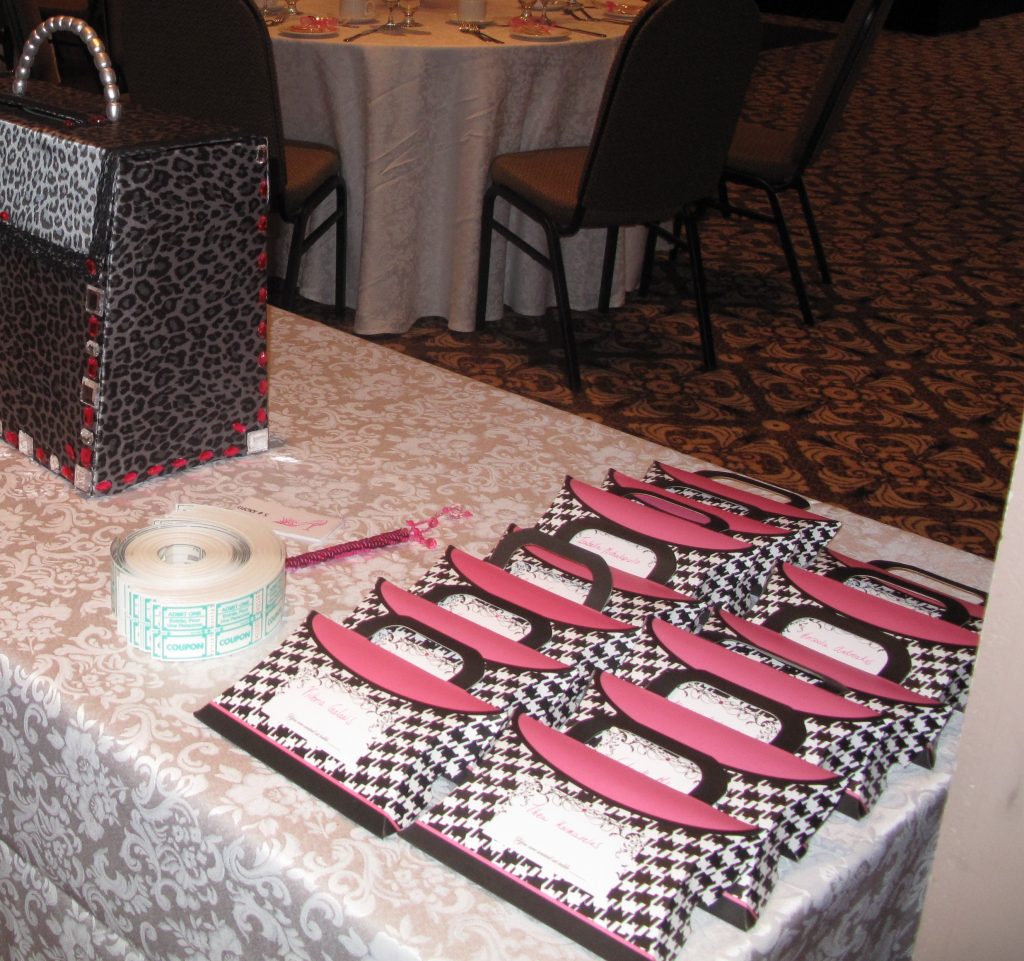 At the front of the hall was a stage where we had two rectangular tables set up along with more balloons. This was for all the other prizes that would be given out throughout the shower. We kept the bags pink and for smaller items we wrapped them up with white paper and a pink ribbon.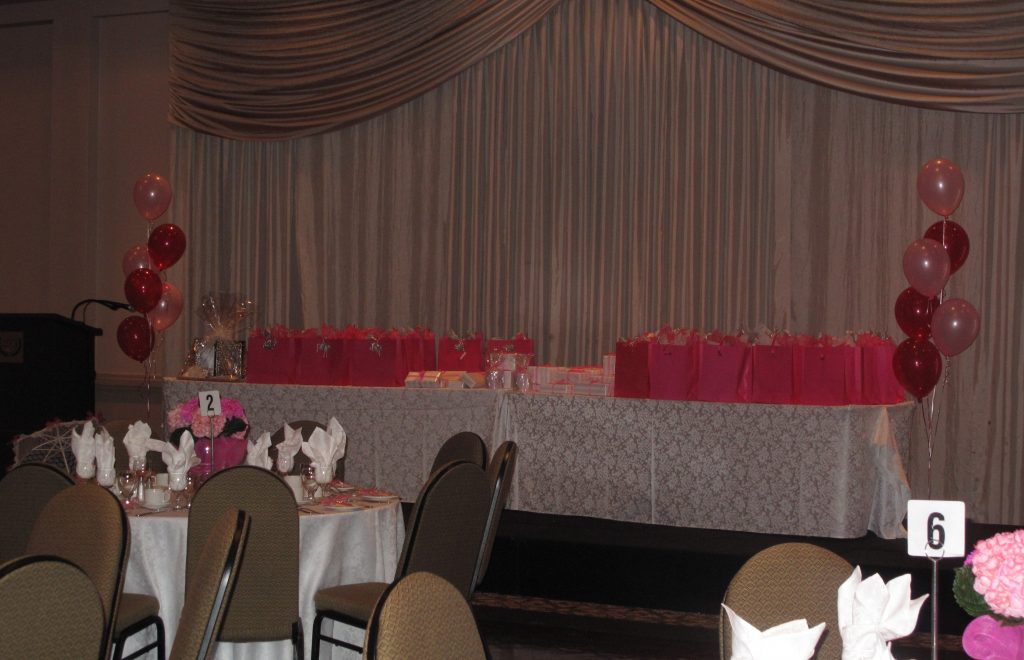 The last thing I would of loved to share with you all was my bridal shower cake but unfortunately I cant seem to find any photos of that. However I can try and describe, it was a slab cake in pink and white with a 3D black stiletto shoe on top. Of coarse I couldn't help but continue the theme thoroughly and by now if you don't know me, now you know.