This past summer we celebrated both of our daughter's birthdays on the same day. My eldest loves Peppa Pig and of coarse my youngest enjoys it too. Therefore it only made sense that this birthday would be a Peppa Pig themed party. As always I serve cupcakes along with the birthday cake as a smaller portion and also another flavor option for the guests. Since Peppa Pig and her brother George love chocolate cake I decided to order one from our favorite Italian bakery. Since I was planning on making Peppa Pig pink frosting I thought vanilla cupcakes made sense. I then picked up a box of my go to cake mix and pink paper cups from the supermarket. My focus was to be honest on the decorating portion of the cupcakes, so why not cut some corners if you can. However I always make the frosting from scratch that way I can control the sweetness. I decided to go this time with a simple vanilla frosting since I would be adding marshmallows and candy to it later.
Ingredients for vanilla frosting:
2 cups icing sugar
2 tablespoons of unsalted butter, softened
2 tablespoons of 3% milk
1/2 teaspoon of vanilla extract
Few drops of red food colouring
Add all ingredients to your stand up mixer or hand held mixer and beat until everything is combined nicely. Then add a few drops of red food colouring to obtain desired shade of pink.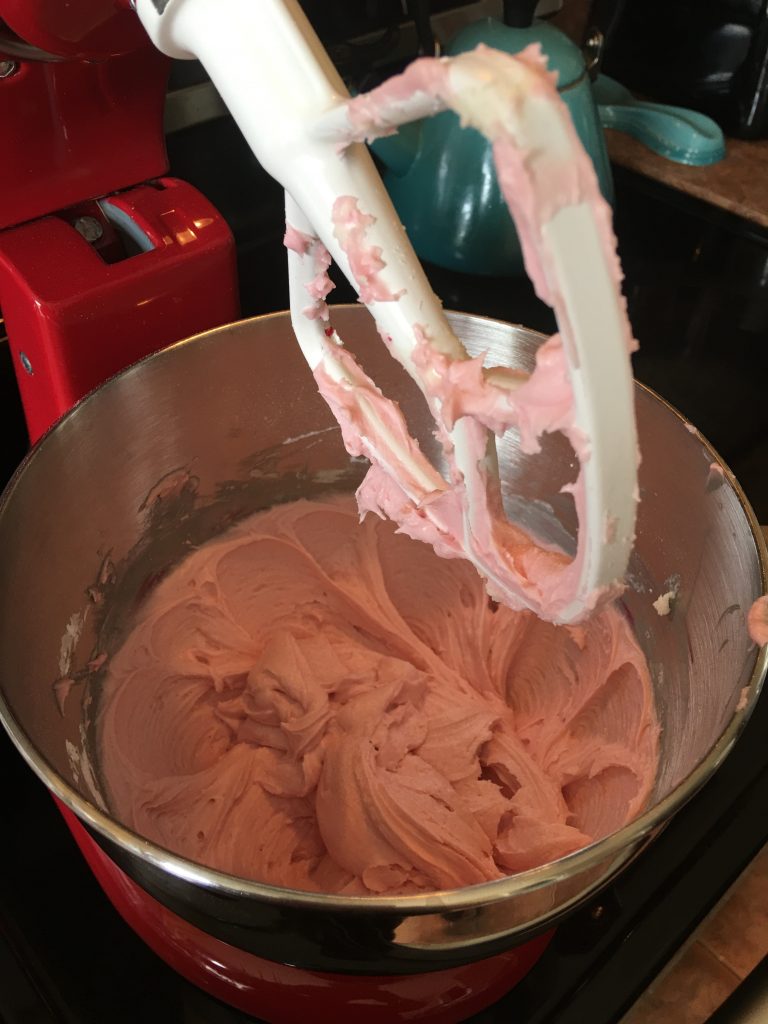 Once my frosting was ready along with my cooled cupcakes it was time for me to get my work area organized. Prior I had purchased a small bag of pink pearls and a package of eye candies from Party City while I was shopping for decorations. I came across a bag of large pink marshmallows at Canadian Tire which was exactly what I needed for the snout. I had on hand some clear crystallized sugar that was originally bought at Bulk Barn. You will also need a plate or bowl for the sugar and a pair of good kitchen scissors to cut the marshmallows. Begin using your butter knife to spread the frosting evenly and not too thick over each cupcake.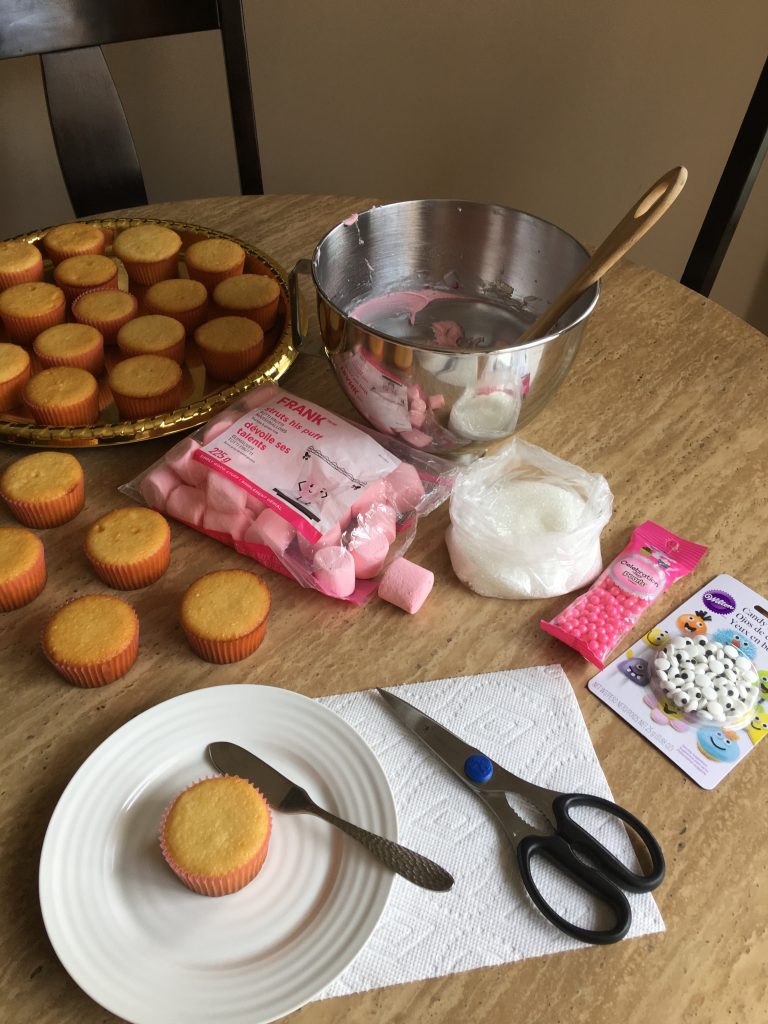 Once you've frosted all your cupcakes you can focus on decorating them, my favorite part. I started by taking one marshmallow and cutting it in half with my scissors. The sticky side of the marshmallow will be placed faced down on the cupcake, but before that using your fingers pinch out two small holes for the nostrils of the snout. By doing this you have created a sticky area for the pink pearls to adhere to, make sure to push down on both pearls so they can sink in a bit as well. Each large marshmallow will provide you with two cute snouts.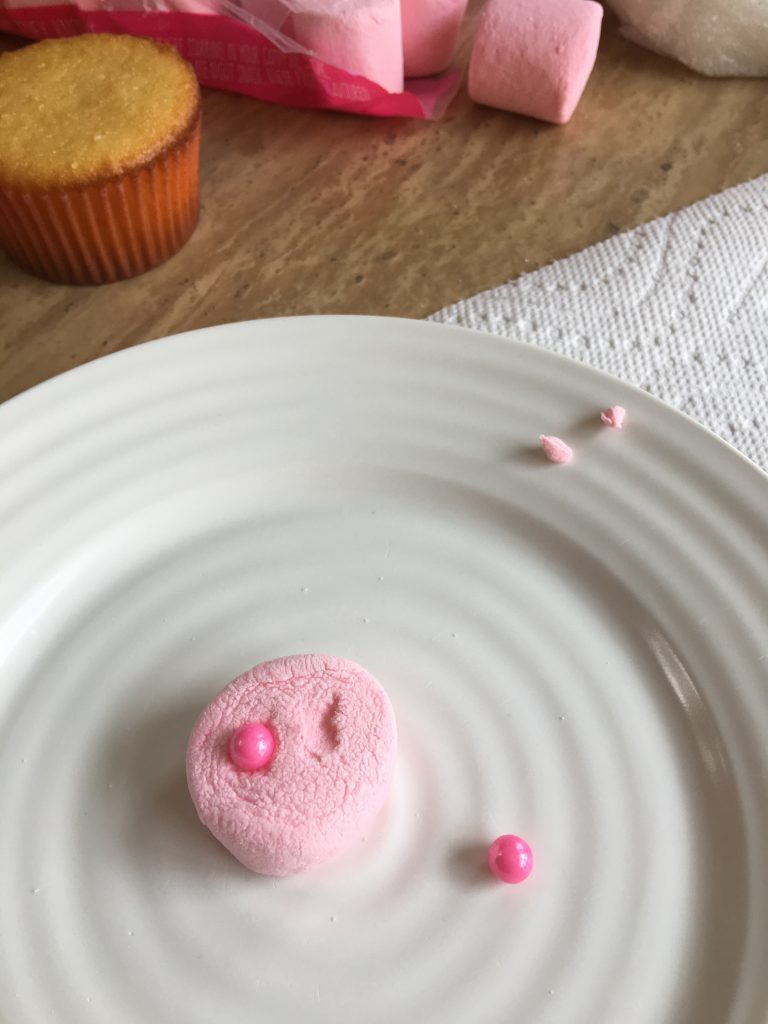 Now for the ears, take another marshmallow and cut it diagonally once again you have created a sticky area for the clear crystallized sugar to adhere to. I don't prefer dipping the marshmallow directly in the bag of sugar, instead I take some out and add it to my plate then I press the sticky side down on it until it is fully covered. One large marshmallow will give you a set of ears to complete one little piggy cupcake.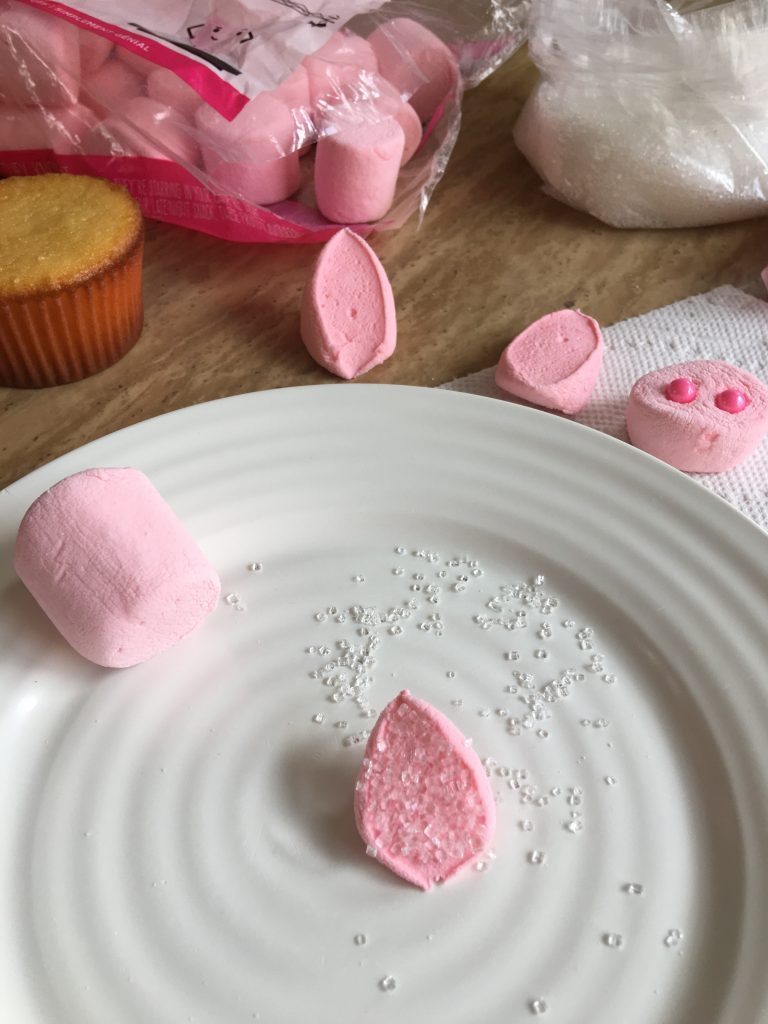 Lastly add the eye candies and there you have it, a little piggy staring up at you as cute as can be. A wonderful addition to a Peppa Pig party or even a barnyard themed party. Either way these are easy to make and fun at the same time, not to mention super cute.