My second daughters 1st birthday was a rustic backyard cupcake themed party. So of coarse I wanted her to fit the part as well, one day while shopping at Toys"R"Us I came across the perfect dress. The pink lace bottom fit the theme along with the 3D cupcake and purple accents. However I also knew that I would customize it further and hopefully make it extra special and unique, after all it is her 1st birthday. I also decided to go this route instead of ordering something ready to go, based on my first daughters 1st birthday outfit. I had ordered a princess themed ensemble for hers online. It came with a tutu, white short sleeved top with the number one a crown and her name plus a head band. However when I received it I was slightly disappointed because it wasn't exactly what I expected. Not that it wasn't beautiful but I felt it wasn't complete. long story short my mother and I added some key details and the end result was a far better finished product in my eyes. Fortunately enough this time I physically had the dress in my hands and knew exactly what I was buying.
Before picture: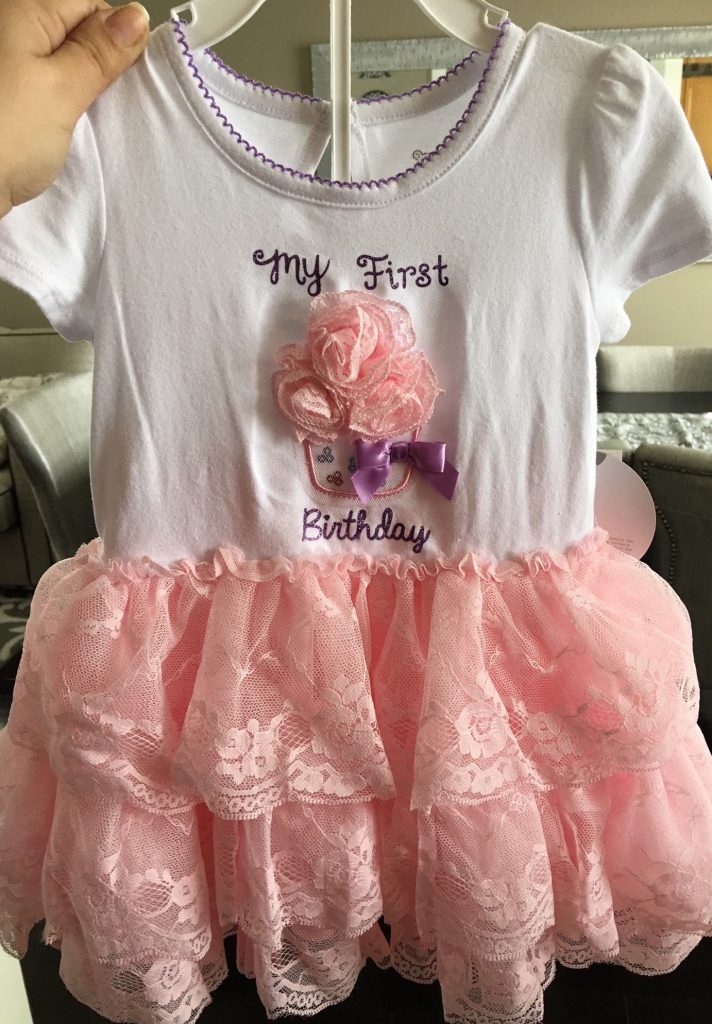 When I think of the word rustic some items that come to mind are lace and pearls. The dress had the lace but no pearls so that's exactly where I started. I went straight to my mom, since she was a seamstress first she usually has everything I need on hand. Just my luck she had some leftover pearls from my daughters baptism. She also had strands of small pearls that I wanted her to place around the neck line and each sleeve. After that she strategically placed bigger pearls all over the lace bottom and on the cupcake itself. Even though not much was added to the store bought dress, the pearls still helped further the theme. Truth is sometimes you find exactly what you want and other times you don't, but why stop there. For the most part you can customize whatever it is to fit your needs and or wants. Not to mention in the process you've made it unique and in this day in age who doesn't want that.
After picture: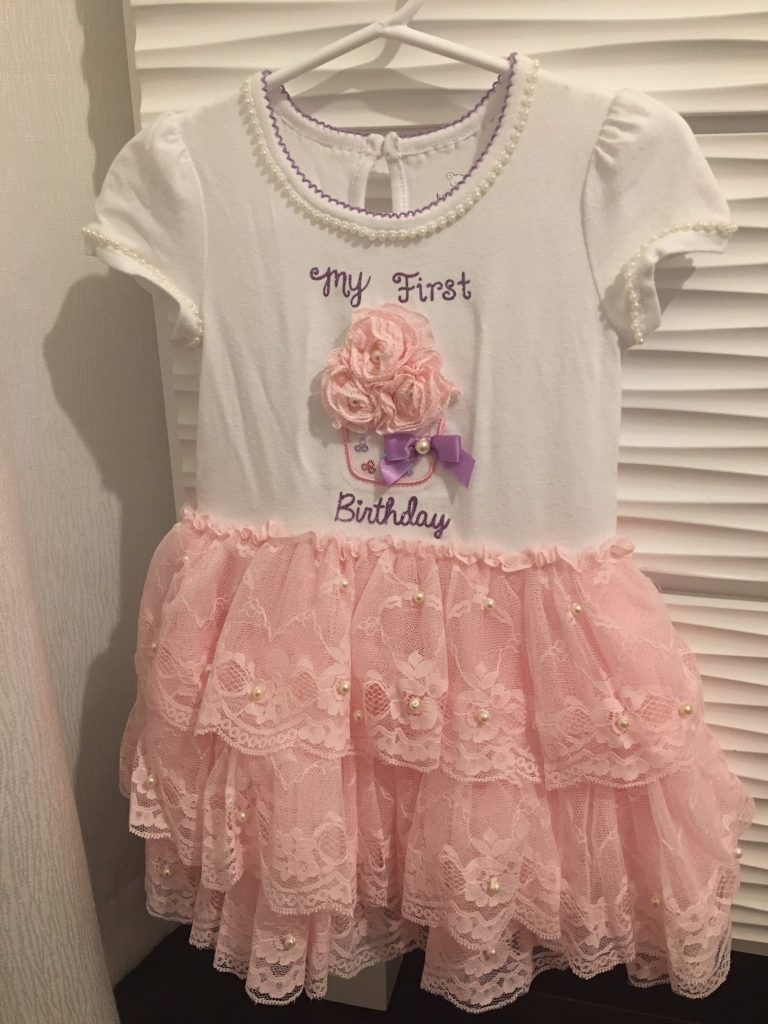 The dress came with a pink bloomer however that was a tad too simple for my liking. Fortunately enough my mom had some extra pink lace from the birthday decor. So she added that to the back of the bloomer in three overlapped rows. To that she added a handmade pink bow and two pearls. My daughter at the time wasn't walking yet so having a matching bloomer to the dress was a must have and also extra cute.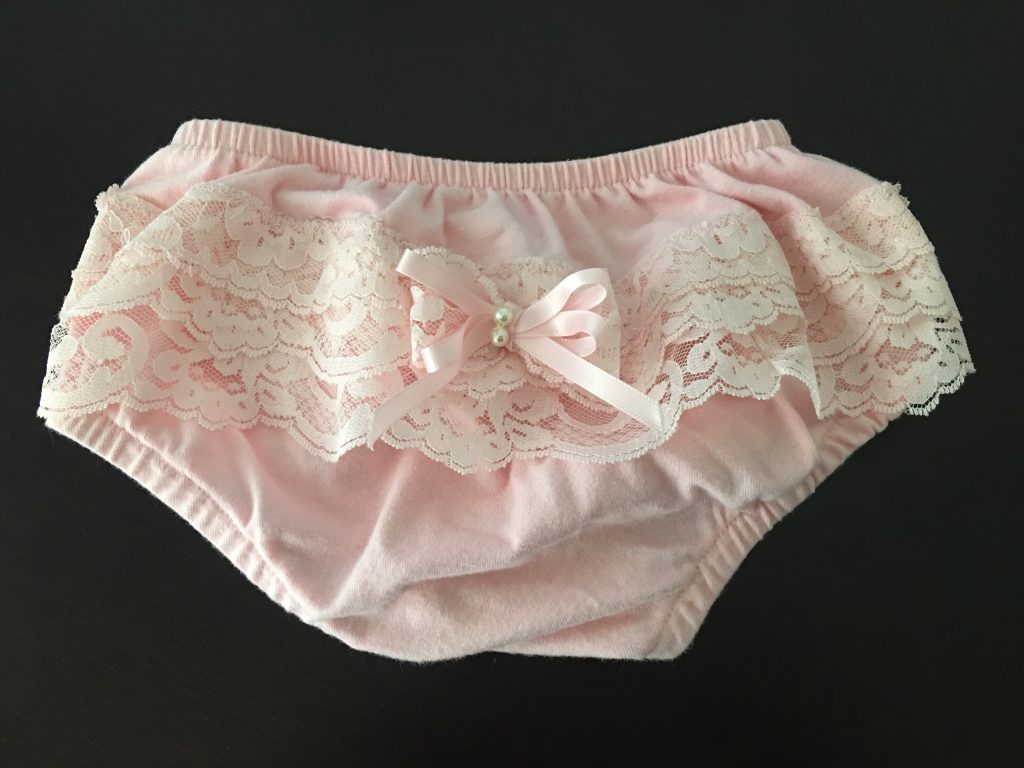 You can't have a party dress without a head peace so that was next on the list. I bought a plain white elastic head band from Michaels to that we added more lace as the base then some sheer fabric shaped into petals to make a flower. Once that was done another handmade purple bow was added to tie in the purple from the dress. To top that off a cupcake would be perfect so my mom made one using all the materials she had on hand. She started with the lace by folding it and shaping it to look like a cupcake bottom. On the side she made tiny little white flowers out of ribbon and added a pearl to each. Once done she placed them on top to create a peek like icing on a cupcake. The end result was super cute and I was very pleased how everything came together. Unfortunately my daughter only wore it for a bit before realizing it was there and taking it off. You win some you loose some, in the end she still looked adorable.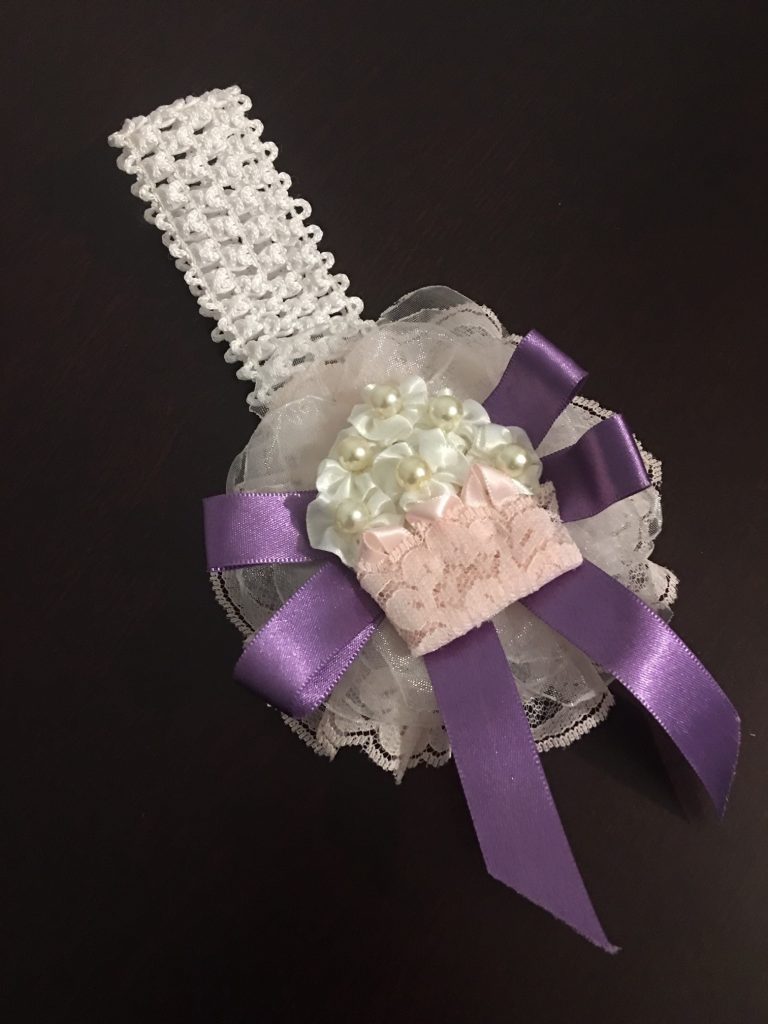 I was shopping once again at Toys"R"Us just before her birthday party and found the matching bib to her dress. I just had to have it plus I knew she would need it for when the cake came around. We could of added some pearls to the lace flowers to continue the theme, however I decided to leave the bib as is.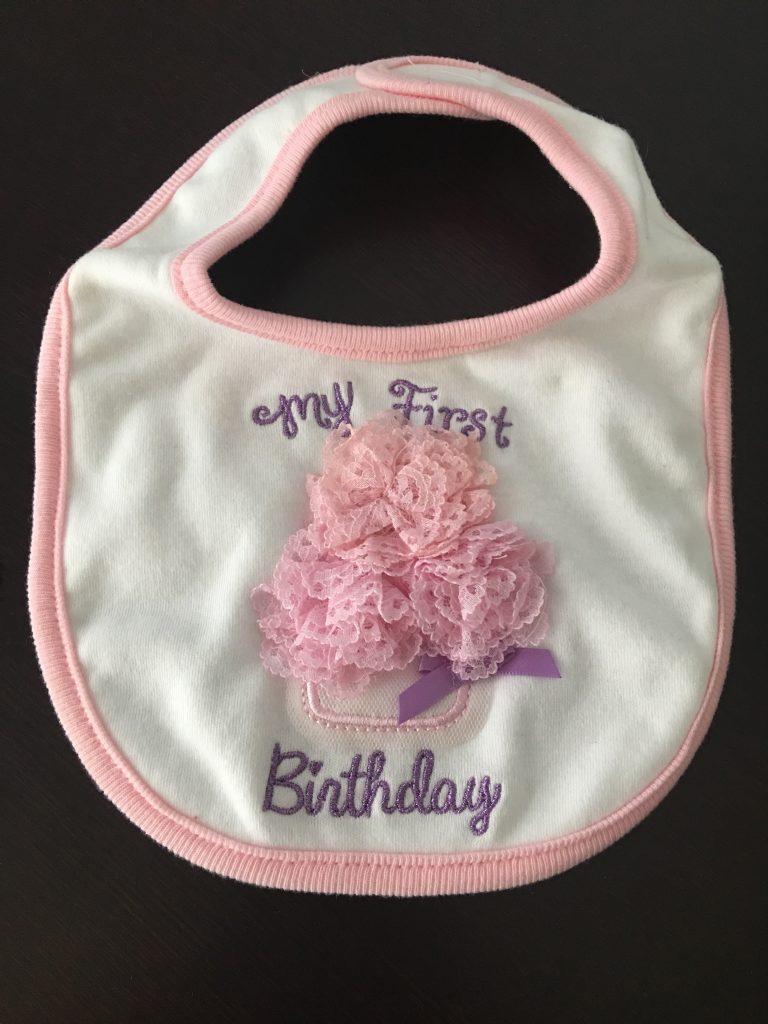 After plenty of beautiful photos of her and her special day, the outfit and everything else was packed away in her keep sake box of firsts. One day I hope she will be able to look back at all that we did and appreciate the love we put into everything for her. Until then at least I know I was truly happy with the outcome of her outfit. A few minor additions and some extra details made this store bought dress extra sweet.