This lovely weather has me thinking of all the things I want to complete outside, around the house. Most importantly the front of our house, since that's what makes a first impression. I personally feel that once the front has been taken care of, I then can focus on the backyard with ease. Since our house is also a corner lot, I want to make sure it's eye pleasing and always maintained. Growing up, my parents valued the outside of their home. From the endless assortment of flowers to lushes green lawns and entertaining areas. I believe because of that, it's important to me to create a welcoming atmosphere for my own home.
As of now our outside does not look or feel inviting at all. I mean, I've hung my wreath on our front door but that's about it. Bottom line, there is so much to do outside and I'm hoping to start soon. Not to mention my husband wants to build a shed with a BBQ area this year. I just hope it's ready for our daughter's birthday in July. Currently however I'm working on some interior home improvements. Which means our outside plans are going to be on hold for a tad longer. On the bright side I will be sharing what I'm up to soon enough, so stay tuned for that.
Today's blog is really about what I did to revive our front for spring last year. First off, I decided to repaint our garage and front door, I wanted something darker to counter balance the the shingles on our house. I decided to go with a fairly dark grey, which I still love to this day. Initially I had picked something light to play it safe, however this current colour makes a statement. Which is exactly what I wanted this time around. We had brushed nickel door hardware from Schlage that we installed when we moved into our house. However in no time the finish came off and it looked very weathered. Since I knew Schlage was a reputable company and they had a lifetime warranty, my husband contacted them. In the end, lets just say we got a brand new front door lock with an oil-rubbed bronze finish this time around.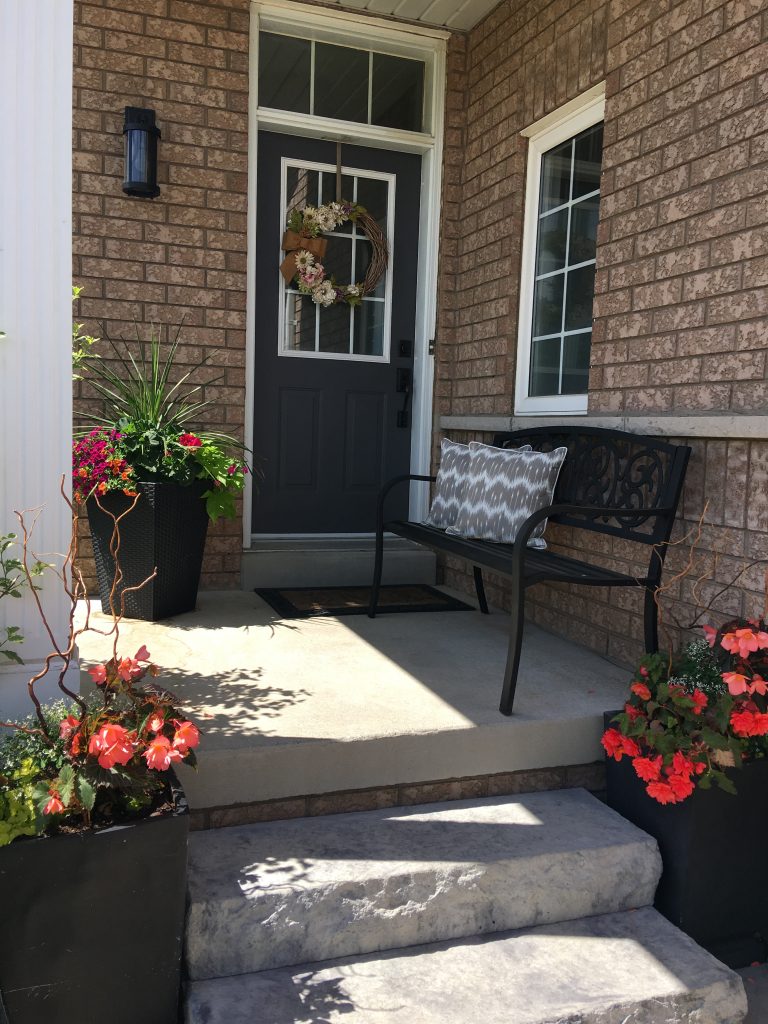 We also had brushed nickel outdoor lights which meant it was time to upgrade. I fell in love with these black finished, glass lantern lights. We found them at Canadian Tire and we grabbed two on sale, one was for the garage. We had inherited a black cast iron bench which started to look too distressed for my liking. I picked up a can of mat black, spray paint and once I was done it looked brand new. I also added new cushions from Lowes and a mat for the front door from Terra. I find with time the image on the mat rubs off, so replacing it is a must in my books. Even though the cushions are made for the outdoors, I find those too start to fade with time. On the bright side there are so many options out there, just make sure to shop around.
For Mother's day, my mom almost always brings me a hanging basket with a variety of flowers. I then remove the basket and replant the flowers into my planter by the front door, it's basically become a ritual. From there I go and pick up two more hanging baskets, usually from Costco and place those into my other two planters. I try to pick baskets that match the one my mom brings, if not the flowers maybe a colour. In this case the orange/ peach flowers was the connection. I also was given once some clippings from a tree, great for decorating with. I love the look of them, so I stuck a few branches in the two planters bellow for height as well.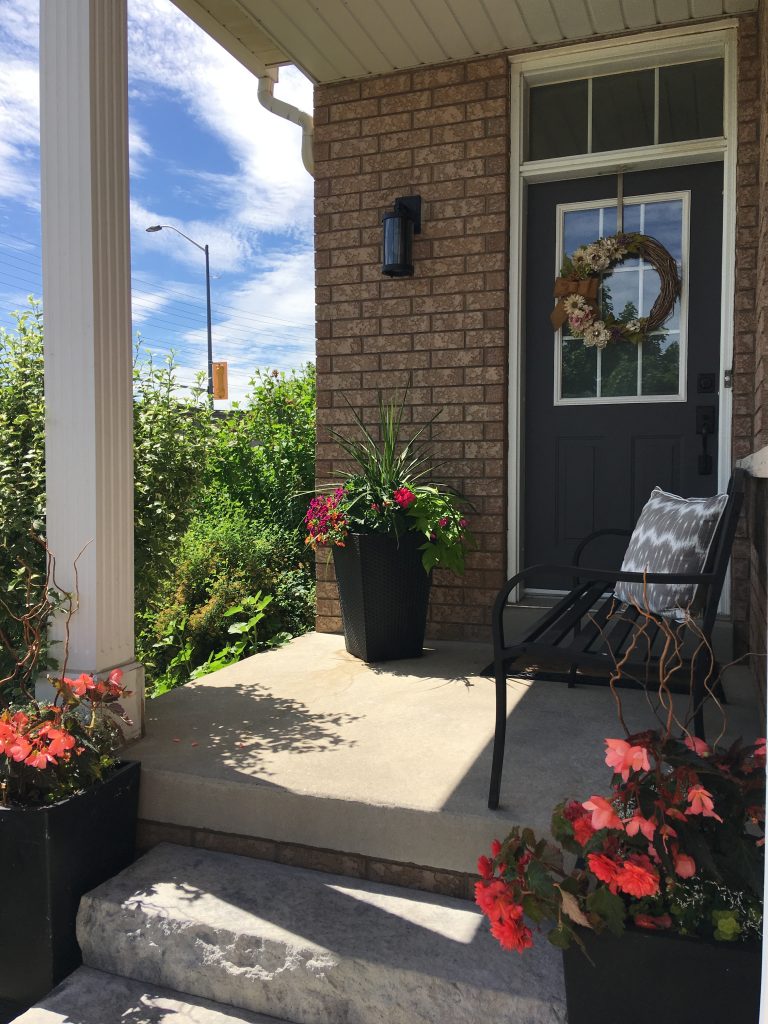 Lastly, my husband had once come across house numbers at Home Depot on clearance. Squared black slate with a number etched in white. To be honest we had totally forgotten about them, until we came across them in the garage. Those went up in no time and just like that our house front was ready for spring. However it doesn't stop there, maintaining all the work we did is key. Such as watering all the flowers and trimming as needed. Sweeping the front porch and walk way and cutting the grass regularly. After a long Canadian winter the house exterior can also take a hit, from paint peeling to cracked cement and rough driveways. It's always a good idea to take a walk around the house and make note of everything that needs to be taken care of. I know, I have some painting that needs to get done this year. Soon enough I will be able to focus on our outside but until then my door wreath will have to do.