Last week I shared with you all my eldest daughter's first birthday. This week I thought I should share Ilianna's first birthday. One day while shopping at Babies "R" Us, I came across a cute lace dress with a cupcake on it. Since Ilianna's birthday was coming up, I felt inspired by the dress. Therefore I decided to do a rustic cupcake themed party. I bought the dress and from there I started to collect everything cupcake. Since her birthday is also in the summer, we of coarse had the party in our backyard. A perfect backdrop to our rustic theme.
The colour pallet for her birthday was baby pink, purple and white. Along with plenty of lace and pearls. First off the invitation, once again I wanted something special so I went straight to my cousin. Besides the sparkly boarder I requested for the invite, I wanted to find cupcake stickers to match. I ended up finding exactly what I wanted at Michaels. Once she prepared the invites I added a cupcake to each and mailed them on out.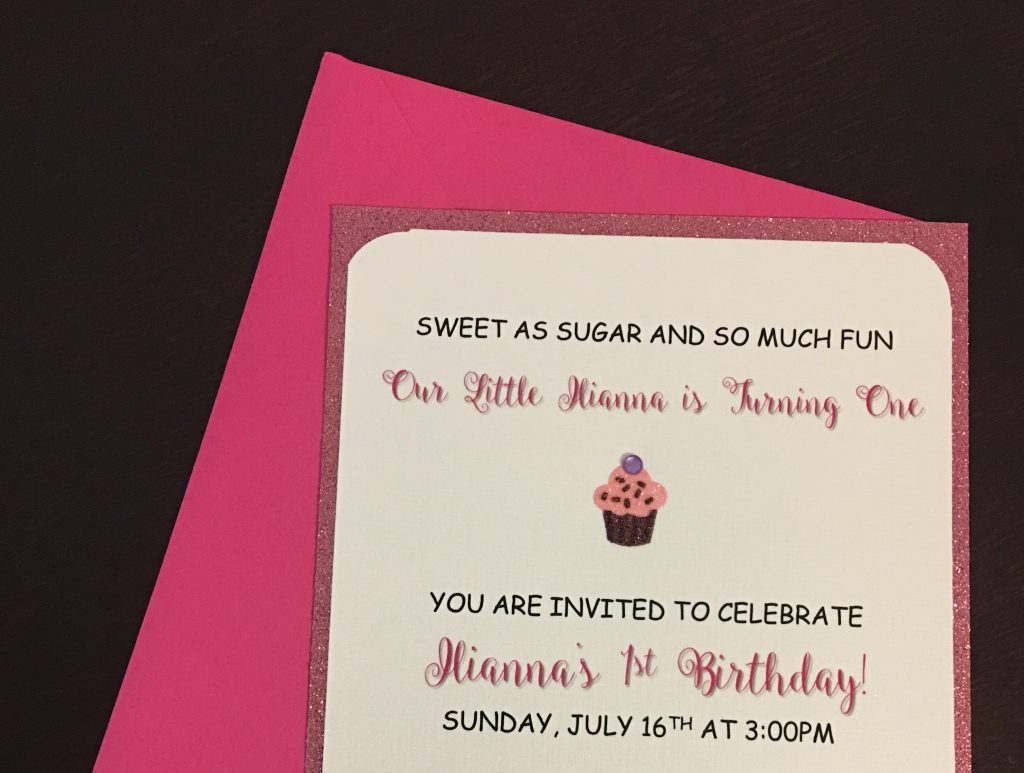 Now lets go back to the dress that inspired this whole theme. To be honest I wasn't completely satisfied with it, however I knew this even before I purchased it. Let's just say I already had some Ideas and I knew my helpful seamstress a.k.a. mom would be able to deliver. For further details on the outcome of her dress, head to the menu and search Store bought party dress customized.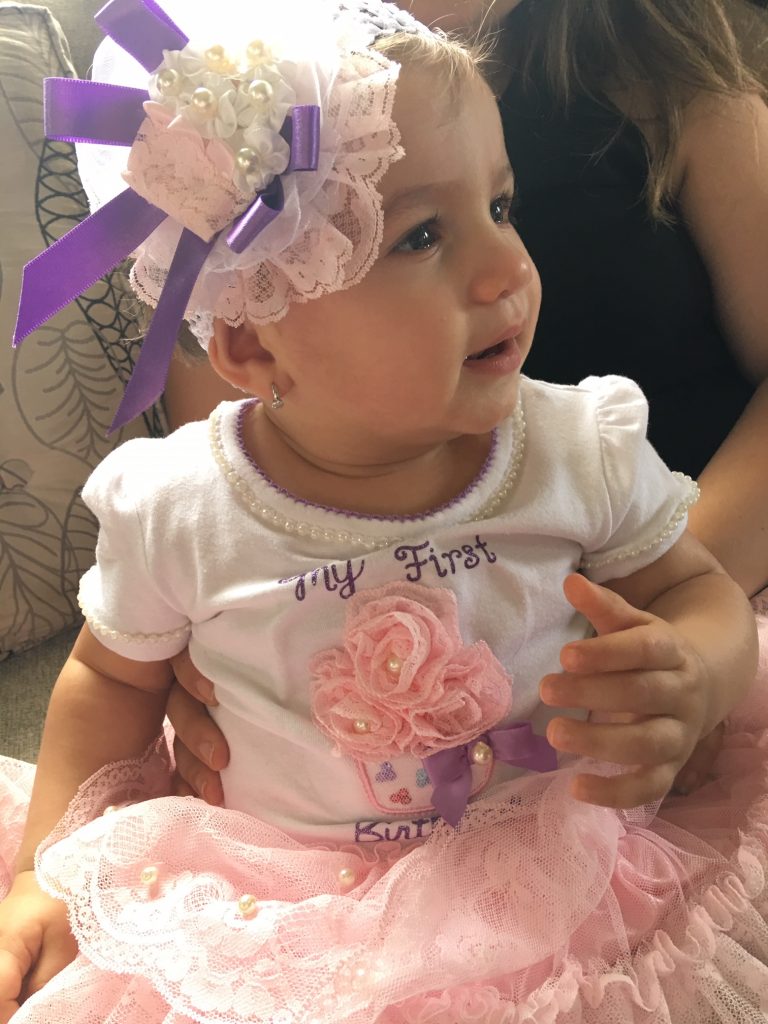 On to the cake, I couldn't resist but order a cake shaped as a cupcake from Irene's Celebrity Cakes in Mississauga. As I mentioned in my previous post my husband and I love the Sfoglia cake. However it's impossible to get that cake shaped into a cupcake. So I decided to order two cakes, the cupcake in vanilla and the other in Sfoglia. Lets just say there was plenty of cake to go around and with two options you can't go wrong. I was truly pleased with the outcome of both cakes, taste and appearance.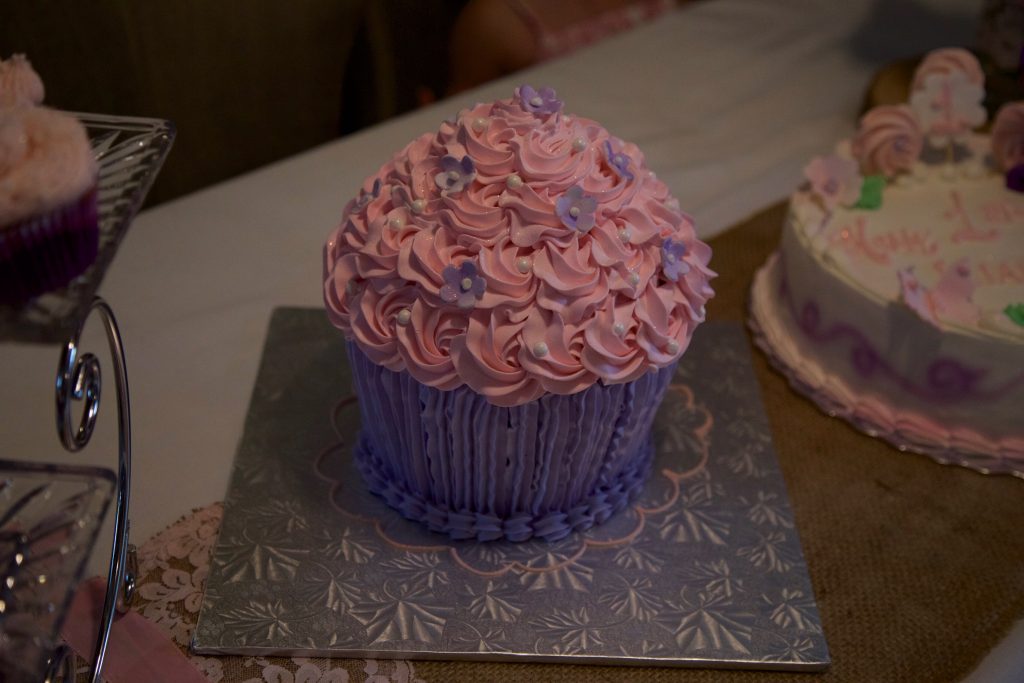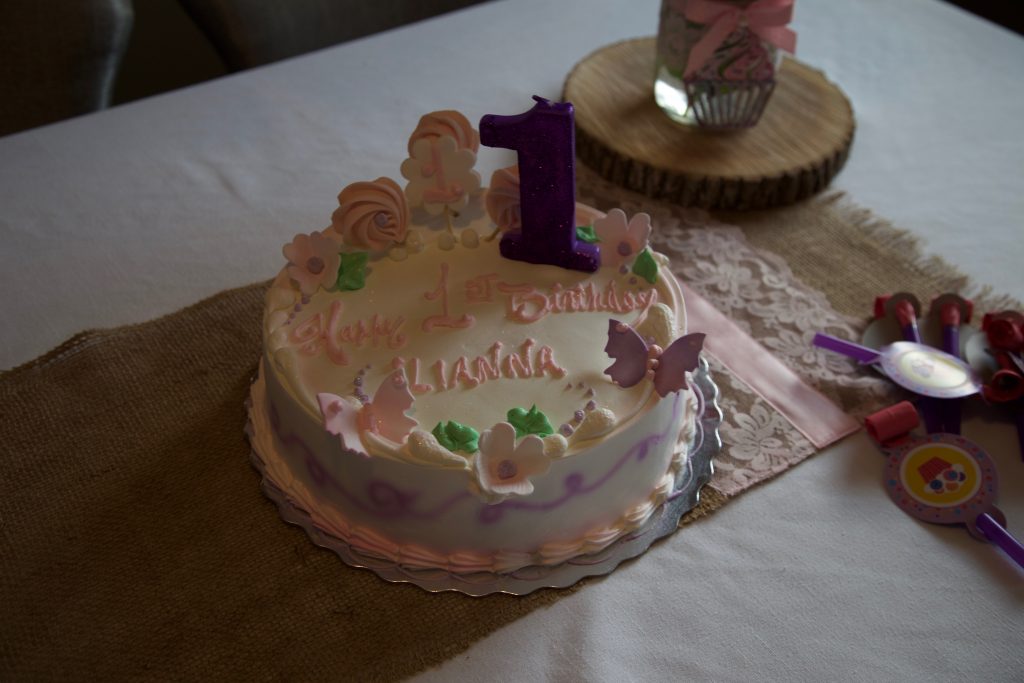 As I also mentioned above, this party was yet another backyard affair, complete with our tent and decorations. So glad my girl's are summer babies so that we can celebrate outside.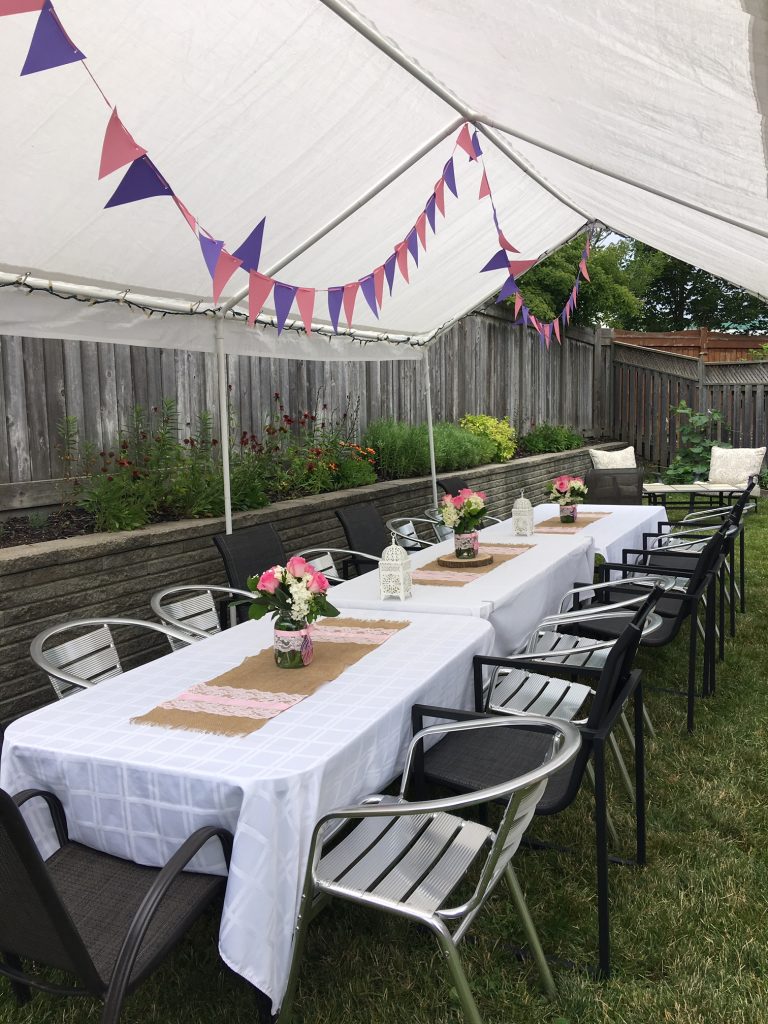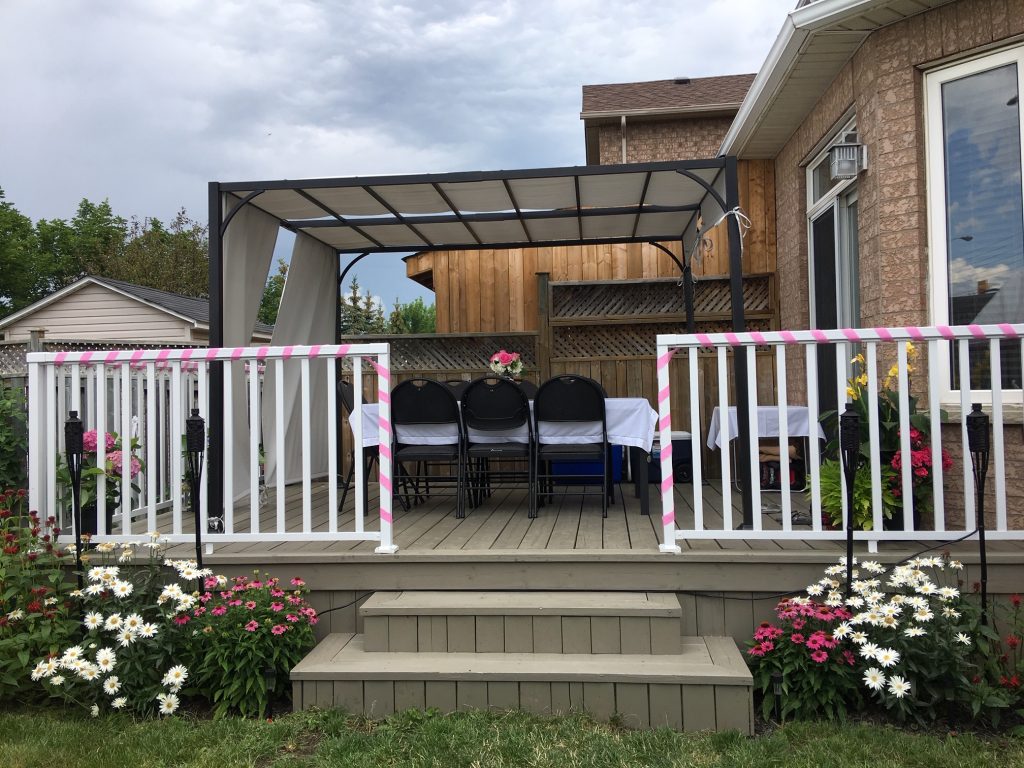 I do want to highlight two decor elements that really made the theme come to life. One are the table runners my mom made for me and the other are the centerpieces we put together. A few months earlier we had hosted my sister's baby shower and I really liked the table runners we made for her theme. Instead of spending money on tablecloths for every event. A runner of some sort is a great way to inject your colour pallet. In this case I had seen something on Pinterest that I felt would be perfect for the theme. Burlap, and I was fortunate enough that my dad had some in his shed. My mom cut the burlap to reasonable lengths and hand washed them for me as well. Then she added the lace on both ends and a wide pink ribbon that she also had on hand. The end result was exactly what I had envisioned, if not better.
As for the centerpiece I wanted to use Maison jars, luckily for me my mom had some leftover from my sister's baby shower. Once again I knew these would make perfect vases for my fresh flowers. We used a glue gun to adhere the leftover lace to the jars. Earlier, I had purchased a thin polka dot ribbon and wooden laser cut cupcakes from Michaels. We made bows out of the ribbon and topped each one off with a chunky pearl. As for the cupcakes I used markers and coloured them in. Then I took some sand paper and gave them a quick sand to make them look distressed. Finally we added a thin ribbon through the cupcakes and glued them to the the back of the bow then onto the jar. The day before the event I picked up a bouquet of pink roses from Costco. My mom had a lot of white Snow balls in her garden so together we made these wonderful arrangements. I even had some tree trunk slices on hand from a baptism I attended, which helped complete the look.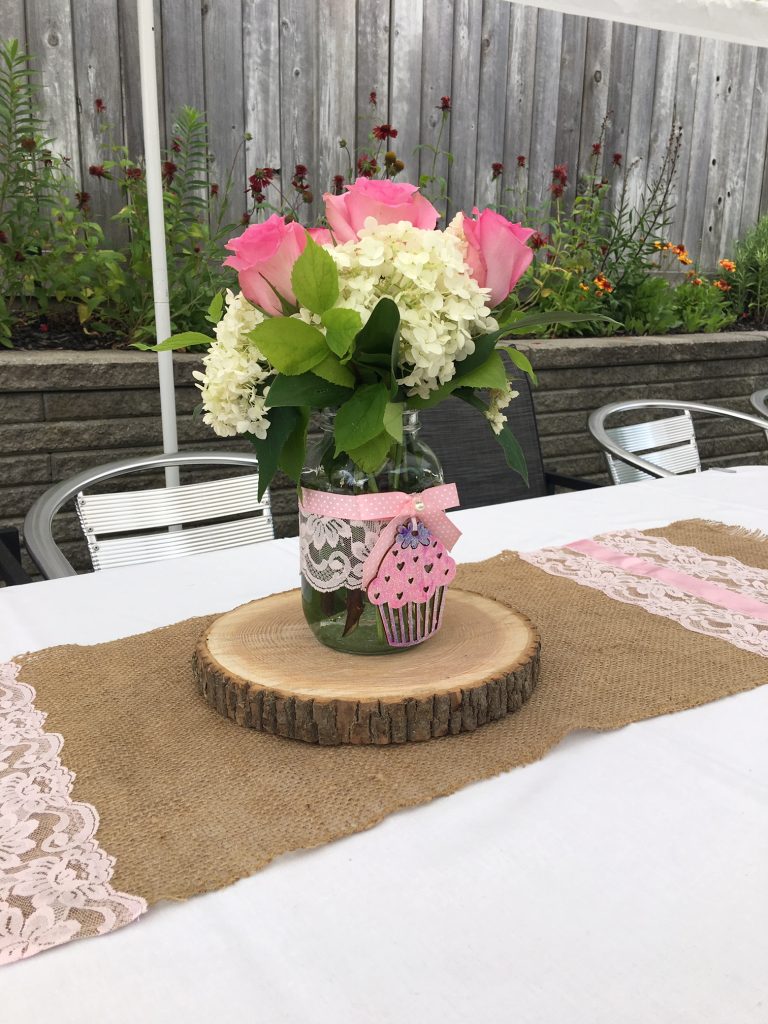 Since this was a cupcake themed party, I also made my own batch of cupcakes with cream cheese icing. Just in case the two cake options weren't enough, at least you had yet another cake flavor to pick from. These cupcakes also helped further the theme as well.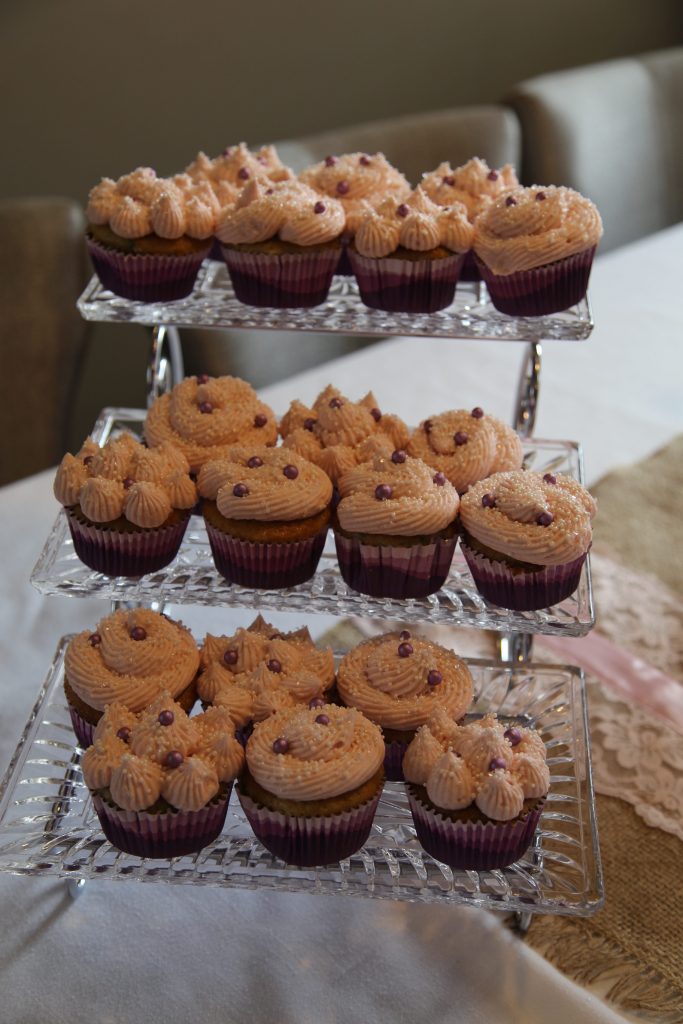 I couldn't help myself but make cookies shaped into cupcakes too. Well to be honest I had made cookies for my eldest, so I wanted to do the same for my youngest. Plus it was a milestone birthday and I liked the idea of giving each guest a parting gift/thank you.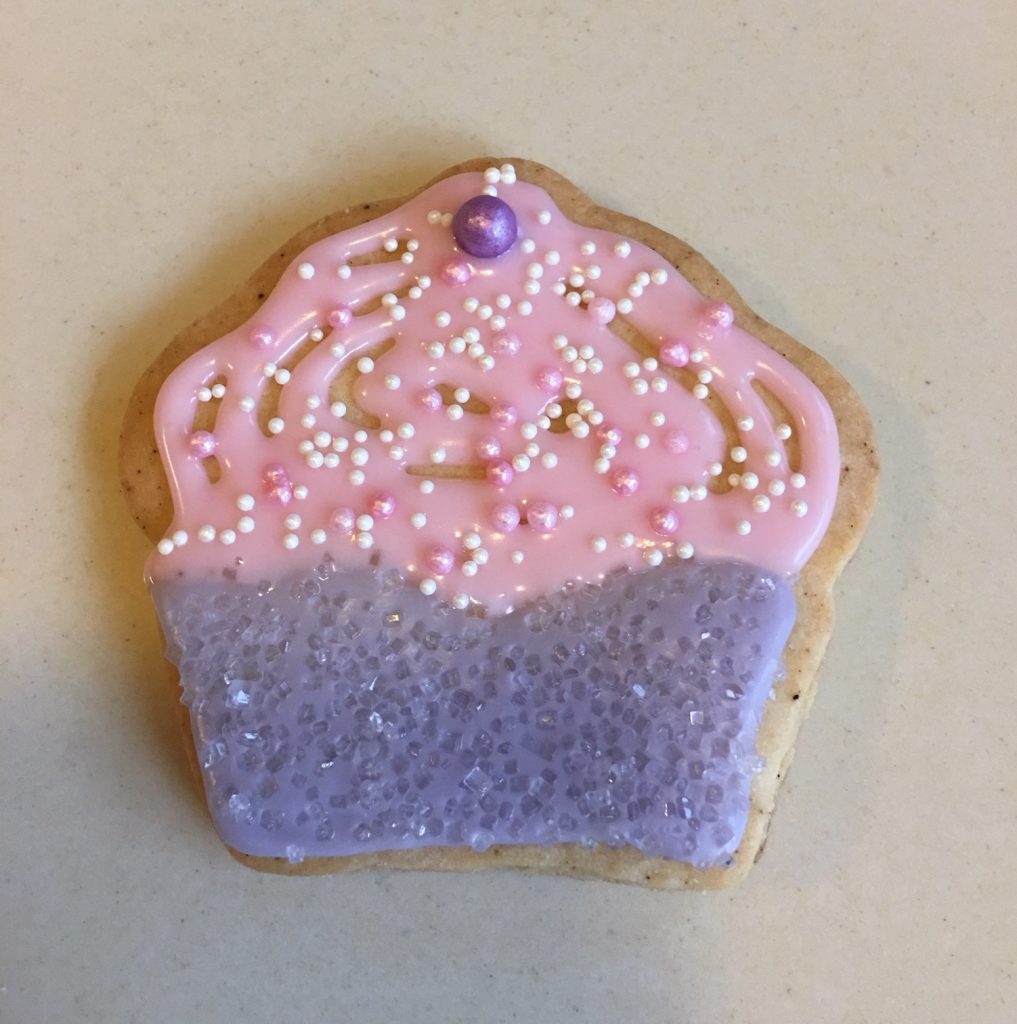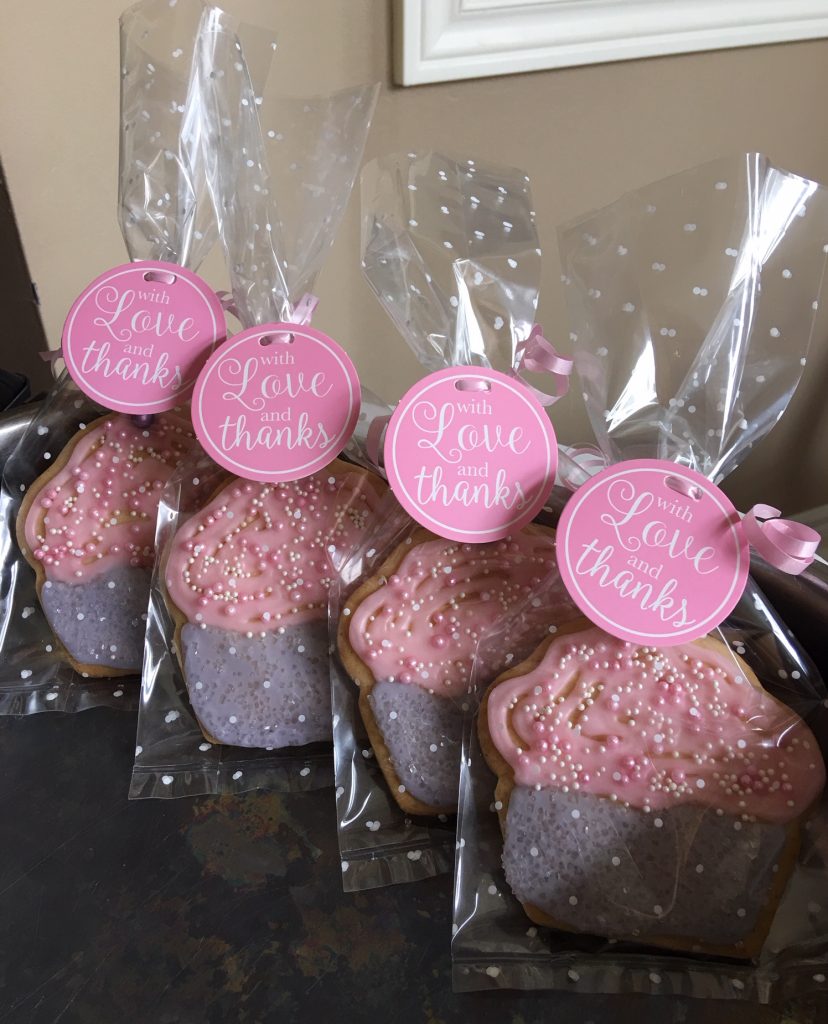 I was and still am pleased with how my version of the cupcake theme came together. Every time another birthday is just around the corner, it's like a light bulb turns on inside of me. Ideas start to flow and I just can't wait to get started. Bottom line, I truly do enjoy entertaining and everything that comes with it from decor to desserts and everything in between.